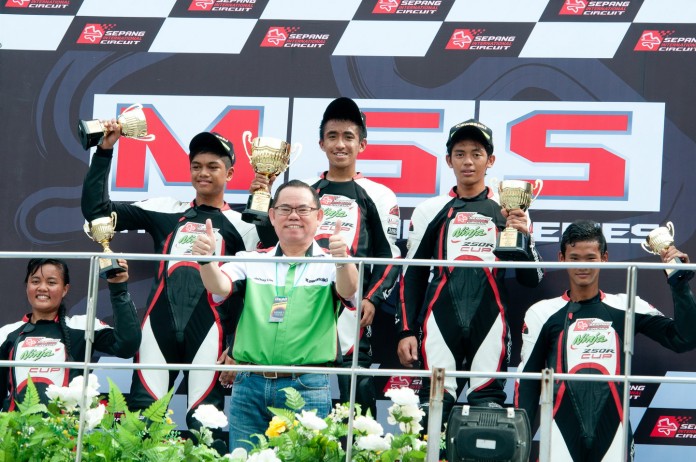 17-year-old Muhammad Hafiza Rofa took a clean sweep at last weekend's season opening round of the 2013 SIC Ninja Cup series, winning both races on Saturday. 
Riding for Team Petronas Raceline, Hafiza cruised to a double win with his teammate Muhammad Shafiq Rasol taking second place in both races as well, proving to be a class above the rest of the field. Claiming the final podium spot in Race 1 was Muhammad Fairuz Nasir, who proved to be the best performing riders recruited from the KBS MAM Kapchai Endurance Championship and finished fourth in Race 2. Female rider Siti Norafizah Muhammad on the other hand took third spot in Race 2.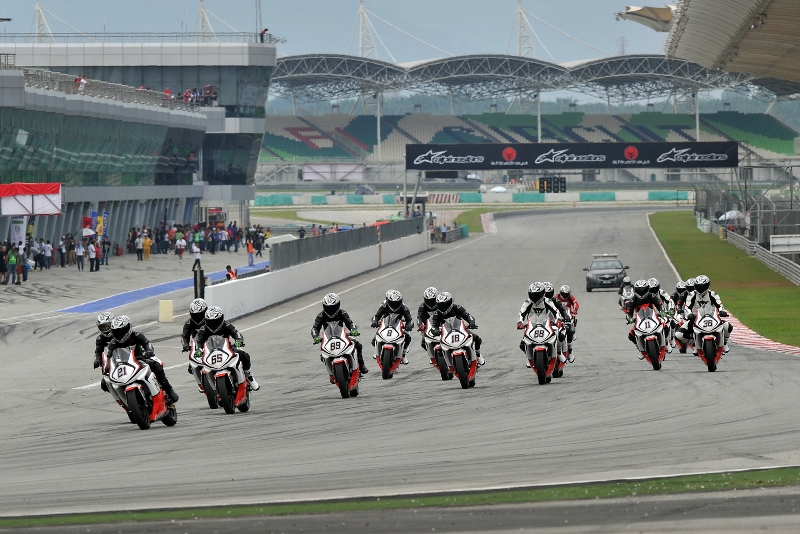 Defending Ninja Cup champion Muhammad Ammar Hafiq Rizuan however suffered a dismal outing, only managing to score ninth place in Race 1 and moved up to sixth in Race 2.
Prior to entering the weekend's Ninja Cup races, Hafiza already scored a double-victory at the Petronas AAM Cub Prix's opening round in the Wira category. The young Kuala Terengganu native is vying to follow in the footsteps of Malaysian Moto3 hero Zulfahmi Khairuddin. With his recent victories, Hafiza has stated his intent to compete in both the Cub Prix and Ninja Cup series this year.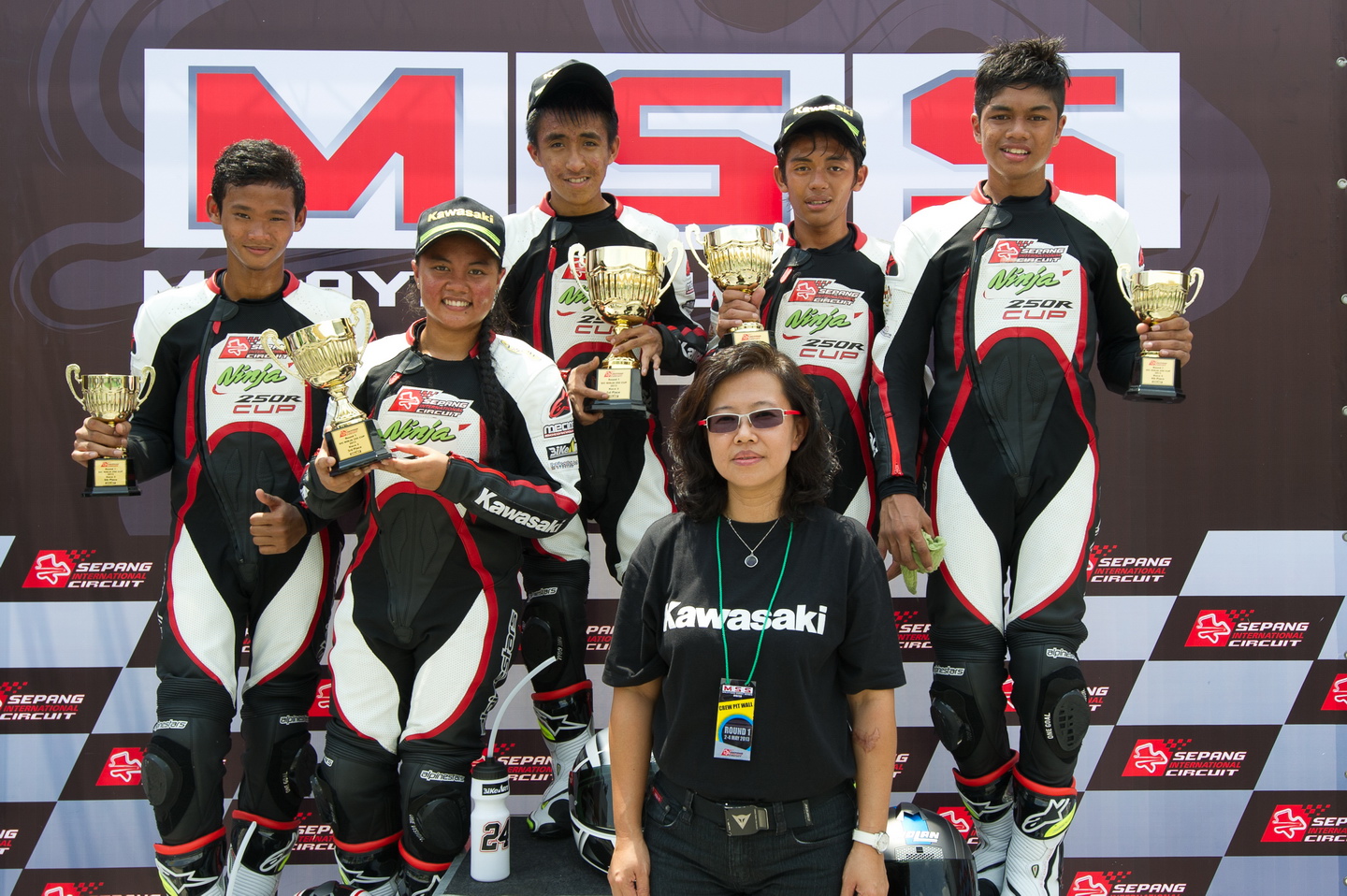 Hafiza states, "Personally, I would want to compete on the international stage as early as possible and follow the footsteps of Zulfahmi Khairuddin competing in the Moto3 world championship. That's my personal target. But, having said that all these matters would be decided by my team. I will follow the decision of the team."
The top 10 standings for the SIC Ninja Cup Round 1:
Race 1 (8 Laps)
1.Muhammad Hafiza Rofa (Kawasaki) 21:38.628s
2. Muhammad Shafiq Rasol (Kawasaki) 21:40.700s
3. Muhammad Fairuz Nasir (Kawasaki) 21:54.252s
4. Muhammad Aziq Jumali (Kawasaki) 22:03.610s
5. Siti Norafizah Muhammad (Kawasaki) 22:07.525s
6. Has Fauzan Hassan (Kawasaki) 22:08.077s
7. Muhammad Izzat Mohd Abdul (Kawasaki) 22:18.801s
8. Amirul Shafiq Ahmad Shahril Sham (Kawasaki) 22:28.466s
9. Muhammad Ammar Hafiq Rauzan (Kawasaki) 22:32.342s
10. Amirul Azhar Mohd Hasnan (Kawasaki) 22:39.107s
Race 2 (8 Laps)
1.Muhammad Hafiza Rofa (Kawasaki) 21:45.733s
2. Muhammad Shafiq Rasol (Kawasaki) 21:45.781s
3. Siti Norafizah Muhammad (Kawasaki) 22:00.352s
4. Muhammad Fairuz Nasir (Kawasaki) 22:00.973s
5. Muhammad Aziq Jumali (Kawasaki) 22:17.032s
6. Muhammad Ammar Hafiq Rauzan (Kawasaki) 22:18.387s
7. Has Fauzan Hassan (Kawasaki) 22:19.663s
8. Muhammad Hamizan Afiq Abdul latif (Kawasaki) 22:30.809s
9. Amirul Shafiq Ahmad Shahril Sham (Kawasaki) 22:46.836s
10. Muhammad Aiman Muzammer Khairul Anuar (Kawasaki) 22:47.213s