Ducati showcases special Scrambler custom concept at 2015 Verona Motor Bike Show.
Italian bikes maker Ducati stole the show during the 2015 Verona Motor Bike Show recently when it showcases three specially built custom concepts of its Scrambler. Each were built by some of the world's most renowned custom builders who set out to show off their radical re-imagination of the Scrambler.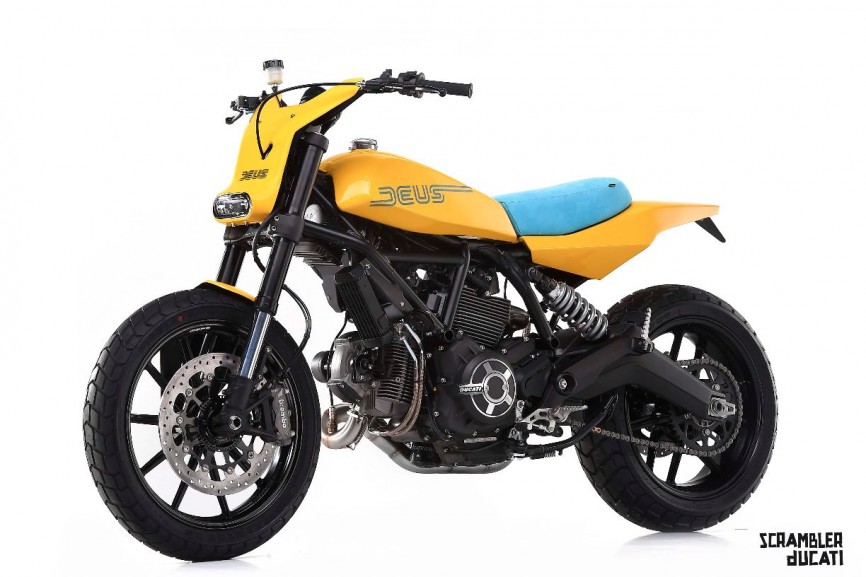 First came the 'Hondo Grattan', customised by Deus Ex Machina. Designer Filippo Bassoli was charged with the creation. Besides the striking yellow, blue, and black paintjob, Bassoli also opted to give the Scrambler a more modern-looking face to replaces the original bike's retro round-shaped headlamp unit. Despite that, Bassoli still manages to keep the base bike's 'classic' lines through the swooped tank and rear fairing design.
Hondo Grattan Scrambler Ducati by Deus Ex Machina
The second of the three comes in the form of the 'Scratch' concept produced by Officine Mermaid. Designer Dario Mastroianni opted to take on a more rustic and Spartan approach, having what appeared to be the Scrambler Urban Enduro's paint stripped down to bare metal by hand. Next sees the concept primed with a pair of stanchion front forks, wide 21-inch wheels up front and an 18-inch unit in the rear, vintage green leather handlebars and saddle, plus a rally-style headlight mounted off-set to the right of the bike's frame. This is perhaps the one bike to have should you find yourself in a Zombie apocalypse.
Scratch Ducati Scrambler by Officine Mermaid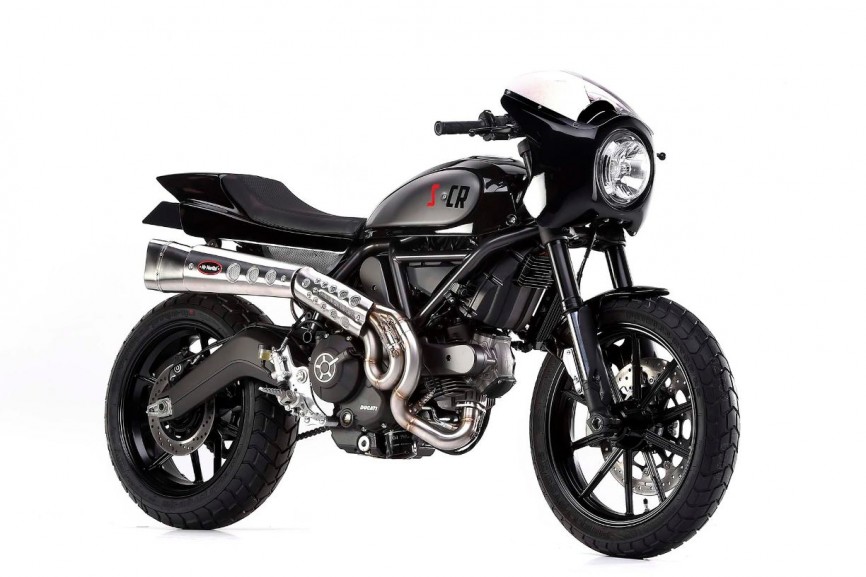 Finally came the stunning design penned by designer Nicolla Martini. Adopting a traditional café racer approach, Martini's 'Scrambler Café Racer' concept sees its headlamp cover dressed with a retro-style cover, and a matching high-mounted exhaust. Retained are the Scrambler's knobby stock Pirelli tyres as well. Completing things here are the theme-appropriate shades of black and contrasting grey colours, with the exception of the 'S' in its 'S-CR' tank logo painted in yellow on the left, and red on the right.
Scrambler Cafe Racer by Mr Martini
These three special Ducati Scramblers may not see the life as a production models, but we reckon many fans, us included, wouldn't mind the idea indeed. What are you waiting for Ducati? Make them!
Source: Asphlantandrubber ( Link 1 / Link 2 / Link 3 )