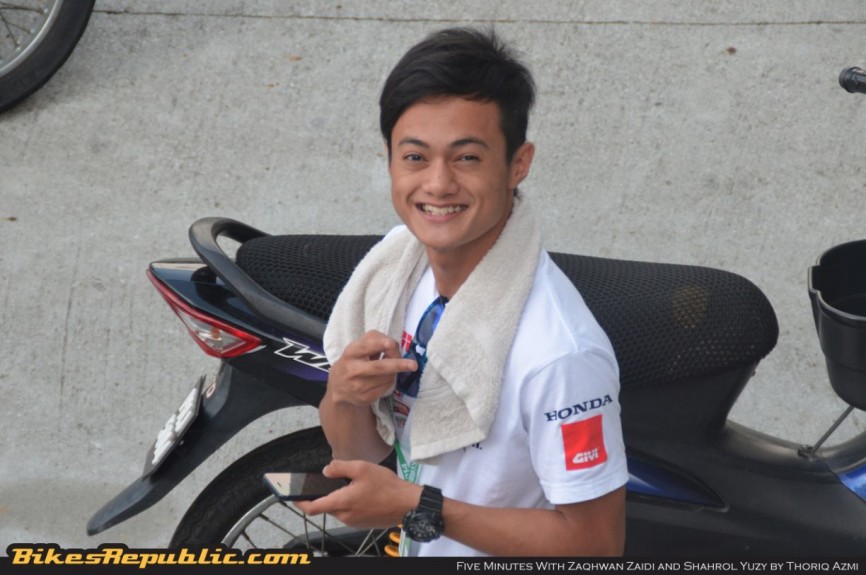 We managed to briefly catch up with Malaysian SBK wildcard rider Zaqhwan Zaidi and his mentor Shahrol Yuzy earlier today after the day's practice sessions.
If you haven't already heard by now, the 19-year-old was the only Malaysian selected as a wildcard rider for this weekend's inaugural WSBK race in Sepang. Zaqhwan will be racing in the World Supersport category astride the Team Ten Kate Honda CBR600RR race machine. We caught up with him and his mentor for a quick interview and here's what went down.
Q: You've completed a successful Friday today with two practice sessions. Share with us your thoughts on how things went.
ZZ: Firstly, I feel very relieved and satisfied that I ended the day pretty well. Mostly relief because today was the first time I got to ride this SBK bike. I still need to work out on the setup but thankfully, I managed to rank in the top 10 in both sessions. I am mostly happy about improving from 10th placing in the first practice to my personal best 7th place for the day.
Q: Could you share with us what special preparations you've undertaken for this weekend?
ZZ: First of all, my training and fitness regime in the past week was raised to a slightly higher level. Right now, I'm actually much more concerned with the bike's setup actually. Hopefully, I'd get to secure the right bike setup by tomorrow's final practice session.
Q: You've had a taste of Moto2 and now you're getting a taste of WSBK. Can you share with us the difference you found between the two?
ZZ: Well, Moto2 has actually got a more festive atmosphere. But in terms of racing, I find much more enjoyment here in the SBK's Supersport category. Moto2 has an extremely high competition level with a grid filled by more experienced riders. Even the chassis in Moto2 is totally different. Mastering Moto2 takes time. My advantage in SBK is the fact that the bikes use road-going chassis, so it's a matter of understanding that and getting the setup right. I'm not saying that SBK is easier to race in, the competition level is just as high even in Supersports, but my other advantage here is my experience of the circuit as most of the grid have never raced in Sepang.
Q: Can you share what you and the team target for this weekend?
ZZ: Personally for me, I'd like to finish in the top 20. But collectively, the team and I want to finish within the points.
Q: Right, after a taste of both disciplines, if someone were to offer you a path into either, which will you choose?
ZZ: Honestly, I haven't thought of it just yet. It all depends on what the team and sponsors say, but I definitely want to go a step higher besides Cub Prix and Asia Road Racing in the coming years.
Q: Anything you would like to say about your mentor, Shahrol Yuzy?
ZZ: Shahrol Yuzy's mentorship to me is invaluable. He's guided me, nurtured me, and motivated me since my start in Cub Prix, all the way up to my current campaign in the Asia Road Racing Series. Honestly, without his guidance, I wouldn't be where I am today.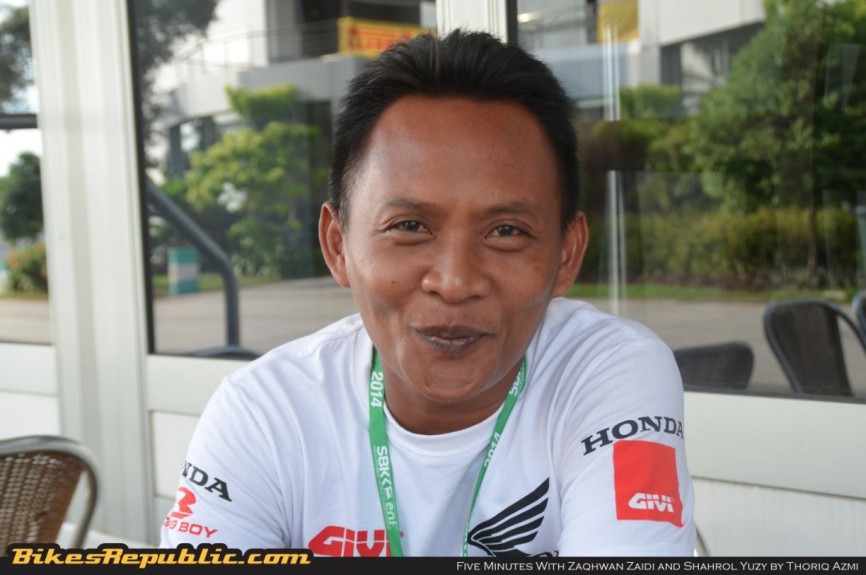 We also took the chance to speak with Zaqwhan's mentor and coach, Shahrol Yuzy. A legend in his own right, we spoke with the Teluk Intan native about the weekend and the prospects of the up and coming wave of young Malaysian motorcycle racing talents.
He may be retired, but Yuzy's drive and passion for the sport has never faded. Here's what we managed to garner after our quick catch up with the man that is somewhat responsible for paving the way for Malaysian talents into the international two-wheel racing arena.
Q: Share with us your thoughts now that our nation now hosts two top-level motorcycle racing events.
SY: This is great for the industry! With both events, I strongly feel that it will give well-needed exposure for our local industry, and at the same time give our fans more racing action besides MotoGP. At the same time, I also believe that it will do greatly at motivating our next generation of young talents to strive towards reaching a higher competition level. Besides that, I strongly feel that as far as far top-level global racing competition goes, WSBK and MotoGP are the best there is, and I hope by having both MotoGP and WSBK in Malaysia will do well at increasing the nation's involvement in this field.
Q: Share with us your thoughts about Zaqwhan's progress so far in today's practice sessions.
SY: Basically, he's on target. I'm not surprised Zaqwhan performed quite well as what we saw today, but I know he can do better. If anything, I was surprised about him taking longer than expected in getting accustomed with the bike. I am however very glad that he's managed to rank himself in the top 10 in both session, and being just about a second off the pace of the session's fastest times. I'm relieved as well that his passion and drive towards this weekend is as high as he's ever been. I and the team believe that tomorrow, he could get within 0.9 seconds of the fastest time, he knows what he needs to do now, and it is my job, as well as it is the team's, to make sure he gets the best he can this weekend.
Q: Today, we have Zulfahmi, Hafizh, and Azlan Shah competing on the world stage. We also have seven young Malaysians in the Shell Advance Asia Talent Cup. Share with us you thoughts about the current pace of this new generation of Malaysian racers.
SY: After I retired, we had a decade-long drought until Zulfahmi repaved the way for more Malaysian youngsters. I actually feel proud that he came about for the rest to follow. In personally feel that this current wave is critical as the exposure that they are garnering for the nation will be the one key element at growing our nation's involvement in the sport.