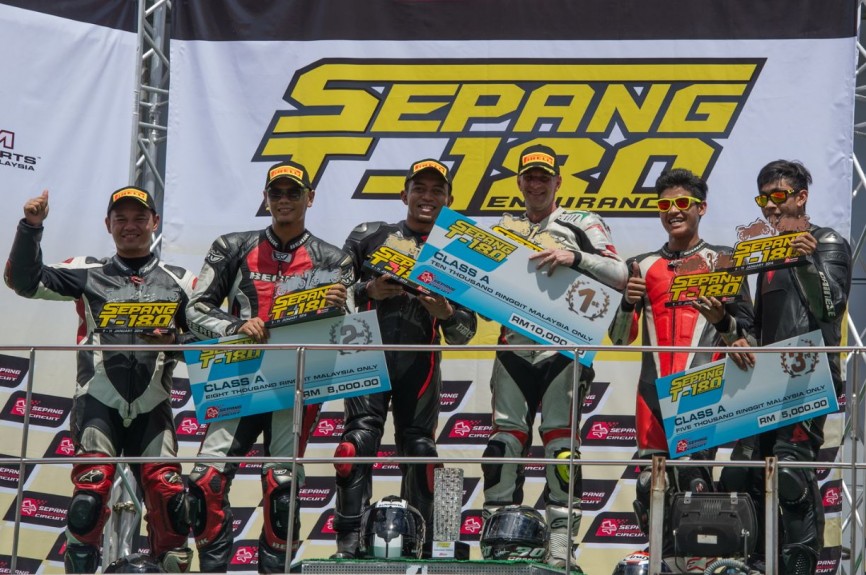 The duo of Luca Cassoni and Shazali Shahrani made history last weekend after becoming the first ever winners of the newly-created T-180 Endurance race for superbikes.
The event is the first ever superbikes endurance race organised and held at the Sepang International Circuit (SIC). The winning duo rode the TWG Racing team's BMW HP4 race and completed a total of 70 laps in the three-hour enduro, finishing with a commanding 2 minute 0.343 second lead ahead of second place finishers.
The podium's second step was claimed by the duo of Mohd Najuib Alias and Ahmad Abas that rode a Kawasaki ZX10R, whilst Mohd Riduwan and Muhammad Amirul Hafiz Mustafa took the final podium step, crossing the line two laps behind the race winners in third with their Honda CBR1000.
In light of the event's successful first run, Sepang International Circuit (SIC) is poised to further develop the T-180 Endurance race event, aiming to make it at par with the circuit's other famous enduros such as the Sepang 12 Hours. The event will also likely become the region's leading superbikes endurance racing event of its kind.