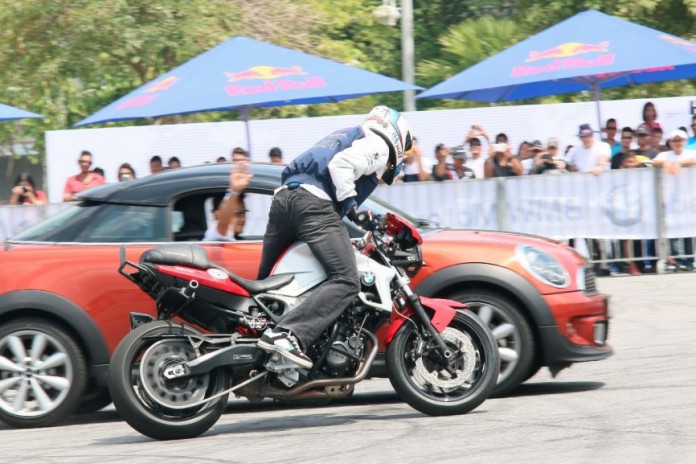 For the first time ever Malaysia played host to the BMW Motorrad Day 2014; the largest Motorrad event to be held in the country.
It was an unusually hot day but that did not stop 1,225 Motorrad fans from attending the event. Riders from all around the country and even from as far as Singapore and Thailand rode over to be part of the historic event. They were not to be disappointed.
Being Malaysia, the event kicked off with a culture performance showcasing the diversity of the Malaysia culture. And then it was the usual round of speeches from BMW bosses like the ever-cool Dr. Gerhard Pils, President and CEO of BMW Group Malaysia as well as Mr. Florian Renndorfer, BMW Motorrad Head of Region Asia Pacific, Middle East, China and South Africa.
The BMW Motorrad Day 2014 was also a particularly special event for BMW Motorrad Malaysia as five new BMW Motorcycles were also unveiled to the public for the first time – the BMW R nineT, BMW S 1000 R, BMW R 1200 GS Adventure, BMW K 1600 GTL Exclusive and the BMW R1200 RT.
Later, the crowd was treated to a fashion show featuring the latest BMW Motorrad Accessories and Riding Gear now available at all BMW Motorrad dealerships throughout the country. As noon arrived, with the heat from the sun blazing and the tarmac was sizzling, the stunt performances started.
Taking on the heated tarmac first was Ivan Khong, performing stunts in the MINI Coupe Cooper S before the lime light was taken over by Mr. Jimmy Quetel or better known as 'Big Jim', the official stunt rider from BMW Motorrad France.
Closing BMW Motorrad Day 2014 was local rock band 'SuperFriends'.