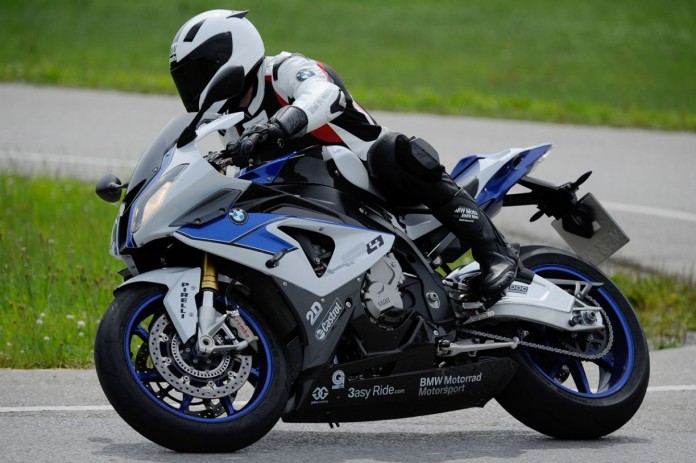 First they bring ABS, then its RACE ABS and now the German bike manufacturer offers bikers the next evolution of braking technology, ABS Pro. This new system for now comes as an upgrade for the HP4 superbikes where owners can opt to retrofit on to their bikes at any Motorrad dealership.
While the Race ABS in the HP4 already provides a very high degree of safety when braking in a straight line, ABS Pro now goes a step further to offer increased safety when braking on bends as well. Here, ABS Pro prevents the wheels from locking even when the brakes are applied quickly; this reduces abrupt changes in steering force on shock-braking manoeuvres and stops the motorcycle from rearing up unintentionally.
The system works by adapting the braking force to the brakes depending on the motorcycle's banking angle depending on the current situation on the road.
To do that, the system draws on the signals for roll rate, yaw rate and transverse acceleration as provided by the sensor cluster – which are already used for Dynamic Traction Control DTC and for the electronic suspension DDC Dynamic Damping Control. As the banking angle increases, the brake pressure gradient is limited more and more at the start of the brake manoeuvre. This means that the pressure build-up is slower. Of course BMW also mentioned that the ABS Pro system will in no way be able to change the law of physics and if the rider exceeds that limit may it be due to misjudgement or riding errors, which in extreme cases can still result in a fall.
Basically the ABS Pro was not developed to enhance individual braking performance when braking on bends – especially not on race tracks. Its purpose is to enable safer use of the HP4 within physical limits on public roads, for example in the event of unexpected dangers arising on bends. At the same time, the ABS Pro function can also be used in the "Rain" and "Sport" modes by less experienced riders so as to achieve significantly increased safety when undertaking their first rides on a race track.
As a start, the ABS Pro function will be available as a retrofit solution for the BMW HP4 from the end of October 2014 at the price of € 380.00 (price for Germany).