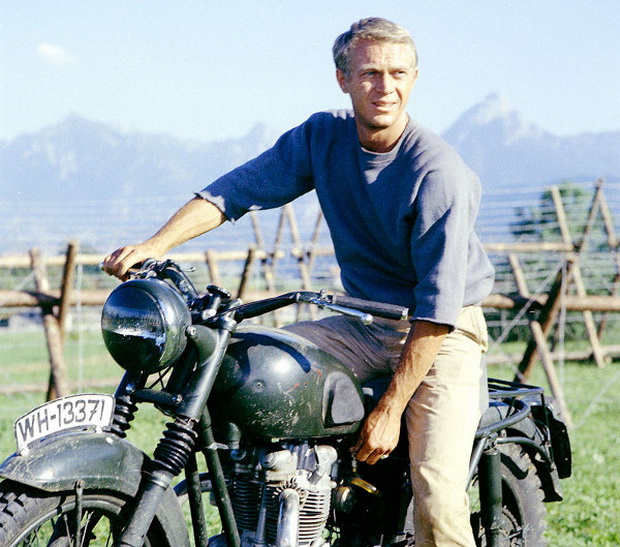 Our list of some of the greatest, and not so greatest, films revolving around the thing we love most: bikes.
Perhaps its about time we at BR share with you, our loyal readers and followers, what we thought were some of motorcycle's greatest (and a few not so great) moments on the silver screen. Here's our list of films and moments that we reckon were gold, and several that we felt wasn't.
Easy Rider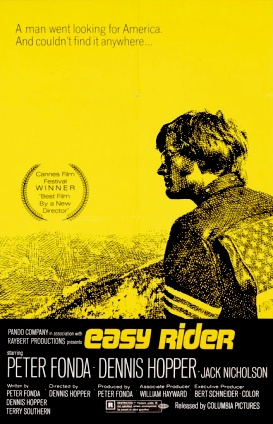 Our list begins with the one movie that solidified the idea of bikes as a tool self-liberation and freedom to roam about the black tops of the world. The film's centrepieces were the two custom Harley-Davidson Electra Glides converted into custom choppers by legendary custom bike artists Cliff Vaughns and Ben Hardy.
Astride these choppers, the stellar cast line up of Peter Fonda, Dennis Hopper (who also directed the film), and Jack Nicholson explore America through a somewhat counter-cultural journey. Besides the great acting and culturally significant storyline, the bike ride scenes will definitely convert the most hardcore of non-bikers into wanting one by film's end.

Also, this is the very movie that immortalised rock band Steppenwolf's place in the hearts and soul of all bikers after their track "Born To Be Wild" was chosen to become one of the film's key soundtracks. Suffice to say, this is one song you'll hear at almost every bike gathering event on the planet, and the message is very clear.
Easy Rider (1969). Columbia Pictures.
The Wild One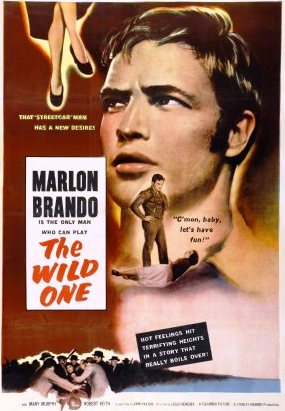 Our second choice is the one of the few films that immortalised a little known British bikes brand called Triumph. This particular flick may have painted the ugly picture of biker gangs for many when it was released in 1953, but watching the great Marlon Brando in his early days immersing in a character epitomising the image of sexually charged youthful rebellion is also a piece of film gold.
The film sees Brando astride his character's prized 650cc Triumph Thunderbird, leading a rag-tag band of bike-borne outlaws that invade a small town, unleashing a wave of criminal behaviour that was perhaps intolerable in the 1950s. We reckon this was the film that may have instilled the group mentality that most of us bikers tend to have and practice up until this very day.

While we don't recommend you or your club members to immerse yourselves in the acts portrayed in this film (not to mention the apparent lack of safety gear!), we instead urge you and your fellow biker mates to spend a weekend watching it, along with the rest of the other films in this list.
The Wild One (1953). Columbia Pictures.
The Great Escape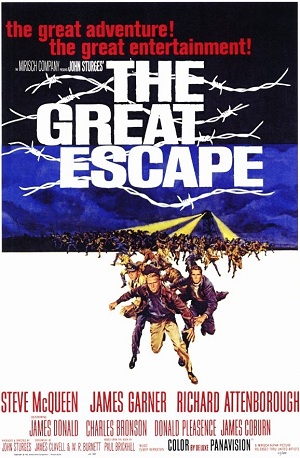 Of course, we had to include one WW2 classic as well in here! And, if motorcycling history ever taught us anything, tough guy icon Steve McQueen and bikes are inseparable. Cementing this fact was the film's scene where McQueen's character, astride a 650cc Triumph TR-6 Trophy made to look like a Nazi BMW Motorrad, making that epic jump over a section of barbed wire, granting McQueen's character freedom from imprisonment.
Of course, leading up to that jump, McQueen's character rode pass several obstacles including a shootout against his captives. The special effects maybe 'old school' to say the least, but in 1963, this was one of the most gripping and action-packed six minutes or so of film ever screened involving a motorcycle.

A definite must-watch, not only because it is one of those few film that immortalised the Triumph name, but also the one film that secured Steve McQueen's cult and idol-like status amongst us bikers.
The Great Escape (1963). United Artists.
Terminator 2: Judgement Day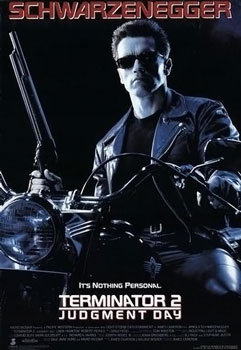 The second instalment of the Terminator series featured several great motorcycle moments. One of which is the image of youthful rebellion portrayed by John Connor (Edward Furlong). Clad in a decade-appropriate "Public Enemy" tee-shirt, packing a Nintendo-looking ATM hacking machine, and only wanting to spend his days away playing video games, the teenage angst of Connor's character was expressed to its fullest when you see him on his ride of choice: a loud two-stroke mini dirt bike of sorts.
The other great biking moment came after Arnold Schwarzenegger's Terminator character successfully (or forcefully we should say) procures appropriate black riding leathers and boots, as well as the appropriate Harley-Davidson ride from a biker in a run-down bar. Later in the film, you'll see Arnie astride on the Harley-Davidson FLSTF "Fat Boy" in one of the best action movie scenes to date as he rescues John Connor from being crushed by the T1000 chasing after him. Unfortunately, the "teenage angst" dirt bike gets crushed and destroyed here, but not before giving you the most gripping five minutes ever.
Terminator 2: Judgement Day (1991). TriStar Pictures.
 The Dark Knight / The Dark Knight Returns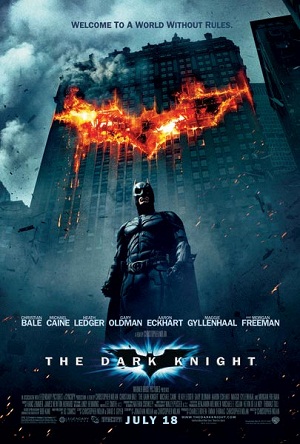 Fast forward ourselves a decade and a half after T2: Judgement Day and we find ourselves listing two films from Christopher Nolan's Batman trilogy. Of course, you guessed, the Batpod scenes being the centrepiece of these two.
The contraption, which popped out of the immobilised tank-like Batmobile, is perhaps one of the biking world's most coolest creation ever. What we did not see coming was the contraption making a return in The Dark Knight Returns, but this time, you get to see god's fine creation that is Anne Hathaway in full all-black Catwoman get-up, astride it.
The Batpod scenes maybe short in both flicks, but they worth sitting through both flicks with your mates as both are just that great.

The Dark Knight (2008) and The Dark Knight Returns (2012). Warner Bros.
Tron Legacy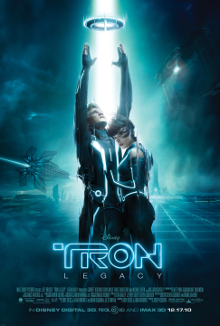 When Disney sought out to revive its cult sci-fi classic, the expectations of many were for them to recreate and improve the original's lightcycle battle. With the magic of CGI, they eventually did, but that is not the only great biking moment the film has to offer.

Eagle-eyes viewers will be able to spot the prized bike ridden by the CGI-recreated Kevin Flynn, played by Jeff Bridges: a classic 1978 Ducati 900SS. Following in his father's footsteps, Sam Flynn, played by Garrett Hedlund, grants viewers with a gripping opening act evading a Police BMW Motorrad chasing him whilst on his way to make a statement in ENCOM astride a very desirable black Ducati SportClassic 1000.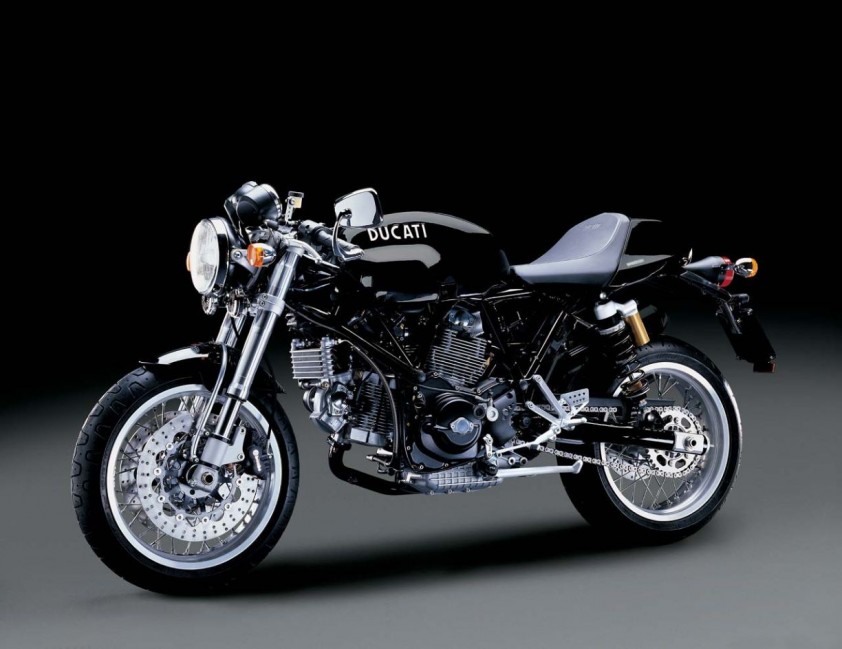 The storyline may have a slow pace to it, but both  CGI and non CGI two-wheeled action scenes make it worthwhile for all bikers to sit through it.
Tron Legacy (2010). Walt Disney Studios.
Inevitably, there are some not-so-great moments and films involving bikes. We could only think of two for now, and it is really up to you lot to decide whether if both are worth your time or not. The two flicks below clearly states one thing, and that is Hollywood is lacking a modern-day film revolving solely around bike culture. Here's our pick of the two worst bike flicks you could watch.
Biker Boyz

This movie thought us one thing, and that is perhaps hip hop culture doesn't rhyme too well with bikers. On top of the poor storyline, cheesy dialogues, plus the somewhat excessive amounts of stoppies and wheelies, it is perhaps a shame to see great actors such as Laurence Fishburne and Djimon Hounsou in their worst roles ever.
Ok, the upswing is the list of modern Japanese supersports and hypersports bikes you'll see making their appearances here. The centrepiece of it all happens to be the outlandish pink and silver-painted Suzuki Hayabusa that Fisburne's character rides.
In its defence, Biker Boyz essentially falls under the category of a typical B-grade action flick. It was perhaps unfortunate that the film did not make a lasting impression as how The Fast & The Furious did for cars.
Biker Boyz (2003). Dreamworks.
Torque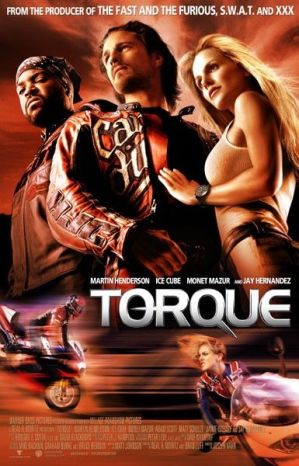 Another bike-themed filmed that attempted to emulate The Fast & The Furious' formula, but subsequently failed. This is B-grade action flicks at its best, complete with horrible dialogues, cheesy character stereotypes, plus outlandish and common sense-defying stunts created using CGI.
Like Biker Boyz, Torque featured a rich collection of Japanese super and hypersports making their prominent appearances. But the main highlight here was the hero character's final epic chase scene using the equally-outlandish jet-powered motorcycle oddity called the Y2K.
At this point, we'd like to leave it up to you lot to decide on Torque's quality and worthiness of your time.
Torque (2004). Warner Bros.