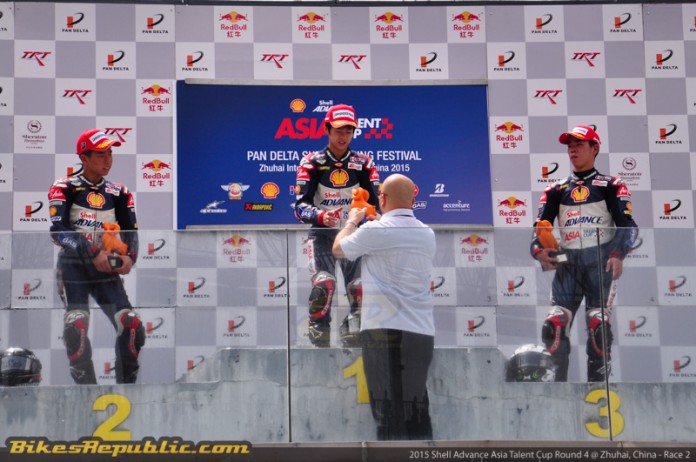 Rookie rider Ai Ogura leads yet another all-Japan podium domination in Shell Advance Asia Talent Cup 2015 Round 4 Race 2 in Zhuhai.
Once again, riders of the Shell Advance Asia Talent Cup 2015 series took the black top of the Zhuhai International Circuit (ZIC) here in China for the weekend's second race astride the series' Honda NSF250R bikes. Unlike yesterday, today's race intensified with a bigger lead pack, with 8 riders battling for the podium.
Amongst the 8 riders were Malaysian pole-sitter Adam Norrodin, followed by the Japanese brigade led by Ayumu Sasaki, Ai Ogura, Takuma Kunimine, Yuta Date and Kazuki Masaki, as well as Indonesian rider Gerry Salim and Thailand's Nakarin 'Chip' Athiratphuvapat.
As the lights turned green, the melee between the eight young riders lasted throughout most of the 17-lap race. A series of errors saw both Yuta Date and Chip Nakarin overshooting off the course. Whilst Date was able to resume his race and finished eleventh, Chip's day came to an end in the unforgiving gravel trap with less than a lap to go.
Drama then ensued once again in the final stages of the race. Fighting strongly for the podium were Ogura, Masaki, Kunimine, Adam, Gerry and Sasaki. With a brilliant display of riding skills and race tactics, Japanese rookie Ai Ogura earned himself a well deserved race win by the time the chequered flag was waived. Ogura's maiden win in the series was indeed a good follow up from his podium finish in Race 1 held yesterday.
Just 0.100 seconds behind winner Ogura was fellow countryman Kazuki Masaki who took 2nd. The battle for the final podium spot between Adam and Kunimine was a very heated one on the final lap, but luck favoured the Japanese as he crossed the line for 3rd place ahead of Adam in 4th with just less than a bike's length separating them.
Beside's Adam's near-miss on landing a podium finish, the day's other spoiling surprise was Sasaki's sixth place finish. The winner of yesterday's Race 1 appeared to be struggling in the melee, but all is not lost for his championship title defense. Sasaki still leads the standings with a total of 136 points, followed by Kunimine in second with 107 points, with Kazuki Masaki in third after amassing a total of 92 points.
Unlike yesterday, Team Malaysia's outing was indeed much more promising today. Minus the absence of injured rider Shafiq Rasol, all four full-time riders and the two wildcards charted important race finishes today. Adam leads the pack with his 4th place followed by Helmi Azman in 8th, followed by rookie Azroy Anuar in 9th – one of his best results so far – whilst the towering Fakhrusy Rostam soldiering through his leg injury for 10th.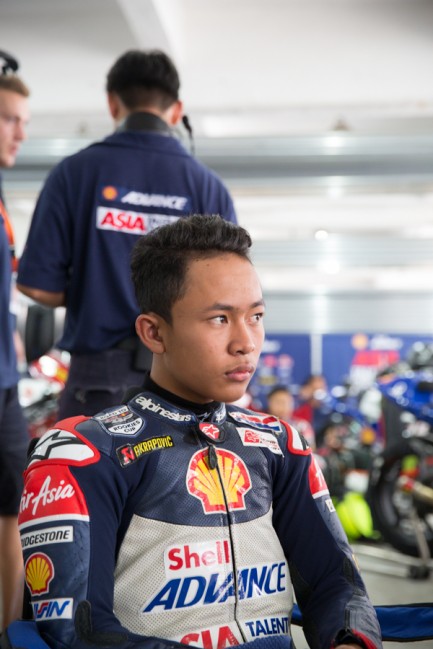 Malaysian wildcards Ahmad Idham Khairuddin and Luth Erwan ended their outing today with race finishes again. Idham was relieved and delighted with his race finish as it granted him with more experience and mileage. The same note was expressed by Luth who improved his race pace today by not getting lapped by the lead group.
As far as the standings go, the news is a little less stimulating. Only Adam Norrodin has managed to retain his spot in the top 10. He now ranks 8th overall with a total of 64 points and expressed confidence on improving this. Helmi, on the other hand, still sits outside the top ten, but is close in 11th overall with his 59 points haul so far.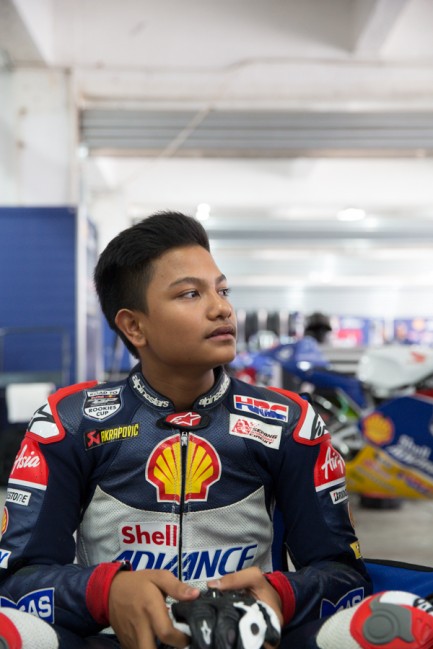 Fakhrusy is next in 12th with a total of 52 points so far and has overtaken injured Shafiq who is ranked 13th with 46 points in total. Finally comes rookie Azroy who now sits in 16th with a total of 26 points collected so far.
Next up, the Shell Advance Asia Talent Cup 2015 heads to Japan for Round 5 in the Twin Ring Motegi race course in Japan from Oct 9 to Oct 11. Two races will be held and it will run in support of the weekend's scheduled Japanese MotoGP race weekend as well. The season will come to its finale soon where it will be held as a support event to the Malaysian MotoGP GP weekend from Oct 23 to Oct 25.