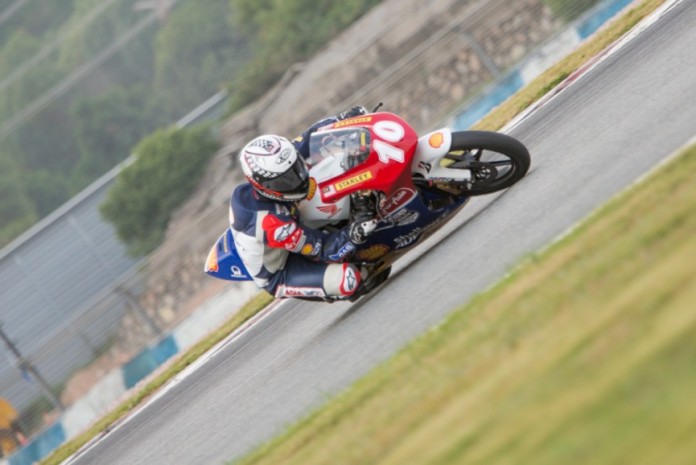 Adam Norrodin leads the grid after qualifying on pole position ahead of the Shell Advance Asia Talent Cup 2015 Round 4 races in Zhuhai, China.
Round 4 of the Shell Advance Asia Talent Cup 2015 has unfolded on a high note for Team Malaysia as Batu Pahat-born youngster Adam Norrodin scores his maiden series pole position during the Qualifying session earlier today.
The weekend began yesterday with the usual two Friday practice sessions, allowing riders to get acclimatised with the 4.3km-long ZIC course located in the Guangdong province of the Chinese Republic. The series' fourth round being held in support of the weekend's Pan Delta Racing Festival, which the series' Honda NSF250Rs sharing track time with several two- and four-wheeled events being held over the weekend.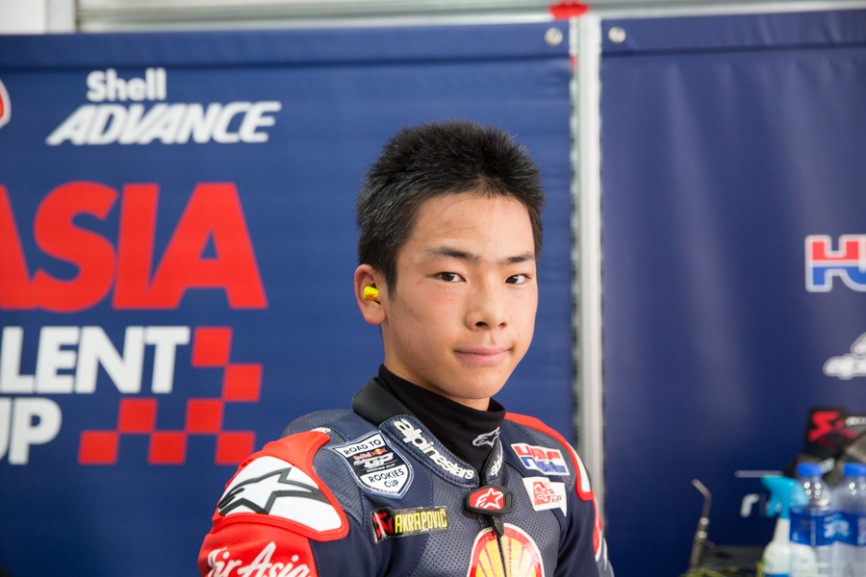 Just like the other Free Practice (FP) sessions held this season, Japanese rider Ayumu Sasaki dominated the time sheets in both sessions once again and was the only rider by the end of the day to have broken into the 1:45.000 timing mark with his fastest laptime of 1:45.997 in FP2. Hot on his heels were fellow countrymen Ai Ogura and Yuta Date, as well as Malaysian rider Norrodin who scored consisted third fastest times in both sessions.
Whilst Adam's performance is indeed good news, Team Malaysia were dealt with a huge blow after Shafiq Rasol suffered a high-side crash during FP2 and caused it to be red-flagged. Shafiq sits the weekend out as a result after suffering a broken finger.
Despite Shafiq's injury, Team Malaysia is still pressing on as proven by the renewed and improved pace from riders Helmi Azman, Azroy Anuar and Fakhrusy Rostam. And once again, the five regulars are joined by wildcards Luth Harith Erwan and Ahmad Idham Khairuddin.
Today's qualifying session ends with Adam outclassing the grid's lead Japanese riders after scoring his fastest laptime of 1;45.669 in the final minutes of the session. Joining Adam on the front row are Takuma Kunimine is second and Ayumu Sasaki in third. Leading the second row just behind Adam in fourth is Helmi who is showing excellent pace after recovering from his injury sustained in Sepang. Fakhrusy Rostam, on the other hand settles for ninth whilst Azroy qualifies further down in 14th, Ahmad Idham in sixteenth Luth Harith in 19th.
The weekend's first race will commence later today at 1:10pm local time and will last for 17 laps in total whilst Race 2 is scheduled to commence tomorrow at 12:30pm local time across 17 laps as well. Stay tuned to our site over the weekend as we bring you the action of the Shell Advance Asia Talent Cup 2015 from Zhuhai, China.