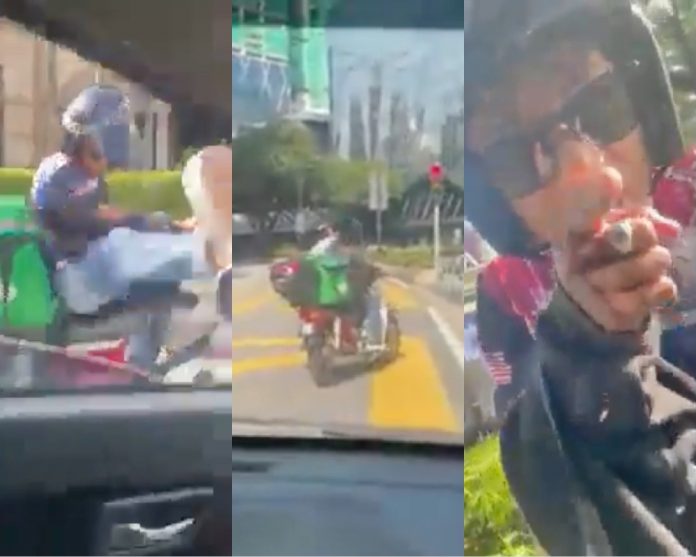 Viral video shows angry food delivery rider berating driver for honking at and filming him after allegedly running a red light.
We've seen it time and time again: food delivery riders deliberately running red lights, thus needlessly (and recklessly) endangering their lives and that of others.
Even in this day and age where there are more cameras in the hands of users to catch them in the act, many such delivery riders – as well as other motorcyclists! – still brazenly run red lights.
Well, given this recent viral video, it seems many such motorcyclist – not just food delivery riders, by the way – now think it's okay to run the red light, and are willing to defend their act, no matter the cost.
"ABG GRABFOODKU SAMSENG"

Pada pukul sekitar 430pm di hadapan traffic light impiana hotel klcc, saya menunggu lampu merah dan sebelah kiri saya ada bas rapid kl.

Rider motor ini telah datAng di tengah celah kereta saya dan bas , dan melanggar lampu merah. pic.twitter.com/2NWEUA662z

— Jabatan Netizen Malaysia (@jnmalaysia) July 25, 2021
In this minute-long viral video from Twitter, we can clearly see a food delivery rider and a car driver getting into a heated argument. Based on the Twitter thread accompanying the video, the car driver had honked at the rider who he alleged had weaved past him whilst stopped at an intersection and ran the red light.
In response, the food delivery rider slowed down, pull alongside the driver and berated him at the top of his lungs, even launching a few kicks towards the driver's car too. The delivery rider later pulled ahead and stopped to block the driver before dismounting off his ride to continue berating and threaten the driver further to delete the video.
The driver who recorded all this has already reportedly filed a police report against said food delivery rider, though we reckon the traction this video is garnering online will likely serve a different kind of justice.
At the time of writing, this video posted on Twitter has garnered over 135,900 views plus over 2,700 retweets by netizens who've also flooded the post's thread with their replies.