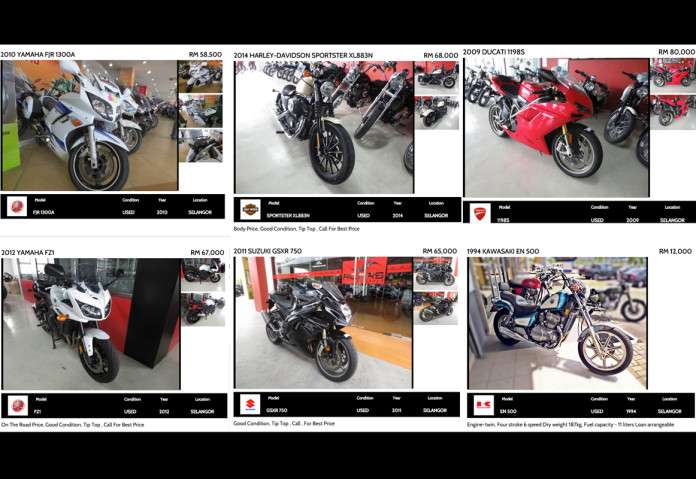 We scour through the classifieds at Bike Trader Malaysia to find nine awesome used bikes to consider buying.
Lets face it, the current economic conditions have made it slightly difficult for many of us to pursue our two-wheeled dreams. As new bike prices continue to rise, more and more riders (us included!) have turned to used bikes as an alternative avenue.
Truth be told, good deals are hard to find these days. However, if you invest some time and effort, awesome deals and bargains are indeed abundant in the second-hand bikes market.
We scoured through the vast classifieds database currently up online at Bike Trader Malaysia. After spending a couple of hours, we manage to handpick a selection of nine used bikes up for grabs with tremendous deals from the specialist online bike classifieds site. (Visit Bike Trader Malaysia here)
Here's our pick of the nine awesome used bikes deals from Bike Trader Malaysia that we reckon are worthy of a look.
1994 Kawasaki EN500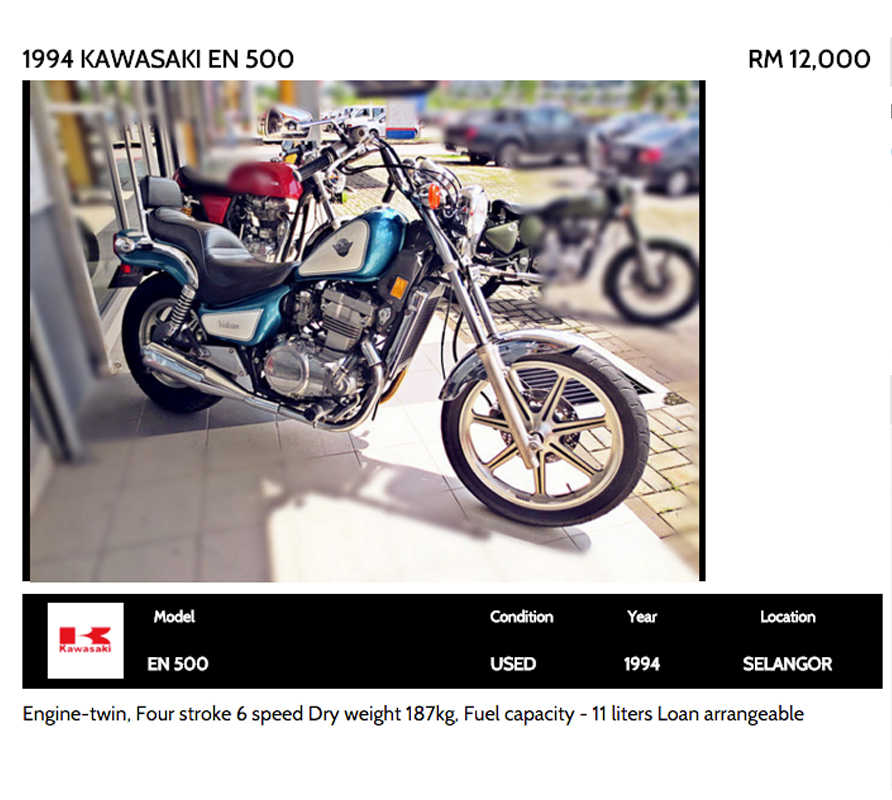 (Click here to see the ad)
Lets say that you find it difficult to meet the RM30,000 sticker price of the new Kawasaki Vulcan S cruiser. Then this older Kawasaki EN500 we found should suffice if you're looking for a good-sized and capable cruiser. It may be old, but this EN500 model's 498cc parallel-twin still holds some decent grunt whilst its classic cruiser shape is both timeless and open to a wide variety of customisation. This particular bike is advertised at RM12,000, which is quite a steal for a 1990s bike that appears to be in pristine condition as pictured.
2010 Yamaha FJR1300A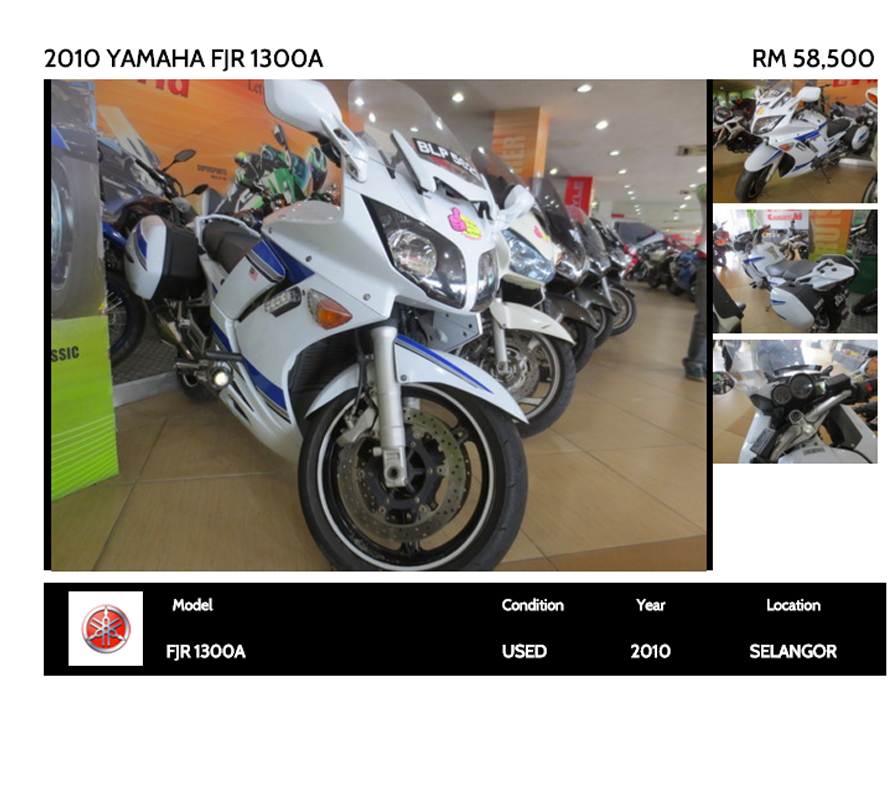 (Click here to see the ad)
If you're in the market for a sport-touring bike, you'd be glad to know that the market is flooded with second-hand popular models like the Yamaha FJR1300. This 2010 model we found isn't too old and comes powered by a 1,298cc transverse in-line four-cylinder with roughly 140hp and 134.4Nm of peak torque. Couple that with a smooth six-speed transmission and shaft drive, large windscreen and practical panniers, this mile-munching Yammy fits the bill almost perfectly. And, at RM58,500, it is an excellent bargain considering the fact that prices for newer and more current models from a parallel importer start from upwards of RM78,000.
2011 Suzuki GSX-R750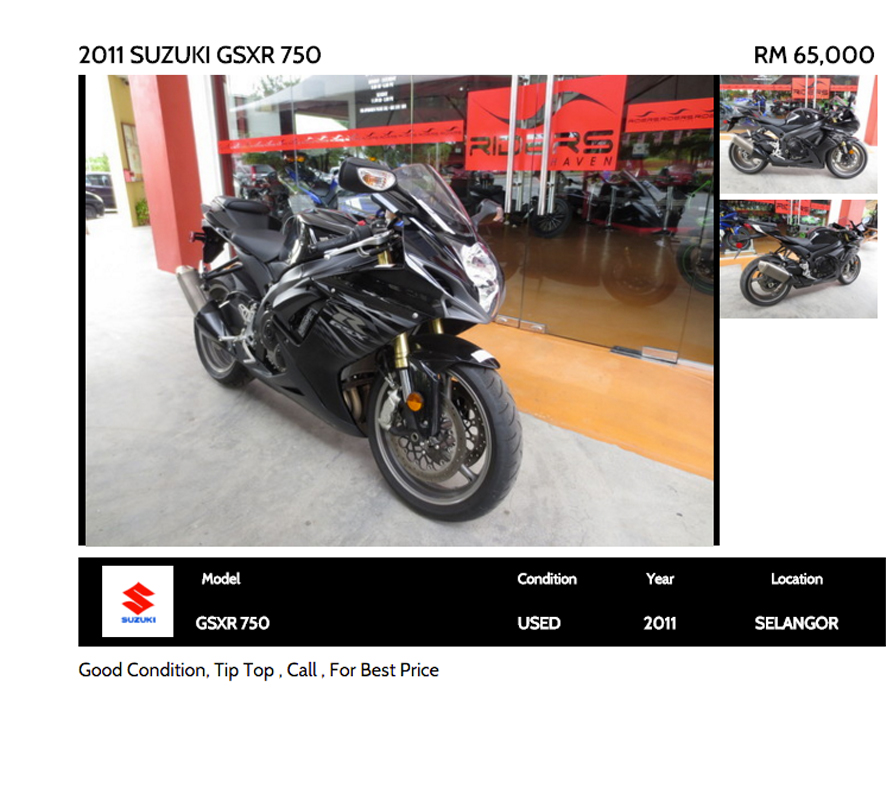 (Click here to see the ad)
Lets say that you wanted a middleweight supersport bike that wasn't as slow as a the popular 600cc models but at the same time had enough punch to keep with several litre-class superbikes. All you need is something like this Suzuki GSX-R750. This 2011 version of the Gixxer supersport packs a manic 750cc in-line four-cylinder screamer with a whopping 148hp available on tap. The RM65,000 price tag this tasty black-painted one commands may appear steep at first, but this is a bargain indeed when you consider that a brand new and larger Suzuki GSX-R1000 model will set you back at least RM100,000. This used 750 model is bound to give you nearly the same levels of fun, excitement and performance.
2012 Yamaha FZ1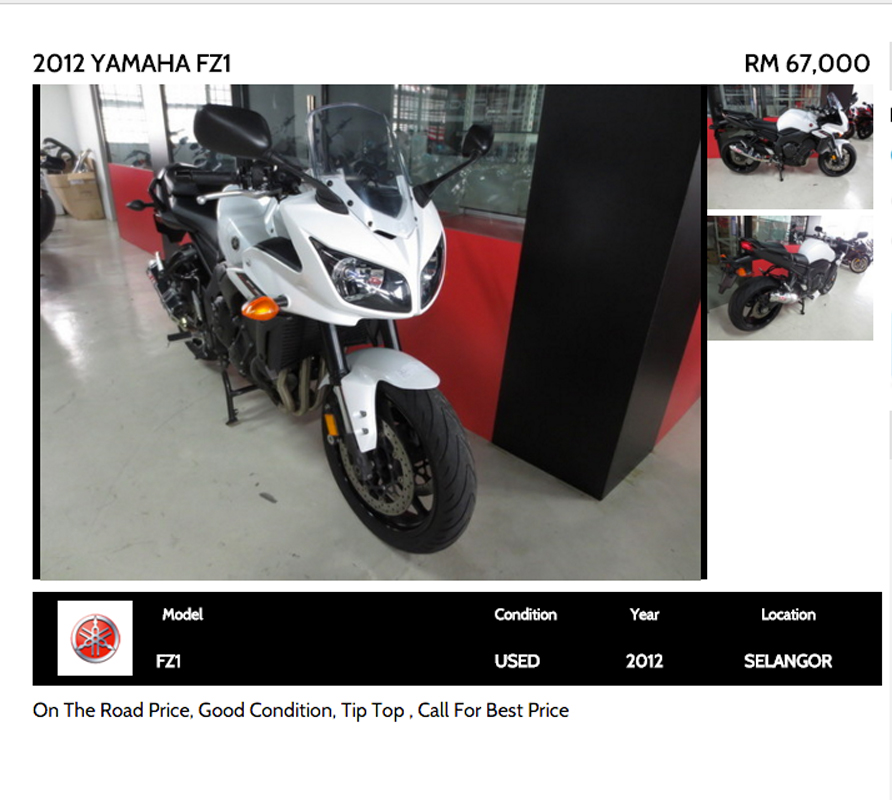 (Click here to see the ad)
Also known as the Yamaha Fazer 1000, the FZ1 was Yamaha's rendition of the growing streetfighter movement of its time. On paper, this second generation FZ1 wasn't too far off the pace and abilities of contemporary rivals like the Triumph Speed Triple and Ducati Streetfighter. Furthermore, this second generation FZ1 model came powered by the same 998cc in-line four-cylinder found in the manic Yamaha YZF-R1 superbike of the same era – now who wouldn't want that? We reckon that if you invested just a few thousand Ringgits more on top of this particular FZ1'sbargain asking price of RM67,000 in performance mods, you'd have yourself one potent streetfighter that's just as good as any its current generation contemporaries.
2014 Harley-Davidson Sportster XL883N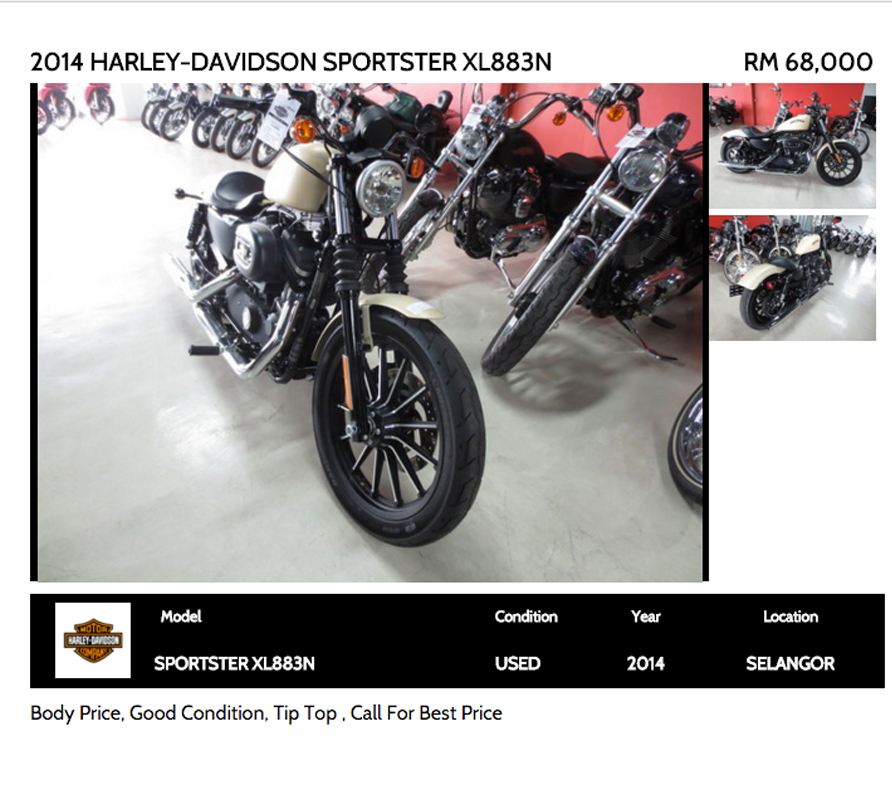 (Click here to see the ad)
Since our editor is a Harley-Davidson owner himself, we had to slot one similar example here somewhere. Who says the famed bar-and-shield marque's experience of a thumping V-twin and smooth belt-driven ride needs to be expensive? This Sportster XL883N we found is on sale for RM68,000, which makes it significantly cheaper than buying a comparable Sporster 883 brand new that costs upwards of RM80,000. Considering that this 2014 model isn't that old, the price it commands is a bargain. For that you get the timeless American cruiser design and looks that is also highly customisable, plus the sweet soundtrack of the air-cooled and pushrod 883cc V-twin.
2011 Yamaha YZF-R1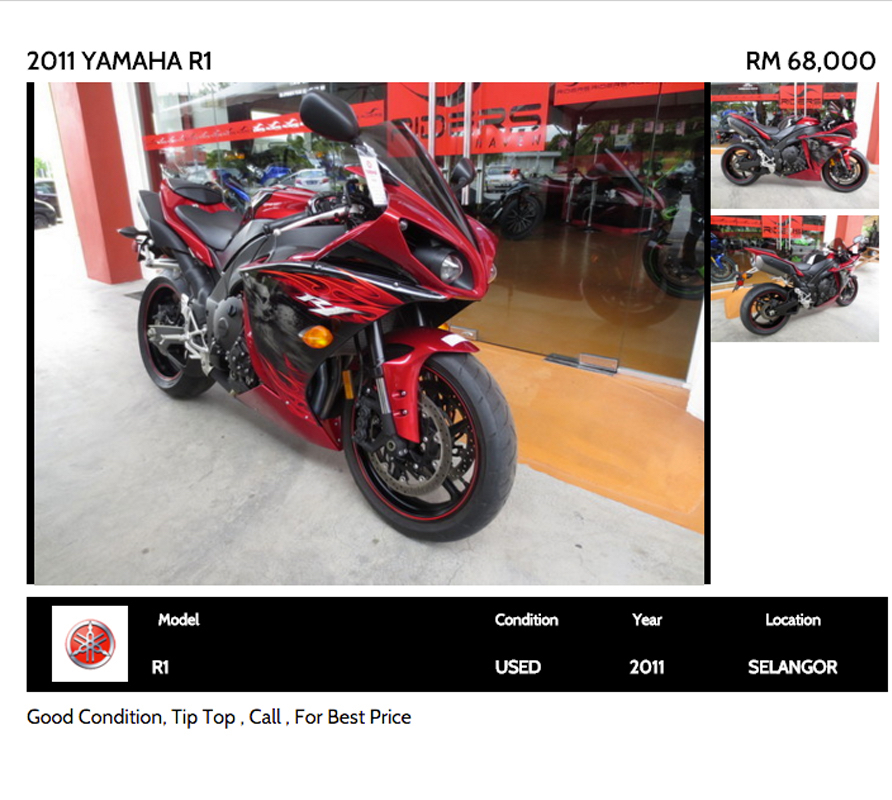 (Click here to see the ad)
Want a proper Japanese litre-class superbike with a screaming in-line four-cylinder that sounds just like Valentino Rossi's M1 GP bike? Then look no further past the acclaimed Yamaha YZF-R1. Since the new generation bike's arrival, prices for older models have dropped quite a bit, and you can have a good condition last generation model for cheap now like this 2011 model that's going for a reasonable RM68,000. It isn't too old, nor is it out place against some of its newer contemporaries in both the streets and trackdays. A litre-class track weapon at less than RM70,000? Count us in!
2011 Honda CBR1000RR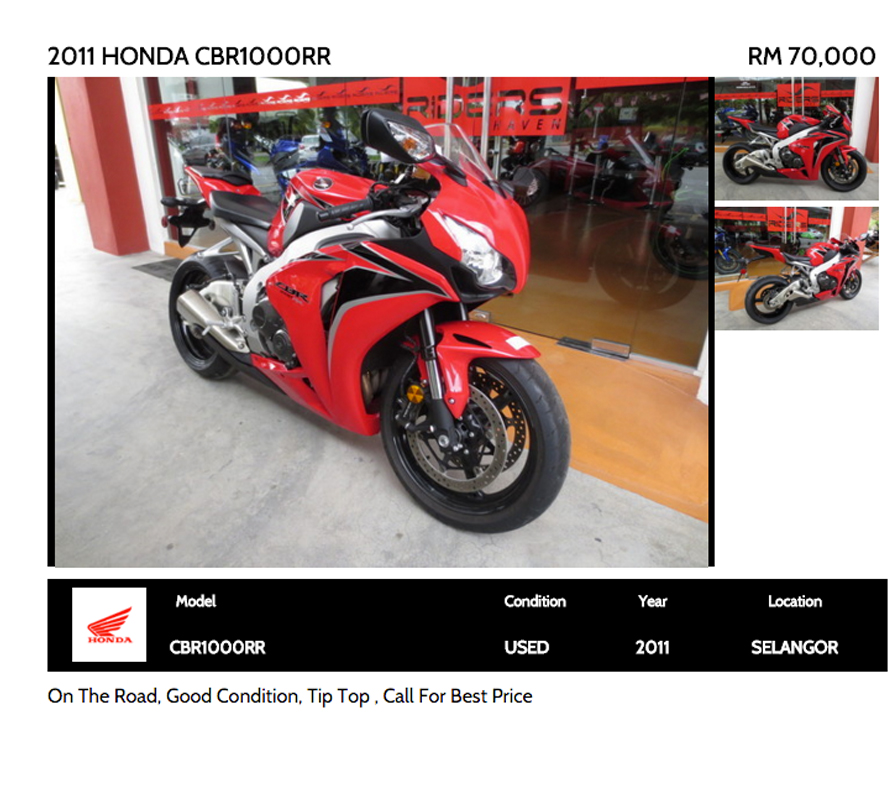 (Click here to see the ad)
IF our recent report of the CBR-RR Mega Gathering 2016 could tell us anything, the key point there was that Malaysian bikers love the Honda CBR-RR series of superbikes. This third generation 2011 model is one exceptional example of the many widely available in the used bike market. RM70,000 does sound steep, but considering that it looks amazingly stock in the advertised pictures, and it is an updated model with roughly 170hp and a close-ratio transmission, it is pretty good deal. Furthermore, a brand new Honda CBR1000RR will cost another RM20,000 to RM30,000 more from this used model. And, like the rivalling Yamaha R1, this CBR1000RR is still as potent as some of its current contemporaries on the street and track.
2013 Aprilia RSV4 Factory Edition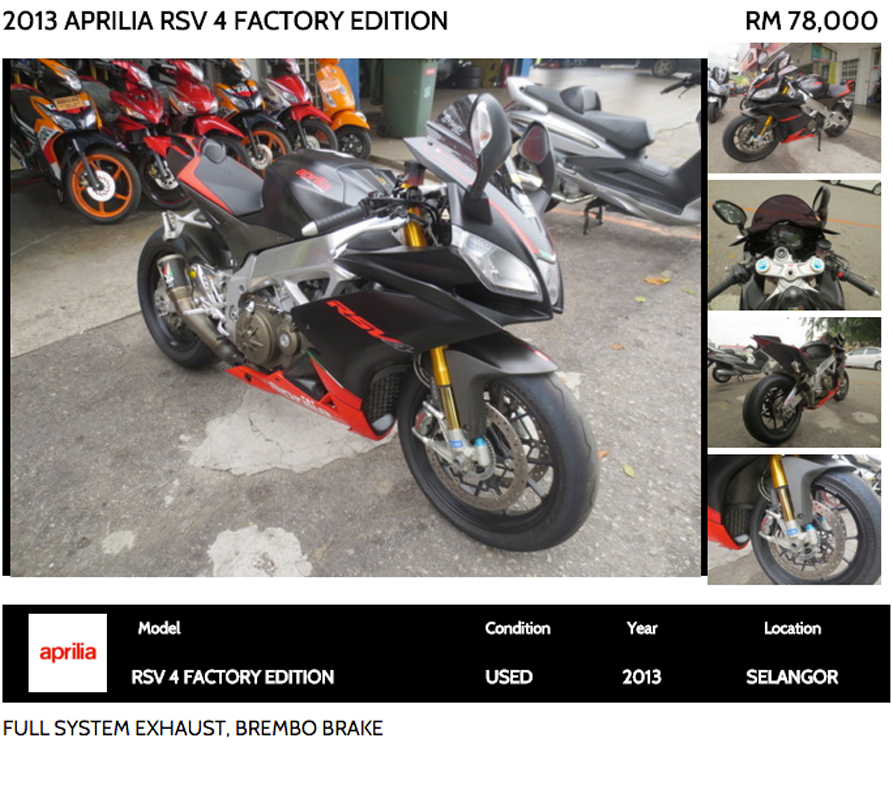 (Click here to see the ad)
How about a proper race-bred European superbike? This 2013 Aprilia RSV4 Factory Edition we found on sale fits that bill perfectly. 2013 was a good year for Aprilia as it won one of four World Superbike Championship (WSBK) manufacturer's title it earned since 2010 with the Aprilia RSV4 superbike. It may be an older model, but this 2013 RSV4 still packs a potent 999cc V4 screamer that makes a whopping 201hp and 115Nm of torque. And, thanks to its vast array of on board electronics, this is one litre-class superbike that can easily be adapted to both street and track use too. Considering that the brand new Aprilia RSV4 RF launched during WSBK Malaysia 2015 commands a starting price of RM138,800, this used 2013 model's RM78,000 asking price is almost half that!
2009 Ducati 1198S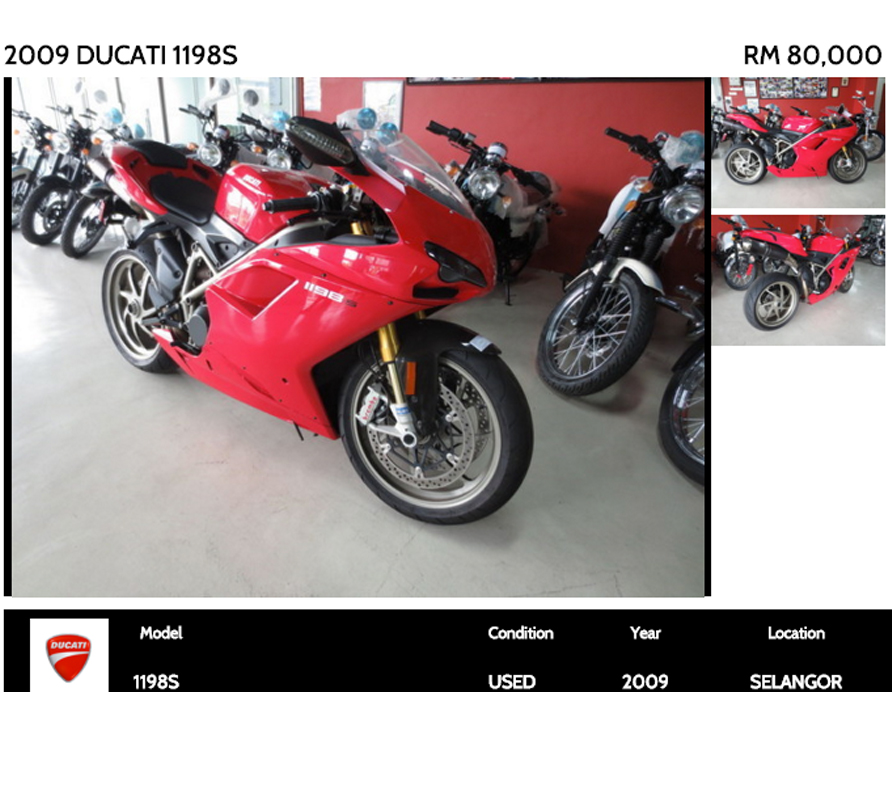 (Click here to see the ad)
If you've always fancied a Ducati 1199 or the newer 1299 Panigale superbike but its prices are simply a little too rich? Worry not as the Panigale's predecessors have also richly flooded the second-hand and used bikes market. Our pick amongst the many is this pristine 2009 Ducati 1198S. The 'S' suffix at the end of its name carries a special meaning: it is much more potent over the standard 1198. So, a stylish Italian superbike with a 170hp 1,198cc Testastretta Evoluzione V-twin engine, a light dry weight of 171kg, as well as bragging rights from Troy Bayliss' successes in WSBK, there's little wrong with this 1198S. At RM80,000, this Ducati 1198S is giving you 1199 Panigale-like abilities at a price cheaper than the 899 Panigale supersport too!