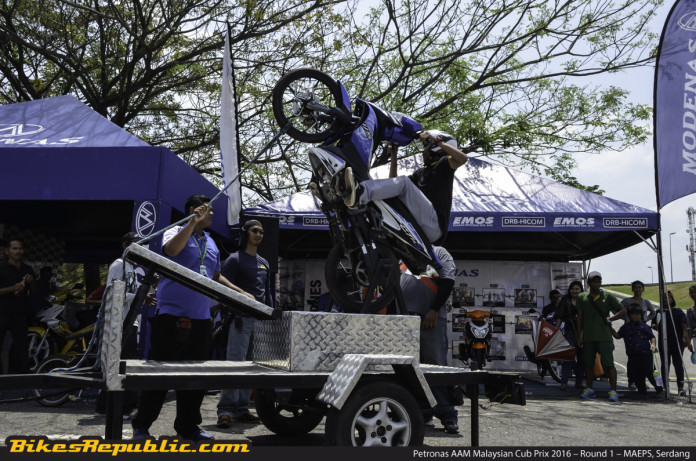 Some of the awesome parts from the season-opening Malaysian Cub Prix race weekend in MAEPS, Serdang.
Now, before you completely write off the venerable Petronas AAM Malaysian Cub Prix racing championship, here's a couple of things you need to know about the series.
Firstly, it is a legitimate championship where our future champions and heroes are bred. Its graduates include Shahrol Yuzy, Zulfahmi Khairuddin, Zaqhwan Zaidi, Azlan Shah, Zamri Baba, as well as Hafizh Syahrin. All these names were the result of the sport's illustrious 23-year long history if we might add.
Of course, there is more to it and here are five awesome things we can garner from our full day stint covering the 2016 season-opener in MAEPS, Serdang last weekend.
1. Awesome racing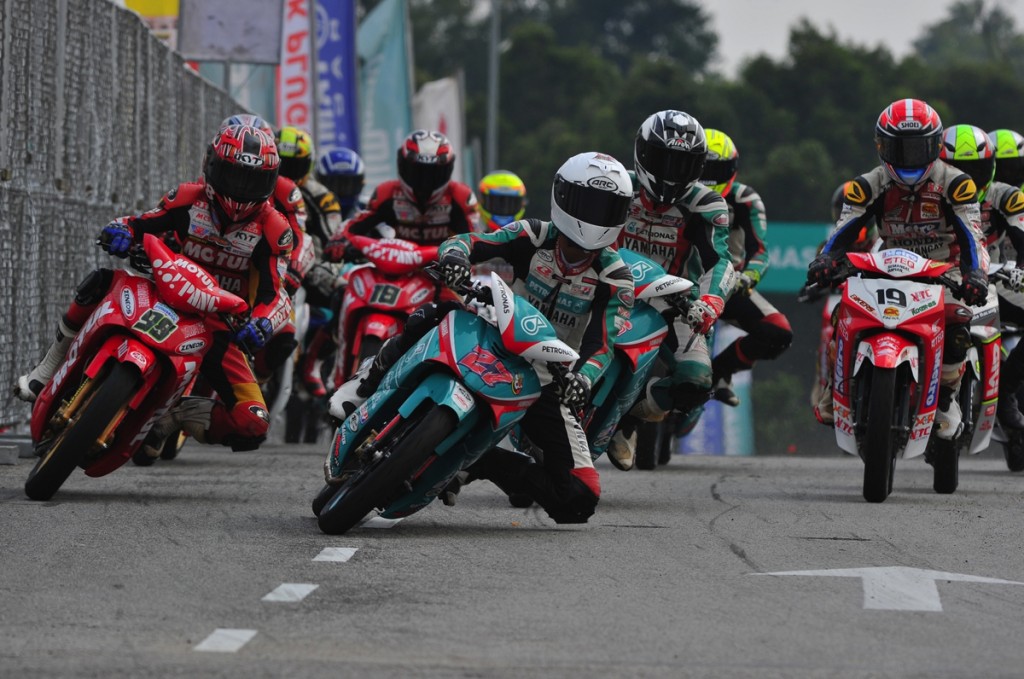 The Malaysian Cub Prix series sees riders and teams race using specially prepared underbone motorcycles across a multitude of classes in specially constructed street courses. The result of this is nail biting, intense and close racing action.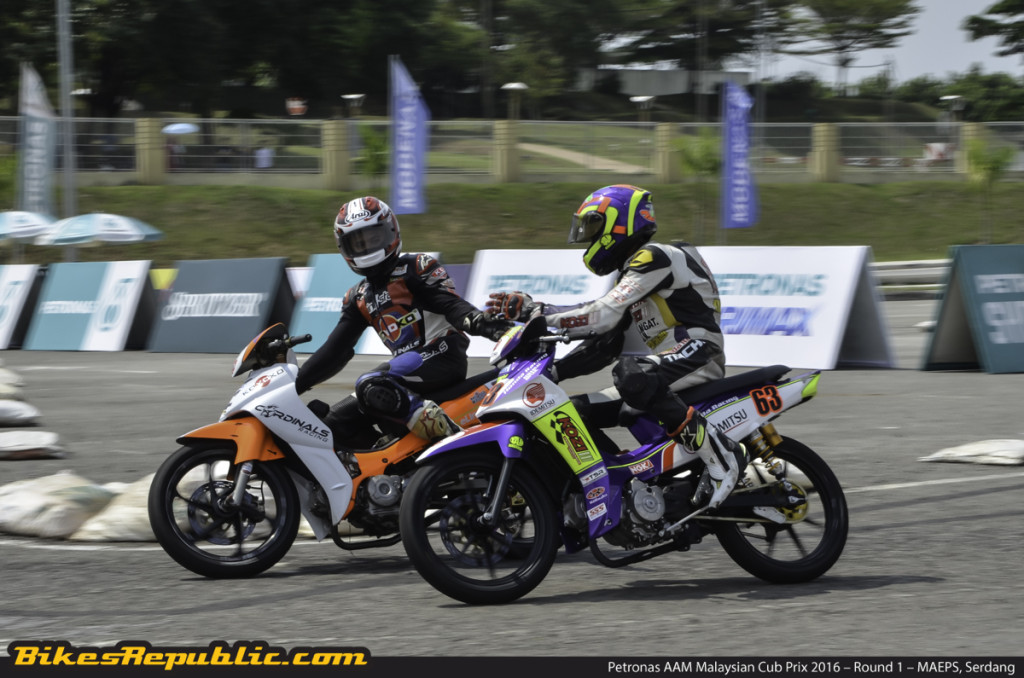 The riders may be racing what appears to be merely underbone bikes, but trust us when we say that these guys are fast, and it takes a lot of skills to put your knee down in a sweeping corner on an undebone racer.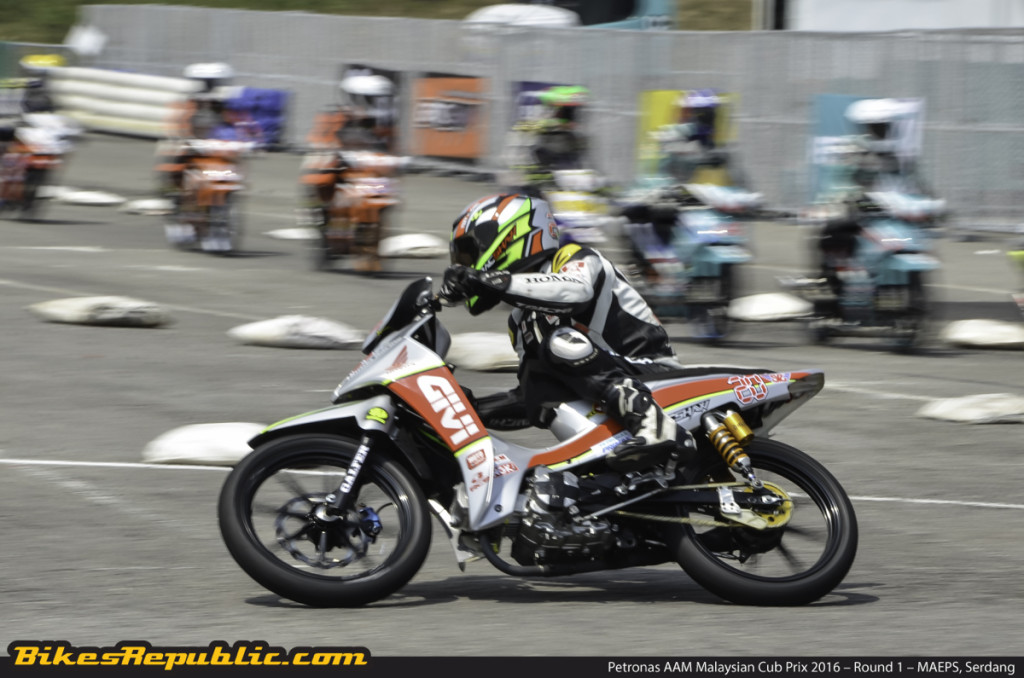 What adds to this awesome racing action is the fact that it is free. Yes, entrance for fans at all rounds of the Malaysian Cub Prix is FREE, and this is the kind of excitement that is also wholesome for the entire family. Furthermore, you can also catch the races that are broadcasted Live on RTM 1, or its 'encore' delayed telecast on Astro Arena.
2. Yamaha's display booth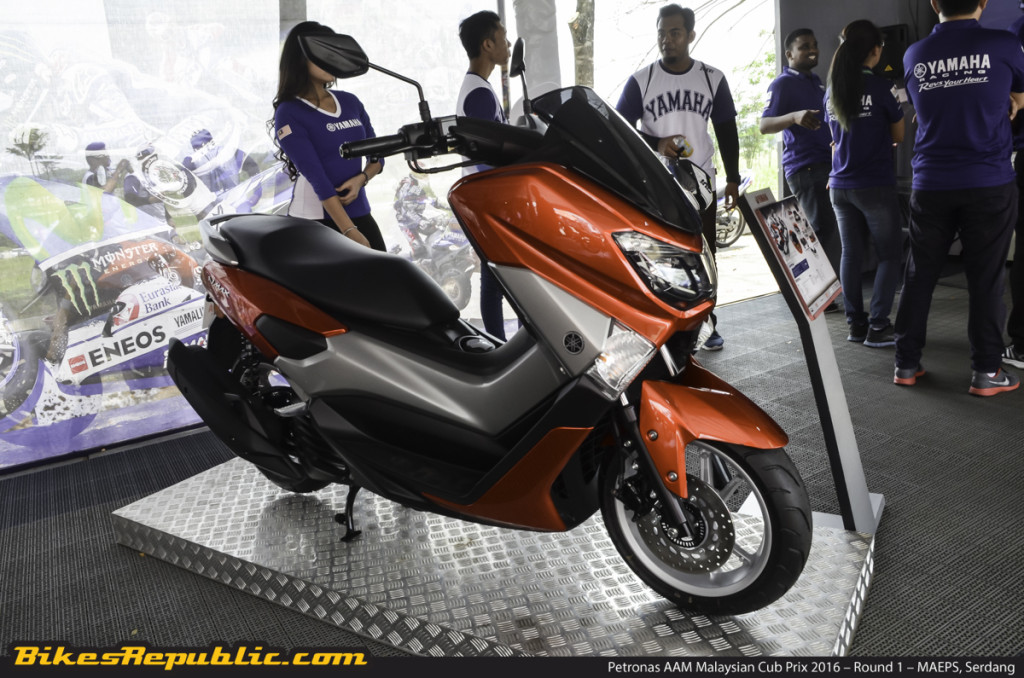 Last weekend in MAEPS, Serdang, a number manufacturers were present with booths with plenty on display. Our favourite of the lot was Hong Leong Yamaha Motor's extensive display of bikes which included the new Yamaha NMax scooter that's arriving soon.
The firm also has a variety of its current popular models on display such as the Y15ZR, the updated LC135 series and the YZF-R25 amongst others. Next to them was a selection of big bikes too such as the Super Tenere and the manic YZF-R1M, with the sight of both making us wish that the firm imported them officially into our market.
3. This epic wheelie machine @ Modenas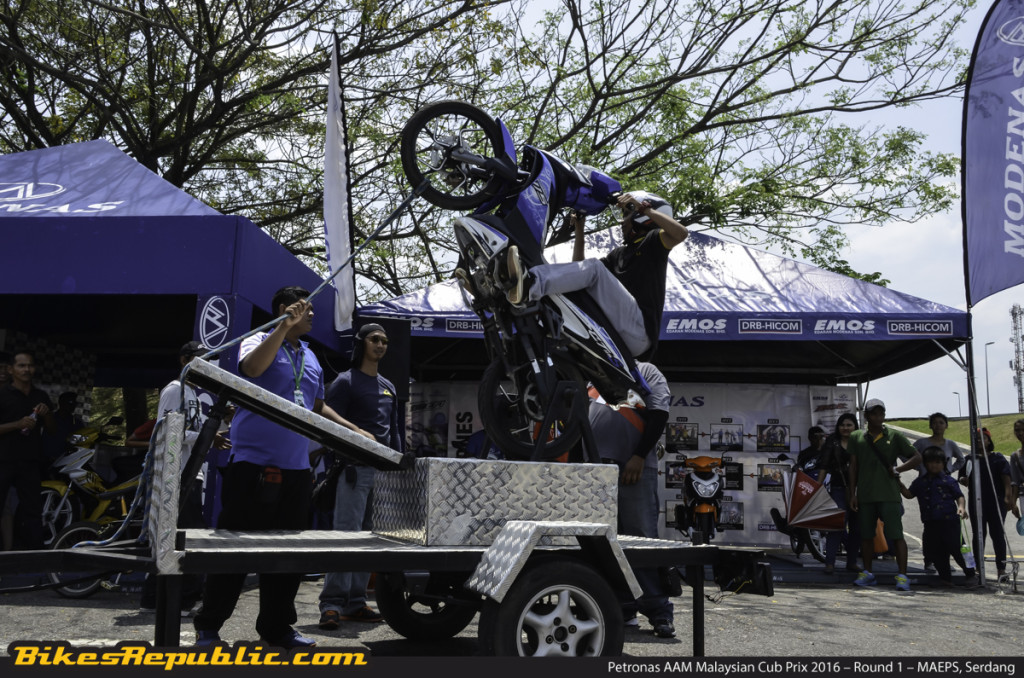 Besides Yamaha, there were a number of other brands present here too such as national motorcycle marque Modenas. The firm's booth was pretty good to say the least with a display of its current models such as the new CT115S. But the booth's was roaring – literally – with people wanting to have go on this epic wheelie machine!
4. Sate your need for speed… virtually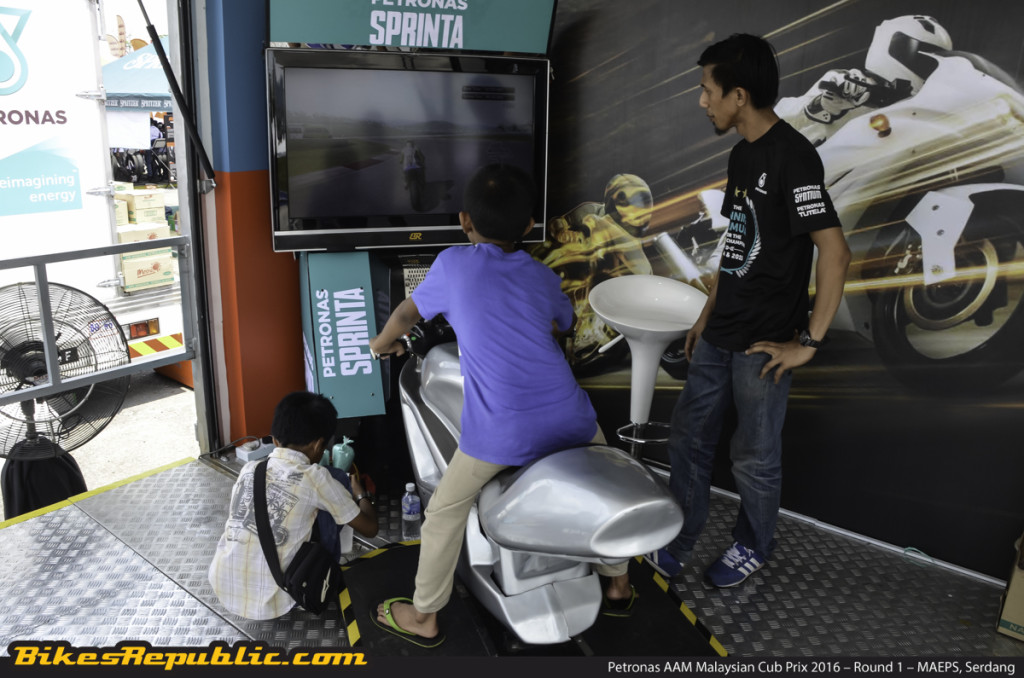 Our friends and series' title sponsors, who is none other than national oil Petronas, also made its presence felt at each Cub Prix round. Besides selling a variety of food and beverages for fans, the booth also had special contests and up for grabs was a brand new motorcycle.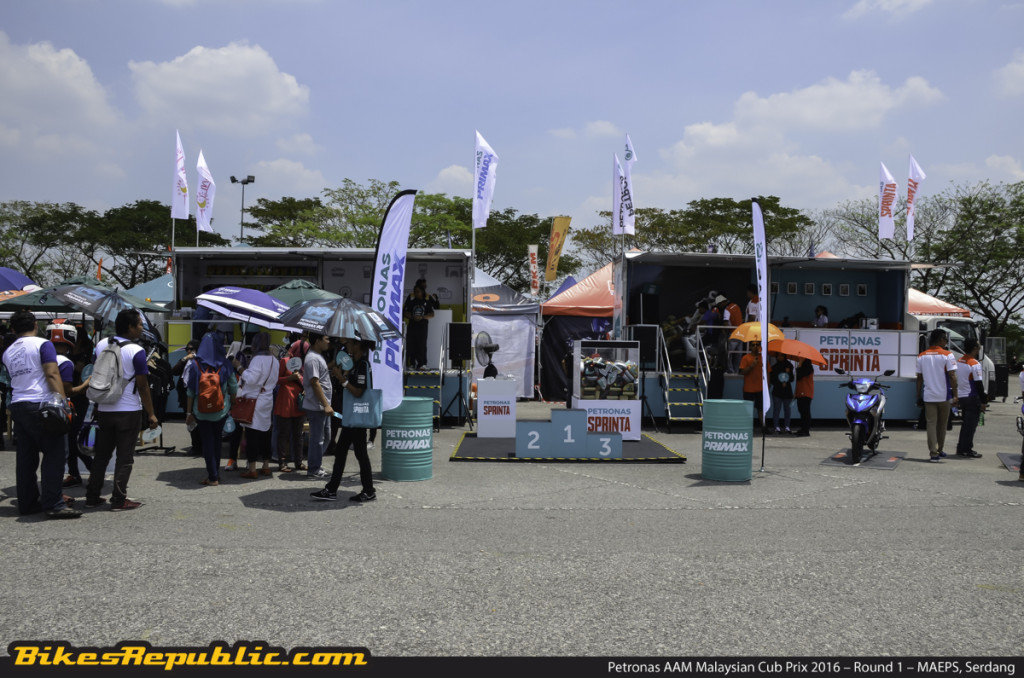 Still, the need for speed proved insatiable for some, resulting in the presence of our very own MotoGP race simulator. Kids of all ages as well as some avid adults all took turns to see who can virtually lap the Sepang International Circuit as fast as possible. Again, like the on-track racing, there is plenty of wholesome family-friendly fun around the bazaar grounds at each Cub Prix round.
4. Stunt demo by KTM Malaysia and Gabit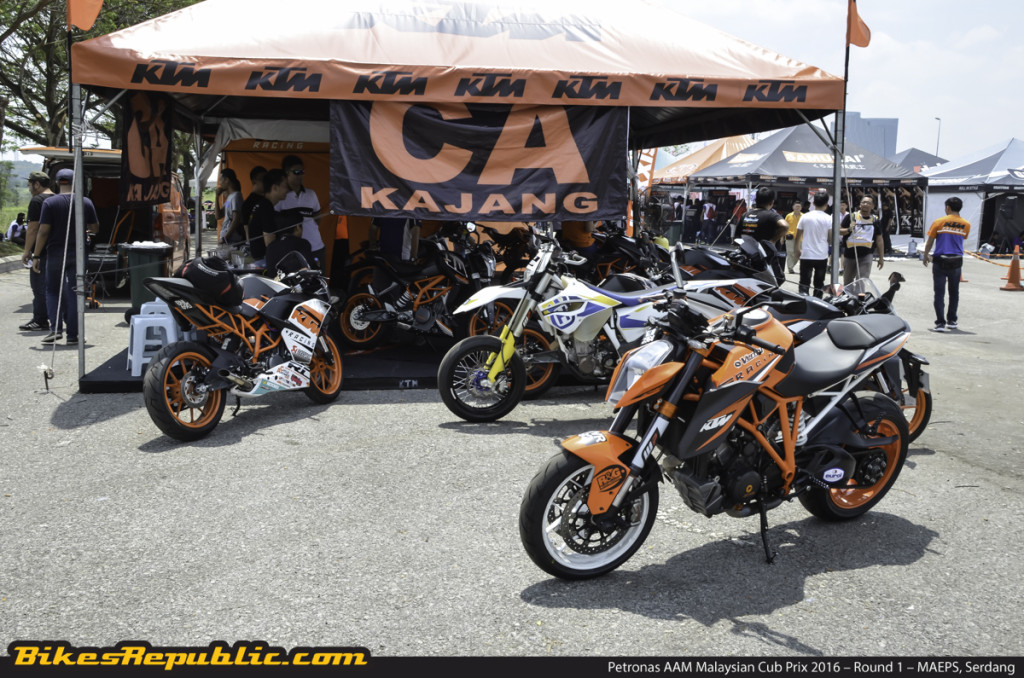 Also present here with a booth was popular Austrian bikes brand KTM. The firm's Malaysian arm is a recent addition to the Cub Prix bazaar grounds and last weekend's round was its efforts in to entice fans present for the weekend. Besides offering test rides, KTM Malaysia also held a special stunt riding demo with its very own racer and stunt rider Gabit.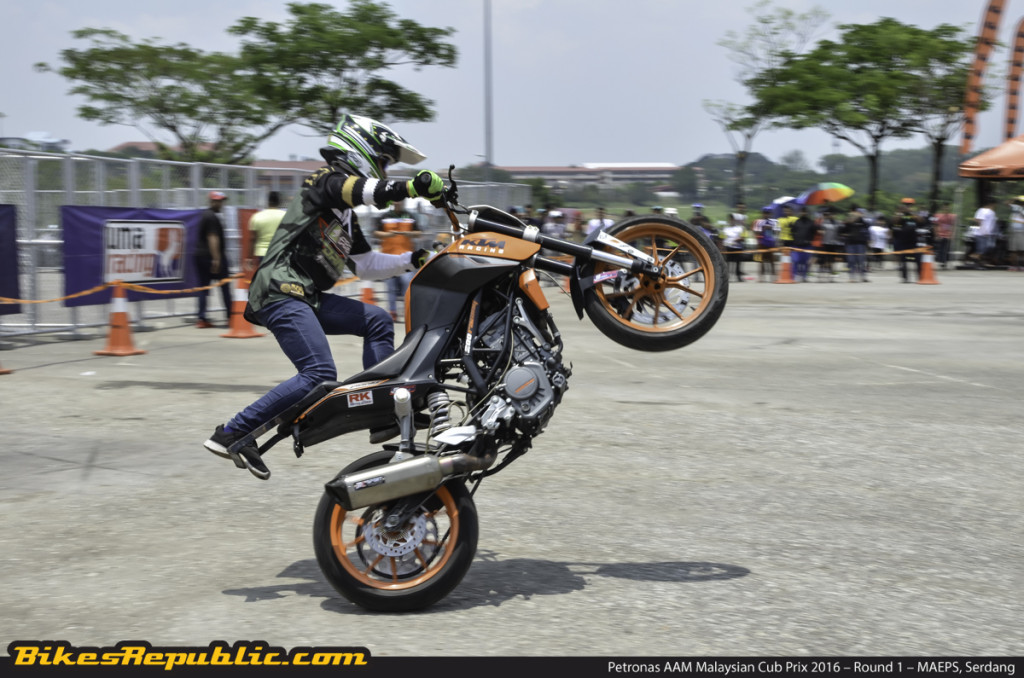 Gabit's show during the day's scheduled break from racing kept testosterone and excitement levels high as he performed with his tricked out KTM 200 Duke stunt machine. From wheelies to stoppies and many other tricks, the cheers from the crowd that gathered said it all.
5. Gorgeous grid girls
Well, this kind of explains itself, no? We'll let pictures of these beauties speak for themselves.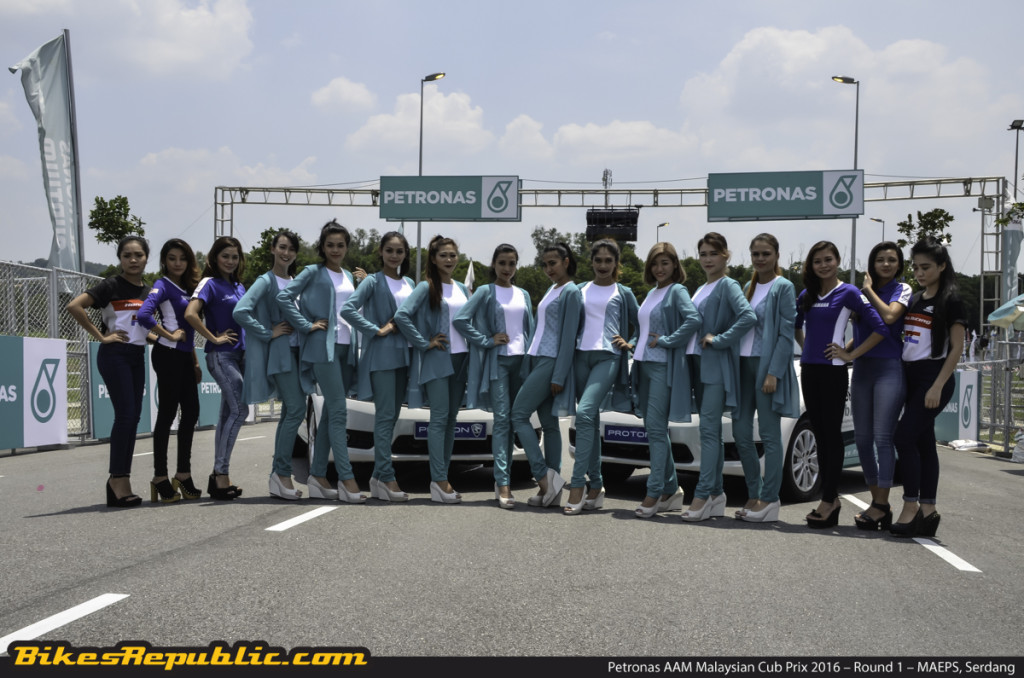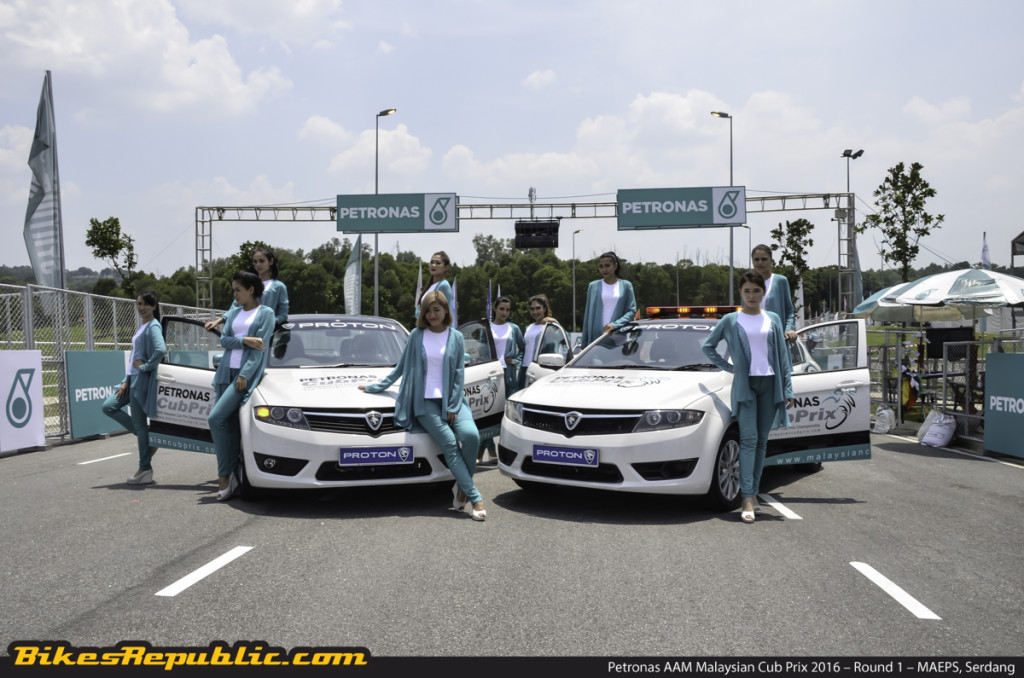 So, when it comes to the Malaysian Cub Prix racing weekend, it is not just the racing. Even the off-track festivities are a huge draw for many fans, especially in rounds outside the urbanised Klang Valley region. Read our season launch report here to see the series' full racing calendar for 2016 and also our race report from last weekend's racing action here.
You can also check out more pictures in the extensive gallery we've posted below.
Petronas AAM Malaysian Cub Prix Round 1 – MAEPS, Serdang