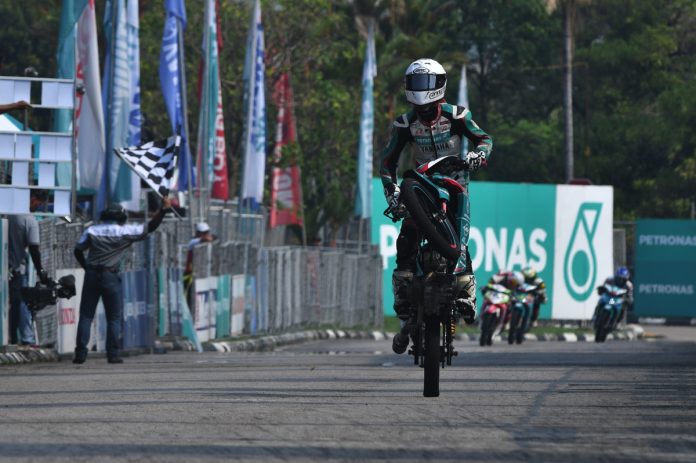 Malaysian Cub Prix national underbone racing series roars in Johore state.
Round 7 of the 2016 Petronas AAM Malaysian Cub Prix championship got underway last weekend, this time in Johore's Pasir Gudang Stadium. This was one unforgettable outing for race fans from the southern state as its home heroes triumphed in great stride whilst racing on home soil.
CP130 – Kasma secures team awards
Starting with the premier CP130 category, current championship leader, Johore native and recent graduate of the Valentino Rossi VR46 Academy Kasma Daniel Kasmayuddin took victory on two fronts.
Not only did the 17-year-old Petronas Yamaha Maju Motor rider scored a hat-trick qualifying run and the race win, his consistent wins throughout the season saw him secure the CP130 team award for his team with just three rounds left. But it all might not have happened had Kasma not kept his cool.
Despite securing pole position earlier, the Johor youngster's bad start saw him drop down the order as low at sixth at one point. Nevertheless, the talented Johorean was able to pick his way up the order and secure the win in his home state – his sixth win of the season in fact.
Coming in second in 18-lap sprint race was Terengganu native Ahamd Afif Amran astride the rivalling Petronas Yamaha CKJ machine whilst Selangor-born rider Norizman Ismail took third astride the Harian Metro YTEQ SCK Honda Racing machine.
All three winners had their trophies awarded to them on the podium by HRH Tunku Idris Iskandar Ibni Sultan Ibrahim, the Tunku Temenggong Johor as well, making this a really sweet affair for all local Johorean fans in attendance on Sunday as well.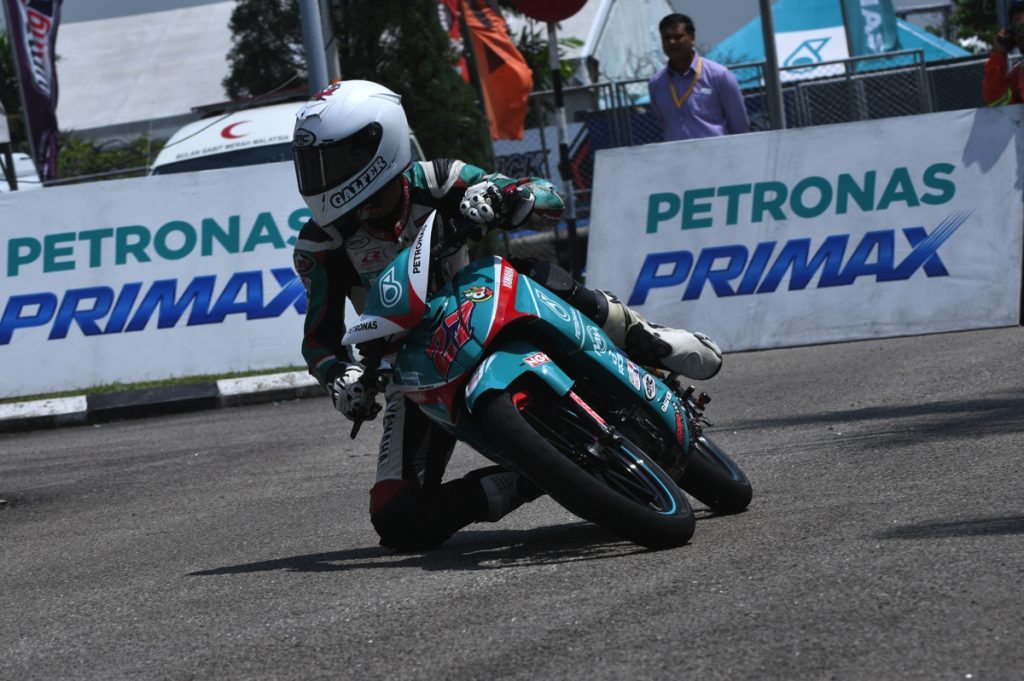 With the CP130 team's awards in the bag, Kasma will now focus his attention at securing the CP130 rider's championship title. He still holds a commanding lead in the standings with 150 points, which is 39 points clear of teammate Ahmad Fazli Sham in second and a further 82 points ahead of Norizman in third.
CP115 – A surprising winner
In the supporting CP115 category, another Johore native ruled the weekend and it was none other than Pasir Gudang native Fakhrusy Rostam. The former Shell Advance Asia Talent Cup Moto3 rider made a surprising comeback in the national championship as a privateer this season.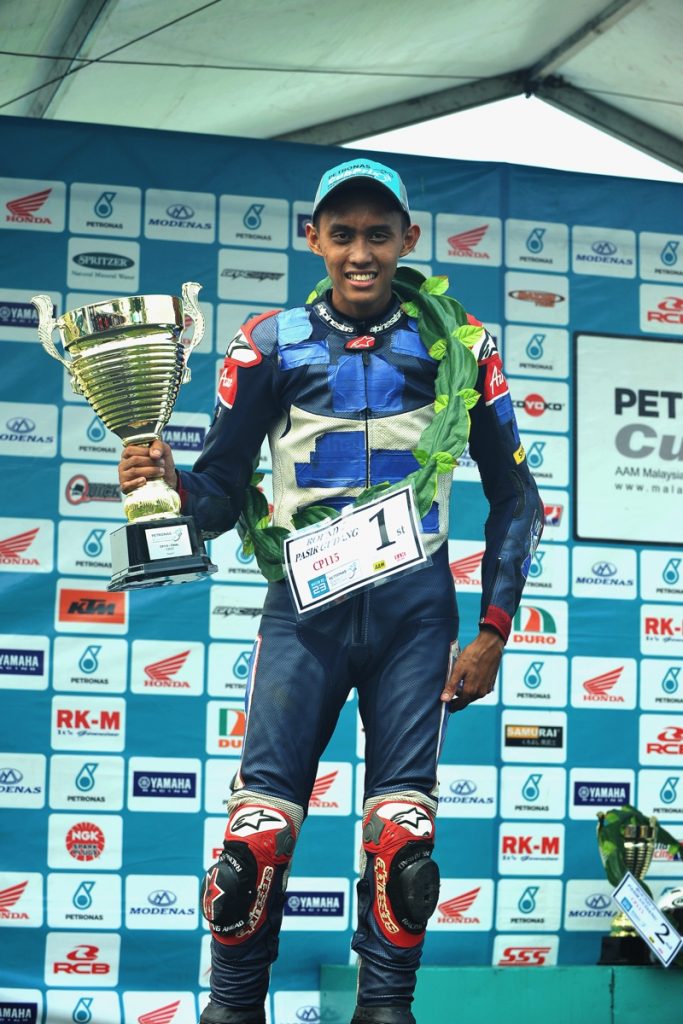 The towering teenager took a surprising win on his home turn astride a Yamaha machine. Joining him on the podium in third place was GIVI Honda Yuzy Racing rider Azroy Anuar who also previously raced in the same Moto3 series with Fakhrusy not too long ago.
Spliting the two former Moto3 riders on the podium was Petronas Yamaha Maju Motor's Md Akid Aziz who finished second. Despite not winning, Akid does end the weekend as the category's biggest winner after snatching the lead in the championship standings.
Akid currently leads the CP115 category standings with 106 points, having overtaken previous leader and Motul Zeneos Yamaha YY Pang rider Tengku Amirul Haffirudin who drops down to second with 100 points.
Wira – Helmi closes the gap to Shafiq
Last but not least came the thrilling outcome of the weekend's supporting Wira class. The weekend saw two more former Asia Talent Cup Moto3 riders ruling the race, this time in the form of Helmi Azman and Shafiq Ezzariq.
Astride the IUGB AFB Tech Racing Yamaha machine, Helmi rocketed away to yet another win, scoring his season's first hat-trick in Pasir Gudang last weekend. But not far off in third was Shafiq Ezzariq astride the Idemitsu Kozi Yam Honda racing machine.
In similar fashion to the CP115 results, Md Qhuwarismi Md Nasir who came in second astride the Yamaha-powered Weststar Motorsports team's machine splits the two former Moto3 riders on the podium.
Clearly, the advantage of having a recent Moto3 racing stint gives a clear advantage, especially for Helmi. Nevertheless, Shafiq's headstart in the season with four wins sees him retaining his championship standings lead with 149 points, but Helmi's hat-trick sees him edging closer in second with 128 points.
Round 8 – Termeloh, Pahang
The Petronas AAM Malaysian Cub Prix series will resume with Round 8 later this month in Temerloh, Pahang. Scheduled from Sept 24 to Sept 25, the series' next outing in the East Coast is set to be a hotly contested one where the champions in all three categories could be decided.