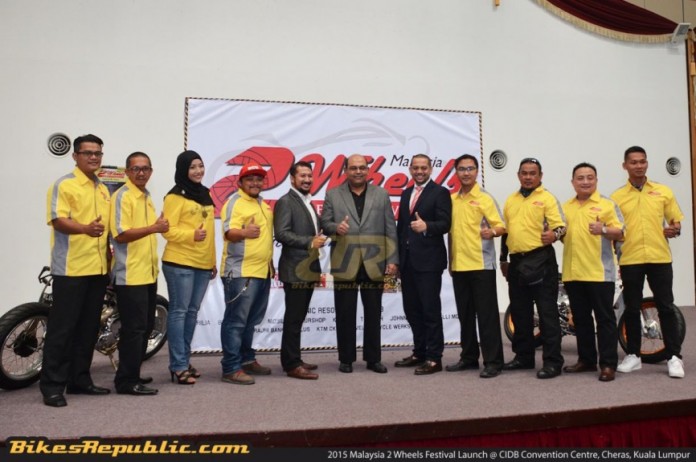 2015 Malaysia 2 Wheels Festival officially launched ahead of annual festival's third instalment slated for December this year.
After two successful runnings in 2013 and 2014, the Malaysia 2 Wheels Festival will return for a third instalment later this year. The event was launched earlier today by its organisers WSF Travel & Tours Sdn Bhd where its managing director Wan Shairi Wan Ahmad also announced the event's new key partners as well.
Besides Wan Shairi, also present during the launch was Pekema Riders' Club president Datuk SM Zulkifli SM Amin. Alongside him were representatives from several of the event's key partners, namely the Kuala Lumpur Malay Chamber of Commerce (KLMCC) and its youth division, as well as local custom culture publication KUSTOMSIX.
Besides the KLMCC and KUSTOMSIX, other partners of the event this year includes Tourism Malaysia, the Ministry of Youth & Sports (KBS), the Department of Road Safety (JKJR), the Royal Malaysian Police (PDRM), Kuala Lumpur City Hall (DBKL), as well as the Road Transport Department (JPJ) and its youth squad called the 'Skuad Muda JPJ Malaysia'.
This year, the 2015 Malaysia 2 Wheels Festival is set to take place in the CIDB Convention Centre located off Jalan Cheras, Kuala Lumpur. The event will be held both in- and outdoors around the premises, with the four-day schedule promising even more vendors and exciting activities on a much larger scale.
Notably, unlike previous editions, this year's event will also welcome the ever-growing cycling community. Organisers WSF Travel & Tours Sdn Bhd have confirmed that activities will be held to promote the healthy hobby with the support of its partners and the presence of several cycling-specific vendors. Furthermore, the event's running dates will also coincide with the KL Car-Free Morning with a group ride around the city being planned.
Of course not forgetting the petrol-powered two-wheels community, organisers have also confirmed plans for two Malaysia Book of Record attempts. The first will see the festival attempt to host the largest gathering of 'street cubs' as a bid to continue fostering the rapidly growing movement. Next comes the second attempt host the largest gathering of Yamaha RXZ as well to mark the popular two-stroke lightweight sportsbike's 30-year presence in Malaysia.
On the vendors' front, visitors can look forward to the presence of plenty of big names such as KTM Malaysia CKD, Triumph, Aprilia, and BMW Motorrad. According to Wan Shairi Wan Ahmad, the event's vendor slots are now 75% booked with more vendors coming in specifically from the small and medium industry sector.
Besides that, visitors can also look forward to several other exciting activities. Amongst them include a motorcycle time attack event, stunt shows, as well as showcase of custom bikes hand-picked by the organisers hailing from several parts of the region. There will also be performances and appearances by local artistes with the full line up to be announced on a later date.
As a final touch, both Wan Shairi and Datuk Zulkifli further added that the event's entry fee charge of RM3 per person will once again go to good causes. This year, organisers will collect RM1 from each entry fee as a means to donate for organisations caring for children with Down syndrome.
The 2015 Malaysia 2 Wheels Festival will take place in the CIDB Convention Centre just off Jalan Cheras, Kuala Lumpur from Dec 3 to Dec 6 (Google Maps link here). Things will kick off first with a 'Press and Industry Day' on Thursday, Dec 3 before public admission opens on Dec 4 onwards.
More information can be obtained by visiting the official 2015 Malaysia 2 Wheels Festival Facebook page and its official Facebook event page as well.
2015 Malaysia 2 Wheels Festival Launch @ CIDB Convention Centre, Jalan Cheras, KL