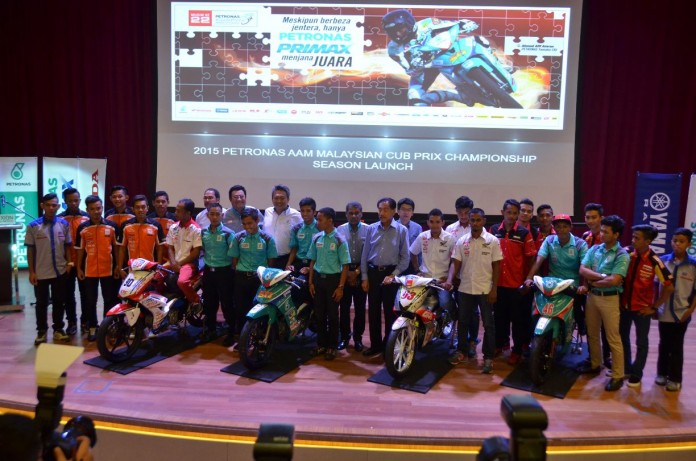 The 22nd season of the Petronas AAM Malaysian Cub Prix Championship was launched yesterday evening by event promoter, Safe Aim Mutual (SAM) Sdn Bhd with the help of Automobile Association of Malaysia (AAM) chairman, YM Tunku Mudzaffar Bin Tunku Mustapha in a grand event attended by teams, riders and sponsors.
SAM Promotions Director, Ron Hogg promises that this year will be even more exciting with key changes have been made into the championship.
One of the biggest change is in the premier CP130 class where this year's rules allows up to three riders per team, with the of the best two riders being taken into account for the Team Award Standings.
Previously teams were only allowed two riders per team to compete in the CP130 Class.
Additionally with the agreement from all teams, the prize money for that category will include up to the top ten riders in that race instead of the top eight previously.
"The CP130 class represents the cream of the crop of Cub Prix, therefore it is only fair the we raise the championship standards and make the sport more exciting by introducing this new rule.
The teams have given positive feedback for this change and we believe the spectators will enjoy it as well," said Ron.
And thats not all as for the fans, SAM together with title sponsor, Petronas will be giving away two Yamaha Lagenda in a contest at each of the ten venues.
However the mechanics of the contest have not been revealed yet but it will not be long as the first round will be next weekend of 13 and 14 March in Temerloh Pahang.
And finally a new and improved version of the Klinik Cub Prix helmed by former Malaysian GP rider, Shahrol Yuzy as well as several other prominent Cub Prix riders will be introduced.
This year's version will see the Klinik adding a practical aspect to its itinerary.