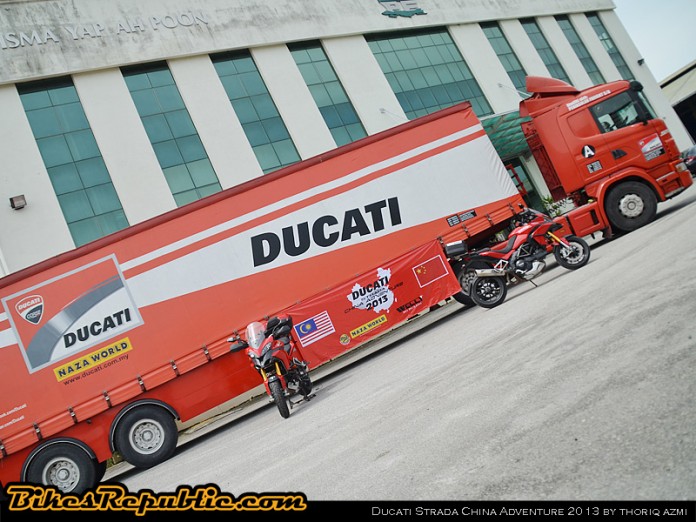 Following its successful opening as Malaysia's first authorised Ducati dealership, Welly Ducati Sungai Buloh (Welly Ducati) will be organising an exclusive adventure ride across north eastern China called the Ducati Strada China Adventure 2013.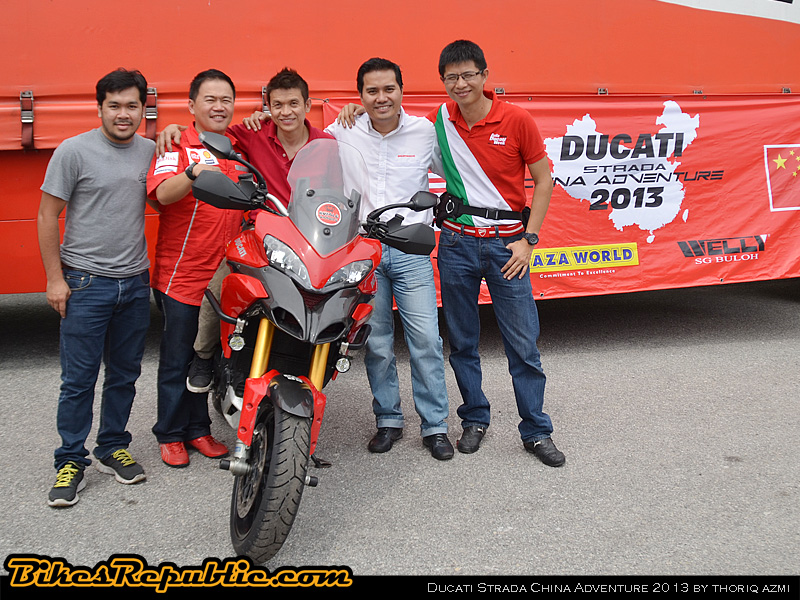 L-R: Wong Wai Tung (participant), Mr Larry (GM, Peninsula Freight Services), Kwang (expedition leader), CW Juan (GM, Next Bike Sdn Bhd), and Wong Ken Loong (participant).
Fully supported by principals Ducati Malaysia (Next Bike Sdn Bhd), the adventure tour sees the participation of 12 Ducati bikes and their owners, led by non other than Welly Ducati owner and operator Ngo Yoke Kwang @Kwang. A veteran adventure trip organiser, Kwang will lead the expedition over a span of 23 days, covering an estimated total distance of 5,168km. Although not his first time trekking across China on two wheels, this will be Kwang's first endeavour across the republic's north eastern region.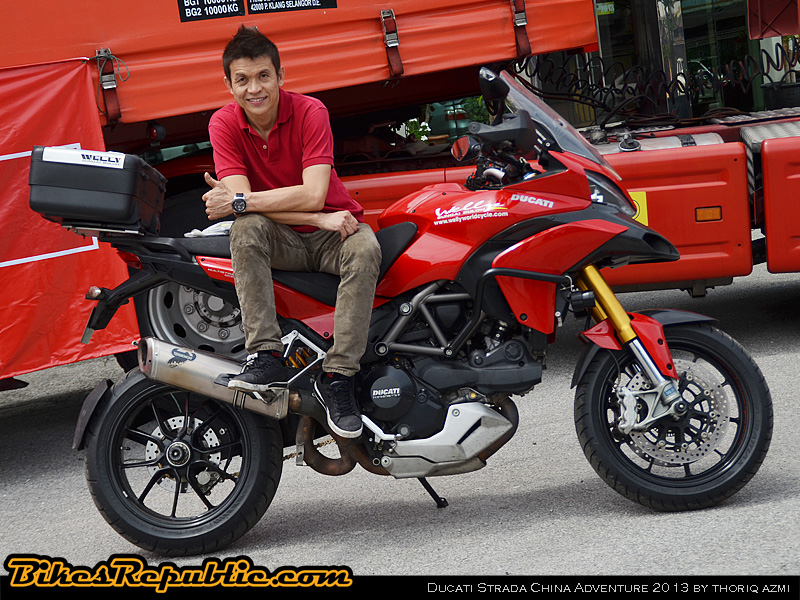 Ngo Yoke Kwang @ Kwang, owner and operator of Welly Ducati Sungai Buloh will lead the 23-day day adventure across north eastern China.
We were invited to visit Kwang and several of the owners in Port Klang recently to witness the trip's first preparation stages being undertaken. The twelve bikes comprise mostly of the highly versatile Ducati Multistrada multi-purpose bike, with one Ducati Hyperstrada being the only exception in the group. According to Ducati Malaysia, the firm will launch the new Hyperstrada officially on our shores later this year as a CKD model.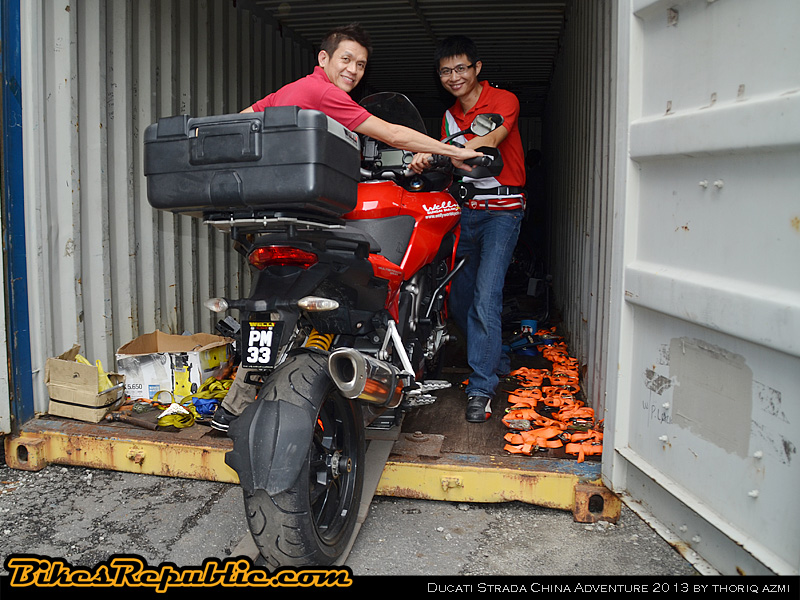 Kwang and Wong Ken Loong loading up their bikes in container specially prepared by Peninsula Freight Services Sdn Bhd, Klang.
All twelve bikes were securely loaded into a specially prepared freight container, provided by the trip's logistics partner, Peninsula Freight Services Sdn Bhd. The bikes will be shipped by freight to the trip's starting point, a process that will take approximately three weeks.
Besides a ride along the region's infamous 100-km long 'Red Beach', other notable highlights include rides across the 'Greater Khingan Mountains' towards the Heilongjiang Province's Heihe City, and the rice-rich 'Three River Plains'. Other activities include visits to the North Mausoleum of the Qing Dynasty, as well as an excursion around Lake Jingpo, China's largest barrier lake.
The adventure is scheduled to begin next month on August 28 starting from the city of Tianjin, and is scheduled to end on September 16 in Dalian city. Despite being his first time across this part of the republic, Kwang remains calm and confident. "The region's lesser population mass and challenging routes will undoubtedly be difficult to tackle, but I'm confident the breathtaking scenery and sites there will be something the riders will truly appreciate."
More information on this will be made available online at Ducati Malaysia's official webpage and social media handles.