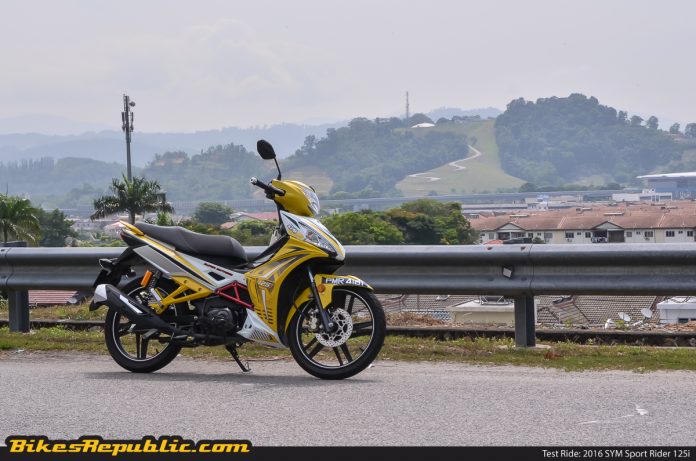 New 2016 SYM Sport Rider 125i moped tried and tested.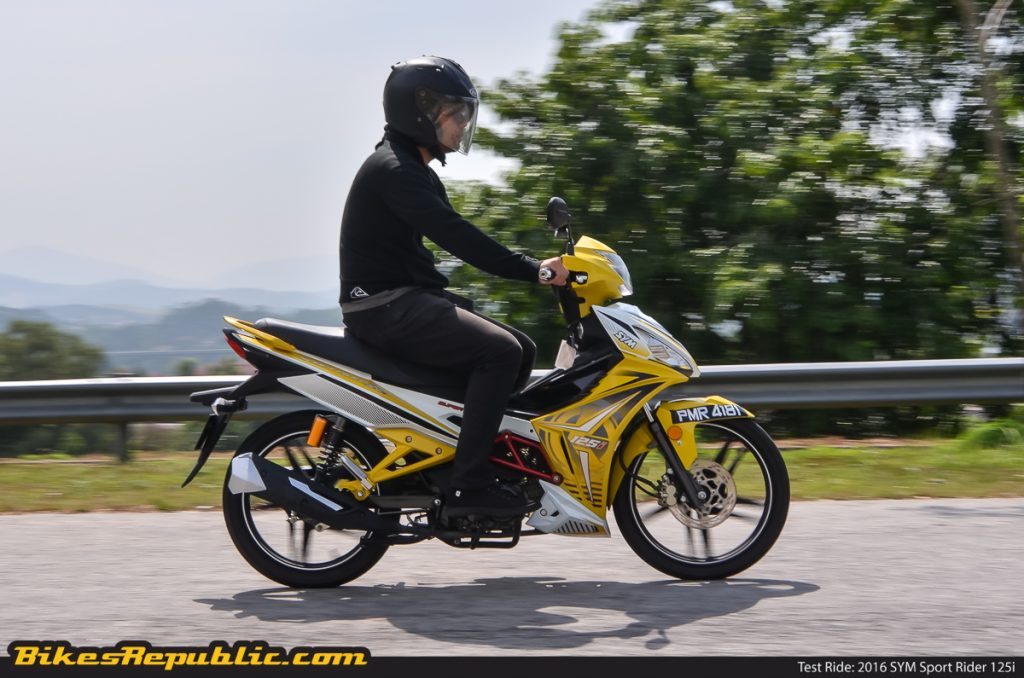 Following the launch of the new moped from SYM Malaysia earlier this year, we had the opportunity to test the all-new "Super Extreme" 2016 SYM Sport Rider 125i.
We took it out for test run recently to find out if the first ever fuel injected moped from SYM is worth your hard-earned money.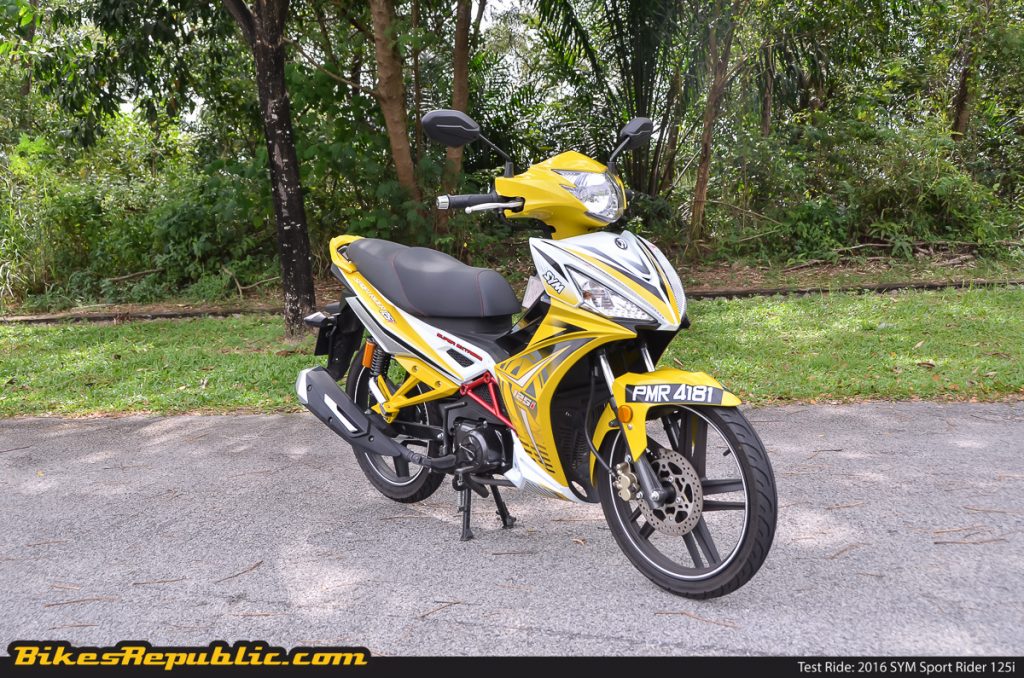 As announced during their launch, the all-new SYM Sport Rider 125i is the SYM's first cub equipped with Electronic Fuel Injection (EFI). The air-cooled SOHC 123cc engine is able to generate maximum output of 9.5hp @ 8000rpm and maximum torque of 10.8Nm @ 5,500rpm. The engine for the Sport Rider is also in compliance of Euro 3 standards. In short, it is environmental friendly, user friendly and also able to save overall fuel consumption.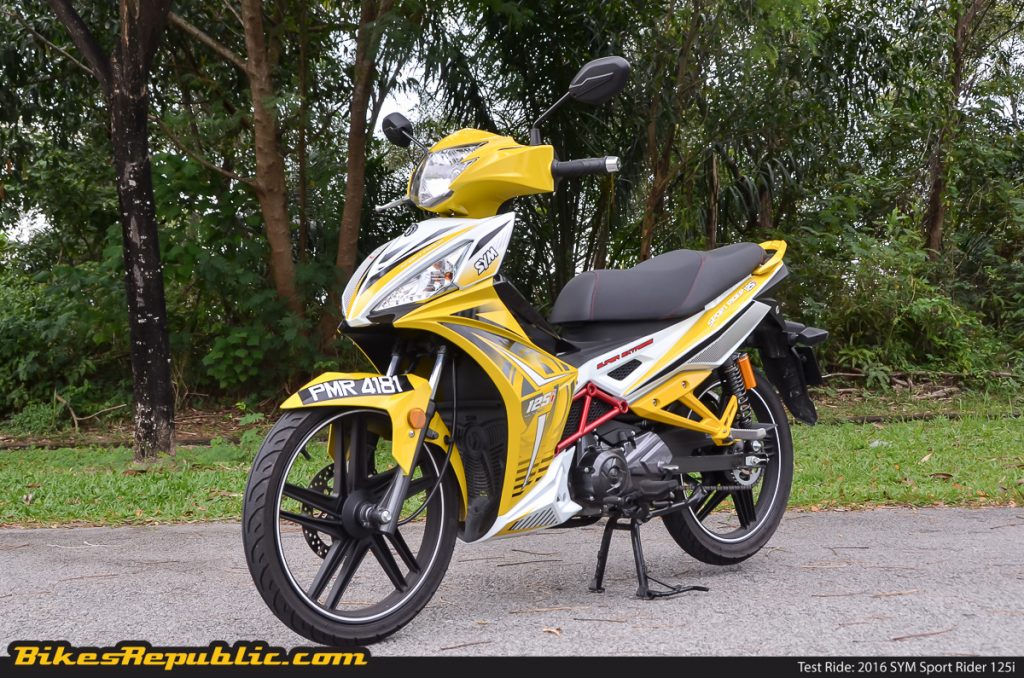 Design
Like most new cubs from other manufacturers for the Asian market, we noticed that the 'trend' that fits the mainstream wants and needs tends to be more modern and also aggressive. SYM Malaysia took note of this and the result on the new Sport Rider is clearly seen. The Sport Rider 125i has a very appealing design but the aggressive look is definitely something that has a split opinion. You either love it or you don't. For the new SYM Sport Rider 125i, it's definitely a looker.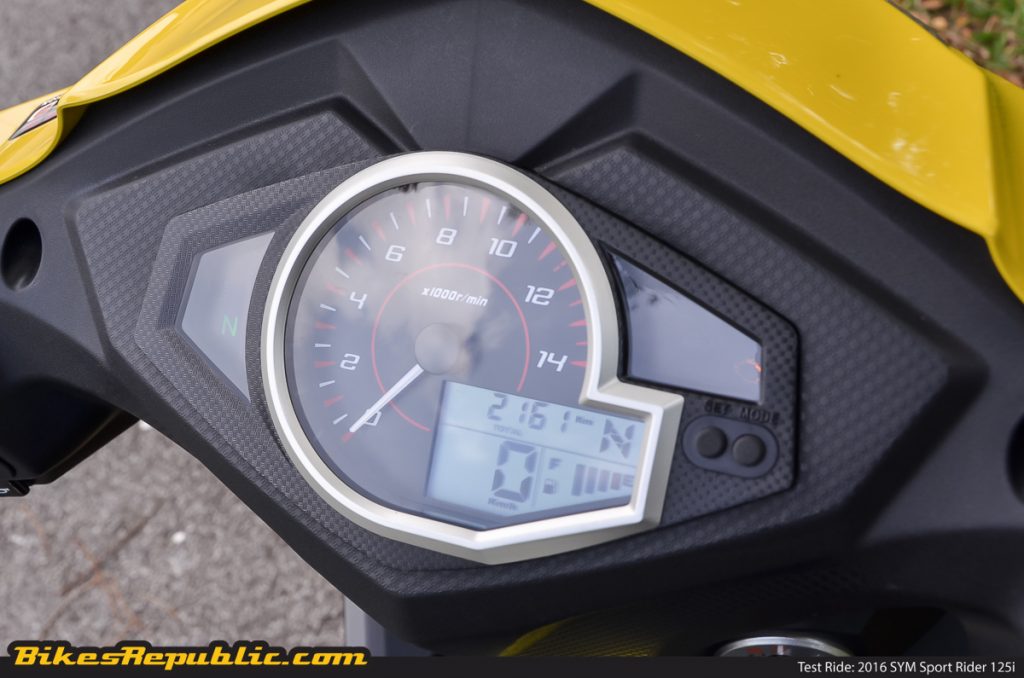 The tachometer is very well designed that is paired with a digital LCD screen that monitors speed, gear indicator, fuel level and a variety of selectable display modes that can be monitored such as distance travelled and even the battery voltage. Not bad for a little cub.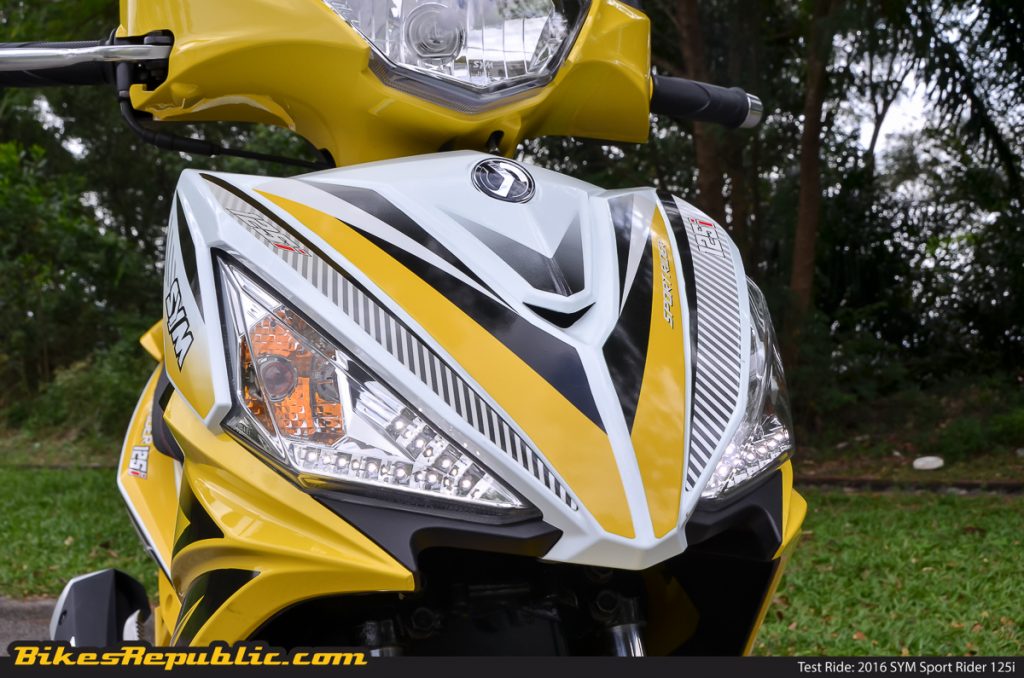 The Taiwanese based manufacturer also up the ante on safety features of their new cub. Equipped with front and back LED lights and even Daytime Running Lights, other road users will definitely notice the bike day or night.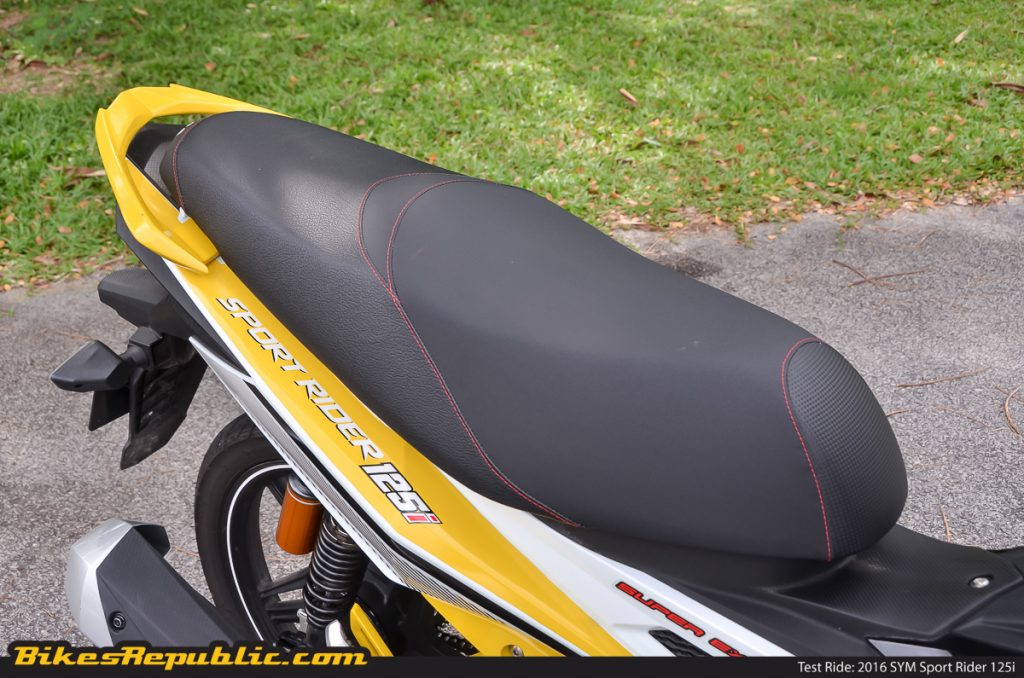 The Sport Rider also has a separated seat for the rider and pillion to increase the level of safety as well as comfort, especially for long distance travel.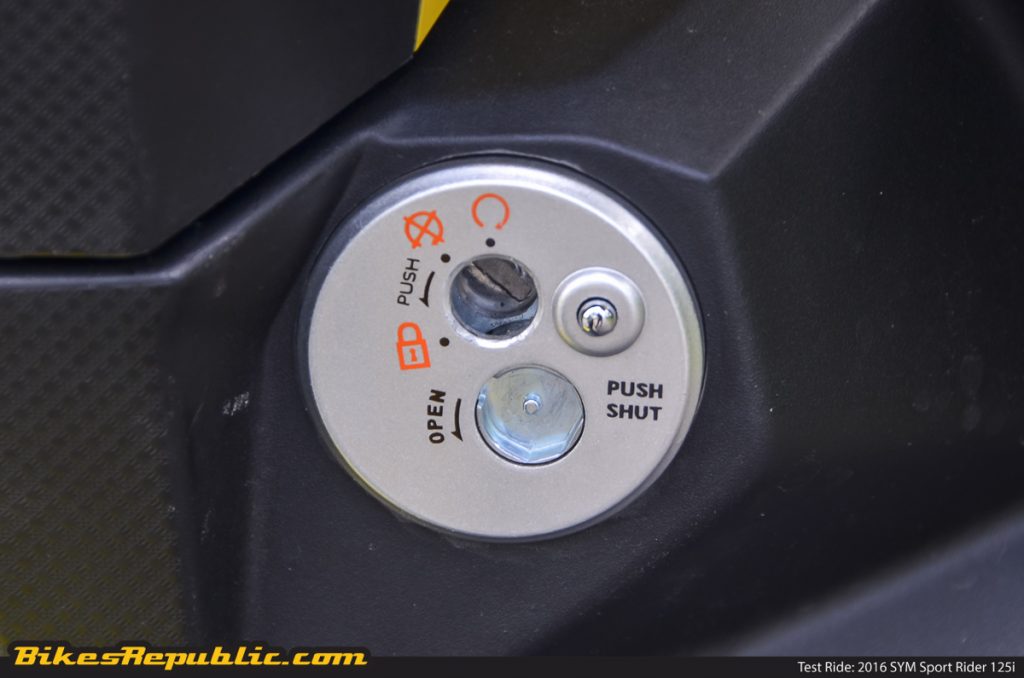 The ignition switch has also been redesigned to ease the application of security features for the bike. Once the key has been removed, all you need to do is just push a button and the key slot will be closed automatically and can only be opened with the back end of the key. Although this is a minor safety feature, it will definitely slow down any theft attempt.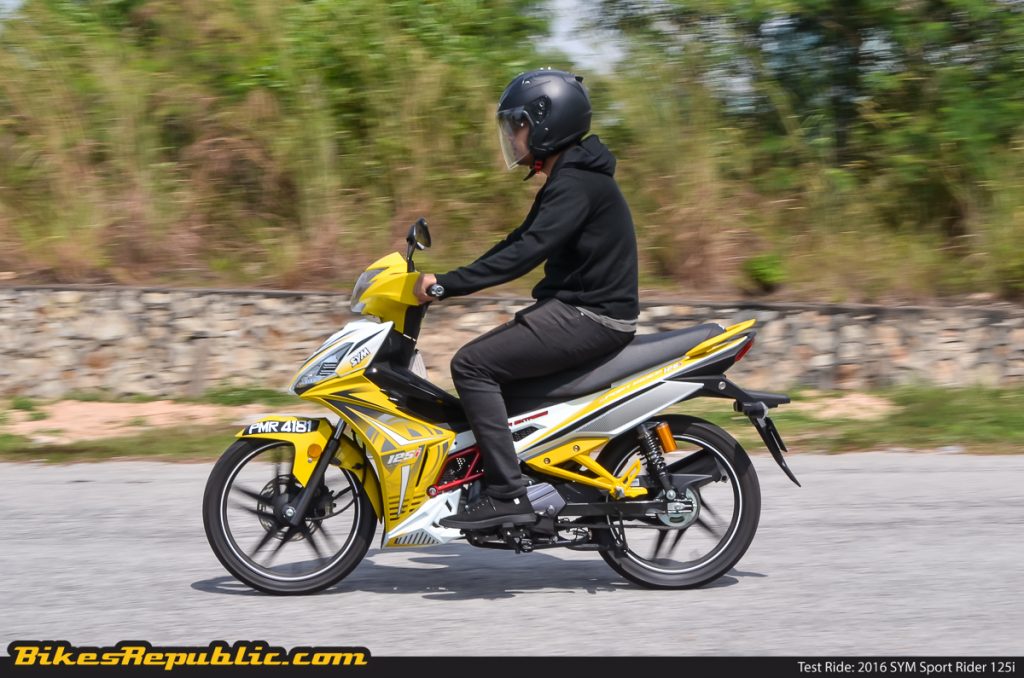 The Ride
Having tested the new 2016 SYM Sport Rider 125i, we find that the new cub from SYM Malaysia is something that everyone should look out for if you're planning to buy a new moped for daily use. The cub is very easy and comfortable to ride.
The bike can definitely hit highway speeds easily but there's noticeable vibration once you exceed 110km/h. The vibrations are minor but can be a discomfort for some.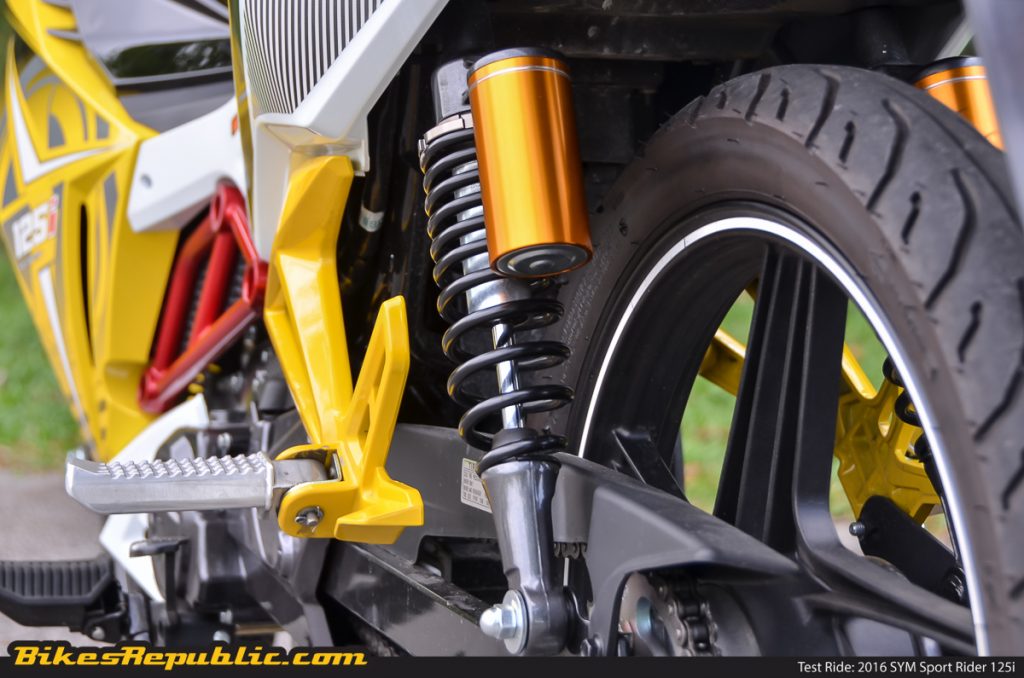 The suspension package is also good one for a 125cc bike. With telescopic fronts and gas-filled shocks for the rear, it's definitely a stable and comfy ride. It wasn't hard for us to manoeuvre the cub in and out of traffic. The overall weight of 107kg also makes it quite a lightweight.
The 4.2-litre fuel tank is considered as sufficient for long distance travel. Together with it Euro3 compliant fuel injected power plant, it will definitely reduce the amount of times you need to stop and refuel.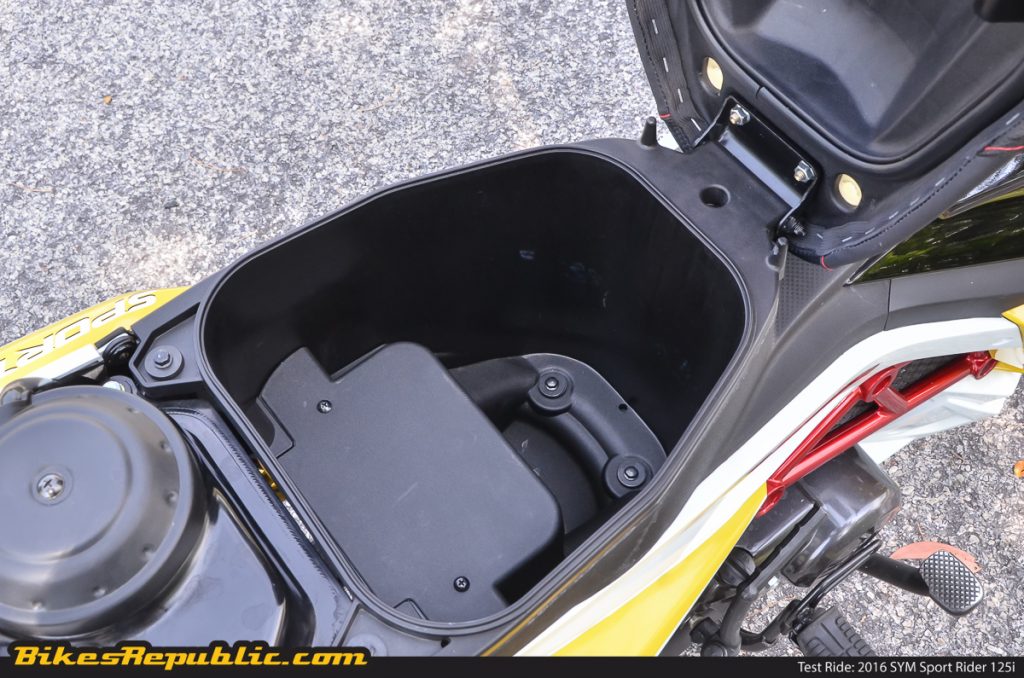 The under-seat storage space is not considered as huge but it's enough to fit our rain gear and a first aid kit easily. Definitely something to consider as there are a few cub models out there that have bigger storage space.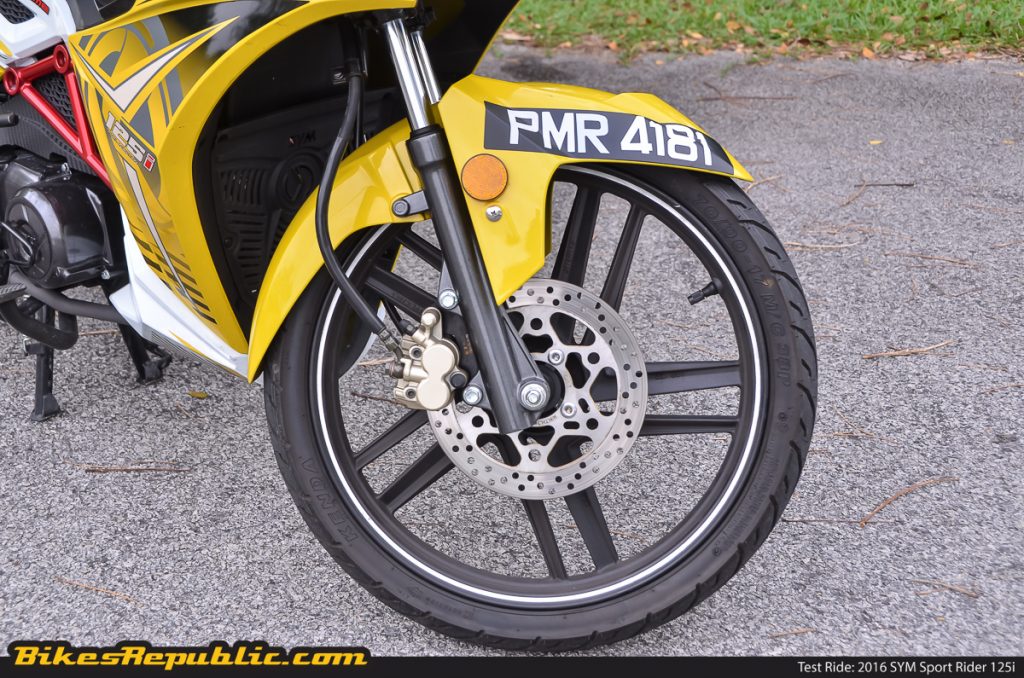 Despite the good stability offered by the suspension package, the slim tires on the Sport Rider especially the front is something we can consider to upgrade straight away. The stock rubbers on the cub should be handled with care especially when going through corners.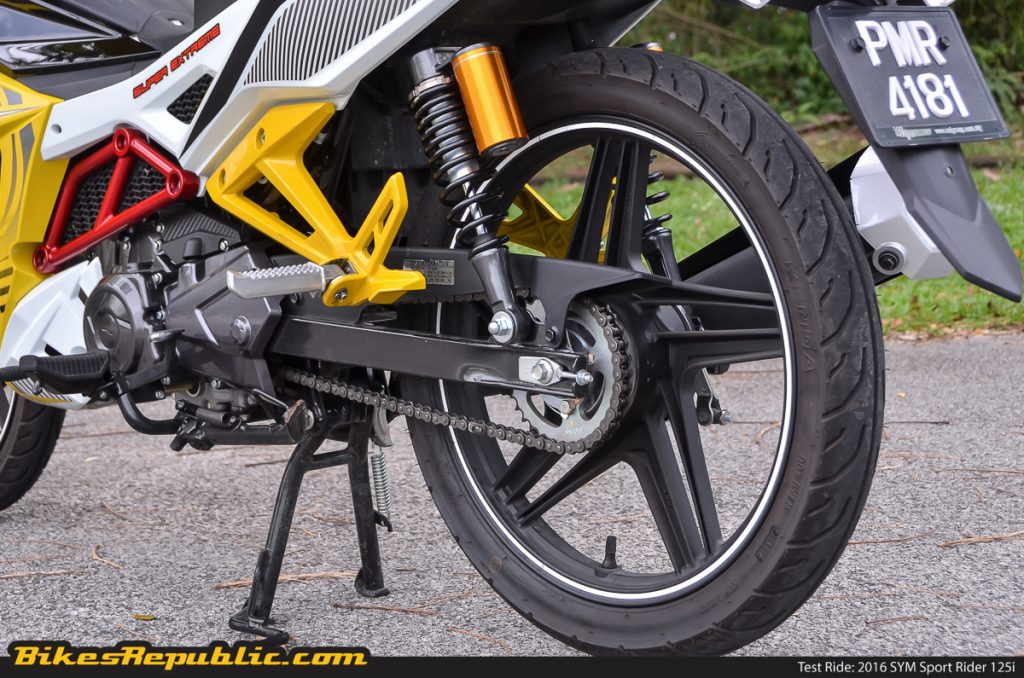 The four-speed constant mesh transmission works fine during upshifts but it's a bit stiff during downshifts.
All in all, the new 2016 SYM Sport Rider 125i is definitely worthy of a good cub for daily use that will definitely has the fun factor as well. The Sport Rider is available at any SYM authorised retailers across the country.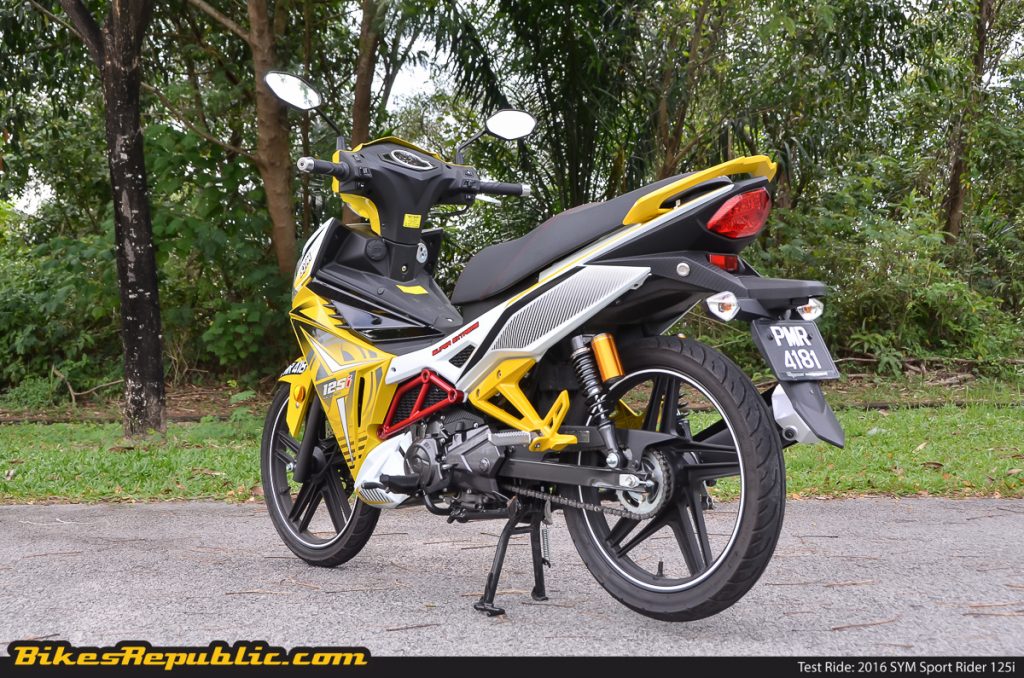 Price
SYM Malaysia offers three colour options for the new Sport Rider 125i model – yellow, blue and red. Prices start from RM5,777 (basic with GST) and it includes a special three-year or 30,000km warranty plus a one-year or 10,000km engine warranty plan as well.
There's also a SYM Sport Rider 125i SE model that's priced from RM5,904.20 (basic with GST). This special model comes with special matte grey colour scheme that's definitely and eye-catcher.