A detailed  write up on my last trip from 12-15 July 2013 to Ranong one of Thailand's southern provinces which is approximately 1150km away from home. There were only 2 bikes that rode up, Legendary Sunny Oh and myself embarked on a trip which was initially planned for a riding group of 6 bikes but due to work commitments not many were available on the proposed dates hence the 2 of us decided to proceed. Our trip was earlier planned for a 5 days / 4 night's trip but we had to cut it short and changed it to 4 days / 3 nights instead.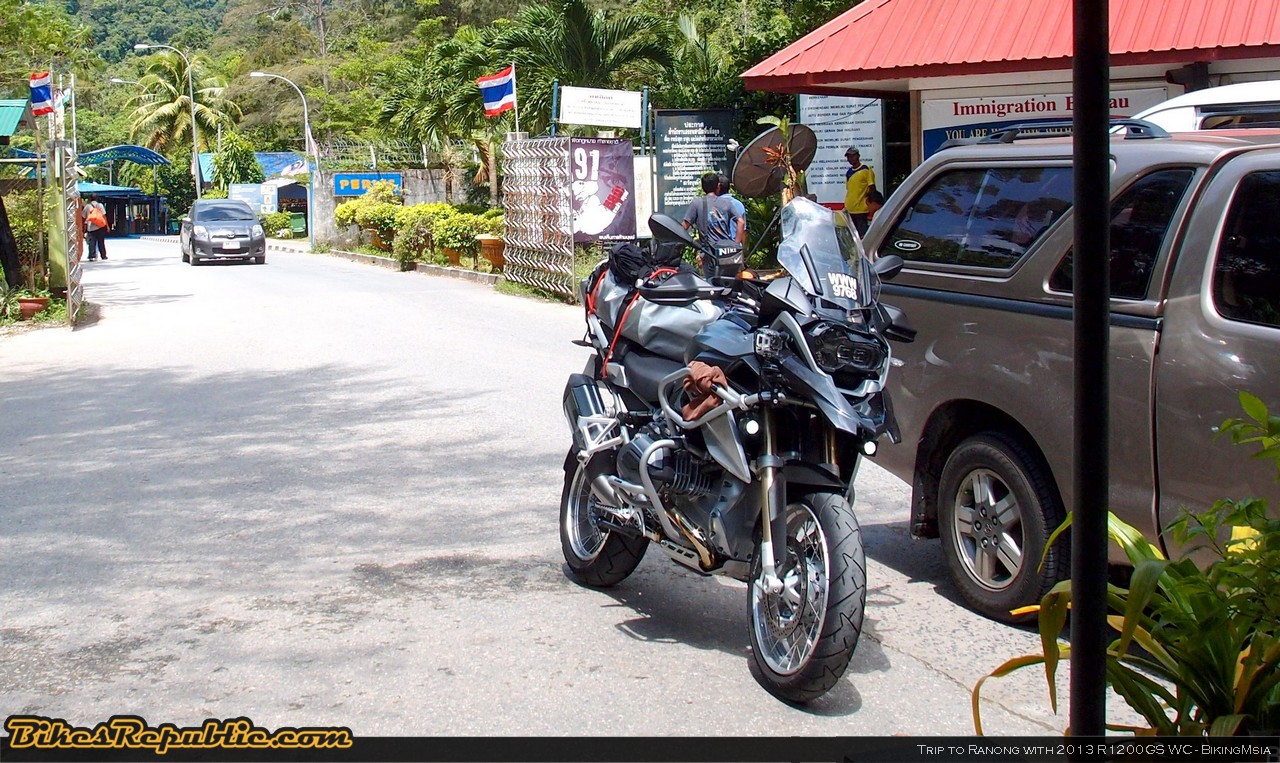 It also coincides for me to run-in my new bike, the much talked about GS 1200 LC which I recently acquired end of June 2013.
Day 1 (710KM) – Our ride took us thru the Malaysian North South Expressway into Changlun where we did our passport and insurance paperworks and proceeded to Wang Kelian (Wang Prachan Thai Border Crossing Route 4184) exiting Malaysia into Thailand and subsequently into Satun (Route 406 & 416) and finally arriving at Trang (Route 404) a small mid point town known fondly as a fishing village and was the first area of Thailand where rubber trees were planted.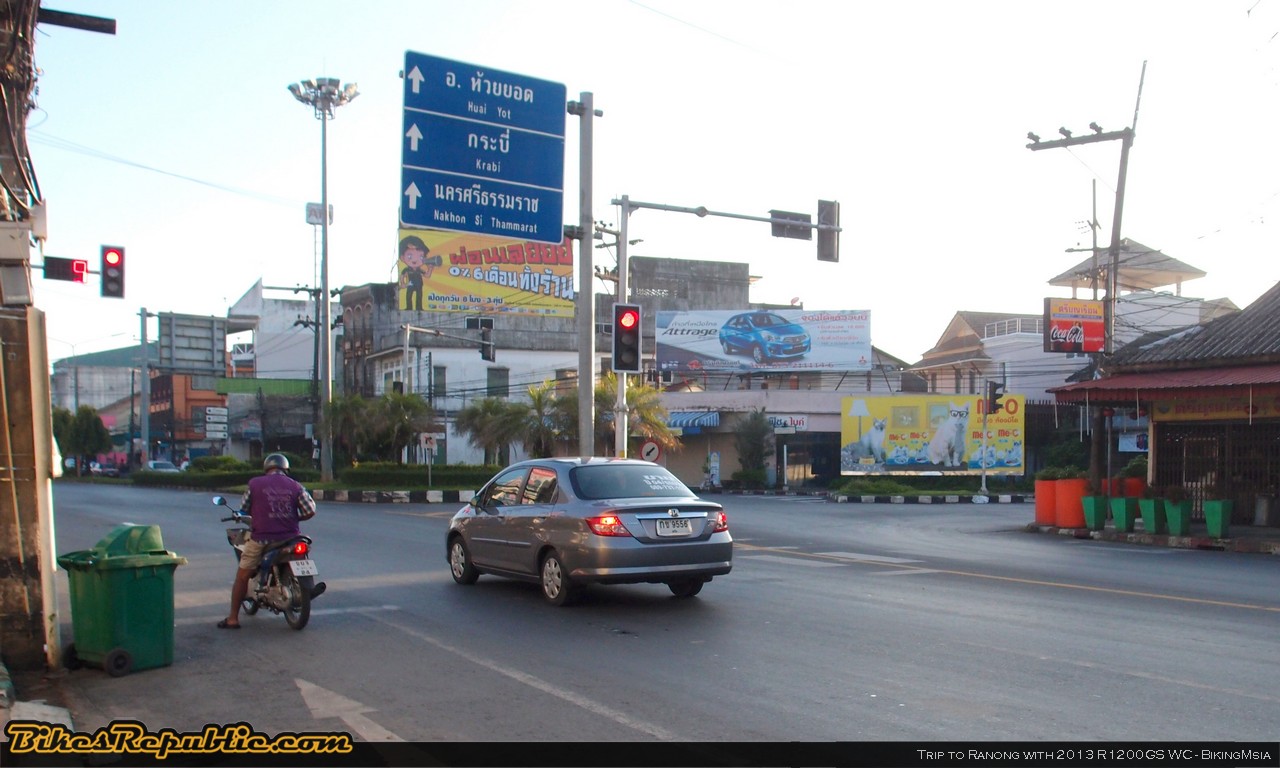 Trang was an important sea port of southern Thailand. Legend says the ships always arrived in the morning, which led to the town's name – Trang derives from the Malay word for "light' (Terang). We had travelled 710km and checked-in at Thumprin Thana one of the biggest hotel in this small town.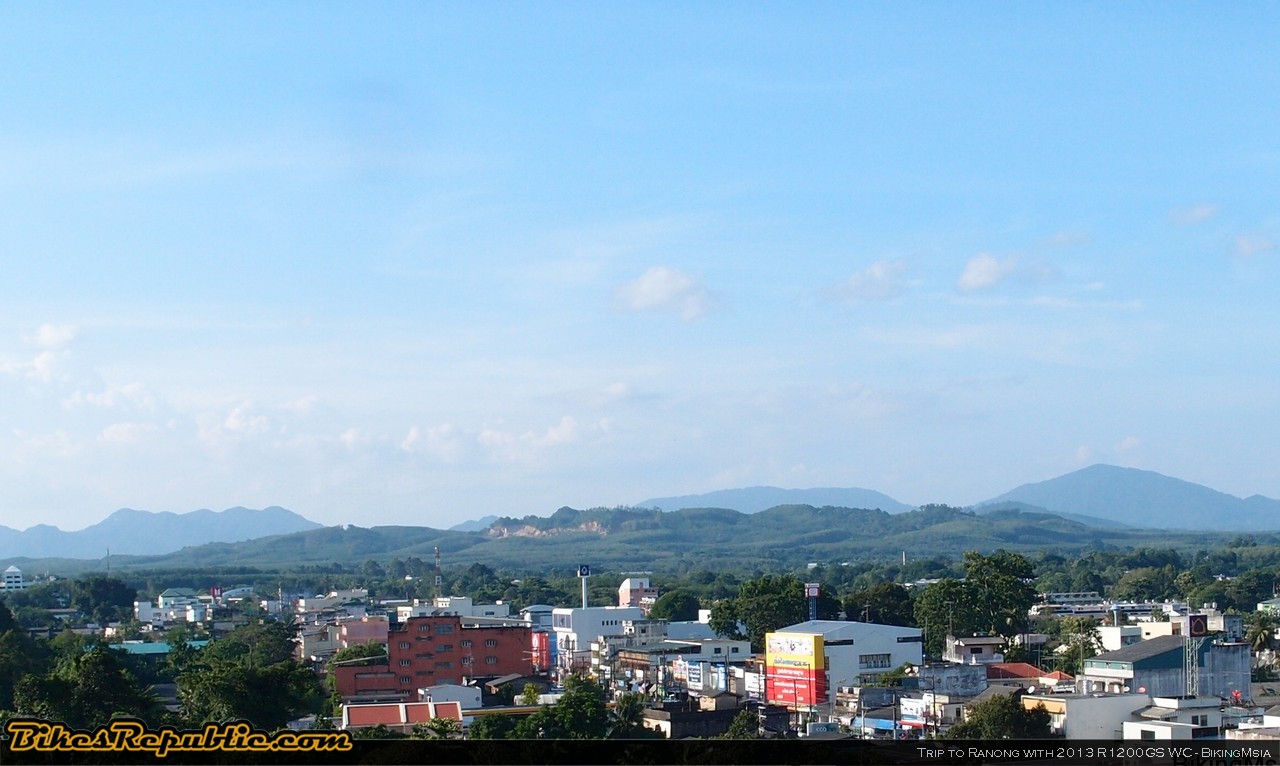 Rooms were big and spacious but nothing to shout about as the facilities aren't that great and were shabbily maintained. If you happen to pop into Trang, you should stay at Eco Inn which we were recommended by our fellow biker RJ Rider.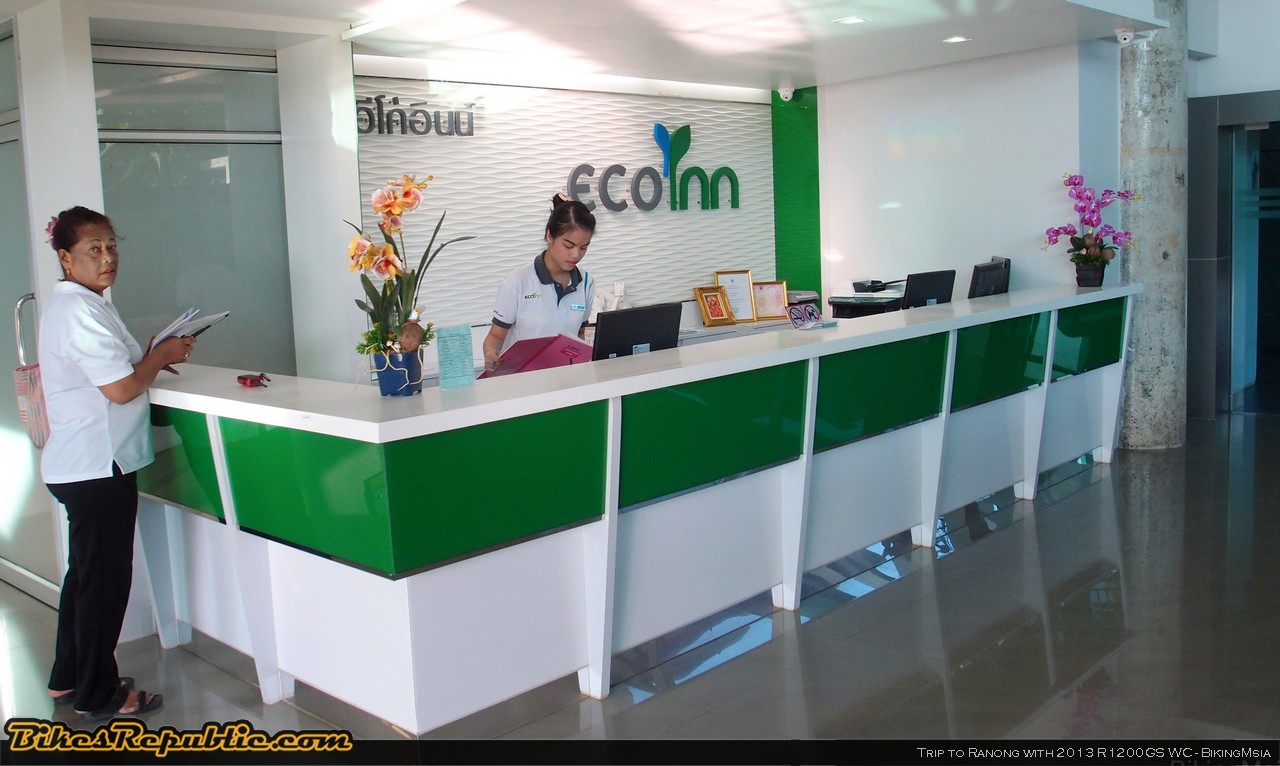 The hotel is situated about 500m away from Thumprin Thana Hotel entrance and the landmark is a small Caltex Petrol Station. Eco Inn opened its doors for business about 3 months ago and we decided to checkout the place. The hotel looked pretty decent and cosy except that we did not have the chance to view the rooms.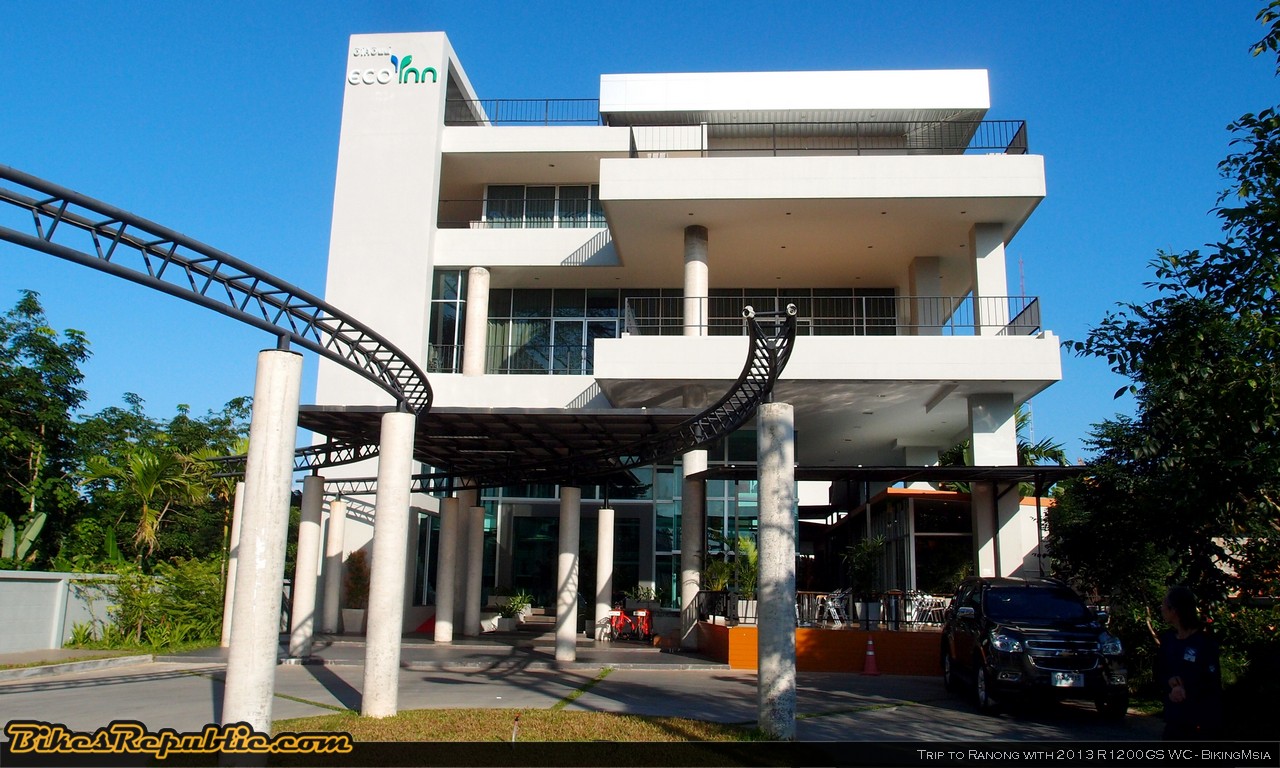 But a follow up on their hotel's website, the rooms looked good. Goran Phuket decided to surprise us and popped in about 7.30pm our hotel riding all the way from Phuket which was about 300km away. He arranged for us to meet up with Khun Poom who is the Chief of Police for Trang District and have been very helpful and instrumental to a few of our fellow Malaysian bikers who had issues in the past around his province. Khun Poom is a very simple and humble chap. I offered him to test ride my GS1200 LC and after a short spin around the town he was all smiles upon returning and was surprised with the characteristics of the bike and kept talking about the bike.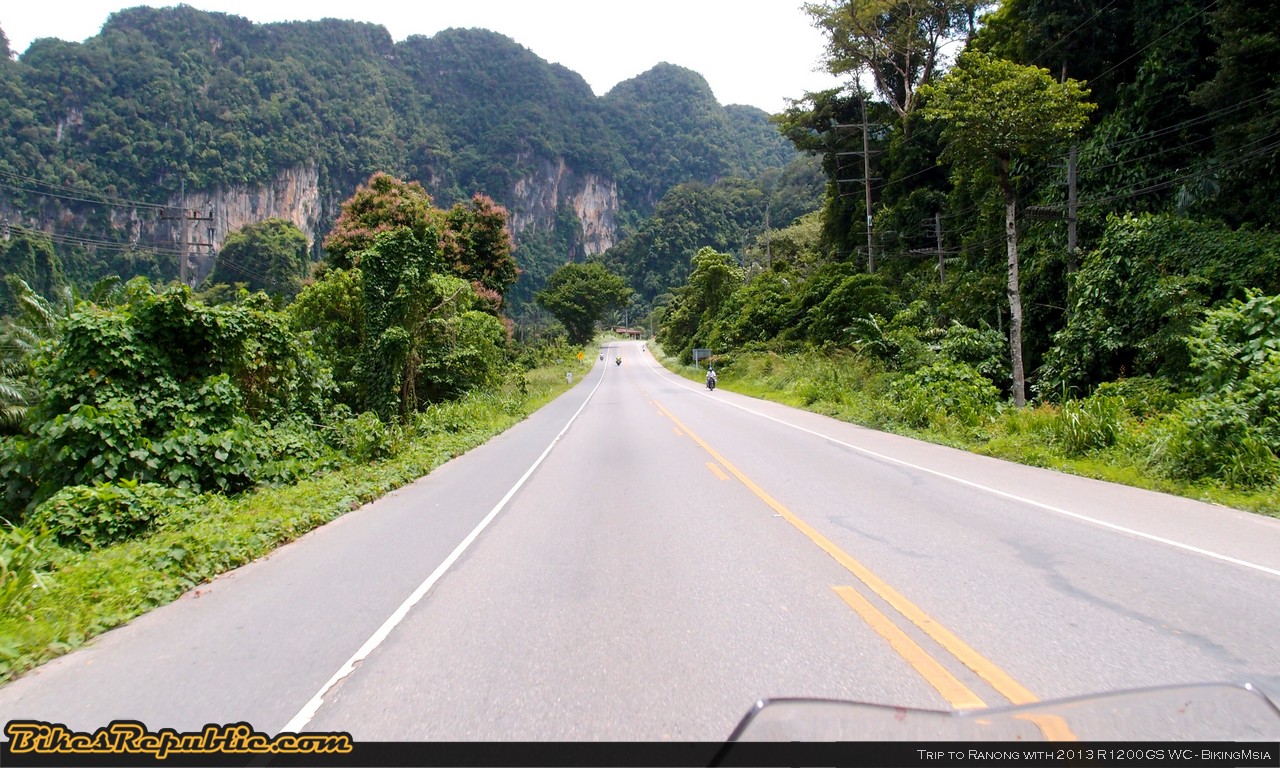 Day 2 (440KM) – We started our ride early just after breakfast with Goran deciding to ride with us from Trang to Phang Nga where he had suggested to take us for lunch at Idin Resort before we spilt in different ways. The ride to Phangnga was lovely as we rode thru Sikao known for its long corners which lasted for about 80km.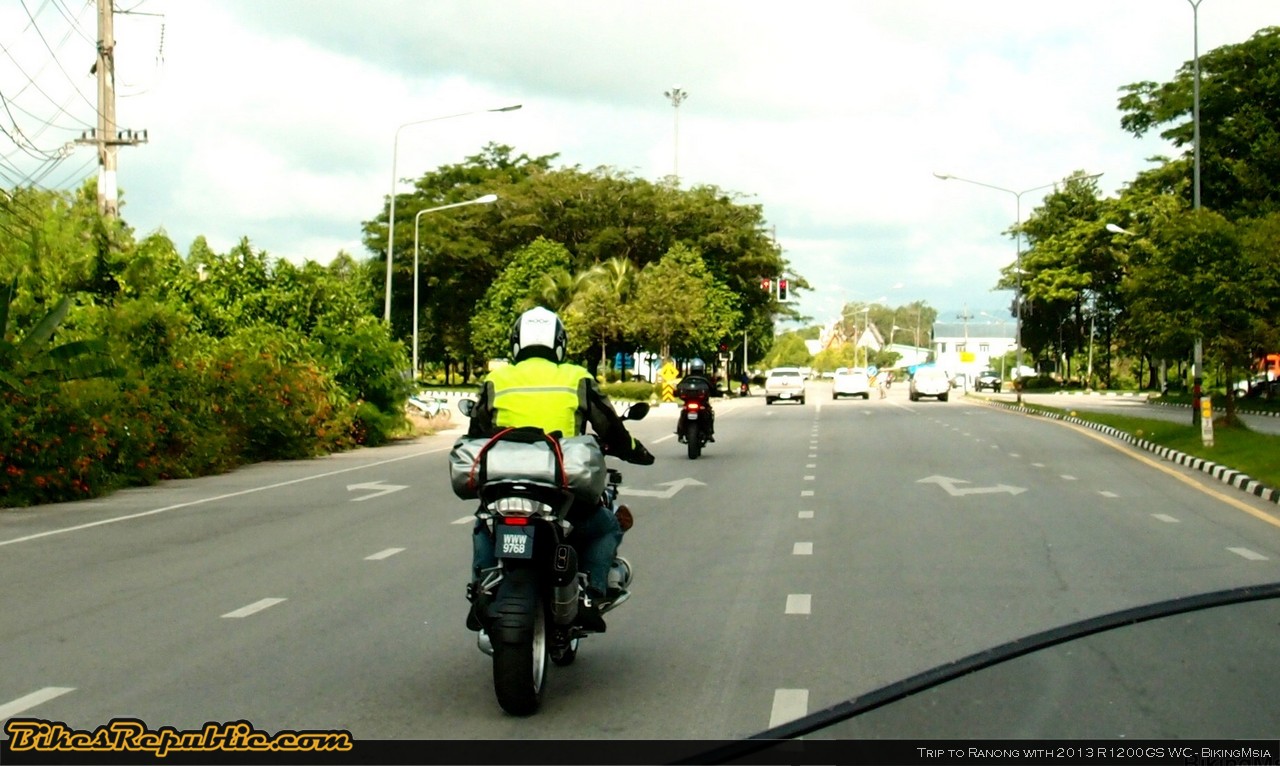 Goran and myself decided to switch bikes as he wanted to test ride my bike while I rode his K1600 GTL. We headed out to Krabi and onto Phangnga which was about 200km away.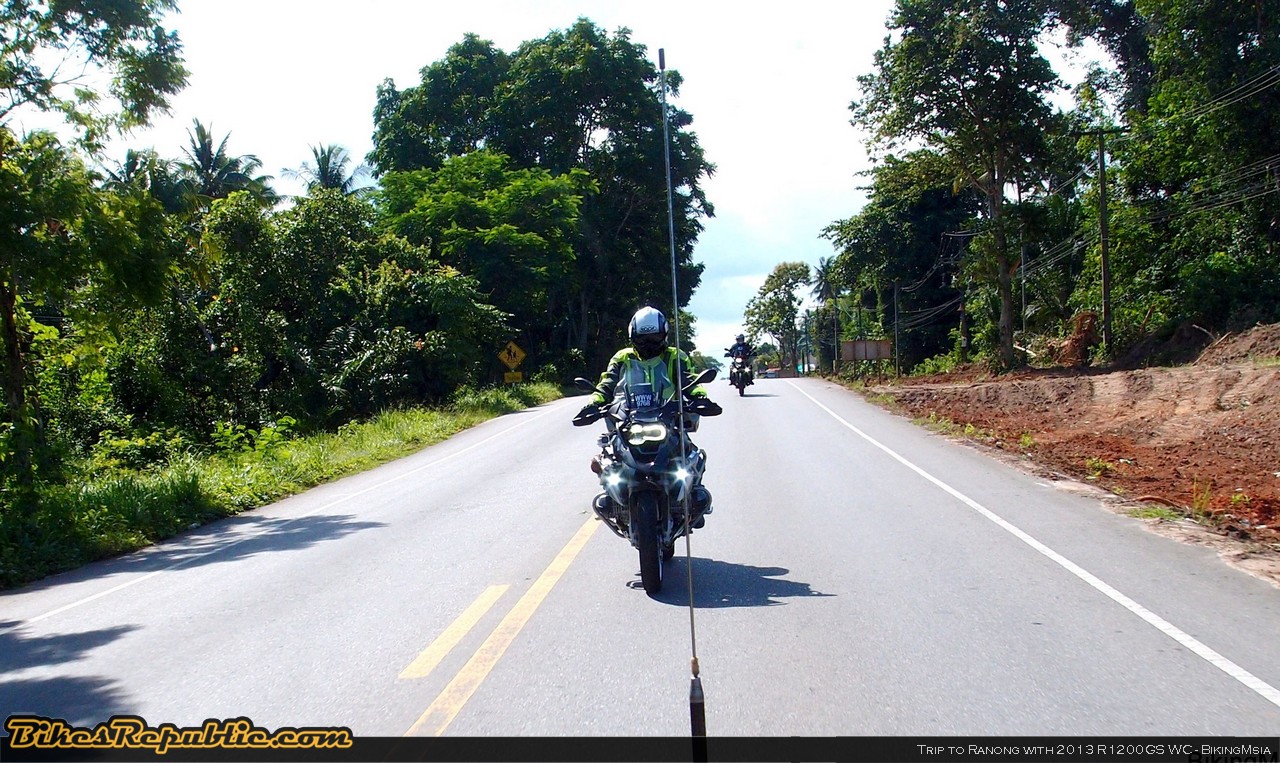 Just before we arrived at Idin Resort, we passed thru Thap Put (Route 41) which welcomed us with about 30km of lovely winding roads. The last time I rode here, the conditions were very poor with lots of pot holes. We stopped for lunch about an hour and half and bid farewell to Goran where he would be riding about 100km back to Phuket while we continued on our journey.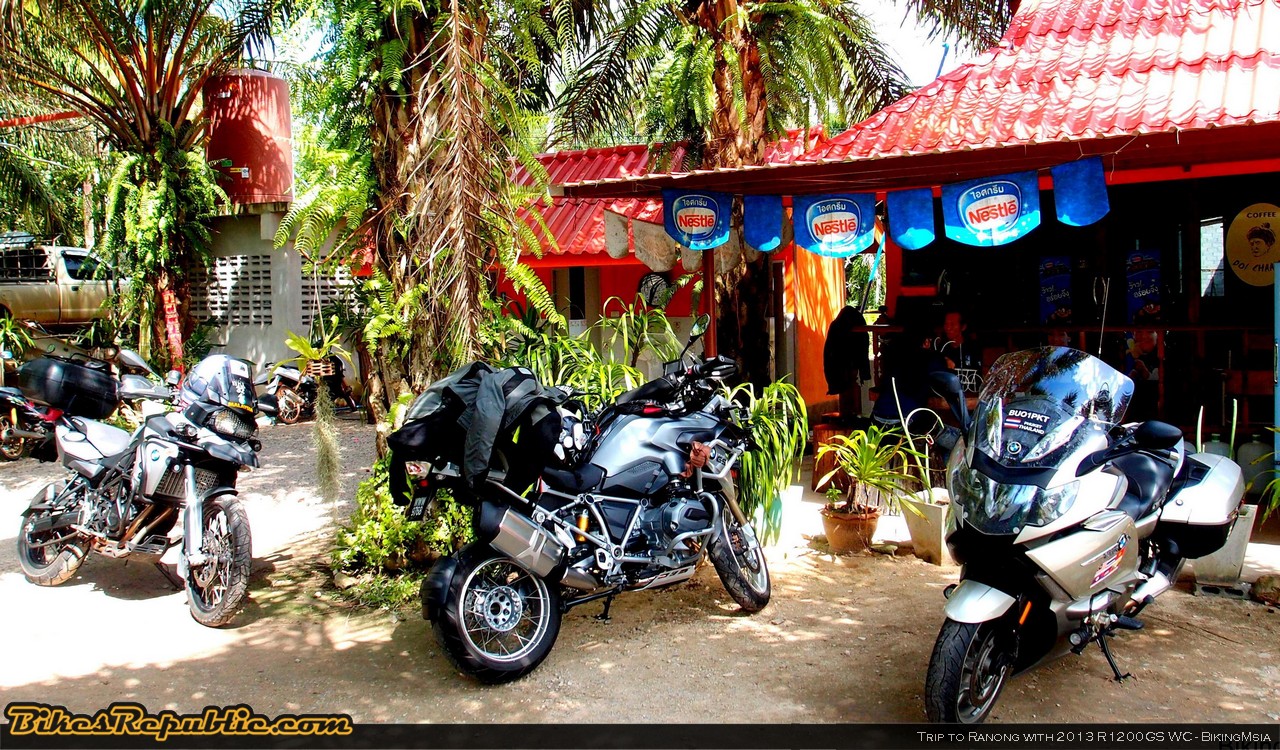 It was a wet ride all the way to Ranong which was approximately 260km away. It drizzled in some place and poured like crazy at certain stretches.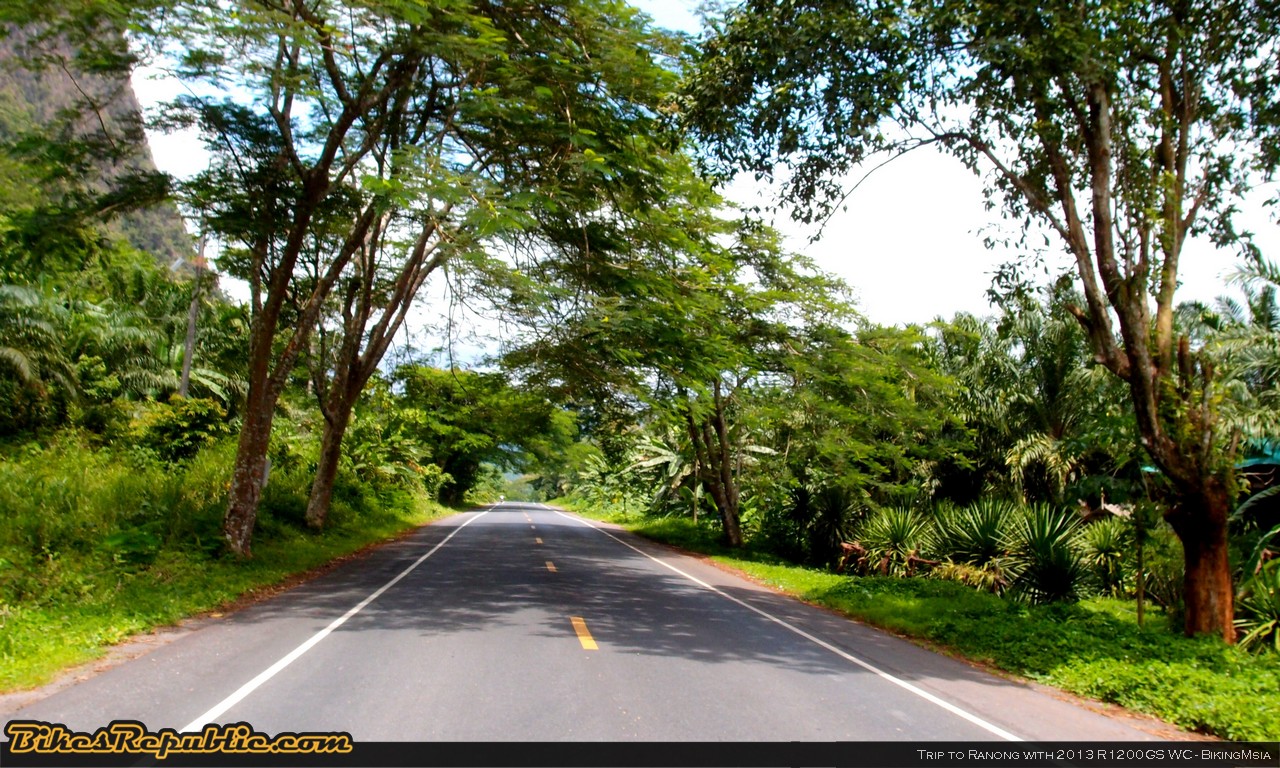 However, it was an opportunity for me to test out the Rain mode on my bike. Throttle control was gentler to avoid the rear wheel from sliding in the wet which made riding in the rain more fun then how I used to remember. We arrived at Tinidee Hotel situated centrally in the town at about 4.30pm.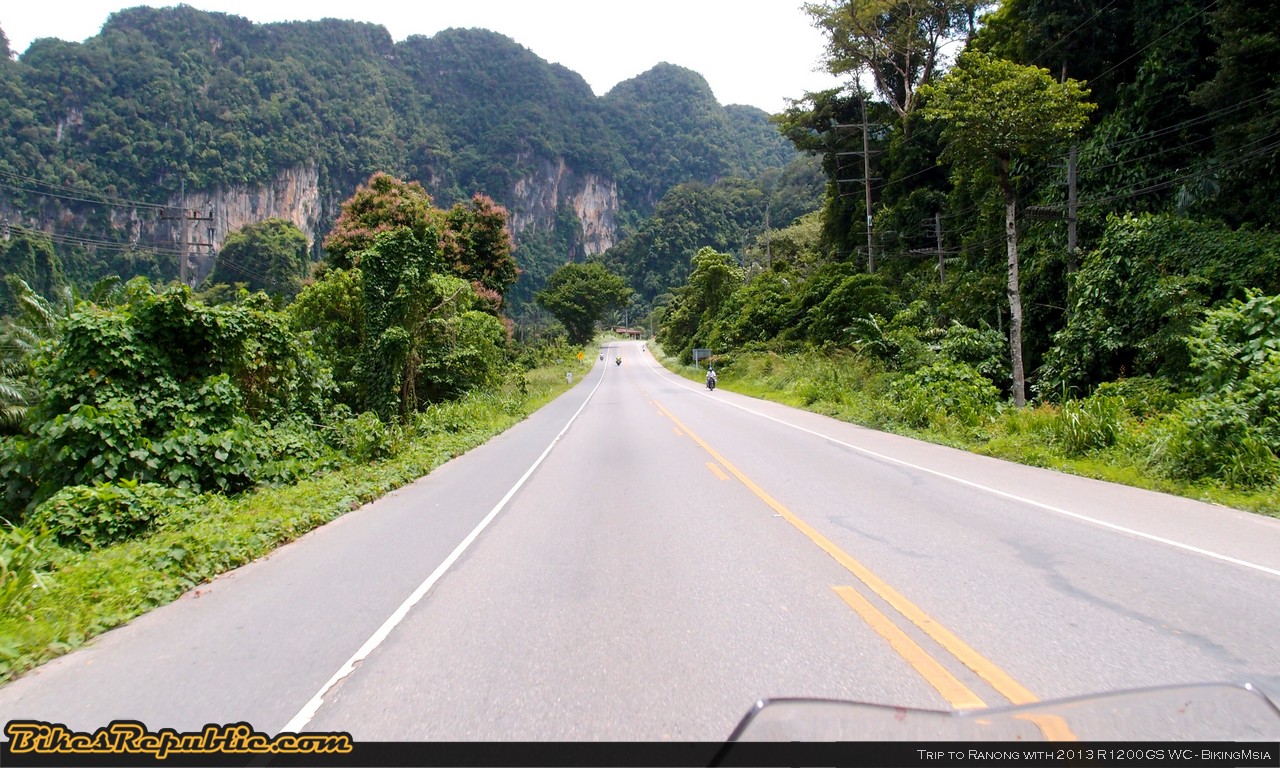 The last 80km before we arrived at Ranong, the roads were lovely with long sweeping corners one after the other which I have always yearned to come back and ride again at this stretch but the weather was not on our side.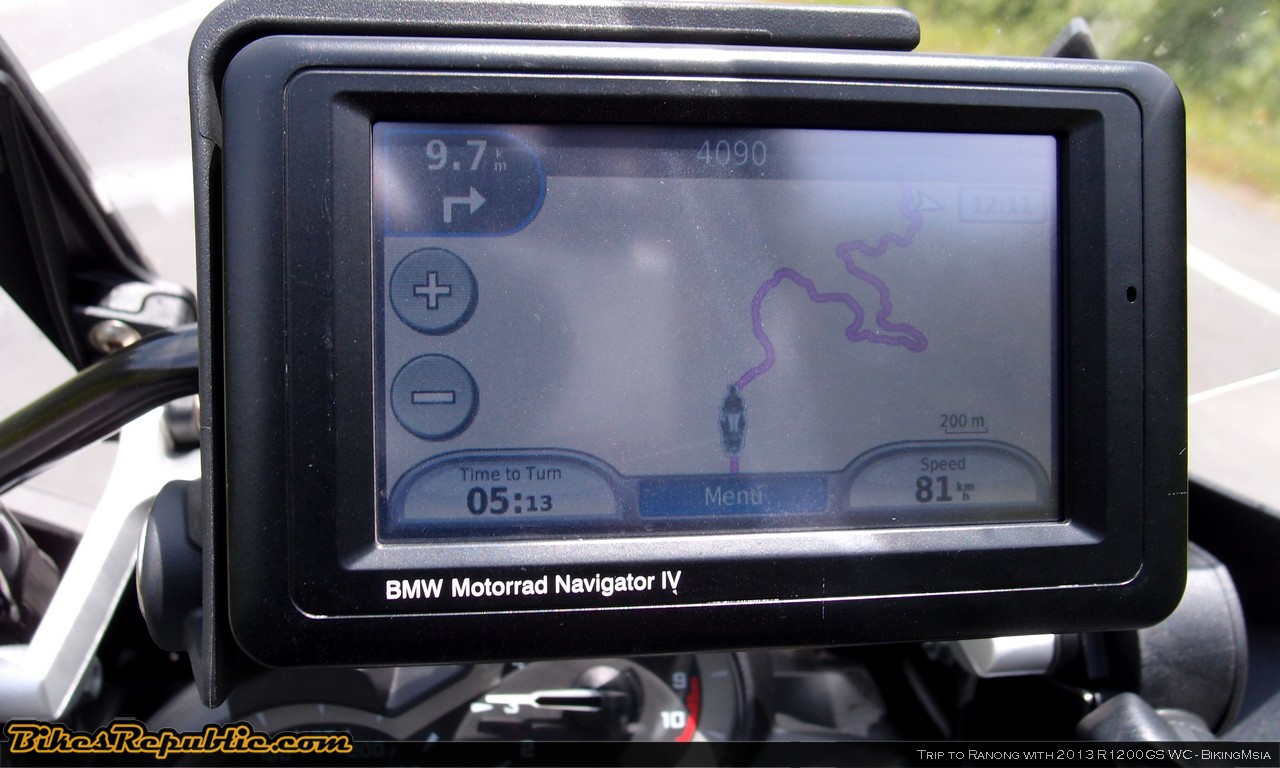 Out of the limited times I have come here, it always seems to rain along this route a familiar phenomenon around Slim River area in Malaysia.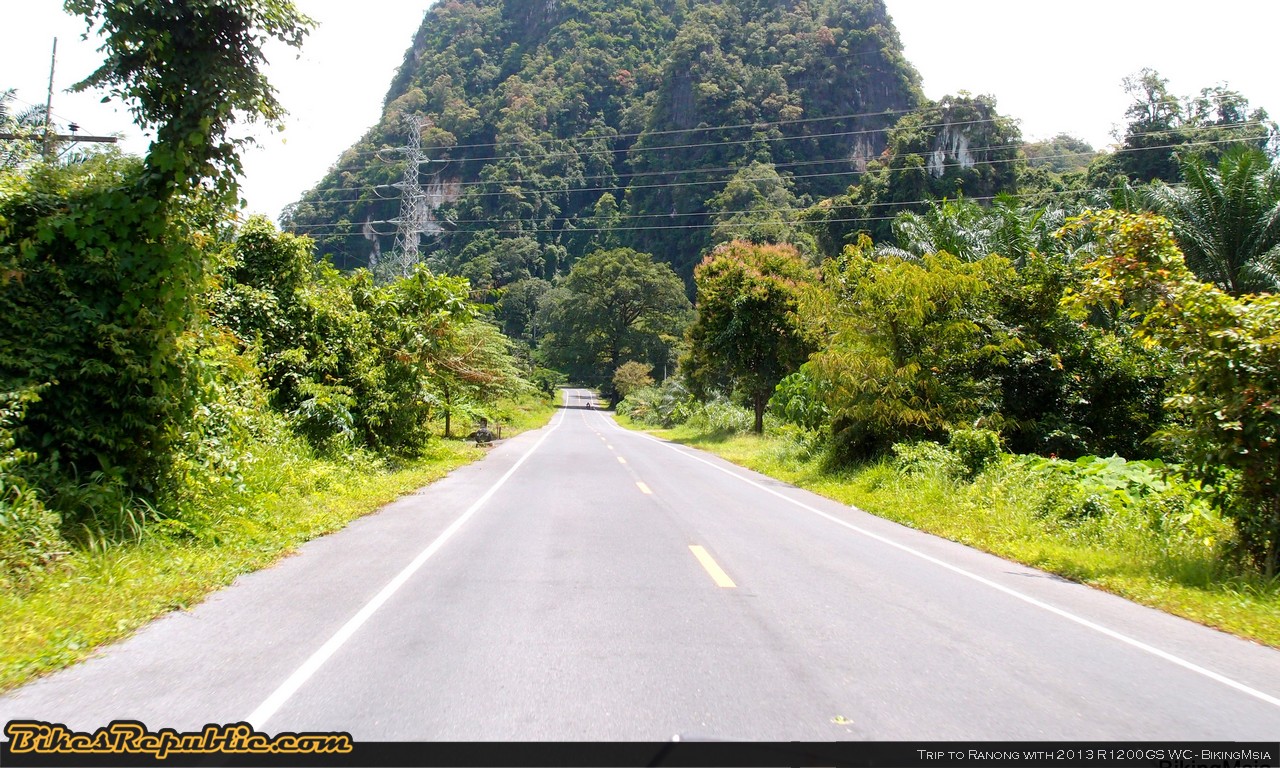 Day 3 (510KM) – As usual, I woke up early and headed out for the breakfast at the hotel's coffee house. It was a full spread breakfast at its newly renovated coffee house with Sunny Oh. During breakfast, we planned our route to make our way to Hatyai which was approximately 460km away. At 9.00am we saddled up and started our ride thru Luan Sang which is a mountain range in Ranong Province.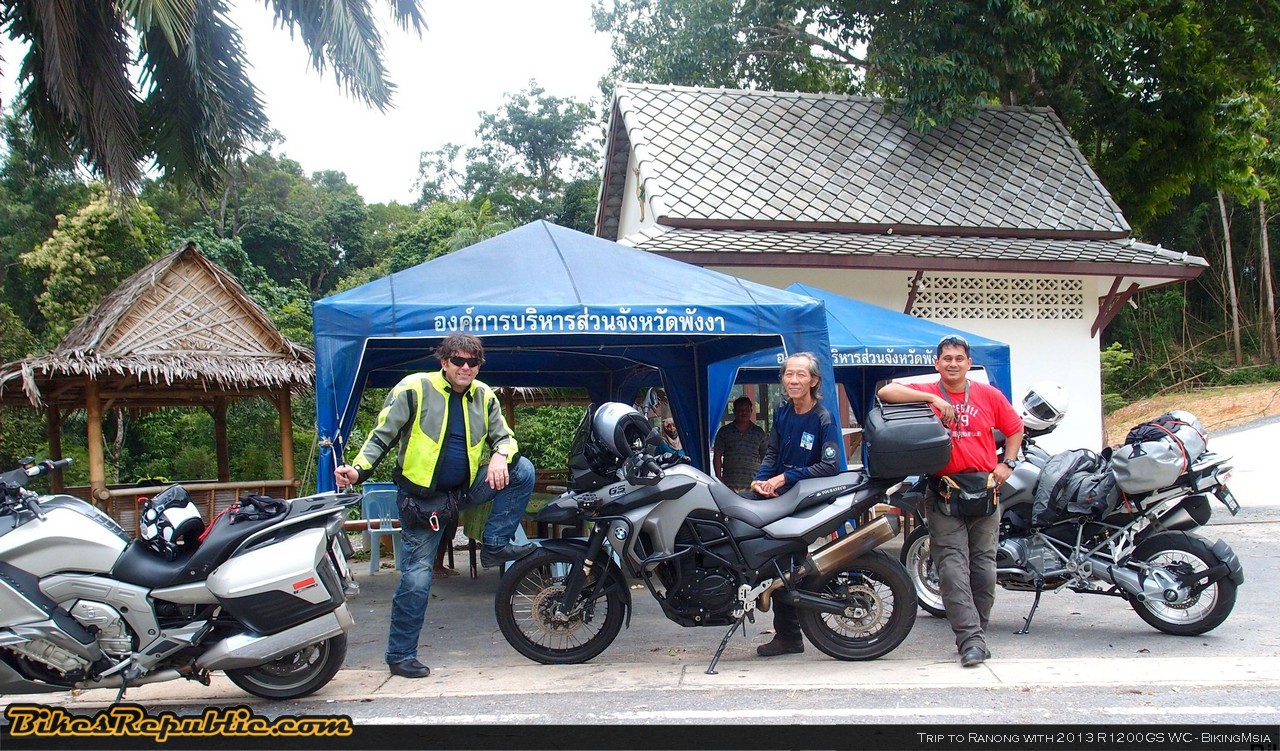 We had about 100km of ideal roads but the rest of the remaining journey was rather boring from Surathani to Pathalung and finally to Hatyai.
We arrived at the hotel about 3.00pm and was enough time to check out Hatyai town and paid a visit to say hello to our old friend Chawat at New Season Hotel (Co-Founder of 3Nation Charity in Thailand).
Day 4 (520KM) – Hatyai to KL was a breeze. Weather was perfect all the way home. We stopped in Changlun to refuel and started our ride about 11.00am and rode all the way to Ipoh to have lunch with MJayah and Chong Kar Thong at Menglembu. Arrived at Ipoh at about 2.00pm and we adjourned for lunch and white coffee before leaving Ipoh at 3.30pm.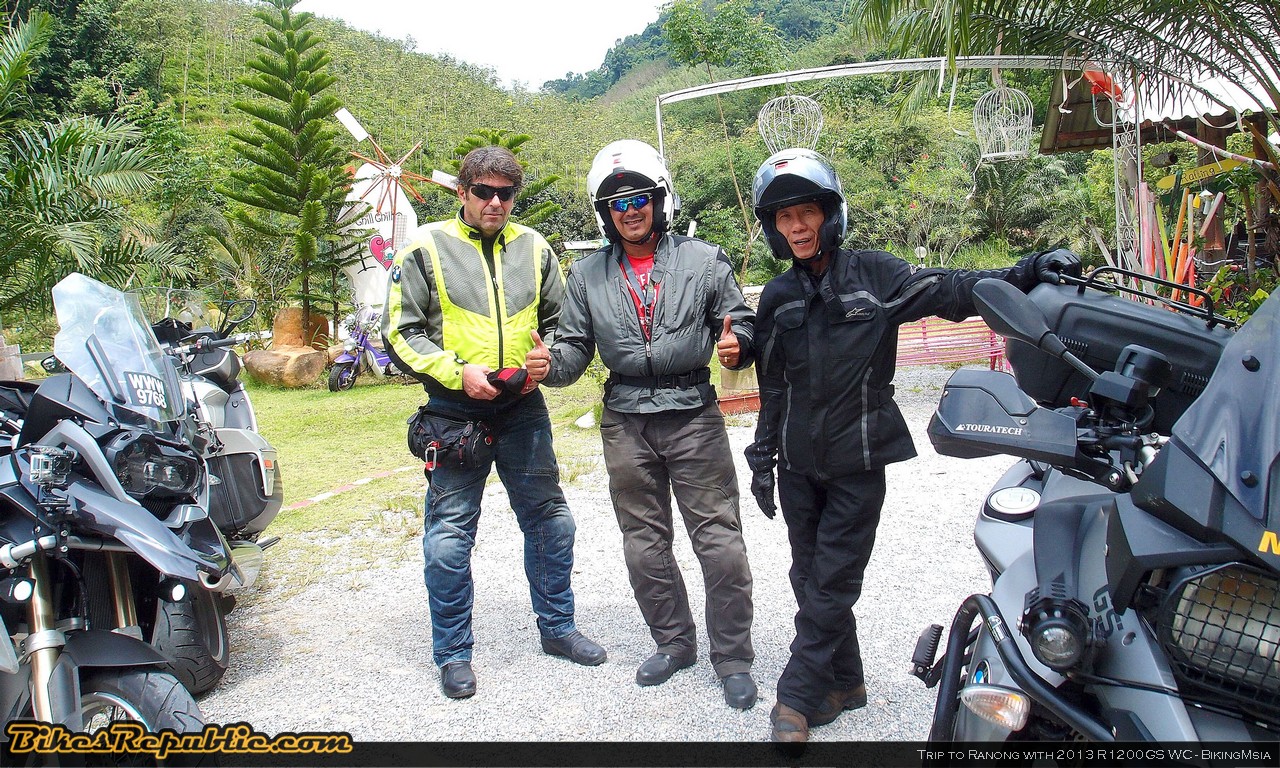 Next stop was at Jalan Duta and we arrived just past 5.00pm to be greeted by the massive KL traffic as everyone was rushing home after the days work. Well, its time we got back to reality after the lovely 4 days of riding and return to our lives and love ones. It was a free and easy ride and the both of us had good fun riding together as we have always been over the years. No firm plans right from the beginning, just two boring riders enjoying their "Passion for Riding"…
** My personal opinion on my newly acquired and much awaited and talk about bike the GS1200 LC 2013 **
I have ridden over 2000km in 4Day during my trip to Ranong Thailand. I had ridden the bike on Malaysian highways, Thai Highways, back route thru Thailand, mild off roads, short and long twisties along the Lang Suan mountain range and riding up and down the mountain roads somewhat like a roller coaster, in mild drizzle to a heavy down pour and this bike came out with high ratings if you asked me. I love the weight distribution on this new model compared to its previous models be it the GS or GS Adventure, handling has been improved and somehow the bike is very nimble, braking has improved, suspension is great with the 3 different modes (Soft, Normal and Hard) which could be switched on the fly plus the 5 different modes on the bikes that gives me pre-set options which makes the bike rideable weather you're an amateur or professional.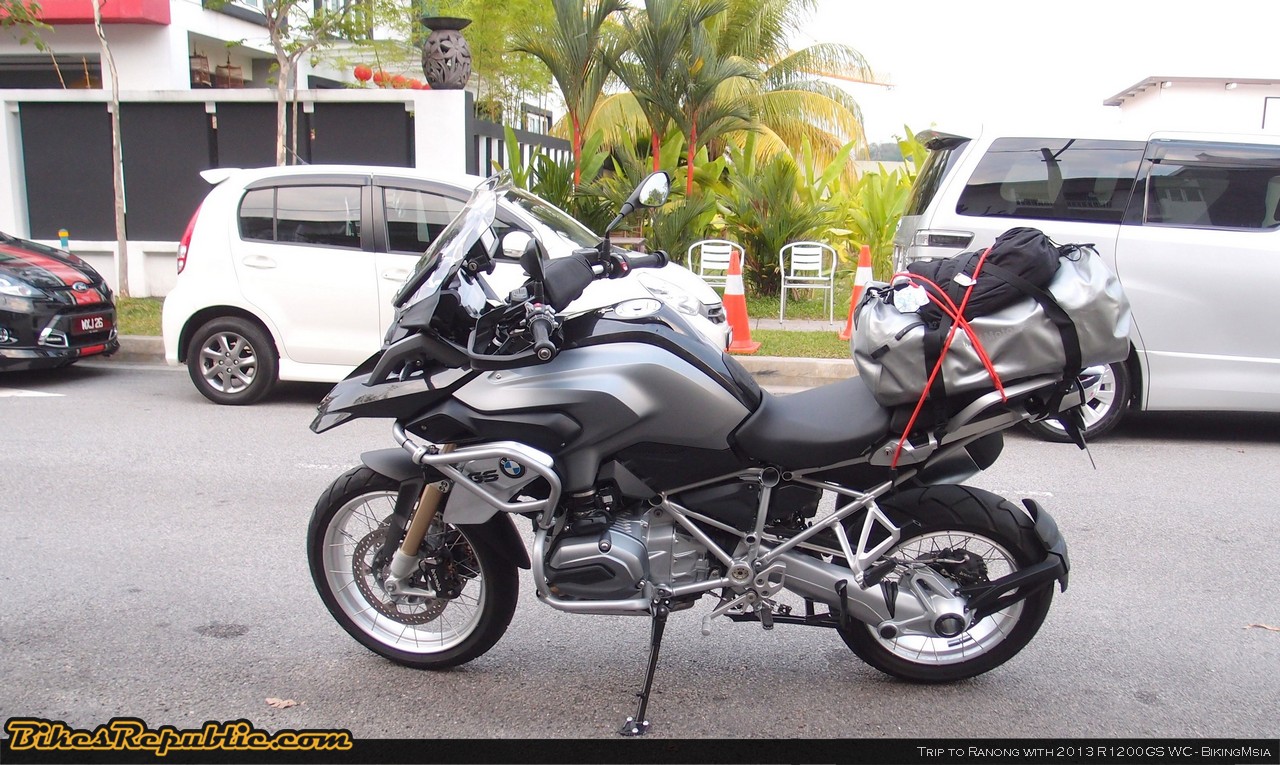 I am very impressed of the bike although I had a minor heated grip issue during my last lg back into Malaysia from Thailand when the heated grip turned on and off by its self. A quick complain to Auto Bavaria and they changed the switch to resolve the issue immediately. Jeff, Prakash and Mat did a fine job as I sent my bike in for service last week and I would like to say thank You for their dedication for the job which gives me a whole lot of new perspective to BMW Service centre in Glenmarie. I hope Fazli Shukor takes note of these.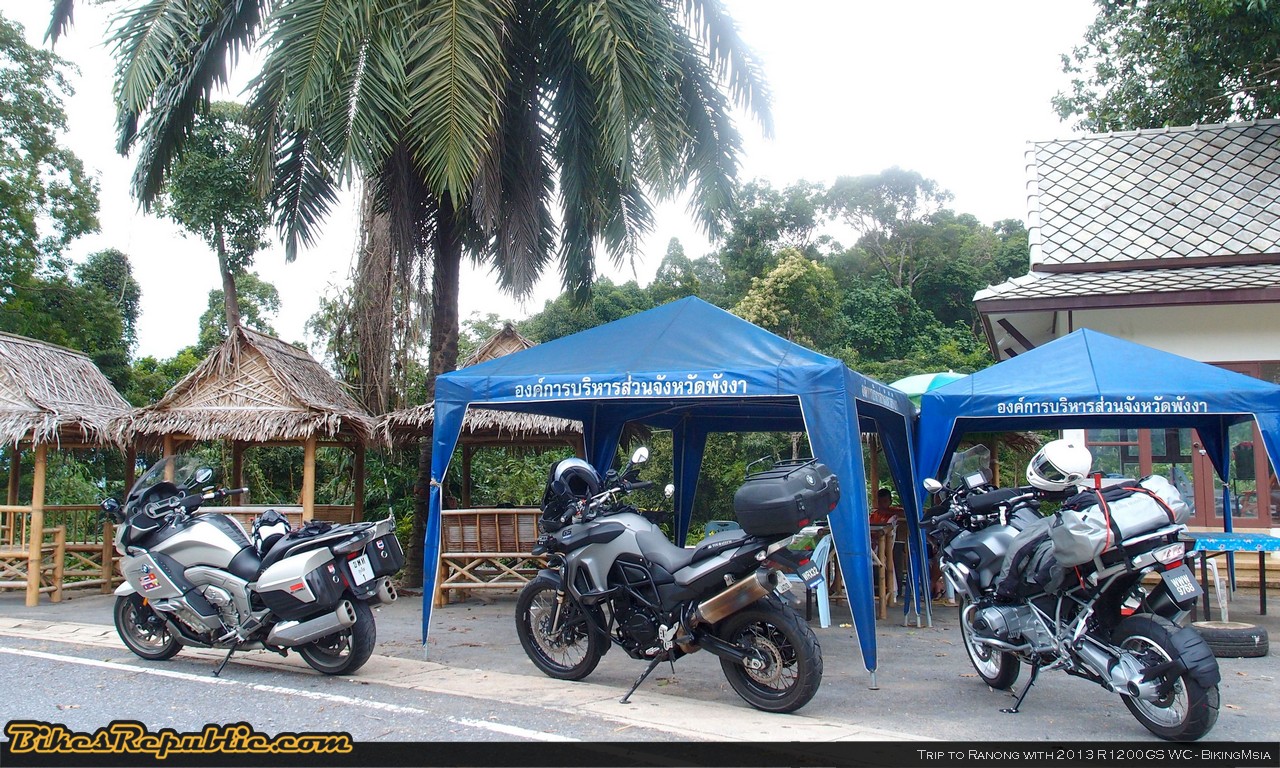 I have 3 personal dislikes on the new LC. Firstly, on the LED day running lights which are not easily visible by other motorist from afar especially if you have forgotten to turn on the headlights or you have not set the lights on ON mode in the default settings. I had experienced a few close calls on a couple of occasions during the first few days after taking delivery of the bike. I resolved the problem by installing an after market Denali light which makes the bike a more visible. Secondly, I would have to say the standard horn sounded wimpy. Resolved that problem by adding a booster and relay to give it a more profound and firm tone and the third is the stock standard windshield isn't good enough especially among the taller riders…. You will need to upgrade it to a higher aftermarket windshield to give you better wind protection.
Till we ride again in the near future, keep the "Passion for Riding" going strong. "Ride hard & Ride safe always" **
Best Regards,
Kev for BikingMsia
Check out MORE specs here https://www.bikesrepublic.com/bulletin/bmw-unveil-new-r1200-gs/