In what appears to be a perfectly timed move, Malaysian Honda bikes assembler and distributor this month launched two of its latest offerings, the brand new EX5 Dream 110 moped and the Air Blade scooter. Both models were launched early last week just in time before the Hari Raya festivities.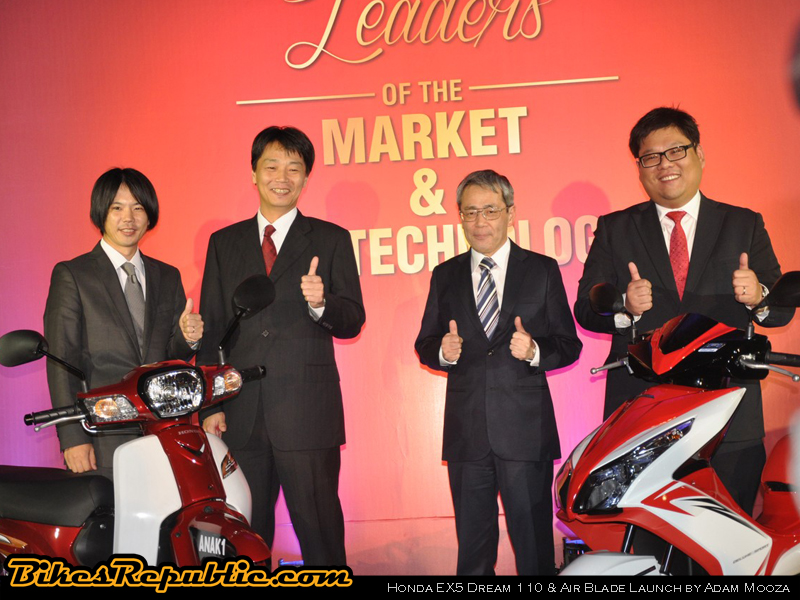 L-R:  Tatsuya Minagawa, Boon Siew Honda CEO & MD Satoshi Okada, CFO Koji Yamada, and deputy chairman Datuk Sri Tan Hui Jing.
Present to launch the new bikes in Awana, Genting were Boon Siew Honda (M) Sdn Bhd's deputy chairman Datuk Sri Tan Hui Jing, managing director and CEO Satoshi Okada, and Honda R&D Southeast Asia Co. Ltd. Large project leader Tatsuya Minagawa.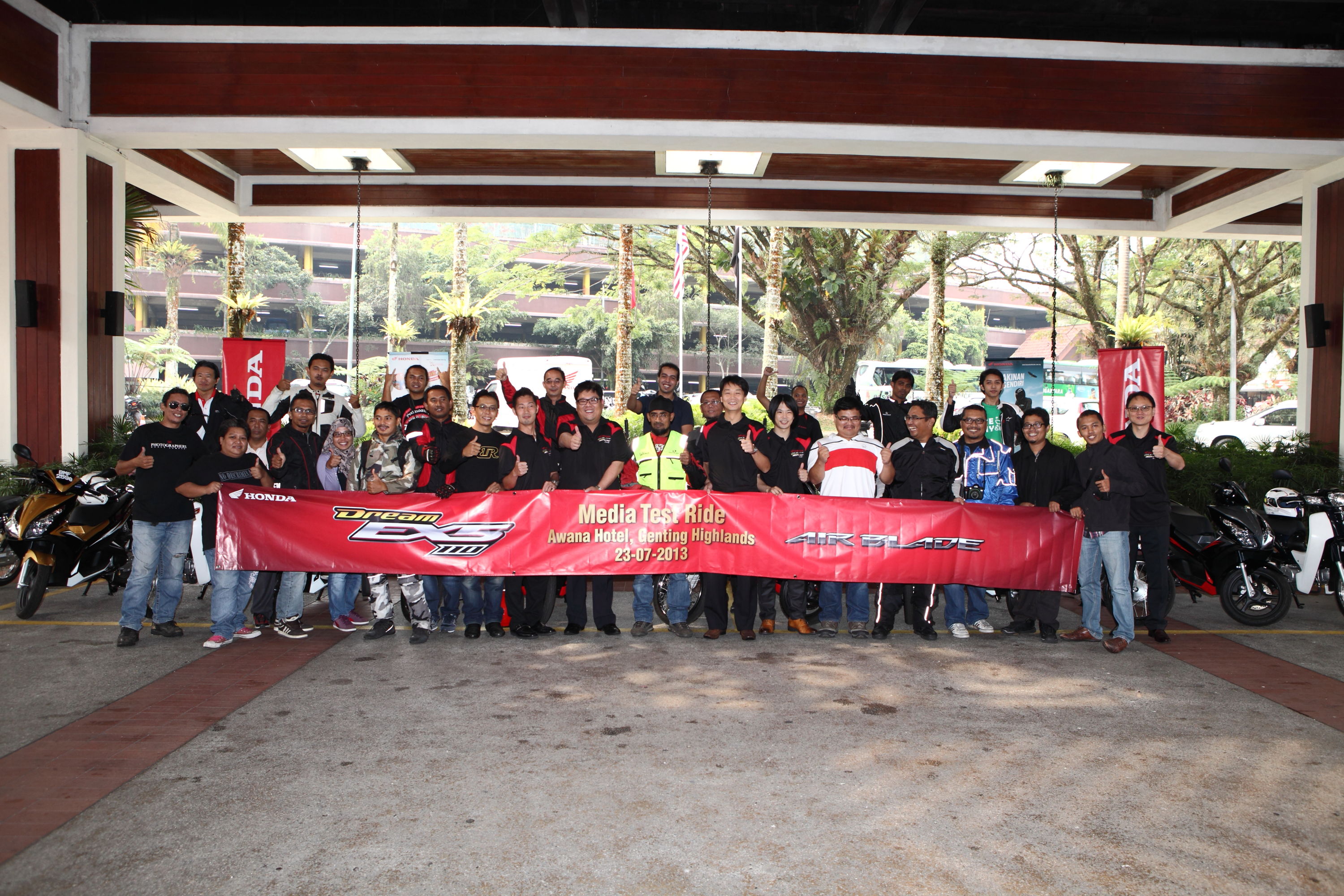 Pic by TWMR and Boon Siew Honda Sdn Bhd
Shortly after the launch ceremony, invited members of the media were then given exclusive test-ride sessions with both new bikes. Naturally, we did not pass up the chance and this article will give you an insight of our first impressions towards Boon Siew's latest offerings for the mass commuter market.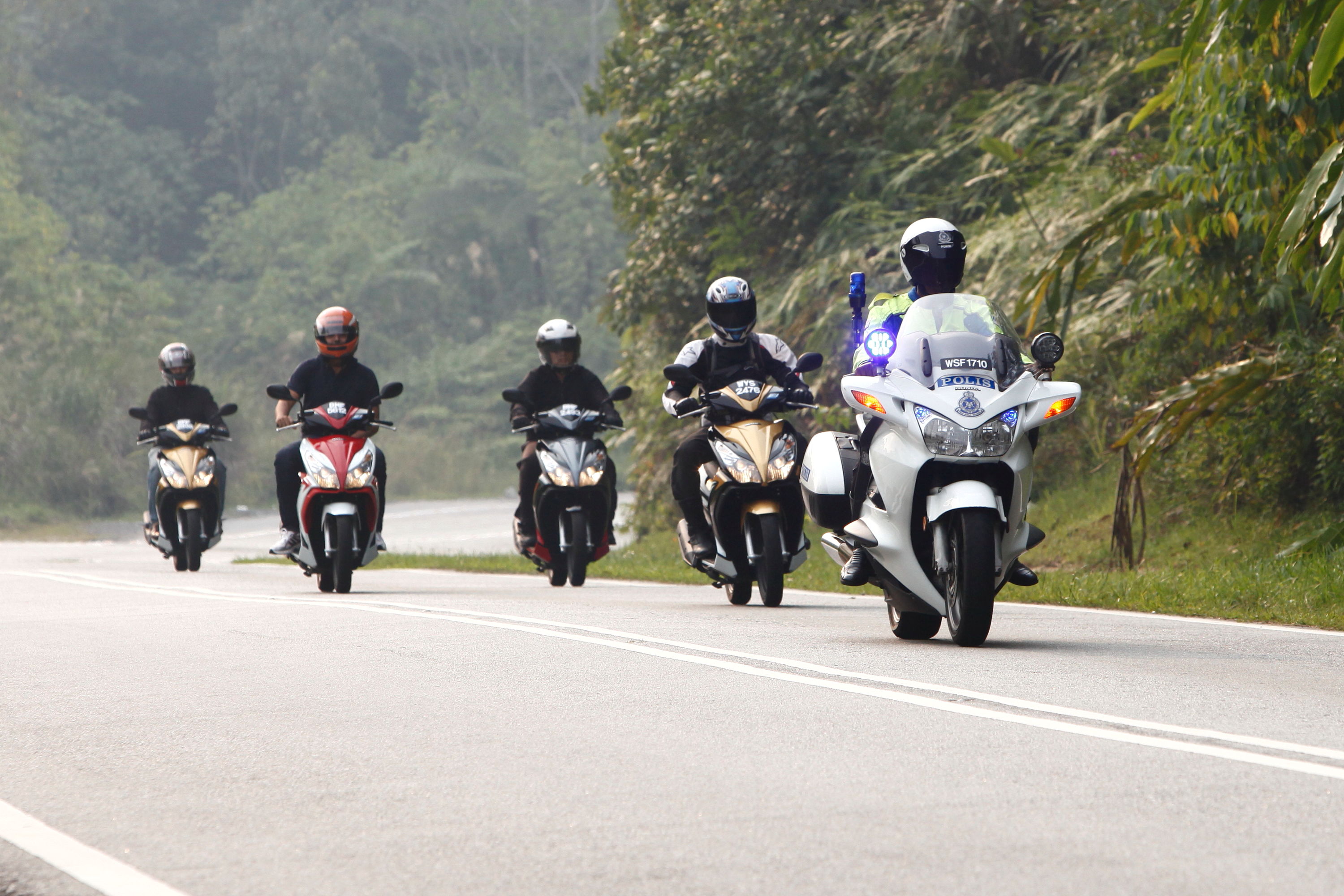 Pic by TWMR and Boon Siew Honda Sdn Bhd
Honda EX5 Dream 110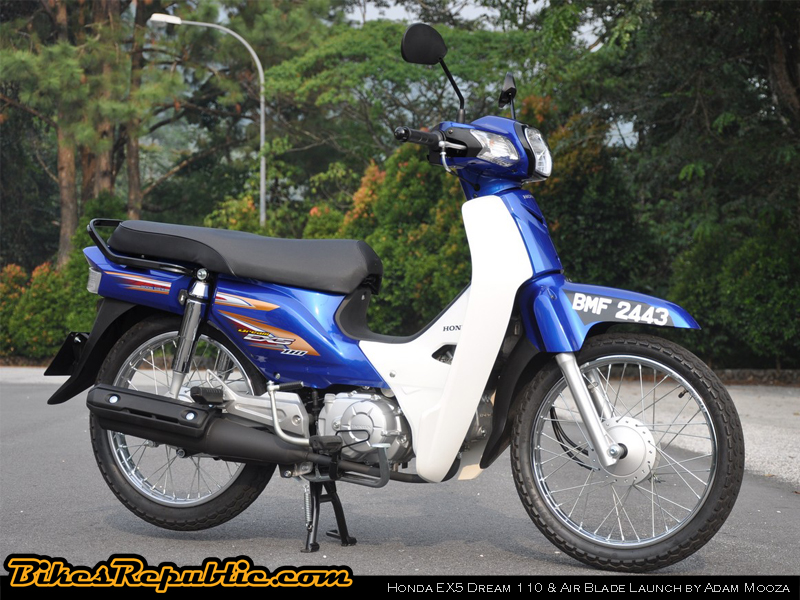 Firstly, the Japanese red wing Marque has opted to update one of its most iconic and legendary products ever, adapting it to better suit today's mobility needs. Upgrading from its previous 100cc predecessor, the new EX5 now features a new and improved air-cooled 110cc (109.17cc) four-stroke OHC engine as its heart. Complying with Euro 2 standards, it generates 7.56hp and 8.32Nm of maximum torque, and it is paired with a traditional 4-speed Constant Mesh-type transmission. The new powertrain also benefits from a new enlarged 4-litre fuel tank, increasing its fuel economy rate further to 53.6km/litre.
According to large project leader Tatsuya Minagawa, he revealed to us that the new EX5 is a completely new bike from the ground up and shares no common parts with its predecessor. While the 26-year-old classic chassis design is retained, the new bike's chassis durability has been improved further thanks to the use of new alloys and metals. Besides the equipment of heavy-duty suspension, the new EX5's standard tyre sizes have been increased in width to 70/90-17M/C 38P (Front) and 80/90-17M/C 50P (rear) for improved stability and grip.
At first glance, the new EX5's exterior outlooks may not differ much from its predecessors. But in fact, the new bike is actually slightly larger than the last iteration, and it sports several subtle design enhancements. These include the new headlamp design, the updated rear fascia and its use of a new combi tail-lamp design, a new underbody shield protecting the bike's undercarriage, and a covered black exhaust. Also updated are the widened new seats, the equipment of an improved key system for increased security, followed by an electric starter motor available as a premium feature.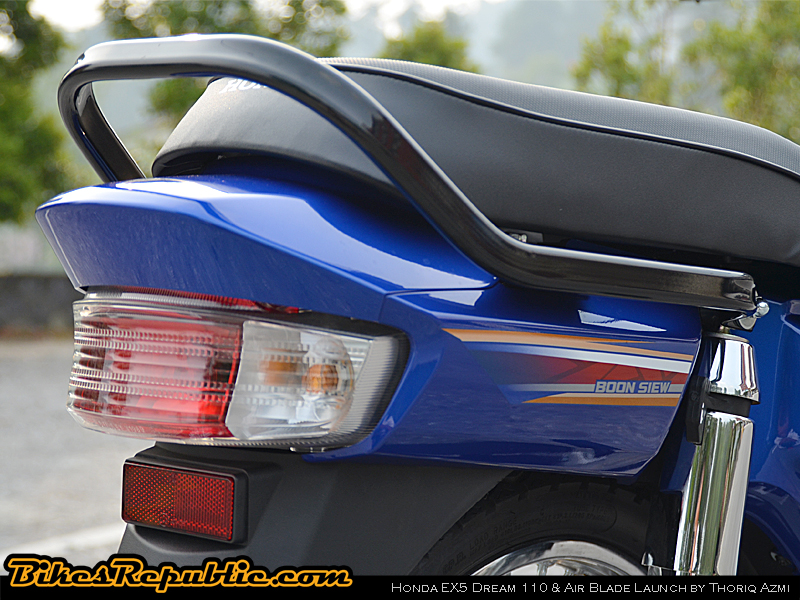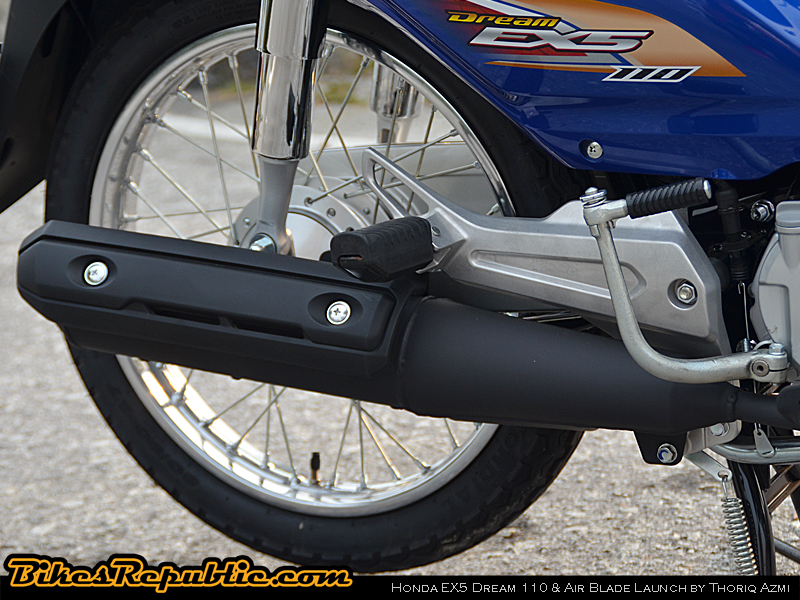 One of the most obvious changes with the new EX5 is the exhaust's heat shield covers. Also updated is the tail lamp that features modern combination reflectors.
Given its renowned qualities at being a reliable, robust, and tough moped, the EX5 is really a bike of a few words. After riding it for a good 35 minutes around the Awana and Sungai Kedongdong areas in Genting, the first thing we immediately noted was the bike's improved rider's comfort from the new seat design. Secondly, we felt that the bike's ride vibrations and harshness has also reduced greatly from its predecessor, a result of the chassis use of new alloy materials. Although the new EX5 supposedly weighs 5kg more than its predecessor, the larger and slightly more powerful 110cc engine offsets this easily, retaining that unmistakable performance feel of its past predecessors.
The use of wider tyres was also a welcoming feel, and we felt it was something the EX5 sorely needed. The grip and stability improvements from the new tyres were evident when we rode it around the twisty backs roads of Sungai Kedongdong. Typically, the heavy-duty suspension does have the tendency to wobble around when taking a corner at higher speed, but we genuinely appreciate its soft comfortable setup and more importantly, its robust feel.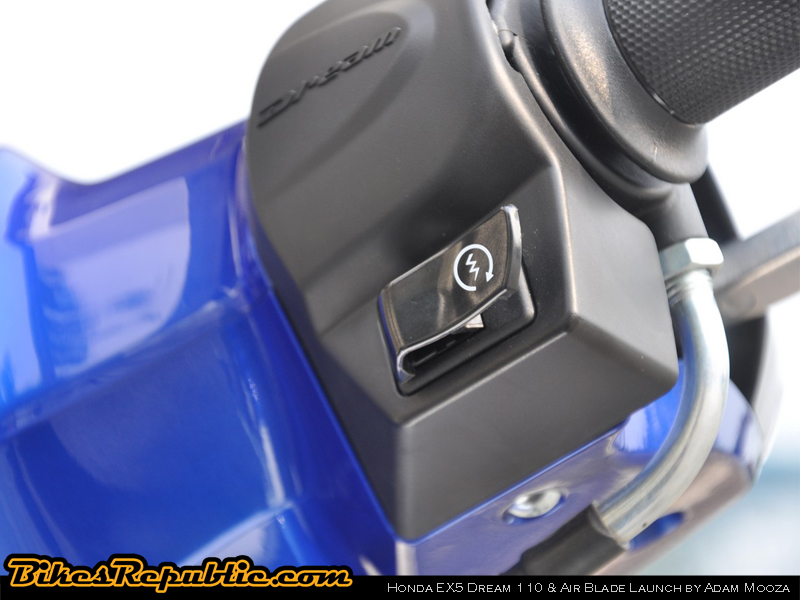 Electric starter unit is only available as a premium option.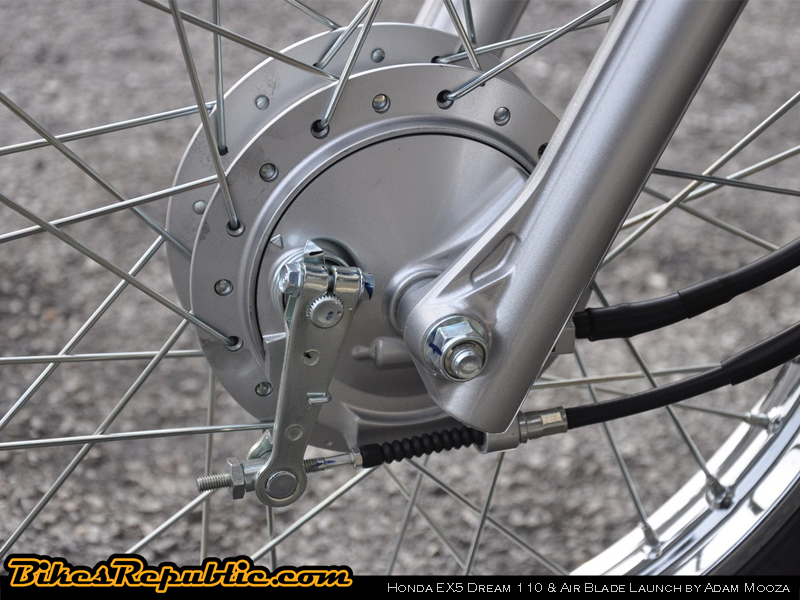 Though it is old-fashioned, the traditional drum brakes equipped on the EX5 are robust and are easily maintained at a low cost.
Overall, the new EX5 has what it takes to live up to its predecessor's capabilities upon first impressions. The only complains we had were the typical lack of glare protection on the instrumentation panel, and perhaps the front's fascia's somewhat more feminine looks. Other than that, the EX5 is still a remarkably affordable and highly reliable commuter made for all types of commuters, commanding a lot of respects for that matter as well.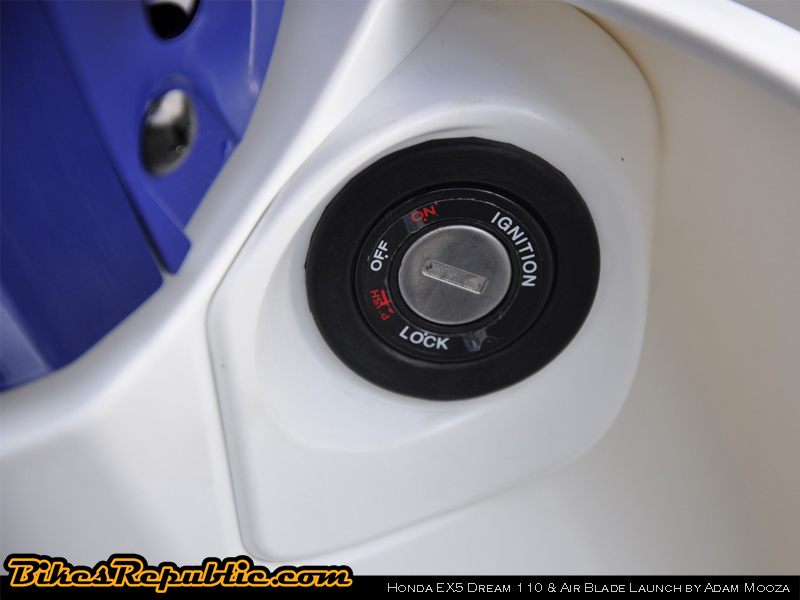 To combat bike theft, the EX5's key system has been further improved on the new model.
The new EX5 Dream 110 is now available for purchases at authorised dealers, carrying a starting price of RM3,908 for the kick-starter base model, and RM4,145 for the self-starter.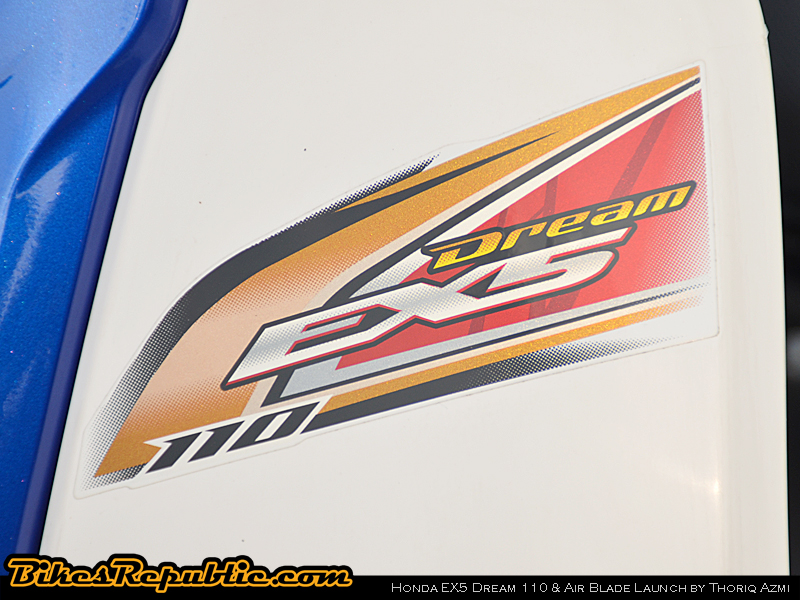 As added bonuses, Boon Siew are offering the bike with a highly affordable down payment scheme of just RM399, as well as an increased warranty period of two years or 20,000km (whichever comes first). Like its predecessors, we reckon that this new EX5 will enjoy long-term market success as how its predecessors did, and it still stands as the default choice amongst entry-level commuters.
Honda Air Blade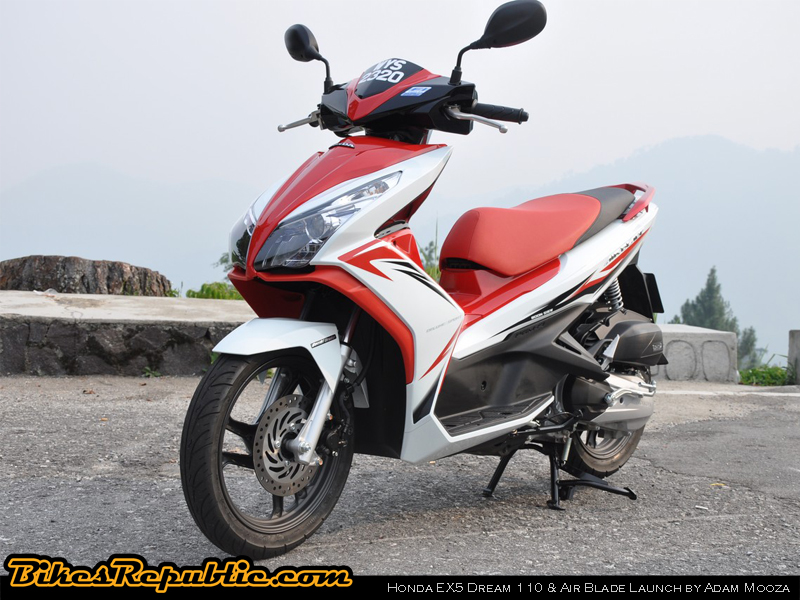 Whilst the updated EX5 launched alongside it was aimed towards entry-level commuter buyers, the Air Blade instead presents itself towards the younger-aged and tech-savvy of modern day commuters. The Air Blade 125cc scooter stands as one of the most tech-laden scooters currently available in our market, packaged in a very sleek and stylish design meant to exude confidence.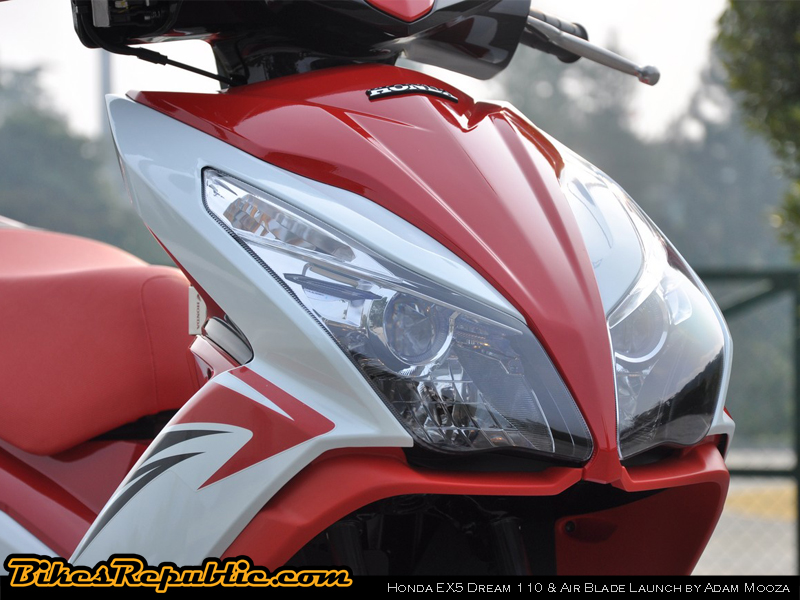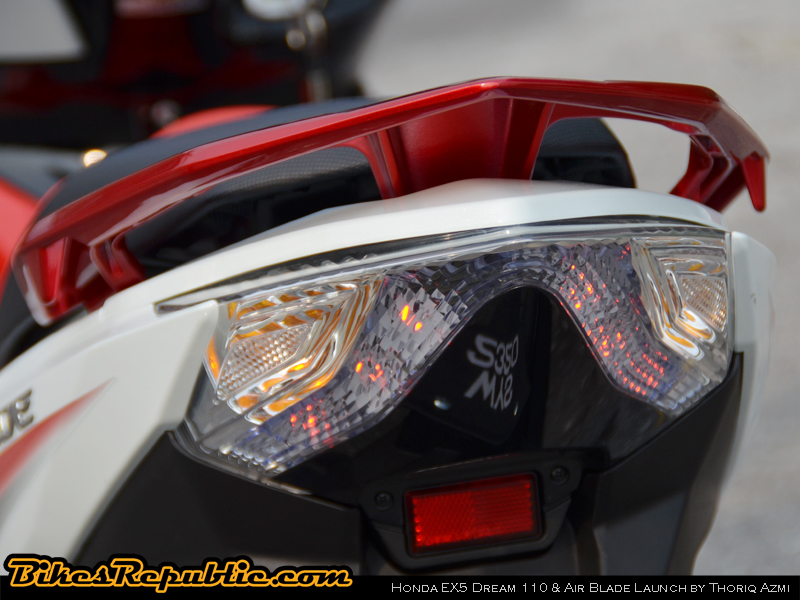 The Air Blade is the first scooter in our market to feature twin projector headlamps as standard (top), and it is matched by an equally attractive LED tail lamp.
Powering the Air Blade is a 125cc (124.88) liquid-cooled four-stroke single cylinder OHC eSP (Enhanced Smart Power) eco-friendly engine that features the brand's PGM-FI fuel injection system, Idling Stop System (engine stop/start), and an integrated ACG starter system. Generating 11hp and 11.2Nm of torque, the mill is connected to a V-Matic automatic transmission developed with efficiency and high performance durability in mind. Both the eSP and ACG functions stands as Honda's use of low-friction technology towards developing an eco-friendly and efficient powertrain without compromising on durability and fuel economy.
The features list with the Air Blade is pretty extensive. It is the first scooter offered in Malaysia with twin-projector headlamps. It also features an LED tail lamp, an LCD screen in the instrument cluster, a large U-Box with a light, a Remote Response Key to help locate the scooter in a parking lot, and Versatile Locks double locks for added security. Increasing the scooter's safety are features such as the Side-Stand Switch that must be raised to start the engine, the use of tubeless tyres as standard, and more importantly, the equipment of the innovative Combined Brake System (Combi Brake).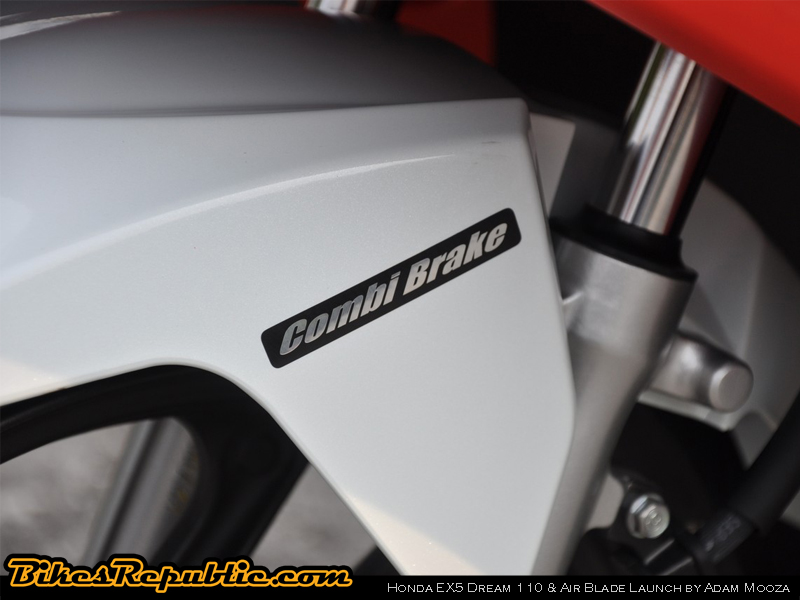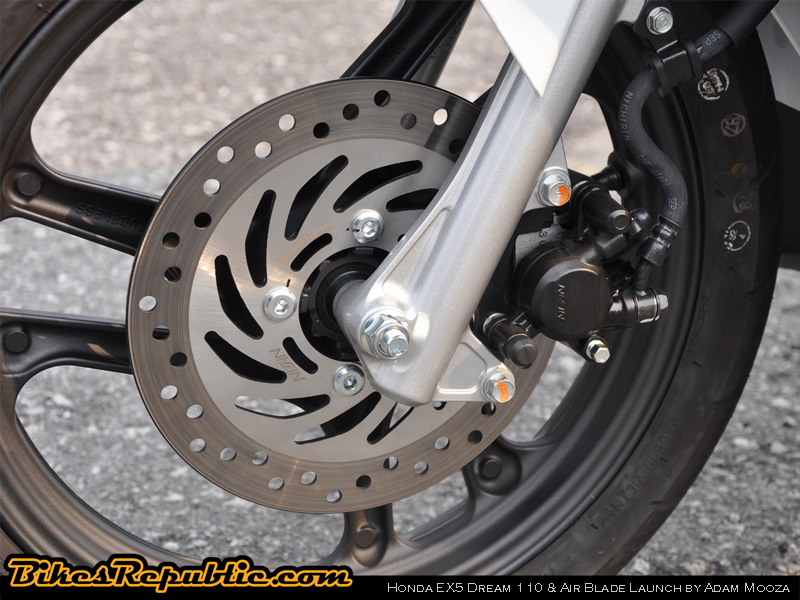 The Combi Brake system is an excellent feature of the Air Blade, evenly distributing brake force between the front and rear.
It terms of its exterior looks and stance, the Air Blade looks just as good as how its name sounds like, and has probably won many hearts amongst scooter fans. For a scooter, it has one of the sharpest handling in its class. The scooter's back bone chassis is primed with front telescopic type measuring 81mm, and twin towers measuring 75mm at the rear. The suspension setup feels well balanced, having excellent amounts of softness for comfort and just enough sporty rigidity giving excellent road feedback. Couple that with the grip from the well-matched tubeless tyres (Front: 80/90-14M/C 40P, Rear: 90/90-14M/C 46P), the Air Blade takes corners easily even at slightly higher speeds.
The icing on the cake with the Air Blade's chassis and handling however lies in its Combi Brake feature. The system operated using the left hand lever distributes brake force evenly front and rear. This greatly enhances the 112kg (kerb weight) scooter's braking and handling control. This feature really came into its prime as we test-rode around the twisty hill roads enroute from Sungai Kedongdong to Awana. We rate the Air Blade's chassis package highly as it inspires a lot of confidence for riders with its high level on controllability, exceptional stability even at high speeds, and its overall agility as a compact scooter.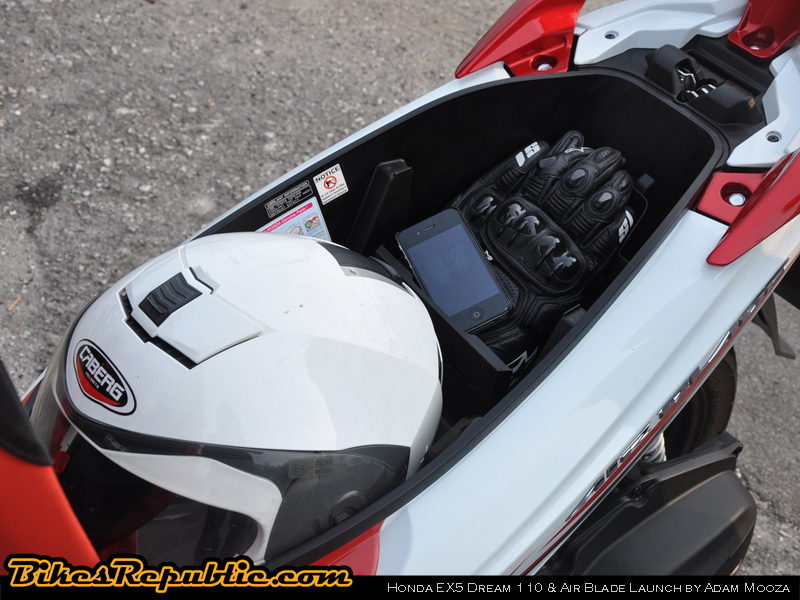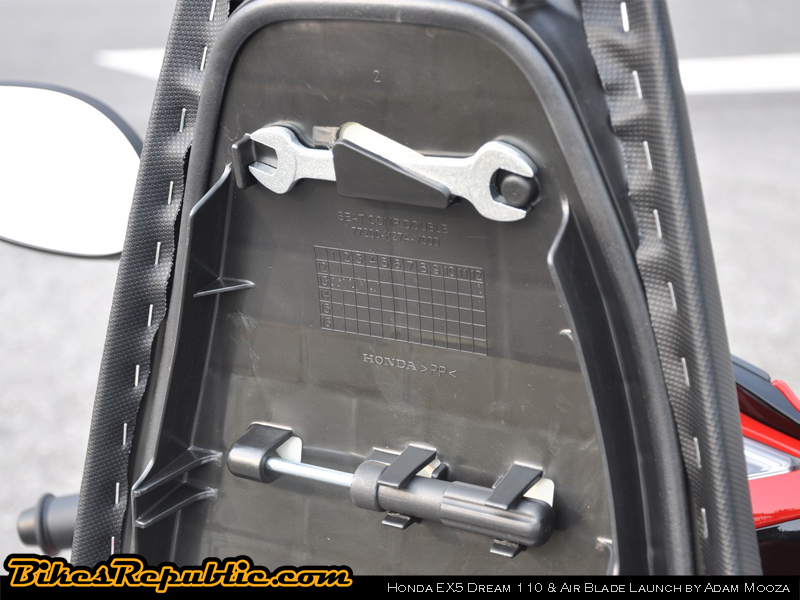 The U-Box storage under the seat fits one half-face helmet easily with room to spare for smaller items, and comes with a basic tool kit as well.
The Air Blade's automatic transmission on the other hand feels equally brilliant, delivering all the engine's power fairly quickly without compromising its very smooth finesse. Also worthy of high praise is the integrated ACG system. It already has an ultra smooth feel with regular start ups, but it really comes into prime in aiding the Idling Stop System, giving the Air Blade seamless engine restarts all the time when in stop and going from idle.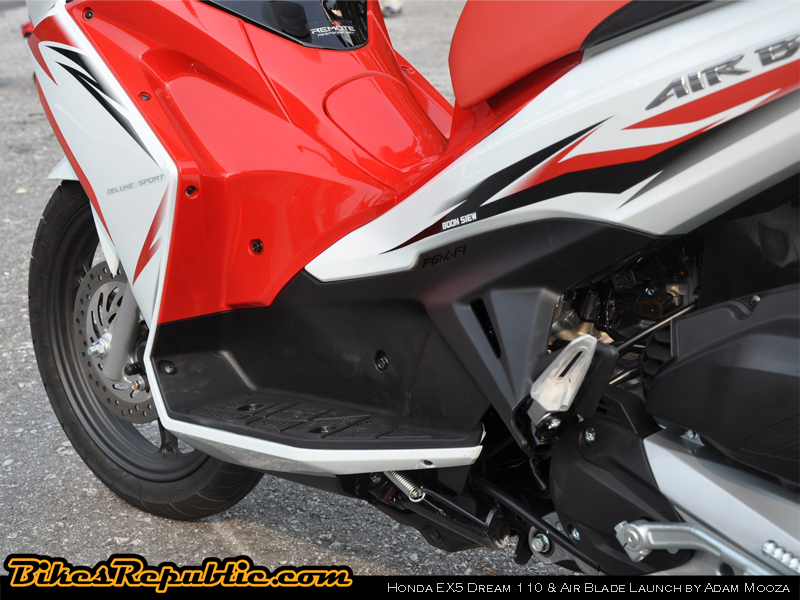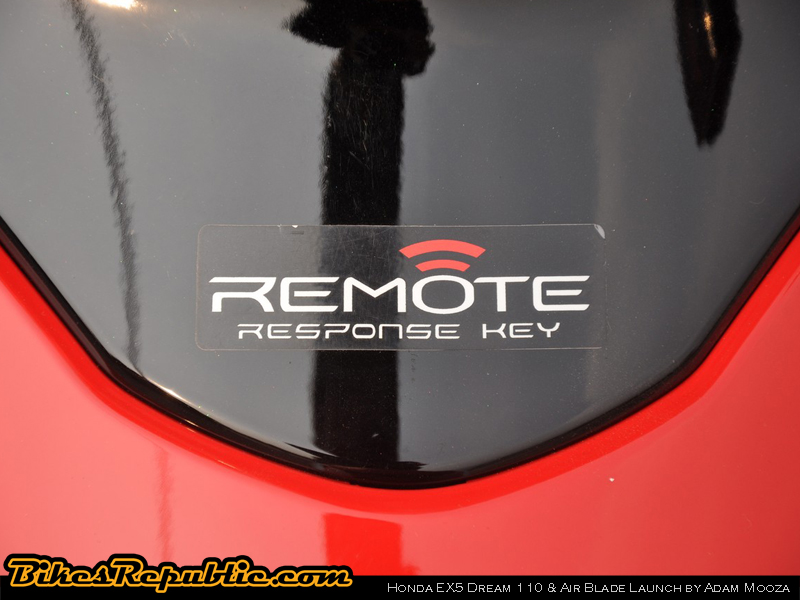 The Remote Respone Key feature is impressive. At the press of a button on the Air Blade's keys, the scooter's light will flash, making it easier for owner to locate it in a crowded or dark parking area.
Combining a very dynamic chassis package, a highly advanced and efficient powertrain, as well as adequate practicality, the Air Blade ranks highly in our favourites list. Our only complaint with the Air Blade is perhaps the slightly steep price tag. The Air Blade is priced starting from RM7,708 and is offered with three paintjob options.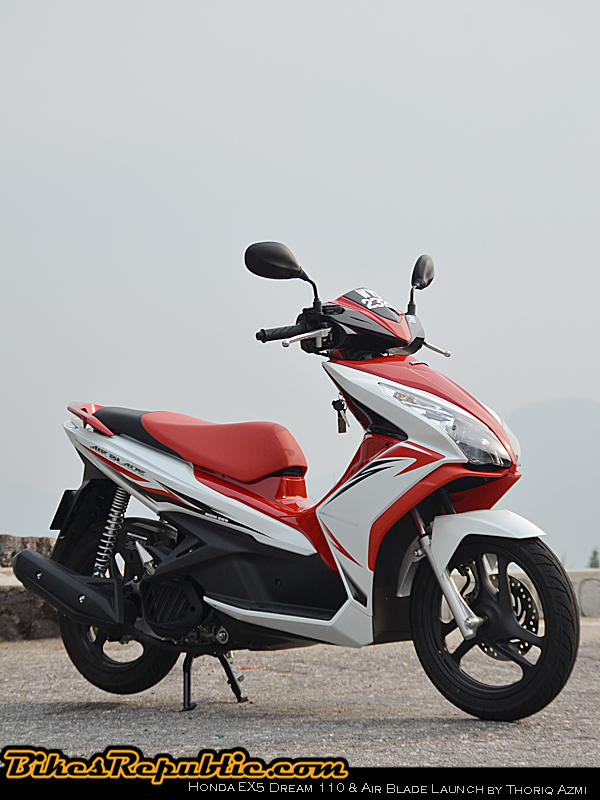 The Air Blade proves to be one of the most stylish models currently available in its segment here in Malaysia.
For said price range, you could instead get any one of the Air Blade's slightly more powerful and cheaper-priced segment rivals. However, the Air Blade's extensive features list and its advanced efficient powertrain justify the higher costs, and we reckon this is one scooter than will give greater ownership satisfaction in the long term as compared to its rivals.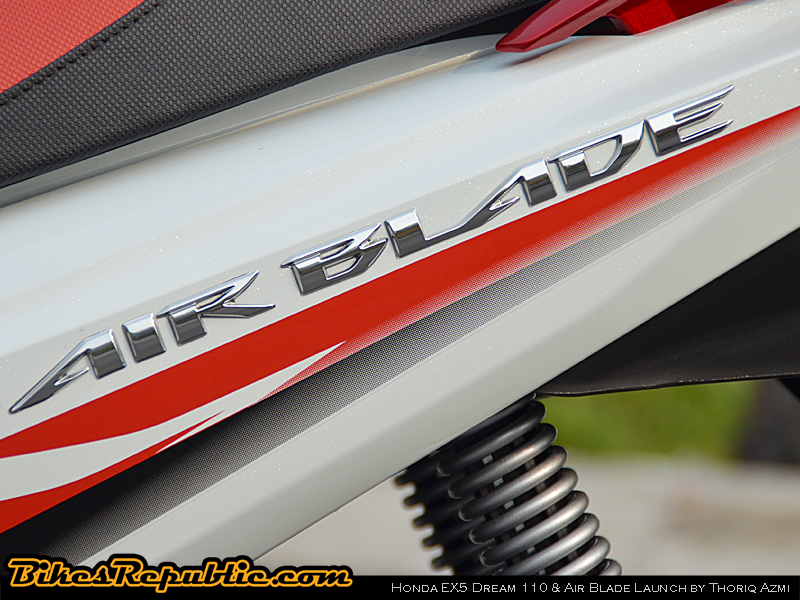 EX5 Dream 110 brochure (link)
Air Blade brochure (link)