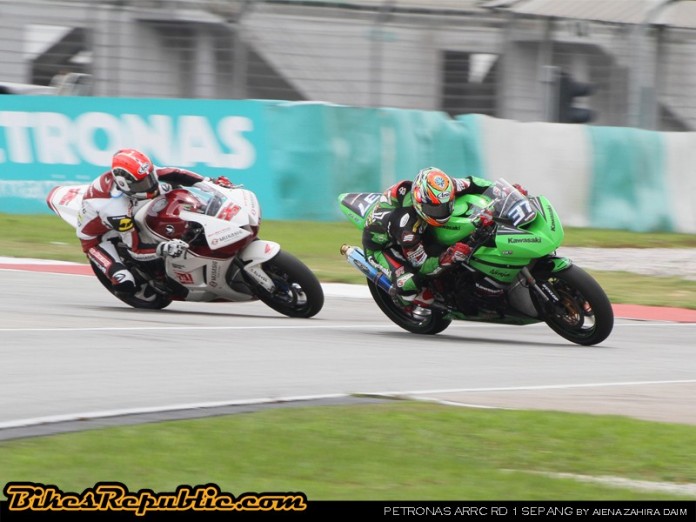 Dubbed as the Asian version of MotoGP, the 18th edition of Petronas Asia Road Racing Championship (ARRC) once again had its season opener at its home ground of Sepang International Circuit from April 19 to 21, 2013.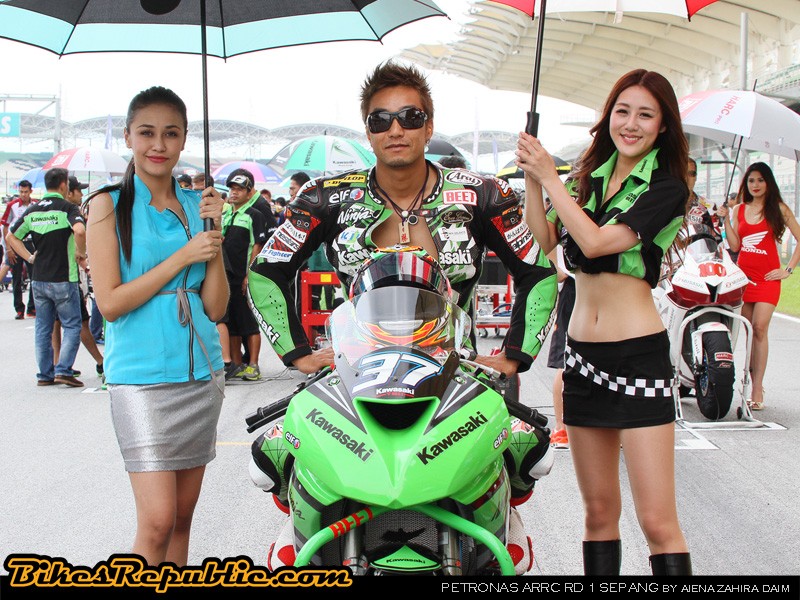 Jam packed with Asian racing superstars of SuperSports 600cc category – several times champion Katsuaki Fujiwara of Beet Kawasaki, our very own speed devils Azlan Shah of Musashi Boon Siew Honda and Zamri Baba of Petronas Hong Leong Yamaha, and new threat from a not-so-newcomer Makoto Tamada of Musashi Boon Siew Honda (former MotoGP and World Superbike racer) – the 3-day competition was also contending the Asia Dream Cup and Underbone 115cc.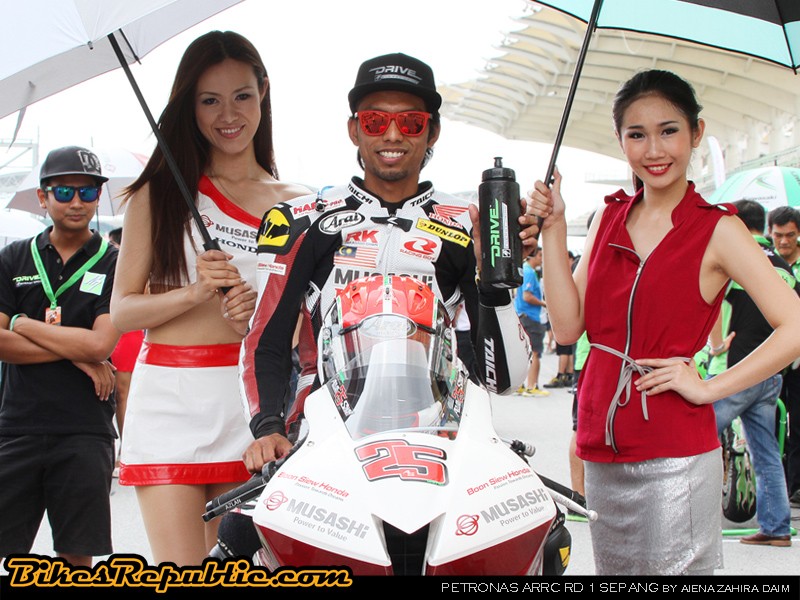 With defending champion Ryuichi "Dragon" Kiyonari leaving for British Superbike Championship, Fujiwara is in quite a safe spot this season, but he has to keep a cautious eye on Azlan Shah and Zamri Baba who were constantly sharing podium spots with him last season. And not to forget pressure from senior racers like Makoto Tamada and Ahmad Fuad Baharudin as well as eager young contenders like M. Fadli Imammuddin and Ryuta Kobayashi. Hazlanshah Md Noor age 21 years old,  who participated in the 2012 SIC Ninja 250R Cup make his debut in the Supersports 600cc series this year in Sepang.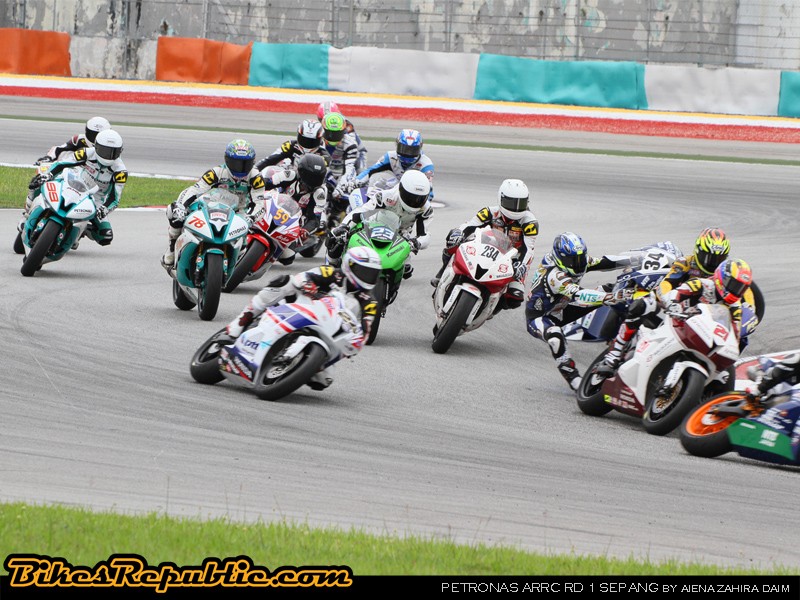 The event started on Friday with Free Practice sessions in a dry and humid condition. Katsuaki Fujiwara led the Qualifying Session on P1, followed by Azlan Shah, Zamri Baba and Makoto Tamada. The final racing day was witnessed by hundreds of racing enthusiasts from all kinds of backgrounds filling the grandstand and cheering for their favourite racers.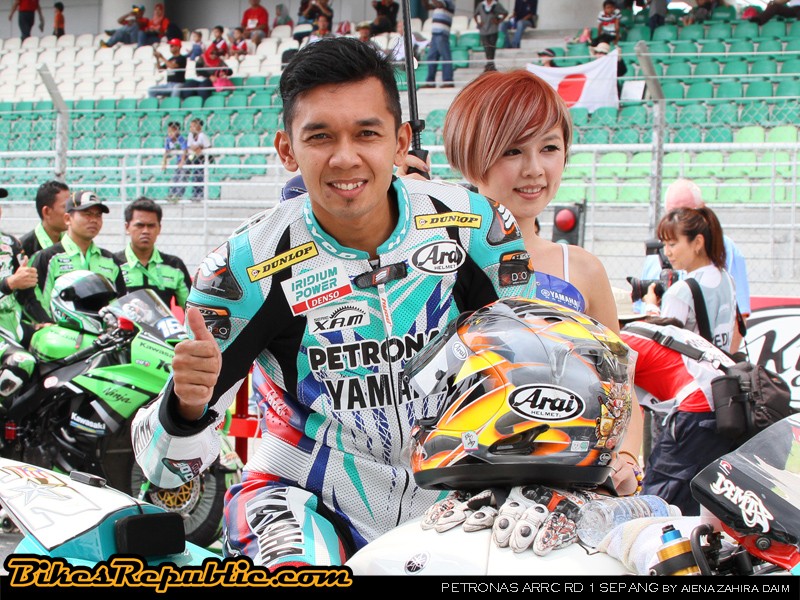 Both Race 1 and Race 2 on Sunday were extremely exciting to watch as Katsuaki Fujiwara and Azlan Shah battled for the top of podium spot. While standing and shooting photographs by the trackside, on one lap you would see Fujiwara leading, and suddenly the other lap it was Azlan charging through, it was truly insane! These two were giving 110% focus to the race and it was amazing to watch their racing spirit soaring high, but at the same time, it was deadly scary as any mistake could lead to serious consequences.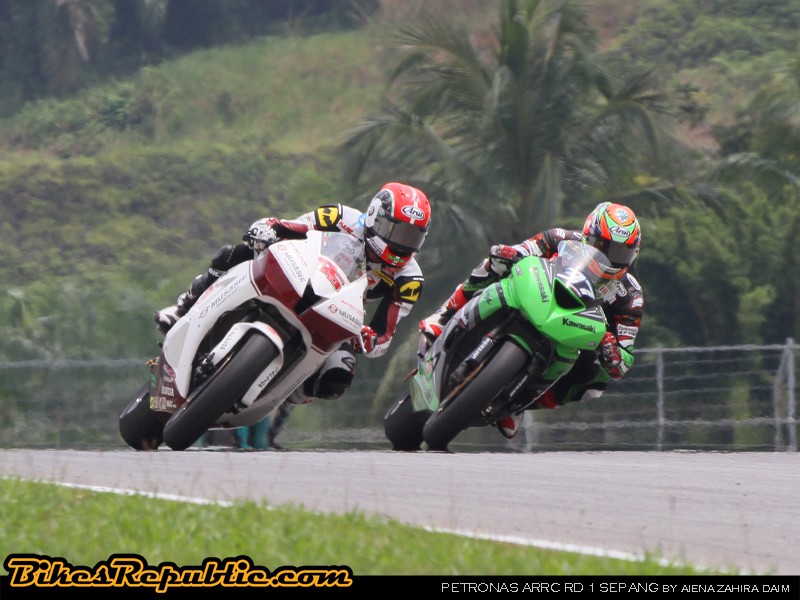 Speaking of which, on Race 1, Farid Badrul Hisham of Petronas Hong Leong Yamaha was taken away with an ambulance regarding a crash only on the first lap. Also, in Race 2, on the first lap too, Satoru Iwata of NTS Japan T.Pro Innovation lost control of his bike and ran into Makoto Inagaki of Akeno Speed, resulting in an ugly crash and Inagaki's right leg stuck under Iwata's bike. On the other hand, while battling for the third podium spot with Makoto Tamada in Race 2, Zamri Baba had to retreat from the race on Lap 17 due to mechanical problems.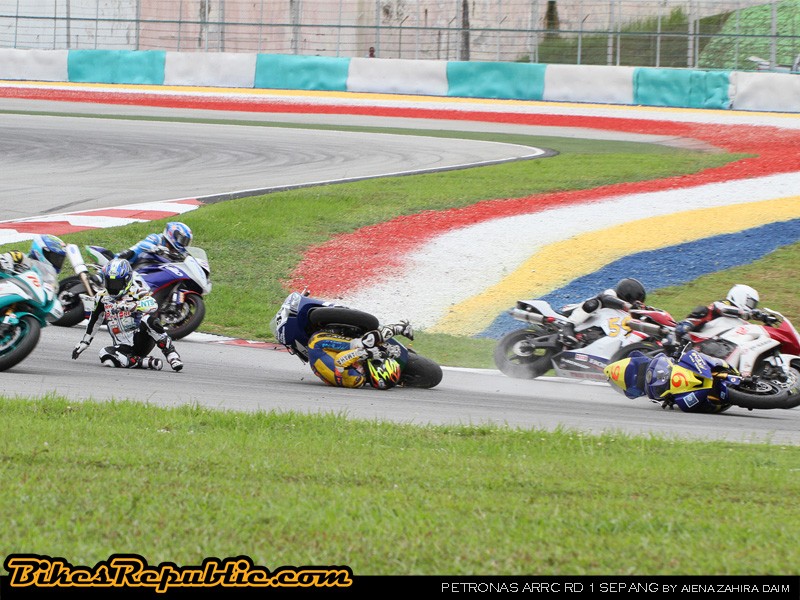 The first race went down into history books, as the aggressive Azlan Shah became the first Malaysian to win a SuperSports 600cc race in Sepang with a time of 27:41.697s leaving Fujiwara 1.009s behind. Zamri Baba secured the third spot with 27:44.006s.
On the second race, Azlan had to give way to Fujiwara after they brushed shoulders on the last turn of the final lap, with a 0.065s gap. With Zamri Baba out of the way, Tamada grabbed the third spot with 27:46.399s.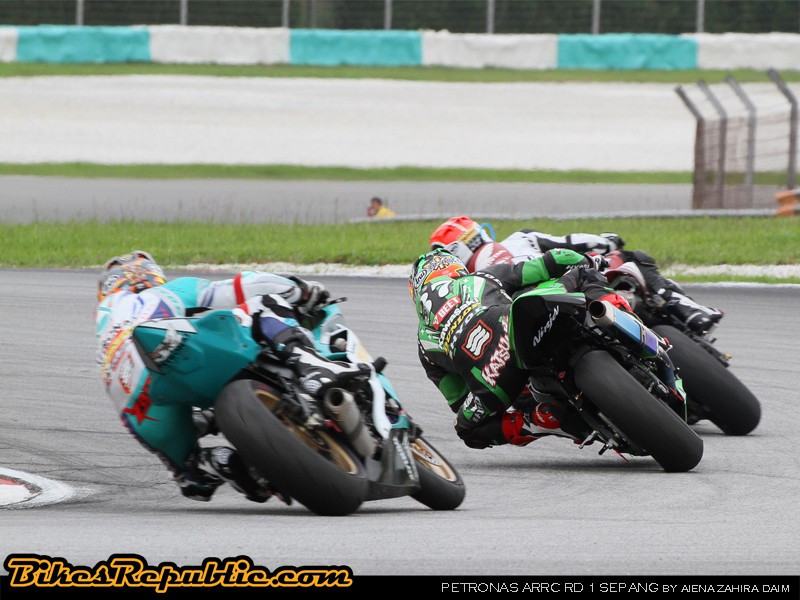 Both Fujiwara and Azlan are now tied with 45 points each. Fujiwara was quoted as saying, "Indonesia will be an important round for everyone and we will just have to do this all over again in three weeks time".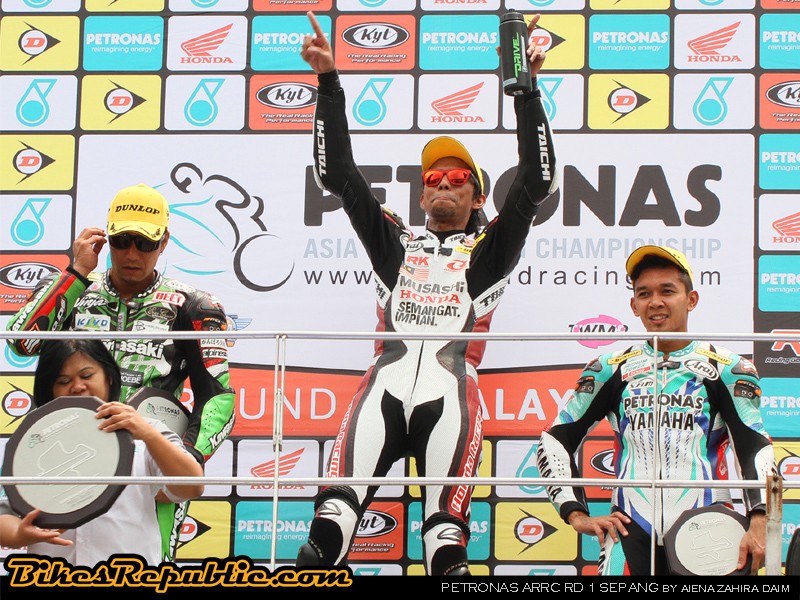 For the Asia Dream Cup, Hiroki Ono became champion in both Race 1 and Race 2. While in UnderBone 115cc class, team SCK's 13-year-old Kasuki Mazaki became the talk of the paddock, as he secured the no 1 spot in Race 1 after only racing in Underbone class twice. However in Race 2, he didn't manage to secure any podium spot after swallowed by the crowd behind three podium clinchers – Ahmad Afif Amran of Petronas Hong Leong Yamaha, Hadi Wijaya of team R9 and Affendi Rosli of team SCK.
Round 2 will take place at the Sentul International Circuit from May 17 to 19, 2013.