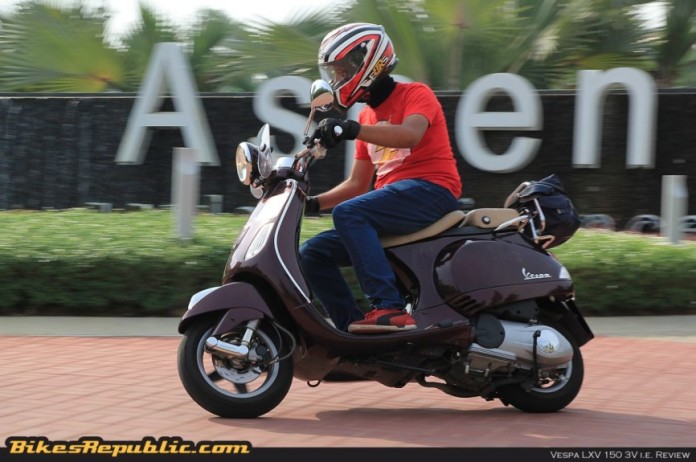 The lovable and iconic Vespa LXV 150 3V i.e. shows us why old is gold, even in this current modern age.
Vespas are cool. Period. No arguments about that. In fact, we have one in our humble little office, an older LX 150 model to be precise, which has proudly and reliably served one of our colleagues through thick and thin. In many ways than one, our colleague's LX 150 is indeed a gem in its own right.
However, stricter emission laws means that the days of the carburetted LX 150 are pretty much numbered. Which then brings us to what appears to be its replacement, the LXV 150 3V i.e. On the surface, things look like business as usual with the more modern LXV 150 3V i.e.
Fans and purists alike will appreciate the fact that the distinct and iconic retro design lines Vespas are known for are retained here – no surprise here. What really went well with our Maroon-coloured test unit featured here are the various shiny chrome brightworks it adorns.
No matter at which angle you look at it, there's plenty of shiny chrome that catches the eye on this LXV 150 3V i.e., adding a big boost of nostalgia especially amongst many older-aged admirers who lived through the era when shiny chrome was all the rage on Vespas.
What is certain though is that the LXV 150 3V i.e. is a natural-born charmer. Ride it around a KL's more posh or up-scale neighbourhoods and you'll find yourself turning into quite the attention magnet – even with a silly-looking full-face helmet on as our test-rider did.
If ever you needed to look cute to impress the ladies, then this Maroon-painted retro moped, with its appropriately matching retro tanned leather seats, and shiny chrome trims, will effortlessly aid you in this feat.
Underneath though, the LXV 150 3V i.e. is anything but old as it boast some of the most modern inner workings that parent company Piaggio Group currently possess in its arsenal.
The most essential of elements here is its perky 154.8cc three-valve air-cooled single-cylinder four-stroke engine, primed with a modern and appropriately greener electronic fuel injection system. The latter is what justifies the 'i.e.' bit in its nameplate, which stands for 'iniezione elettronica' – Italian lingo for electronic injection.
Peak power of 11.7hp comes at the higher rev-band circa 7,500rpm, whilst peak torque 12Nm comes at a slightly lower bad of 5,000rpm. Power is transferred to the rear wheels via a CVT-type automatic transmission, a fairly common powertrain layout amongst many scooters of this size.
While speed isn't its core mission, the powertrain does have enough oomph enough to bring the LXV 150 3V i.e.'s 114kg kerb weight up to decent speeds in a fairly smooth and steady manner of delivery.
But this powertrain does have a reputation for unreliability, especially under our challenging hot and humid weather conditions. In fact, our test unit's electronics went wonky twice on us during its weeklong period with us. Unlike carburetted iterations, which can be easily kick-started, this fuel-injected LXV 150 3V i.e. is crippled in this situation.
Nevertheless, this issue disappears should you maintain and ride the LXV 150 3V i.e. in a sane and proper manner. Furthermore, the comfort levels of this fuel-injected Vespa LXV 150 3V i.e. is greater thanks to the less vibrations and harshness levels it possess as a result of a series of cleverly engineered and improved engine mounts.
Things does get even better on the move, like the fact at how easy it is to manoeuvre this scooter's 114kg kerb weight. Helping this cause is the compliant suspension setup it boast. Primed up front is a single arm with helical spring and single double-acting hydraulic shock absorber assembly, whilst the rear gets single shock absorber hidden in the streamlined aft section that offers four adjustable preload settings.
Again, a fairly common setup amongst many similar-sized scooters and mopeds, but the Vespa's unit is one of the most comfortable ones we've come across so far. Complementing the LXV 150 3V i.e.'s compliant and comfortable suzzies is the highly compact overall dimension. Suffice to say, navigating through urban traffic obstacles is a relative breeze, and one need not require the same skills set as a professional courier rider to master it.
It truly does feel like a bike that almost anyone, novice and experts alike, can simply hop on and go.
How does the Vespa LXV 150 3V i.e. fare out as a daily rider? The answer is a bit of a 'yes' and 'no'. Besides the electronics' tendency to go wonky, there is also that small 7.5-litre fuel tank. The under-seat storage is also fairly limited, but it will still hold a medium-sized open-face helmet or two skull-type retro styled types.
However, if you were looking for a daily or weekend runabout that looked cool without trying too hard, with a fairly easy to ride characteristics, and one that does not possess an intimidating stance, then the answer is a solid 'yes'. Because there is simply nothing else out there that comes close to what an icon the Vespa has become, even in this more modern LXV 150 3V i.e. form.
All you need to do next is to meet the LXV 150 3V i.e.'s premium starting price tag of RM11,658 (nett price sans insurance and options).
If that's too rich for your taste, then perhaps the more 'basic' Vespa LT that recently debuted in our market could be the choice for you.