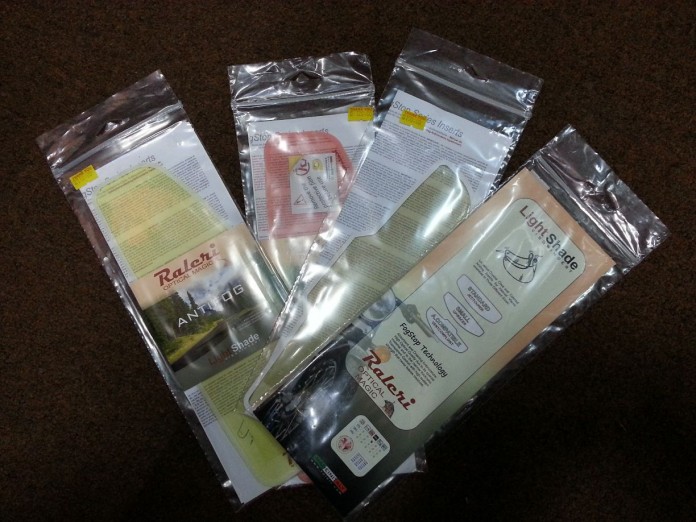 So you found a nice new helmet that fits you perfectly but unfortunately it doesn't come with a dark visor or double visor for those blinding sunny Sunday rides.
A no go for most but what if you can tint the visor? Well that may work for most but if you do ride that often or even just the typical Sunday rider, on certain times things can get cold enough that those normal tint films tend to make the visor fog up easily.
Luckily this could be the solution, the LightShade series of FogStop inserts, an antifog film by Raleri available at 2Wheels World in PJ. Made in Italy the insert comes with high praises by the Italian bobsled team and the Italian Police bike force.
Basically its a special film that attaches to the inside of your visor using a clear gasket system. It comes in five shades, the basic Dark, then you have HiDef which is said to improve contrast, Mirror for that mirror like effect, MultiStrato for a almost transparent view but with subtle metallic mirror effect and Clear which is just a clear film but with antifogging properties.
There is one more model you can choose from in the PCShade variant which is the PhotoChromic model. The PhotoChromic insert is clear when in low light but as soon as UV rays from the sun hits it, it will react by turning darker protecting the riders eyes. And it will still work with UV shielded visors.
All inserts comes in three sizes that will fit most visors including the vented Arai visors. Romy of 2Wheels World suggest using them on new visors as this guarantees the best outcome and instillation takes just minutes. The only setback is the pricing, starting at RM100 each but still worth it if you factor in that it helps in keeping your vision clear for a safe ride. Interested riders can inquire direct to Romy at 019-321 1030