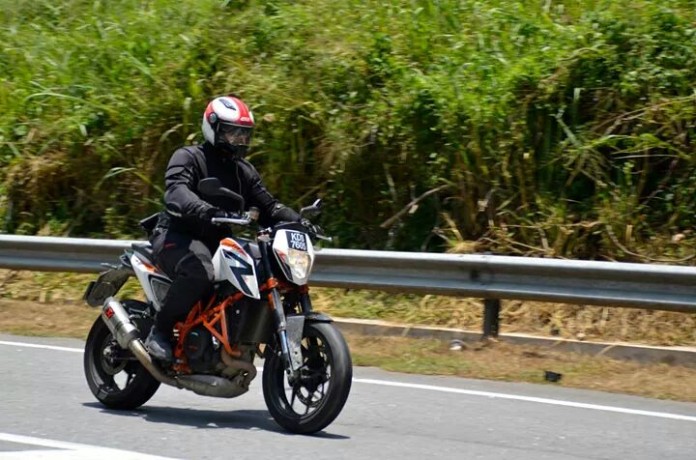 For the Five Mountain Santai Ride KTM CKD brought their Dukes to play, from the 200 to 390 to the 690 Duke R.
And over those four days I get to sample all three back to back especially on day one where I managed to swap between the three.
Being a legendary motocross and adventure bike maker the bikes that comes out of their stables tend to be having a lot of those characteristics.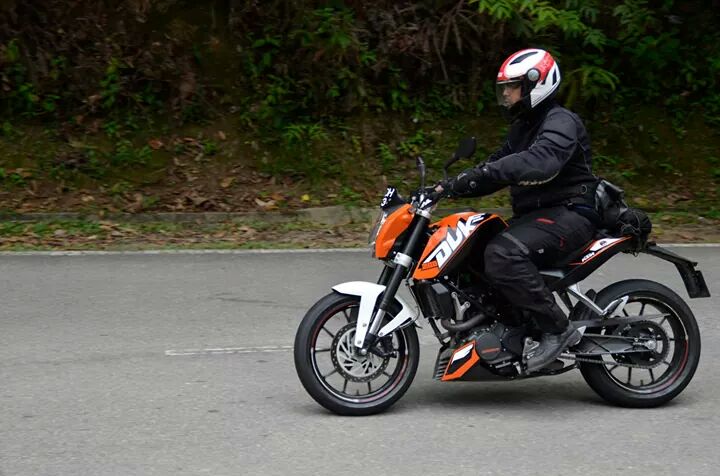 The bikes are light, nimble, easy to manipulate and hardy and thats what you get with the Dukes. On those tight roads leading up and down Fraser's Hill the Duke 200 and 390 is king. You'll be smiling in your helmet from corner to corner.
But that doesn't mean the 690 was bad, it was still quick but just a little bit held back by its size. However when you look at it as a whole over the four days of riding with a very varied type of roads covered, theres not much that could come close to the Duke's riding experience.
Its a rare machine indeed so you'd be excused if you have not seen one on the roads. But if you ever get to ride one, the first thing that will catch your eye is the size of the Duke. Its not too big like its Adventure brothers or slim like its enduro siblings. Its just right for us Asians.
Weighing at just below 150kg without fuel, this is the lightest bike in its class as most are heavier by at lease over 40kg or more. And not only its light but also most of that weight is at the bottom, combine with the seat at 865mm off the ground, this makes it a very confidence boosting bike to any rider.
Suspension is fully adjustable from WP, USD forks and monoshock on the rear. These things soak up the bumps like a dry sponge to a wet spot. But it doesn't numb you off because you'll still be able to read the road surface by the wide handlebar.
You can either ride it like a motard or naked bike, either way this thing hugs the corners and stays on your trajectory. Its so easy to handle. And not forgetting is the stopping power, ample is the word and not surprising since its by Brembo.
Next is the heart of the whole bike, another technology derived from its motocross dna. The thumper engine, a single 690cc liquid-cooled tiny lump of metal under the fuel tank is just throbbing with the amount of torque it pumps out.
Now not to make you scared off it, the drive-by-wire engine combined with the
six-speed wet clutch transmission is easy to modulate especially thanks to the hydraulic clutch lever that makes easy to operate. And last but not least, everything is held together by the super stiff Trellis Frame and an aluminium swing arm.
As mentioned, the seat is 865mm off the ground and its wide at the back and tapers down to the front. This way you can start off by sitting up front as its easier for you to reach the ground from that position and move to the more
supple part at the back as you ride off.
The sitting position is very straight to the point that it reminds me of tourers instead of nakeds. While a motard sitting position puts the handlebars close to the rider, on the Duke 690 R its roomy and you have a lots room to move around.
So how does it really feel to ride the Duke R? It feels like a naked bike but built on the foundations of a motard. Naked bikes are already versatile machines as they come but the Duke is just ahead of the curve. Its the Jack of all trades, you can daily ride it to work, weekend blast in the hills and even go touring with it.
The engine will happily chug along at 3500rpm on fifth gear for 80kmh or 4300rpm on sixth gear for 110kmh. If you keep the revs between 3500rpm and 6500rpm and you hardly feel any vibration coming from the engine.
And keep the revs down and one can manage to get 120km per RM10 fill of RON 95 fuel, but I had to admit thats a stretch as this thing will urge you to give it more gas, whispering to you subconscious saying "more more more!".
The throttle response on this thing is instantaneous and a lot of times on low speed you have to feather it rather than twist as theres enough torque to get you into trouble while negotiating slow traffic. And theres so much torque still at 110kmh, you don't even need to downshift, just twist the throttle and off you go.
All you hear is a slow succession of pop pop pop from the exhaust but everything around you is going faster and faster, akin to Sebulba's pod racer in Starwars episode 1.
Quality is there and looks wise to me its beautifully exotic, somewhat a cross between Lamborghini and Lotus in terms of the car world. Very edgy and form and function specific.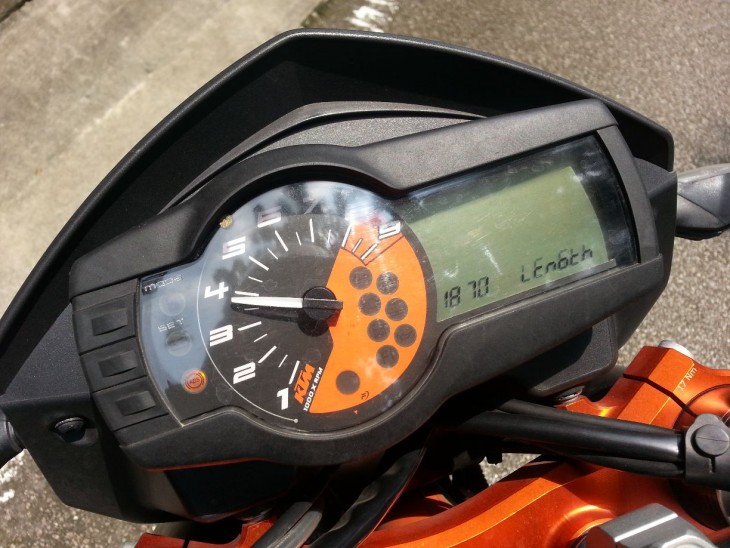 Of course no bike is really perfect, theres always things that don't quite hit the spot. My only gripe is that it doesn't come with a fuel gauge, instead you get a warning light on the great looking meter panel. And when it lights up you also get the occasional fuel surge.
And, though I did mention you can use it for touring it has limited luggage options. While KTM do make panniers for the Duke, its small and not the hardy hard plastic type. Its not even waterproof.
So yeah, only two things that I would change on the Duke 690 R if I could, for the rest, its a great bike to have.