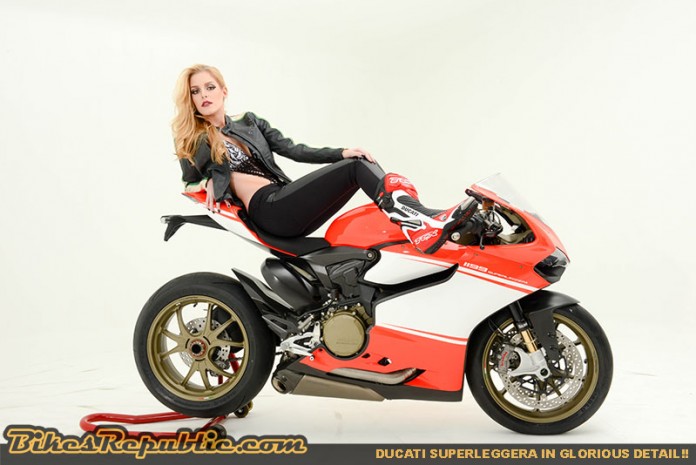 The Ducati 1199 Superleggera is peerless. It is basically a road-going replica of Ducati's MotoGP race bikes. It is beautiful, meticulously detailed, and is built by the same guys who build Dovizioso and Crutchlow's bikes during their down time from racing.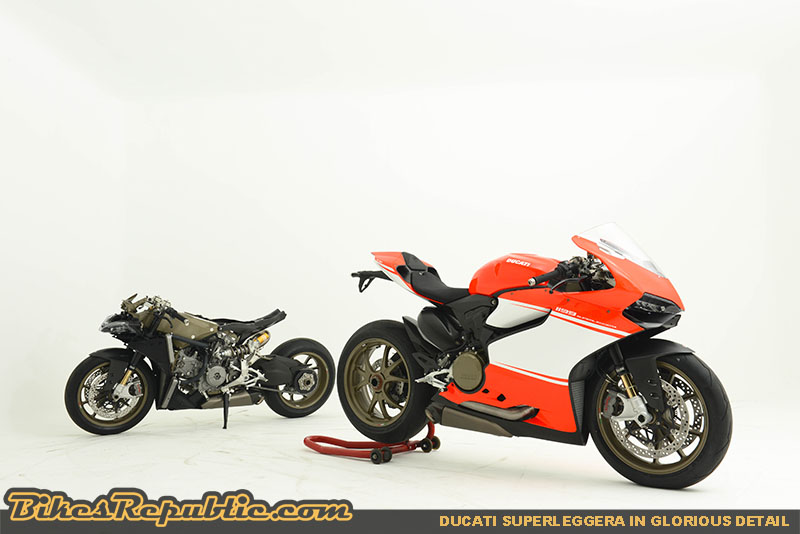 So one does not simply give up the chance to photograph the Superleggera when a chance is offered to you. And because we were not going to ride or mess around with a bike that costs about RM600,000, we photographed it indoors, pampered it with air-conditioning, and got some hot girls to rub it up gently. Those pictures however are for another time and place.
Anyway, the Ducati Supperleggera. Only 500 will ever be built, and this is the final concept bike, the showpiece. It travelled the world, and was booked for a trip to Canada right after we were done with it. A superbike celebrity it is.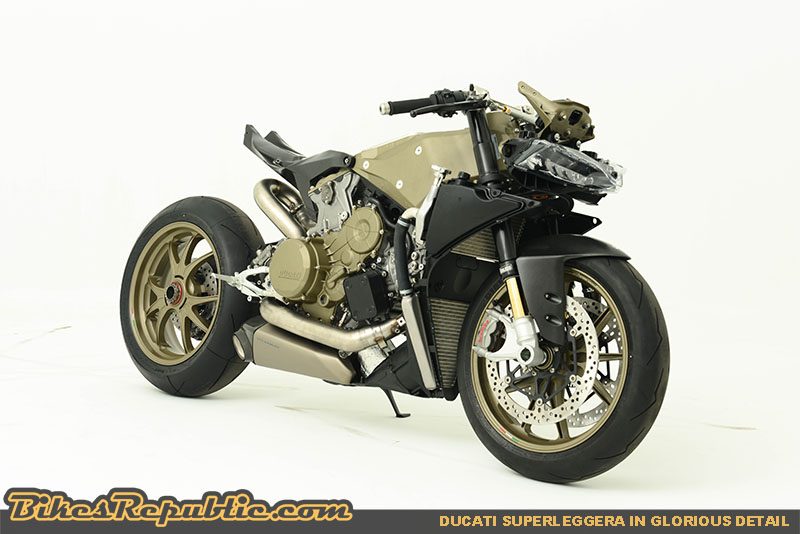 So what makes the Superleggera so special besides from the highly-skilled hands that put Ducati's Picasso together piece by piece, bolt by bolt. Lots actually.
It weighs a barely believable 155kg dry, and has over 200bhp. That gives it the best power-to-weight ratio of any road-legal superbike. It weighs 166kg lubricated but with no fuel and 177kg when it is fully ready to ride. And just for comparisons sake, the baby 899 Panigale weighs 200.5kg while a fuelled up BMW HP4 Carbon is 210kg.
If you thought the Panigale R was exotic, think again. In comparison to the Panigale R, the Superleggera has over 200 new components designed to make it lighter, stronger, faster, better. The bodywork is carbon fibre (duh), almost every part of the engine is titanium, the frame is magnesium.
Lets break it down.
The cast magnesium chassis of the Superleggera weighs just 3kg. The carbon fibre subframe on the other hand weighs just 0.9g! Even the radiator cap is 9 grams lighter. The titanium valves are 24 grams lighter than the R, pistons are lighter by 97 grams while 396 grams was saved from the crank alone. Even the battery weighs 0.7kg. Just to put it into perspective, the Ducati's that race in the World Superbike Series, have a heavier, older homologated 1199R cast aluminium airbox monocoque chassis.
There's carbon-fibre everywhere! EVERYWHERE! If you need to know, this includes the complete fairing, the seat unit, front mudguard, hugger, heel guards, cylinder side covers, shock guard, exhaust shield, duct and switch covers.
The wheels are forged magnesium Marchesini wheels that are 1kg lighter than the aluminium wheels on the 1199R. Combined, the wheels weigh 5.6kg. This makes the bike more agile, and allows for a softer suspension set up.
The colour is called Lumo Red, and is the same colour for the 2007 Desmosedici RR.
We can go on and on about the engine, but the fact of the matter is, it is a racing engine. And it's not easy to make a racing engine endure the trashing of street riding. The big V-Twin engine makes 200bhp@11,500rpm (the R makes 195bhp) and compression has been updated from 12.5:1 to 13.2:1. This was achieved using ultra-light, twin-ring, short-skirt pistons. Then there is also new titanium exhaust valves, new cams, a balanced crank with tungsten counterweight inserts, a racing air filter, and in true racing style, a gear position sensor for the new quick shifter.
Brakes have expectedly been updated too, but don't expect to be blown away. There are radially mounted Brembo mono block Evo M50 calipers, and two 330mm discs, which are the same as the Panigale R. A new Brembo MCS 19.21 master cylinder has been put in place and offers two-way adjustable lever position – 19mm for a longer travel smoother action, and 21mm for more precise braking. To make access to the brake lever easier, there is a race-style remote front brake span adjuster.
Then there are the electronics of the bike. There is the latest, Ducati Wheelie Control coupled to each of the three riding modes – Race, Sport and Wet. And just to blow your mind further, the DWC can be adjusted on the move in eight stages in Race mode with the new finger and thumb operated Rapid Adjuster on the left handlebar. The Rapid Adjuster can also be set to change traction and engine braking levels.
Then there is the trick suspension system, the Ohlins TTX36 rear shock may not sound like a big deal, a number of high end exoticas come with it. But the Superleggera's comes with a lightweight titanium spring. The front shocks are Ohlins 43mm, FL916 lightweight forks that are 1.4kg's lighter. They have machined aluminium bottoms and asymmetrically-machined outer tubes to shave weight, better strengthening without compromising on flexibility. However, adjustments have to be done manually, instead of electronically as with the R.
The biggest thorn on the Superleggera's side thought has to be the chain and sprocket. See, just like regular race bikes, the Superleggera comes with thin-pitched 520 chains that maximises power, reduces weight but also reduces durability. The road-spec chain has a 525 or 530-pitch, just for comparison. The rear sprocket is also 1.3kg's lighter.
We have not ridden the Superleggera yet, so there really is no telling, but word is that it isn't that easy to ride. Acceleration is ballistic naturally, but it all ultimately depends on how strong you are, and how talented you are. Riding this thing to it's full potential will take balls of steel with the talent of Checa. Or that's what they say. But whatever it is, one thing is for sure though, this Superleggera is on the Greatest Ever list already, and we still dream of the day we spent rubbing up against it.