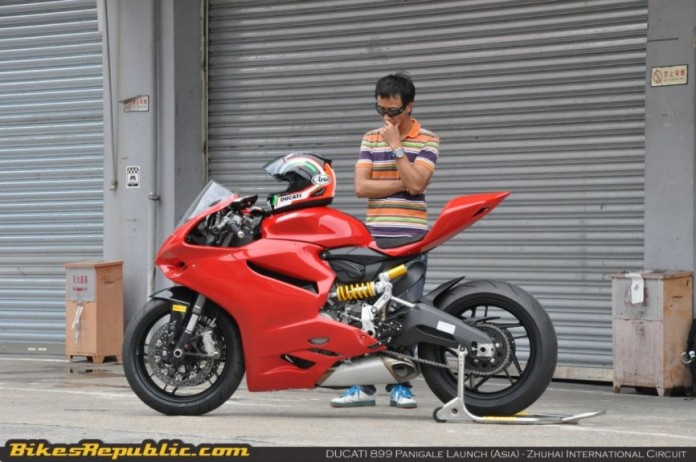 In the realm of sub-liter sports bikes, there are many that have rose to reign supreme. Suzuki and Honda have always been top contenders from the Far East, while representing Europe has been the usual suspects like Aprilia and Ducati. But boy how things have changed.
Time has caught up with Suzuki and though the gixxer is still a favourite amongst purists, it has largely fallen behind in the quest for more grip, more power, more rider-aids and more point and squirt performance. Honda's CBR600 has done well to keep up with the Joneses when it comes to features, technological enhancement and other top of the line gizmos, it is still amongst the favourites today. Triumph has, well, trumped its competitions as it's 675 has emerged top in many a bike comparison over recent years. And then there's Kawasaki and it's ZX-636R, whose rider's whether amateur or pro will swear by it and nothing else. But this is where it all changes and a new breed of hardcoreness emerges; enter the new Ducati 899 Panigale.
Simply said, it is the very-capable baby brother of the brilliant 1199 Panigale.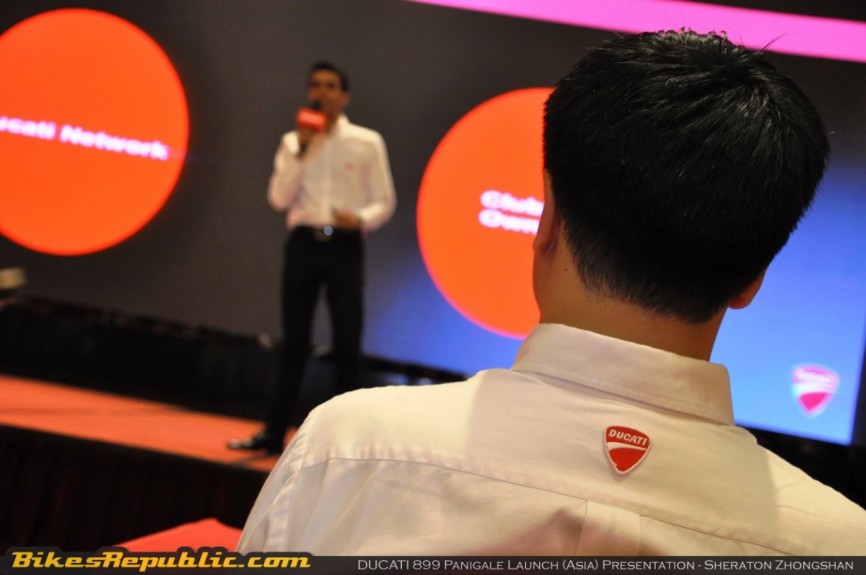 Ducati says that its new baby superbike "provides a new way to access the exclusive world of Ducati Superbikes with a "supermid" version designed to provide the thrill of the new generation flagship model with the refined character of an everyday streetbike."
That is basically corporate lingo that simply means the 899 Panigale is so awesome, that you really don't need anything else. Not even the flagship 1199 Panigale. Unless you want more power of course, but do you really? Especially when the 899 offers such performance without the price tag of the 1199.
Before we delve into the question on whether or not you could have too much power, and before we get to the core of it all, let's just explore the new bike for a bit. At the centre of it all is Ducati's latest power-plant, the 899 Superquadro. Ducati says that the baby Pani's engine represents another major step forward in twin-cylinder design and technology, it is said to offer better performance and smoother power delivery. And yes after riding it around for a full day at the Zhuhai International Circuit, we believe them.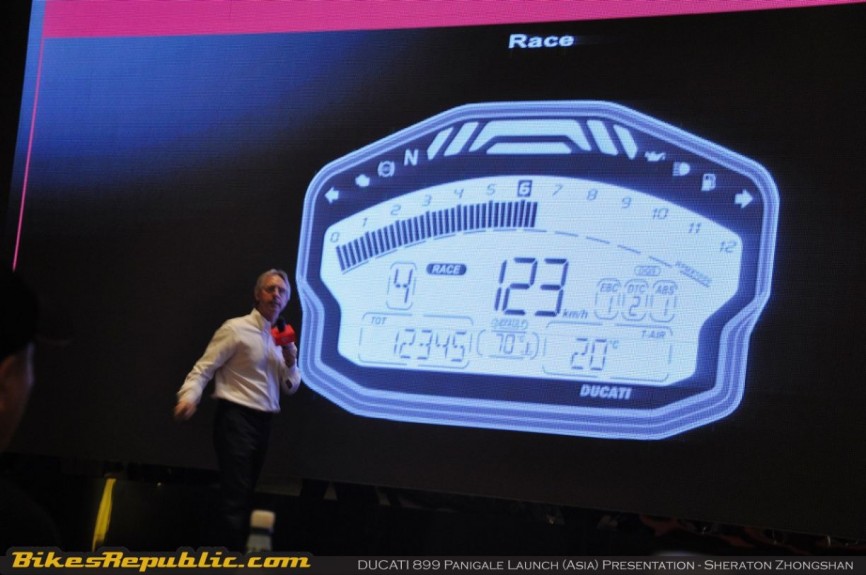 The engine provides an impressive 148hp at a thundering 10,750rpm (because Ducati's never scream) and 99Nm of torque at an equally heavenly 9,000rpm. And just in case you are wondering, the 90 degree Desmodromic L-Twin inherits it's bigger brother's structural design whereby the entire chassis is actually bolted to the engine, making it a fully stressed member of the chassis.
The engine has to move a bike that just weighs 169kg dry, and because of the character of the engine, almost all of the power is parked at the higher end of the rev band. Which just means that the 899 is a bike that loves and needs to be spanked hard. Get it right and it rewards you with extreme pleasure, and we mean it in the dirtiest way possible.
And yes, it also boasts a 24,000km service interval that is coming to be a common feature in Ducati bikes these days.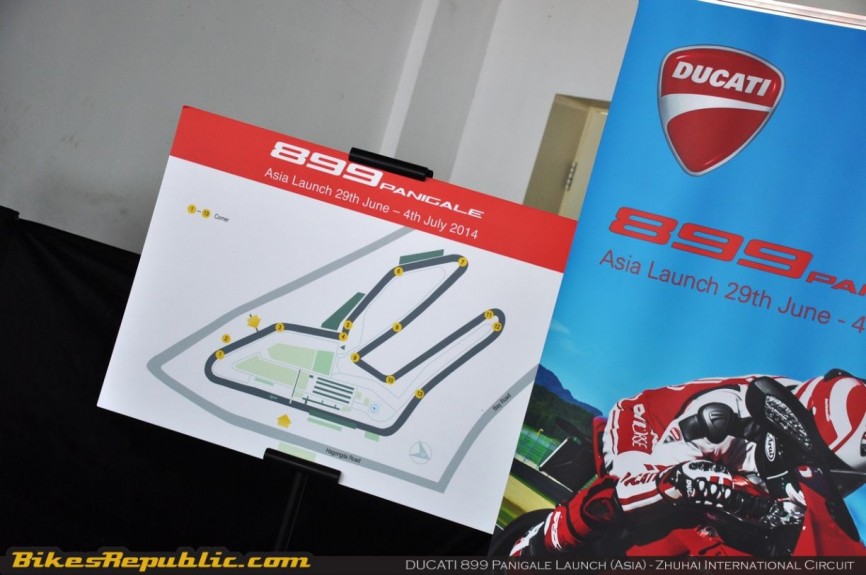 Also on board are a host of technologies expected of modern bikes; Ducat's Riding Mode concept makes an appearance and brings with it the latest MotoGP inspired ABS, Ducati Traction Control (DTC) system and the Engine Brake Control (EBC) system. Then there's also the Ducati Quick-Shift (DQS) and ride-by-wire systems. The systems come together perfectly and rarely make their existence felt, but that also depends on what mode you have it in.
The ABS system for example can be adjusted in three different levels; level-1 enables front only ABS and is intended for the "Race" Riding mode, level-2 delivers higher braking performances with reduced rear lift-up and is coupled to the "Sport" Riding mode. And finally level-3, used in the "Wet" Riding mode and delivers the most braking stability and maximum lift-up prevention. You can also completely disable the ABS system to slide the bike into a corner, and the system will even memorise it the next time you start the bike.
The mentioned "Riding Modes" are basically pre-programmed engine and throttle sensitivity settings that alter from mode to mode via a switch on the handle bar. The throttle is an electronic unit with ride-by-wire (RbW) system but picks up on the slightest squeeze of the stick and is consistent with its feel. Then there's the Ducati Traction Control (DTC) system which offers eight levels of interaction to help stay in control of the bike, it helps you by limiting wheel-spin and a Bosch processor provides three anti-lock levels.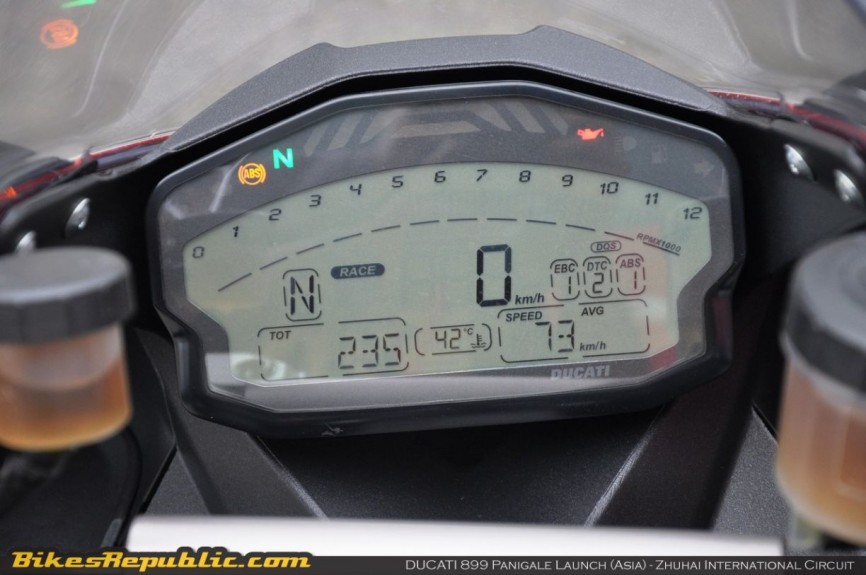 If you are wondering how the Engine Brake Control system works, it simply uses the electronic signals to monitor crankshaft deceleration under heavy braking. And it then adjusts the RbW throttle opening to maintain maximum grip.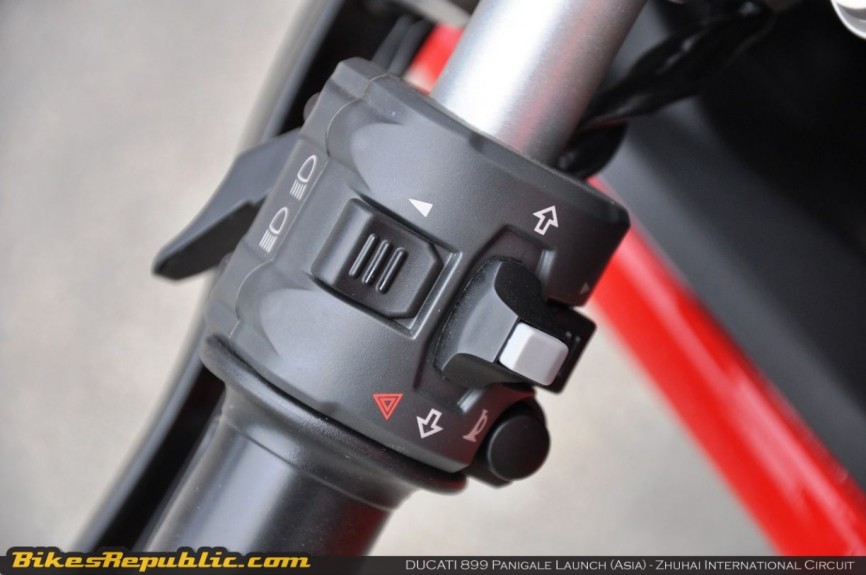 The Riding Modes also adjust the amount of horsepower available; 148hp in both Race and Sport modes and 110hp in Wet mode.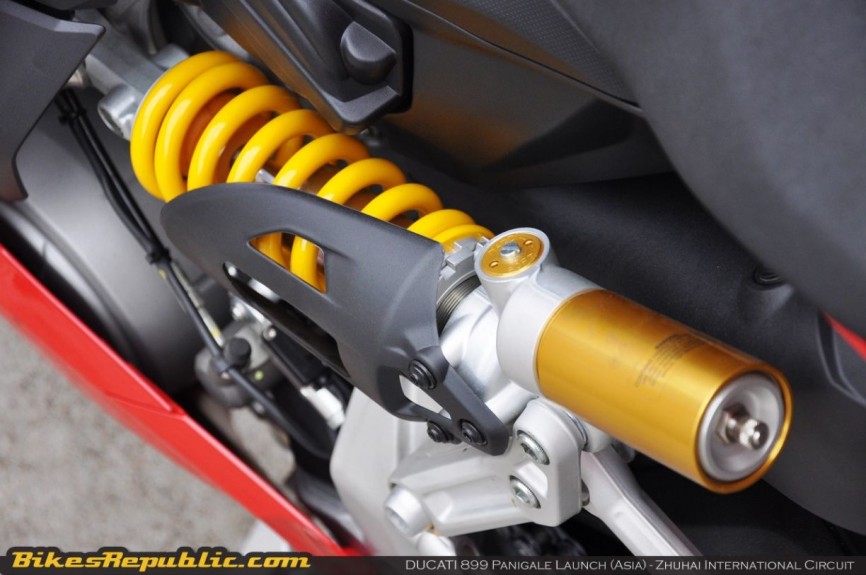 So despite it having all the necessary equipment to go-fast, brake late and corner hard, does the 899 Panigale actually feel like a good bike to ride hard? It does.
As a package, the bike feels tout and agile in corners. It will change directions quickly thanks to the shorter wheelbase and sharper rake angle. The higher clip-on (than the 1199) also offers more direct, stronger leverage and lets you easily pick up the bike from one corner, and drop it to the next. But because this is a bike that needs to be ridden fast and hard, it rewards riding skills and highlights your mistakes. Litre bikes use their abundance of torque to rocket you out of a corner, but on a bike like the 899, you need to get it all right, all the time.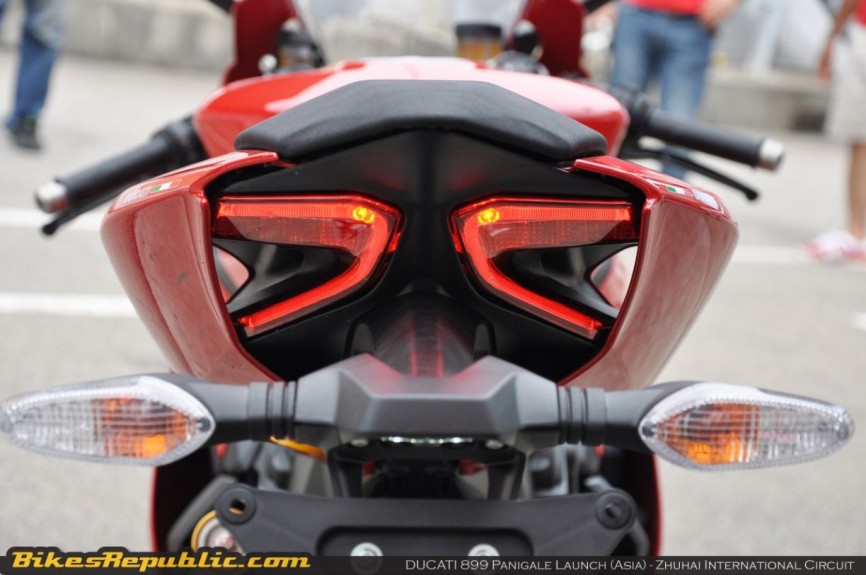 The weight of the bike is also very nearly perfectly distributed with a weight distribution of 52% front and 48% rear, and this contributes to its stability in high speed braking and in-corner performance. The factory settings for the 43mm Showa Big Piston Forks are not quite the focused weapon we hoped it would be with obvious dive under heavy braking. Then again, the test bikes provided were not pre-loaded for individuals rider's weight, and we believe tinkering the fully adjustable Showa shocks with spring pre-load, compression and rebound damping would solve this issue immediately. There is also a standard fitted steering damper that completes the overall specification of the 899.
Also contributing to the abundance of grip for braking and turning are the Pirelli Diablo Rosso Corsa tyres wrapped around light weight 10-spoke wheels (3.5 inch front/5.5 inch rear). Measuring in at 120/70 ZR17 front and 180/60 ZR17 rear, the tyre offers three different compounds at different angles of the tyre to maximise grip and quick turns.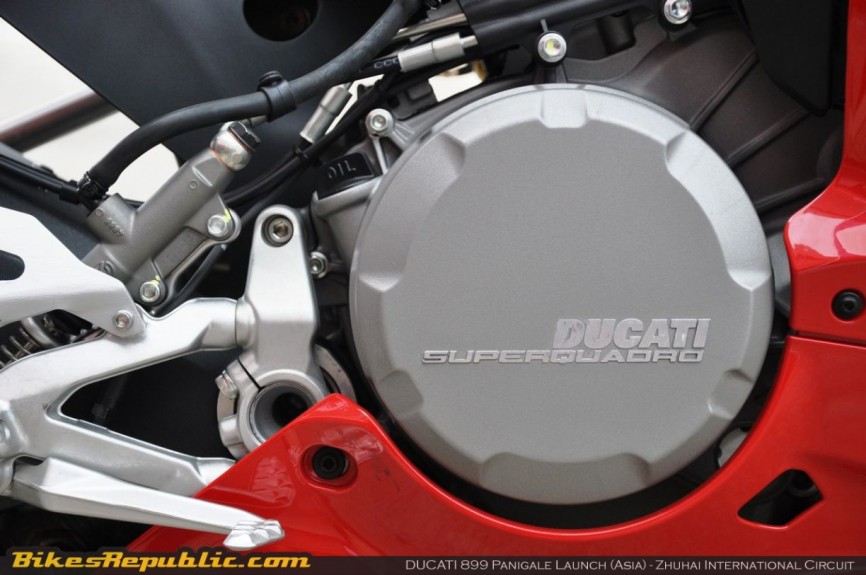 At high speeds, the bike feels planted and solid with brilliant aerodynamics, but you would have expected Ducati to get that right. What is weird here though is the fact that the 899 feels better planted than the 1199, but this could be down to there being a better match between the power-chassis and the steel double swingarm.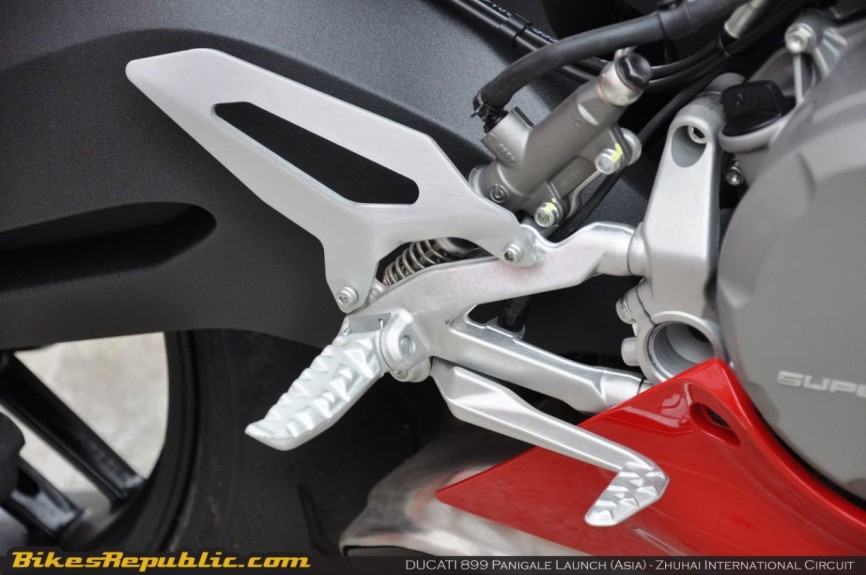 If there was one complaint about the bike though, it would be the brakes. The front brakes are twin radially-mounted, four-piston Brembo's with Monobloc M4-32 callipers that grip 320mm discs, while the rear is a 245mm disc that is gripped by a single Brembo caliper. Though they feel firm and never fade even after repeated on-track pounding, the initial bite and modulation can be further improved for more advanced track riders, good thing there is an easy fix to this.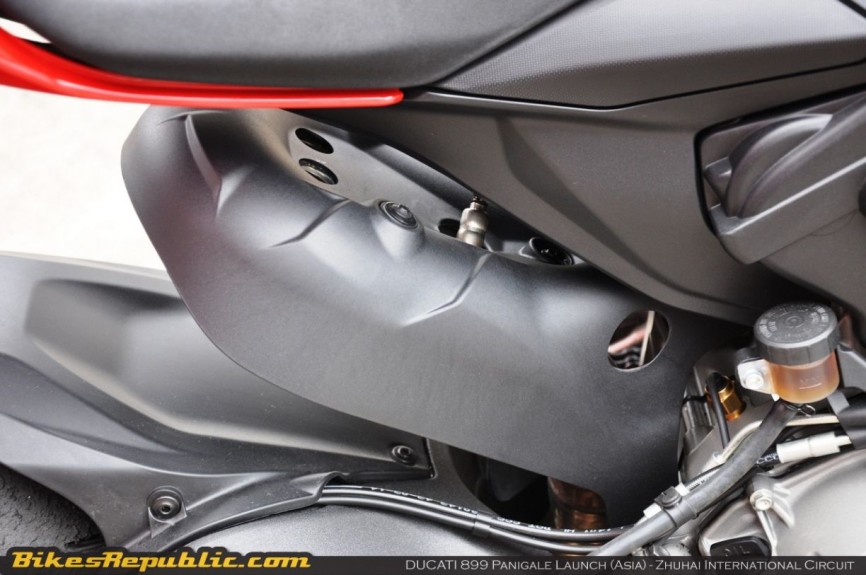 All in all, the 899 Panigale is a real shocker. We never expected it to be this good, especially considering it is an entry level Ducati superbike. It is easy to exert all of its performance, easier still than the 1199 thanks to its smoother delivery and overall size and package. And that makes it a fun bike to exploit on track, and a fun bike to learn how to ride hard on.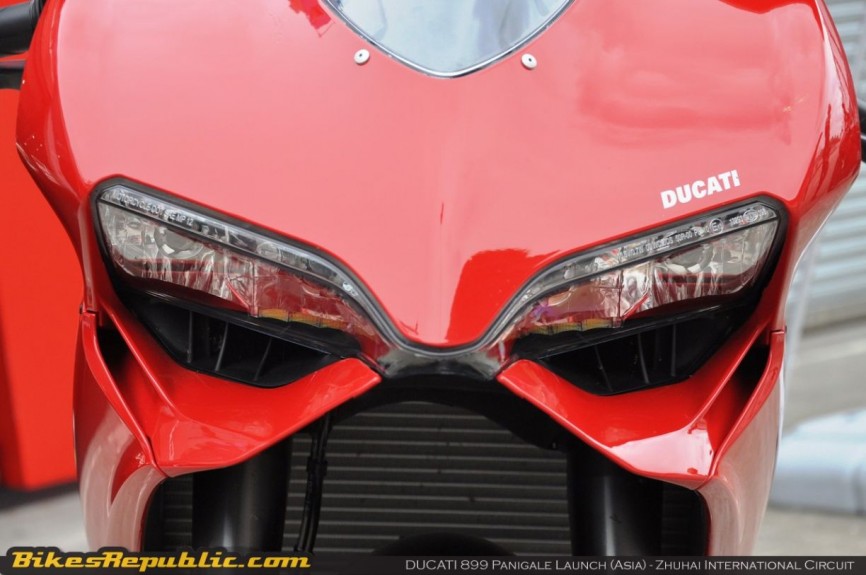 Compared to the 1199, there are also no obvious inferiorities, except for the black on white LCD display and the double sided swingarm that does in some sense, harm the aesthetics of the bike. It will still do 0-100km/h in 2.7 seconds and unless you need the 0.1sec faster straight line acceleration of its bigger cc brother, it doesn't lack anything else, which makes it an incredible feat from Ducati, and one that can easily challenge the Japanese establishment and get the Brits to pay attention.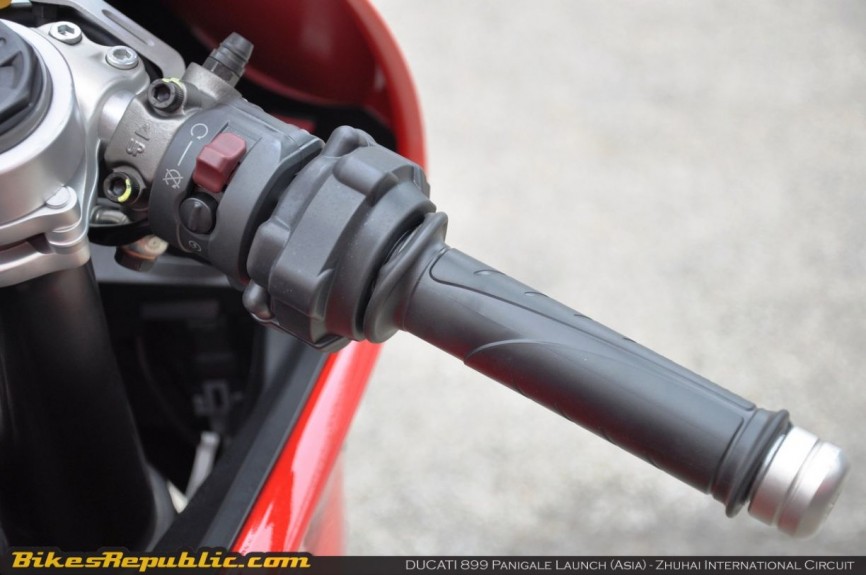 So if you don't like the weight and muscle needed to tame a litre bike and prefer the nimbleness of a "supermid" sports bike, the 899 Panigale is one of the juiciest Italian's you can buy today.