So we've covered the official part of the travelling but how about the other parts? Here I share what I learned over the years about travelling in Thailand or other countries.
Though I may have not gone around the world like some world famous travellers or overlanders had done but I do have my fair share of travels and learned a thing or two. Of course this is apart from the usual stuff like making sure your bike is road worthy and what not.
Safety
This may sound boring but one small mishap will not only ruin your holiday but get you in serious trouble, so best that you take this seriously.
First thing to not do is not to speed, this is for several reasons. The first one is that Thai roads seems to be a bit more pack (as in hardness) and not as grippy as our tarmac. Maybe its for longevity as their roads seems to be almost pothole free though not being resurfaced as often as ours would be. Its gets worst when it rains, so slow down and be extra careful when it rains.
Secondly is that the Thais (due to various reasons) are not used to high speeds. Most of them can't comprehend how fast a big bike can move and assume they will have enough time to cross the road or make that u-turn as you approach them.
And there is a junction everywhere or somewhere, why I say this? Its because even on the "highway" you'll noticed that there are houses at the sides. Its where they live and we as a visitor better respect that.
Moving off the roads and on to the people, the Thais are generally nice and friendly. I can leave my stuff tied to my bike while on a toilet or coffee break and no one will disturb it. Back home its too often that I experienced that whenever I park my bike and leave it for five minutes, just to find someone had played with the buttons and fiddled with my GPS/phone holder.
Ever helpful, some will actually go out of their way to help you. But as with any country there are some bad apples and you could look up the internet on how to avoid getting scammed.
Packing
Pack light, say you'll be on the road for four days, two on the way there and on the way back with two days at the ride destination. That means you'll be away six days, you only need to bring three undies, three tshirts, a short and jeans, a pair of sandals, toiletries and thats it in the bag.
Wash those undies and tshirts on the third night you are there and dry it off on the fourth day. Ready to be worn on the fifth and sixth days as you ride back home.
Why so little? Well apart for the tshirt and undies, the rest of the time you should be in your riding gear. Bring a rain coat if you don't like being wet, to me it makes not much of a difference and prefer something that dries off quickly. Though I do pack a windbreaker to cut off the cold, pick a bright one, easier to spot in bad weather.
If things gets too hot then don't fret and just wet yourself, not by peeing but pour some water on your riding gear and as you ride the water will evaporate with the moving air and heat and in the process cooling you off just like your sweat. However unlike your sweat, its clean water and you'll feel a lot less sticky than just by sweating it off.
Try not to use a backpack, no matter how light it is over a period of a few hours on the road that lightness will feel like a heavy burden. Securely strap the stuff securely on the backseat if you don't have hard or soft panniers.
Food
Moving on to food, so far what I've noticed is that the Thais are also as clean as most Malaysians when it comes to food preparation. You don't have to really worry about getting stomach aches unless you cant handle spicy stuff. Too bad then as somehow the tomyum tastes a lot better that side of the world.
Still, be careful and mind what you eat, you don't want a stomach ache to ruin your riding. Thats not just annoying but also yucky. Imagine having to "go" while riding, all that riding gear on, a real nightmare.
And halal food is not a problem especially down south of the country, don't be surprise that sometimes could even order in "kelantanese".
In other parts of the country, generally there will surely be a halal shop or "gerai" wherever you go. You can spot them with the crescent moon and star logo apart from the halal word or "muslim food" written on the signboard.
If all fails and you can't seem to find any halal food around you, then go find a mosque. Most likely there will be a Muslim community in that area and thats also your best bet (pardon the saying) to find halal food.
Also as an added advice, which works in all countries is to keep pictures of animals and food in your smart phone or tab, they may not speak the same language as you but everybody understands pictures.
You can either show them what you want to eat or what you don't, saves you the embarrassment of making farm animal sounds in the middle of a restaurant. Yes, been there and done that.
Connections
Talking about phones, roaming is expensive even with the cheapest roaming package. I suggest go local and get a local sim card. In Thailand you can get the "Happy Tourist" pack for RM35 or so by DTAC, apparently their biggest telco company.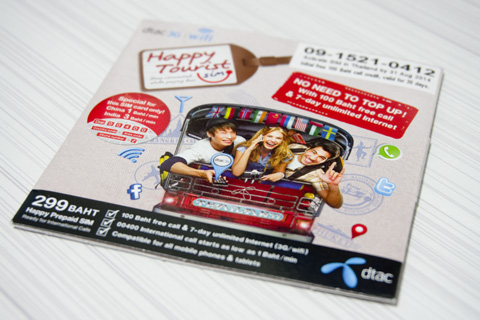 What you get is a few minutes of talk time and 1gig of data or unlimited data at a slower internet speed for one week. Either way your whatsapp works and you can still be in contact. Topping up is easy and available at every 7-eleven which in Thailand means everywhere even in the small "kampongs" and sometimes theres two of them in one city block.
And since you have data with DTAC which covers most places in that country, you can also use your phone as your GPS either on Google maps or Waze depending on your preference.
Fuel
There is no problem with locating a petrol station to fill up, but you do have to watch out for there things, price, RON and quality.
As with an open market system the fuel prices will vary from station to station, sometimes just a few cents (1 or 2 cents) but there are times where it can vary as much as 80cents and that makes a big difference when you are filling up a big tank. So make sure if possible to check the pricing before you fill.
You must be wondering Ron and quality? Isn't that the same? Well no but we'll look into that in a different article.
RON95 is widely available but some stations will have that as the highest RON at the pumps. If your bike needs more than RON95 to run, best bring some RON boosters.
Quality wise is a bit harder to say, but generally go to a station that has a lot of turnovers. Look at the traffic flow, you can see a pattern in just five minutes of standing at the side for a quick breather before deciding to pump there or move on.
There are cases where the small stations with slow business have questionable fuel which either has been mixed with kerosene or literally dirty fuel as it contains impurities that will clog up your fuel filter or worst case scenario, jams your fuel pump.
Getting around
Now you have reached your destination, may it be Krabi, Koh Samui or Phuket, again its best to go local as in rent a small bike. A apart from giving your bike a rest for that long ride back, its easier to go around on a small bike in these places and not to mention its far cheaper to fill up a smaller capacity bike than what you might have ridden there. And like my recent adventure, it also gives you the opportunity to sample what we don't get back in Malaysia.
So there you go, hope this helps for the first timers planning to cross the border and maybe something new in there that even seasoned riders could pick up. It may look scary at first but one you don't it suddenly the world is a bigger place.
Maybe you too can share your experience or something that you have picked up on your travels in the comment box below. Till the next time, keep calm and ride on.