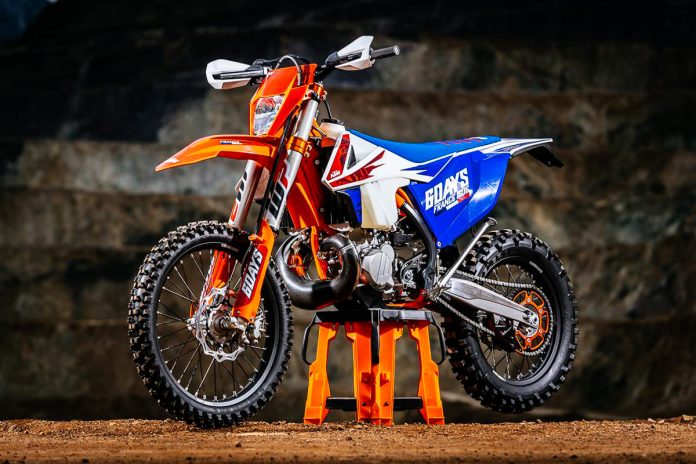 For 2018, KTM has come up with the world's first fuel-injected two-stroke motorcycles in the form of the 2018 KTM 250 EXC TPI and KTM 300 EXC TPI.
The 'Transfer Port Injection' has revived the future of two-strokes by improving all the disadvantages of two-stroke engines.
KTM's TPI motorcycles also come in the Six Days Edition which are fitted with special graphics and performance upgrades.
The world of two-stroke motorcycles promises one thing and one thing only; immense amount of power from a relatively small engine package. Like the name, two-stroke engines are basically able to accomplish this thanks to their ability to complete a power cycle with only two-strokes whereas four-stroke engines require twice as much movement.
In essence, two-stroke motorcycles have a higher powerband, more compact and have less moving parts compared to four-stroke motorcycles. Therefore, they are lighter and leave room for much higher power-to-weight ratio. Like the great Jeremy Clarkson use to say, "Power!"
Over the years, the development of two-stroke machines have gone through tough times due to some disadvantages such as parts wearing out faster caused by a lack of dedicated lubrication system, inefficiency when it comes to utilizing fuel and ultimately producing a lot of pollution. The last one was a definite red flag especially to emission regulators.
Realising that there is still so much potential to this particular engine setup, the geniuses over at KTM decided to find a way to achieve the ultimate two-stroke engine while trying to avoid all of the said disadvantages above. The answer? FUEL INJECTION.
For 2018, KTM has introduced two revolutionary enduro models which are the 2018 KTM 250 EXC TPI and KTM 300 EXC TPI. So, what's 'TPI'? That's the latest two-stroke fuel-injection technology developed by KTM is called 'Transfer Port Injection' and these two models are the first production motorcycles ever to come with a two-stroke fuel-injected engine.
So, what's the big fuss with fuel-injected two-stroke bikes? Remember all the disadvantages of two-stroke engines which had most motoring experts predicting the end of the two-stroke era? What KTM has achieved with their TPI technology is ultimately reviving it back with an engine that not only has a high power-to-weight ratio but also promises better fuel consumption figures and more controlled rideability.
According to KTM Product Marketing Manager Joachim Sauer, "This is an incredibly exciting development for KTM. We have been developing two-stroke fuel injection for some time and our goal was to create competitive motorcycles with all the benefits of fuel injection, while fitting into our READY TO RACE mantra."
Thanks to a brand new Engine Management System (EMS) developed specifically for KTM's TPI bikes, the system is able to calculate the exact amount of fuel, air and two-stroke oil needed for optimum performance without wasting any of it from being unburned. You don't have to premix your fuel with two-stroke lubricants anymore, too!
Basically, both the 2018 KTM 250 EXC TPI and KTM 300 EXC TPI are super light, super powerful and offer massive riding pleasures to those fortunate enough to have the chance. KTM Malaysia has both of these models on offer and they come with loads of other goodies as well.
To know more about the 2018 KTM 250 EXC TPI and KTM 300 EXC TPI priced at RM39,000 and RM43,500 respectively (basic prices with GST), CLICK HERE.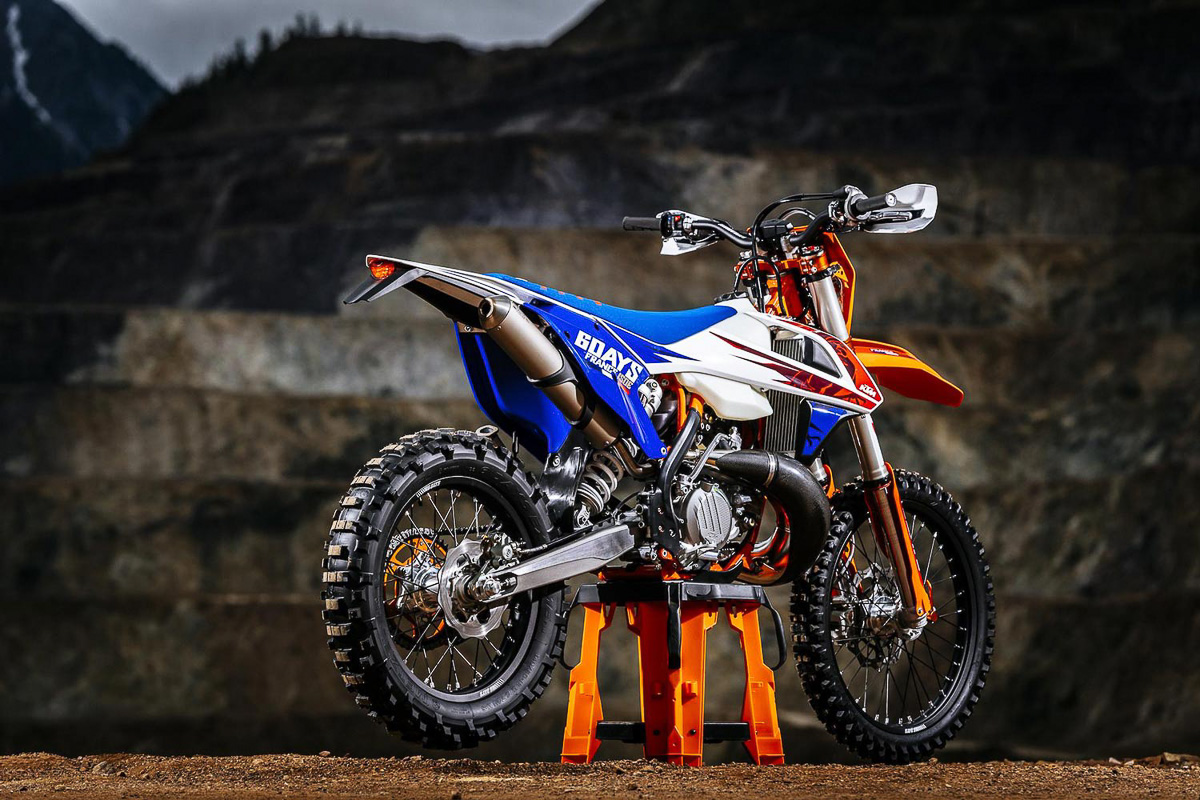 To any off-road or enduro enthusiasts who are looking for something a bit more on the premium side, KTM Malaysia is also offering the two bikes in the Six Days Edition inspired by their efforts in the International Six Days Enduro (ISDE) held in France a couple of months ago.
Apart from the already impressive package offered on the standard EXC TPI models, the Six Days KTM bikes come with a host of different upgrades such as:
WP XPLOR front forks fitted with preload adjuster
Machined Orange Anodized Triple Clamps
Handlebar with Six Days Logo
Map Select Switch
Supersprox Stealth 2-Piece Rear Sprocket
Floating Front Brake Disc
Solid Rear Brake Disc
Selle Dalla Valle Wave Factory Racing Seat
Exclusive Exhaust Silencer with Six Days logo
Engine Skid Plate
Front Axle Puller
Orange Chain Guide
Giant Wheels with Six Days Logo
Orange Frame
Exclusive Six Days Graphics
NOTE: Performance upgrades may vary worldwide according the Six Days models which are available from 250cc up to 500cc.
To check out the 2018 KTM EXC TPI Six Days Edition priced at RM42,500 for the 250cc and RM48,000 for the 300cc (basic prices with GST), CLICK HERE.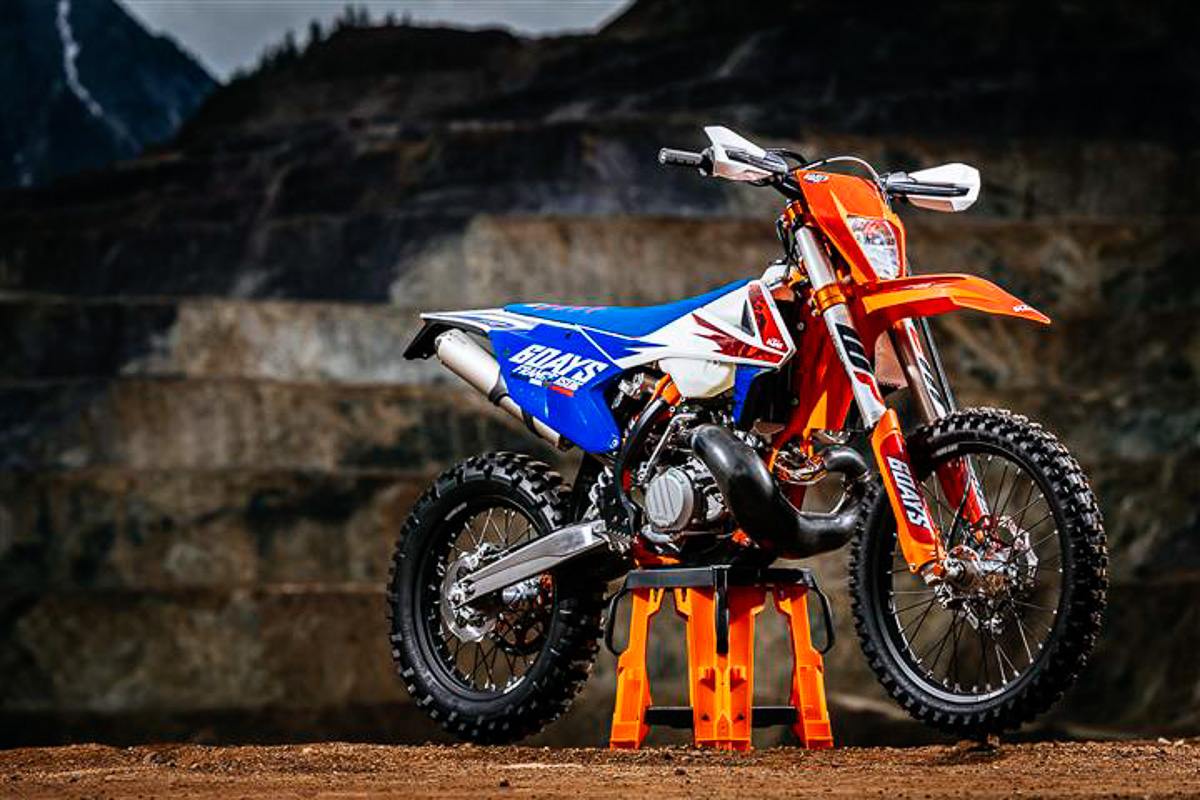 When it comes to power-to-weight ratio, there's no better motorcycle than a two-stroke machine. When it comes to the best two-stroke motorcycles in the world, rest assured that KTM is at the very top of that list with the world's first and only fuel-injected two-stroke production motorcycles to date.
To know more about KTM's revolutionary fuel-injected two-stroke motorcycles, head over to any of KTM Malaysia's authorised dealers across the country. CLICK HERE to search for the closest dealers near you.