The 2019 Shell Malaysia Motorcycle Grand Prix will be the best yet.

Some 180,000 to 200,000 spectators are expected.

Here are some of what you could expect to see there.
The 2019 Shell Malaysia Motorcycle Grand Prix is going to be the biggest Malaysia MotoGP yet. Some 180,000 to 200,000 spectators are expected to descend upon the Sepang International Circuit (SIC) over the three-day weekend.
We've put together a pictorial of what you can expect to see this year.
The Racing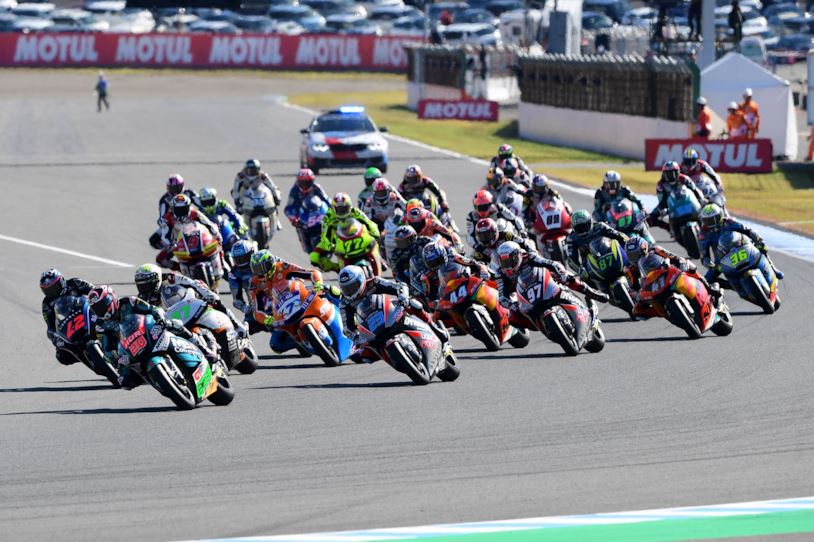 The main highlight is of course the action on the track. The Moto2 series is still open with just this and another race to go. Still, you can expect to witness close in battles in the MotoGP and Moto3 classes as riders have nothing to lose and everything to gain in terms of personal glory now.
Fabio Quartararo and Franco Morbidelli of PETRONAS Yamaha Sepang Racing Team finished 1st and 2nd fastest in FP1 and FP2 giving Malaysian fans plenty to cheer about. The former even smashed the lap record — despite nursing an injured ankle.
The Vendors
Ah, the vendors truly breathe in an atmosphere of festivities at the track. One could sometimes find rare items that aren't sold or promotions outside of MotoGP. Virtually all vendors are crowded into the mall area as spectators enter SIC.
The Shell Advance Ride Thru pavilion is set in PA1 parking lot opposite the main entrance to the track's mall area. Here, motorcyclists only have spend a minimum of RM 30 to enjoy free parking while train mechanics change your bike's engine oil.
2019 sees the return of Aprilia Malaysia under new management. Apart from the usual meet and greet sessions with riders, they've also unveiled the 2019 Aprilia Tuono V4 1100 Factory. However, the focal point of the booth is the RSV4 1100 Factory.
Triumph Malaysia is also back, since this is the first year that the brand is supplying engines to Moto2 teams. They've just launched the 2020 Street Triple RS on Friday afternoon. You'd find some special deals for Triumph merchandises here. Apart from that, the booth also incorporates an Arai showcase and items from Cardo, X-Mount and Five Gloves. Do check out the special edition Bonneville Bobber placed in a box like a 1:1 scale model. Don't miss the 765cc triple Moto2 replica engine.
Further in is the Shell pavilion which consists of racing simulators, special activities and games. One could stand to win some nice prizes here.
Pass the arch and the first thing you'd see on your right is red. As in GIVI's signature red. This is an important year for the brand as they celebrate the 25th anniversary in Malaysia. GIVI's pavilion is as large and grand as ever. Look out for the new Vista open-face helmets that will be launched in January 2020. Other items on display are a small range of motorcycle luggages and rain suits GIVI is famous for. There are also bikes dressed up in GIVI cases and accessories.
But the biggest and most awe-inspiring pavilion definitely belongs to PETRONAS. It's a building onto itself! It showcases the Malaysian petroleum giant's involvement in motorsports and the many products offered.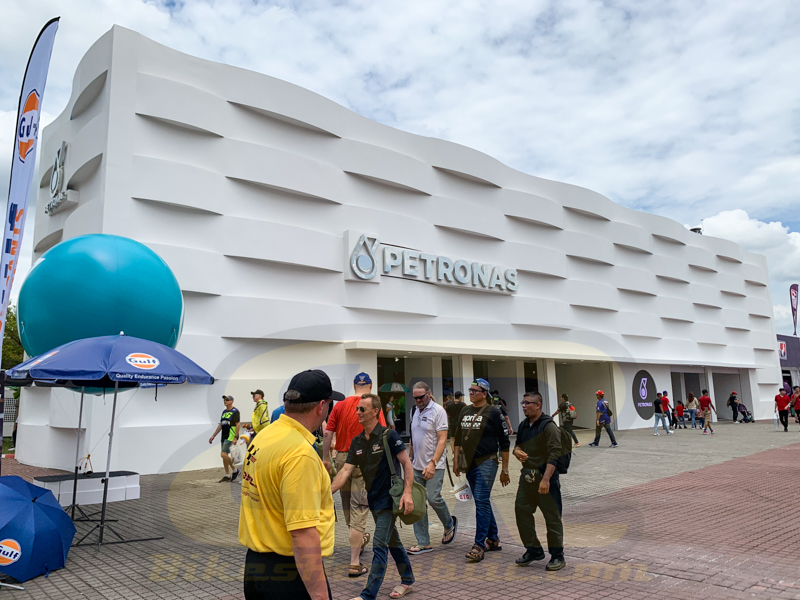 Directly opposite are Yamaha and ENEOS. ENEOS is the technical partner to the factory Monster Energy Yamaha Racing Team. Not as many bikes on display this year but the main draw is the Yamaha T7/Tenere 700 adventure bike. When will come to Malaysia? There's also a Niken resplendent in Yamalube colours. You can also find original Yamaha merchandise here.
Next is Honda. The manufacturer is celebrating their 25th constructor's title from Marc Marquez's win at Motegi besides 60 years of Grand Prix racing. Displayed on the main stage are the RC171 from 1959, the current RC213V and NSR500. Honda's latest bikes to the sides and behind this stage. There is also an RC213V "lean machine" staged in front of green background. Participants need to strike their best poses like Marquez cornering at 70 degress. There are also official Honda merchandise on sale.
KYT and Suomy helmets display two giant helmets outside their booth. Inside are the racers' replica helmets placed in transparent cases. Other colourful helmets grace the walls.
The Kawasaki booth is as impressive as ever. Focal point are the Ninja ZX-10RR and Ninja ZX-10R in KRT (Kawasaki Racing Team in WorldSBK) colours. Jonathan Rea and the manufacturer have just won their fifth WorldSBK title in a row. Also on display is the H2SX SE supercharged sport-tourer.
Hodaka Motorworld's pavillon was extra busy when we visited yesterday, especially in the Scorpion helmets section. Fans stopped by to check out Fabio Quartararo's replica race helmet. The mega distributor carried 60-plus brands including RS Taichi, TCX boots, Komine, UClear, Oxford and Vrooam lubricants. You can see Hafizh Syahrin's actual RS Taichi race suit here.
There's one booth which sells licensed VR46 products. We speculate that it'll be very busy soon!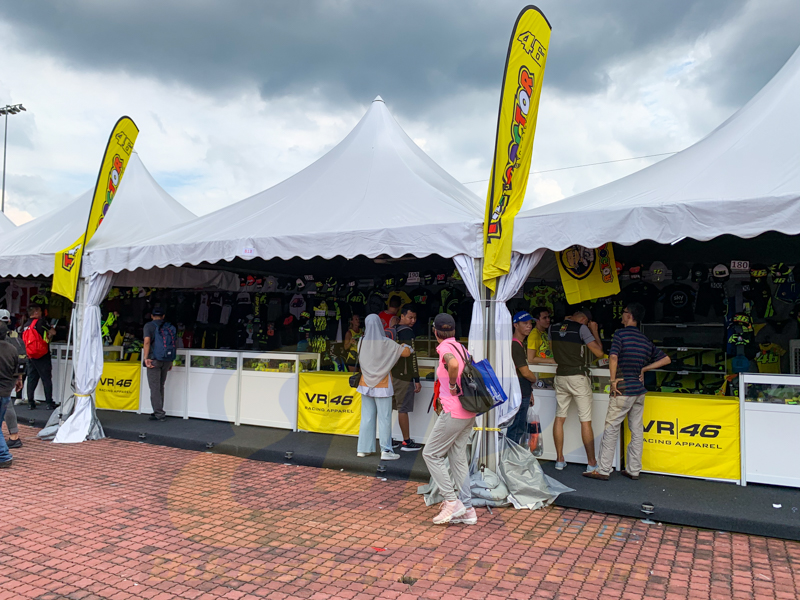 KTM Malaysia displayed their latest road and off-road bikes. The new Six Day Portugal EX-C/F enduro is there, as well as the 790 Duke, 790 Adventure, 1290 Super Duke GT, and more. Adiva and Zontes were next door. A new adventure-ready Z310-T complete with wire-spoked wheels is on display, as well as the new Z310-X and Z310-R with single-sided swingarm.
There's a new concept for BMW Motorrad Malaysia's pavilion this year with the launch of the 2019 S 1000RR superbike. Inside, there's a mini pit lane complete with mini rolling shutter doors to store the S 1000 RR. On display are also the newly launched 2019 R 1250 RS and R 1250 R, among other models such as the R 1250 GS, K 1600 GT, R 1250 RT, R nine T and many more.
The SHARK Helmets and Furygan booth was doing brisk business today. Look our for great deals for the professional-grade helmets and beautiful Furygan riding gear.
HJC Helmets Malaysia has a much bigger booth today. The graphics and design of the Korean helmets have definitely picked up over the last few years. The Marvel Comics and Star Wars tie-in helmets are also on display. HJC Helmets Malaysia has a special deal over MotoGP weekend.
There are many more exhibitors on both sides of the mall. They are of well-known brands such as Idemitsu, GoPro, Tissot, NGK, Motul, Maxxis, Shoei and Alpinestars, Benelli and SYM, Suzuki, Red Bull, and many many more.
The Shell Hillstand is on the right side of the main entrance, overlooking Turns 12, 13 and 14. As advertised, this huge expanse is served by many vendors including Ducati, Kedai Ayamas, Baskin Robbins, Costa Coffee, Tealive, Desmo Owners Club Malaysia (DOCM), and so forth. There are also suraus. The Monster Energy pavilion is here, staffed by truly hot models. At the end of the long walk is the huge stage and Shell VIP Lounge.
Conclusion
These are only some of the attractions you'll find at the 2019 Shell Malaysia Motorcycle Grand Prix. The vendors are too many to list, similarly the activities and games, promotions. You need to attend to soak in the atmosphere.
Lest we forget, you can also hop onto a Rapid KL shuttle bus to get there and back. It'll save you time and expensive parking fees.
See you there!