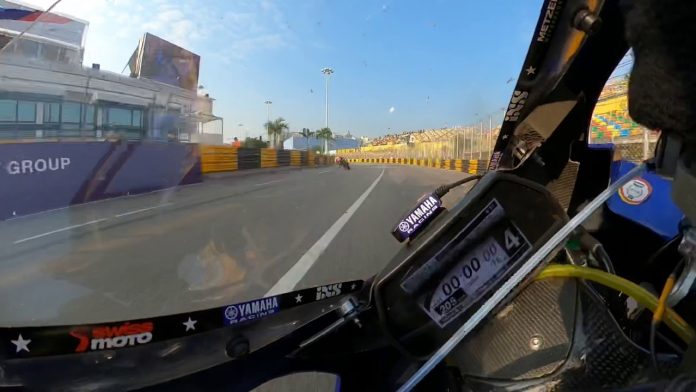 The Macau Grand Prix is run on a road course.

The "track" is narrow and there is no run-off area.

Don't forget to breath when you watch the video.
Never heard of the Macau Grand Prix? Well, it's just the most insane track we've seen, that's all.
To get a view of just how mad it all is, here's the video of Yamaha YZF-R1 rider Horst Saiger chasing multiple Isle of Man TT legend and hard man John McGuiness.
First thing you'd notice the really stomach crunching sense of speed as they blast through a claustrophobic tunnel-like track. Plus, there's not one single run off.
Next you'd notice the 00:00.00 on the bike's display. It meant that these guys weren't even running at full chat yet. It's probably just an open practice session!
Look closer at the bottom left of the TFT display and you'd pick out the bike's road speed. There were two sections where they hit corners from 190 km/h to more than 200 km/h.
Now that you can pick out the bike's speed, watch how hard the bike could accelerate off the corners from 80 km/h to 130 km/h and beyond within a couple of seconds.
And of course, there's McGuiness who rode the Honda CBR1000RR Fireblade. It may not have the top end horsepower but look at how easy it was for him to leave the chasing bike behind in the complex of tighter corners.
Anyway, the race was a total fracas when it was cancelled after just three laps due to a pile-up. The race couldn't be restarted as clean-up work had to take a long time, and would eat into the time slots for the following car races. Consequently, it was cancelled outright and no result was published.
There was talk of moving it to Sunday but the day was already packed with Formula 3, two World Touring Car races and the FIA GT World Cup's final race.
Furthermore, the Motorcycle GP riders were out of fresh tyres since they've used them up through practice, qualifying and the race.
In the end, the officials decided to publish the results after consulting the rulebook which says red-flagged three-lap race is considered a completion. The race was restarted but just for one lap. Michael Rutter won from his teammate Peter Hickman was was just 0.298 second behind. David Johnson took third. McGuiness couldn't make the restart due to refuelling problems.