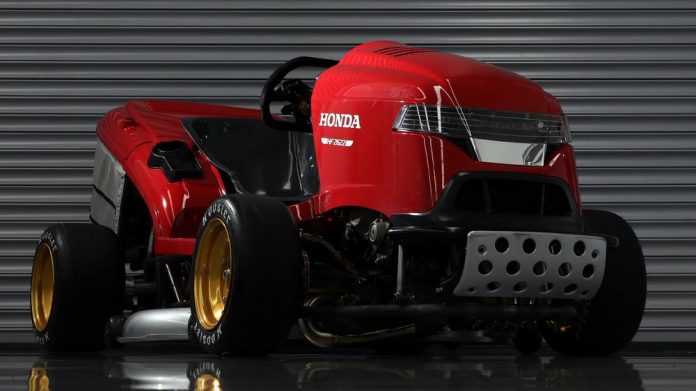 The Honda Mean Mower V2 now holds the record for the fastest accelerating sit-in lawn mower.

It averaged 6.285s from 0 to 161 km/h.

And it can still mow the lawn.
Remember we featured the Honda Mean Mower V2 in July last year? It now holds the Guinness World Record for the fastest accelerating lawn mower.
To recap, Honda UK and Team Dynamics (Honda British Touring Car outfit with factory support) stuffed a Honda CBR1000RR SP engine into a Honda HF2622 sit-in lawn mower. The stock engine, transmission, clutch and ECU went in wholesale, supported by a custom frame. The SP engine produces 189 hp and 115 Nm of torque, and sent to the four wheels by chain.
In order to compete for the Guinness World Record as a lawn mower, it must first appear like a lawn mower and be able to still cut grass.
The team concentrated on achieving the fastest 0 – 100 mph (161 km/h) time instead of outright top speed. The mower needs to complete two runs in opposite directions within the hour. The times for both runs are recorded and averaged for the final result.
Jessica Hawkins was chosen to drive the machine. She's one of the stunt drivers in the Fast & Furious movie franchise and also competes in go-kart and single-seater races.
Her first run was fast, but the second run was fiercer – 3.08s to 60 mph (96.6 km/h) and 6.12s to 100 mph (161 km/h) – for an average of 6.285s to 161 km/h and into the record books.
That's faster than some supercars, and it still does your lawn, by the way.