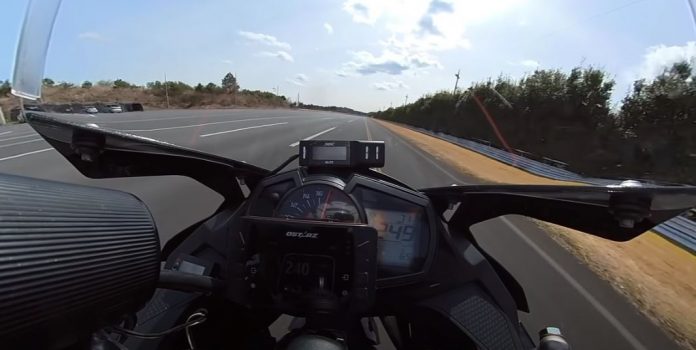 Japanese tuners Trick Star turbocharges the Kawasaki Ninja ZX-25R with 100HP, and it's capable of hitting 249KM/H!
Japanese tuners Trick Star bolts on a turbocharger to the Kawasaki Ninja ZX-25R.

Kit is able to double the stock ZX-25R mill's output to about 100HP.

Added power and boost also allows for an incredible top speed of 249KM/H.

Trick Star also made a 'milder' turbo kit for street use that offer 60HP instead.
The Kawasaki Ninja ZX-25R is already a maaaaad quarter-litre in its own right. With its 249.8cc four-banger able to scream all the way up to a deafening 17,000RPM whilst delivering all 50HP on tap, you've got to ask why would anyone want more… unless of course you're a tuning firm called Trick Star.
Why? Well, said tuners from Japan recently took to YouTube and showed the latest progress of their turbocharged Ninja ZX-25R builds. Yup, they've bolted on a turbo to the Ninja ZX-25R's four-banger, with one kit successfully doubling the stock mill's output to about 100HP.
As you can see in the video above, Trick Star took said turbocharged Ninja ZX-25R to a test track to see what sort of speeds it can now achieve. On one of their runs, Trick Star were able to push said bike up to an incredible top speed of 249KM/H.
Additionally, Trick Star also reportedly developed another turbo kit for the Ninja ZX-25R, but this one's tuned with a 'milder' 0.6 bar of boost pressure instead. This raises the output to 60HP, with Trick Star claiming it to be a more 'street friendly' setting too.
The latter 'milder' kit is likely what Trick Star will offer to its customers considering its ease of assembly, not to mention its guarantee and better preserving the ZX-25R's engine life span as well.
Needless to say, if you really wanted a 100HP bike that isn't a 600CC middleweight supersport machine, you could consider turbocharging a Kawasaki Ninja ZX-25R with Trick Star's proposed turbo kit.
Lead Image: YouTube screengrab
Images: Young-Machine