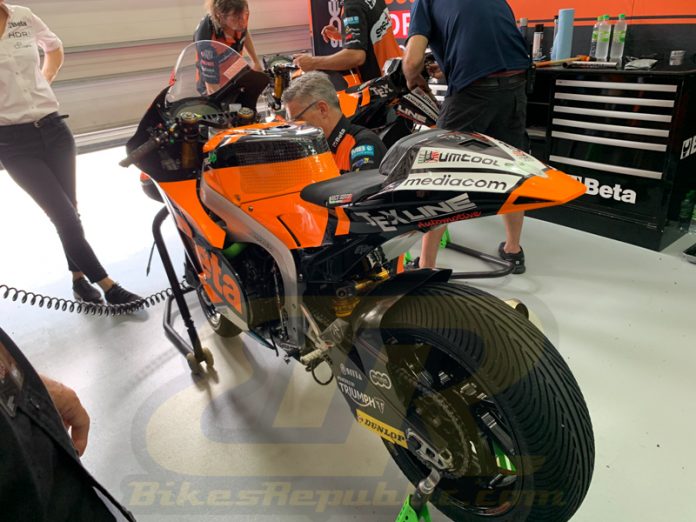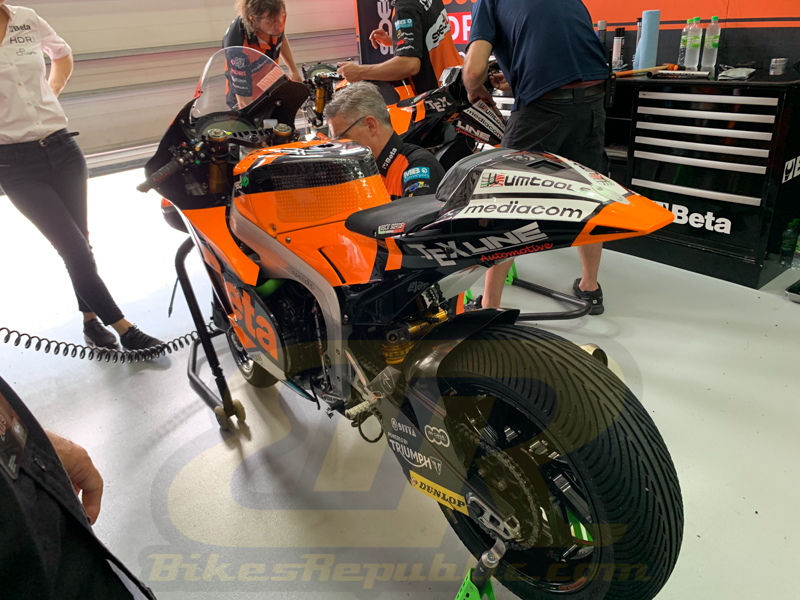 Triumph Motorcycles Malaysia organised a paddock walkabout to witness Moto2 operations during the 2019 Shell Malaysia Motorcycle Grand Prix.

It's in conjunction with Triumph's role as exclusive engine supplier.

Moto2 operations is hectic yet a little bit more laid back compared to MotoGP.
Triumph Motorcycles Malaysia organised a paddock walkabout to witness Moto2 operations during the 2019 Shell Malaysia Motorcycle Grand Prix.
As many are aware now, Triumph is the official engine supplier to the Moto2 championship. Unlike Moto3 and MotoGP classes, all Moto2 teams use the same engine, albeit different frames. This is why we see outfits such as Kalex and Speed Up — they build the frames around the engine. Similarly, manufacturers such as KTM and MV Agusta build their own frames around the Triumph engine.
Dorna Sports and the FIM wanted to build a series based on a single engine to emphasise rider skill, resulting in close racing.
The Engine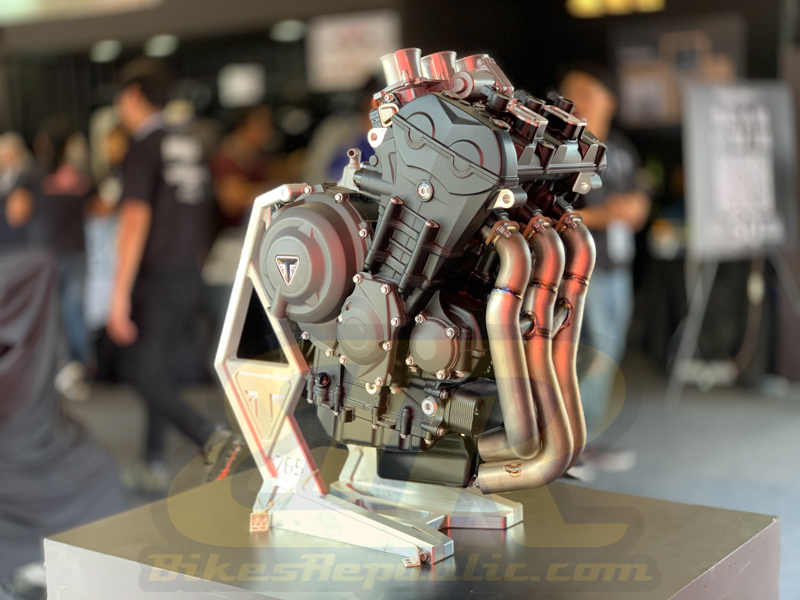 Triumph's three-cylinder 765cc engine (based on the Street Triple RS) produces lots more torque and linear power band compared to the previous Honda CBR600RR-based inline-Four engine. Whereas the inline-Four needed to be kept within a narrow powerband, riders can utilise the triple's power and torque almost anywhere in the powerband.
Having a narrow powerband forces riders to take one specific line around corners, making overtaking a risky affair. Besides that, a rider could not catch back up when he made a mistake. Consequently, racing was spread out.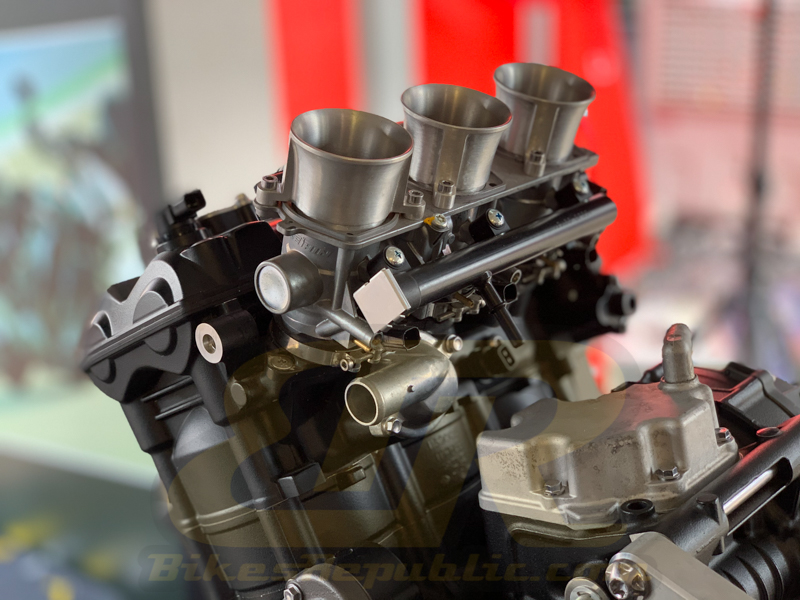 Conversely, a linear powerband means that riders could choose different lines — especially when overtaking — and still have the grunt to accelerate. Consequently, riders aren't afraid to overtake, resulting in close racing.
Having more grunt off the corners, especially the slow ones will results in higher speeds down the straights, contributing to faster lap times.
Lap Records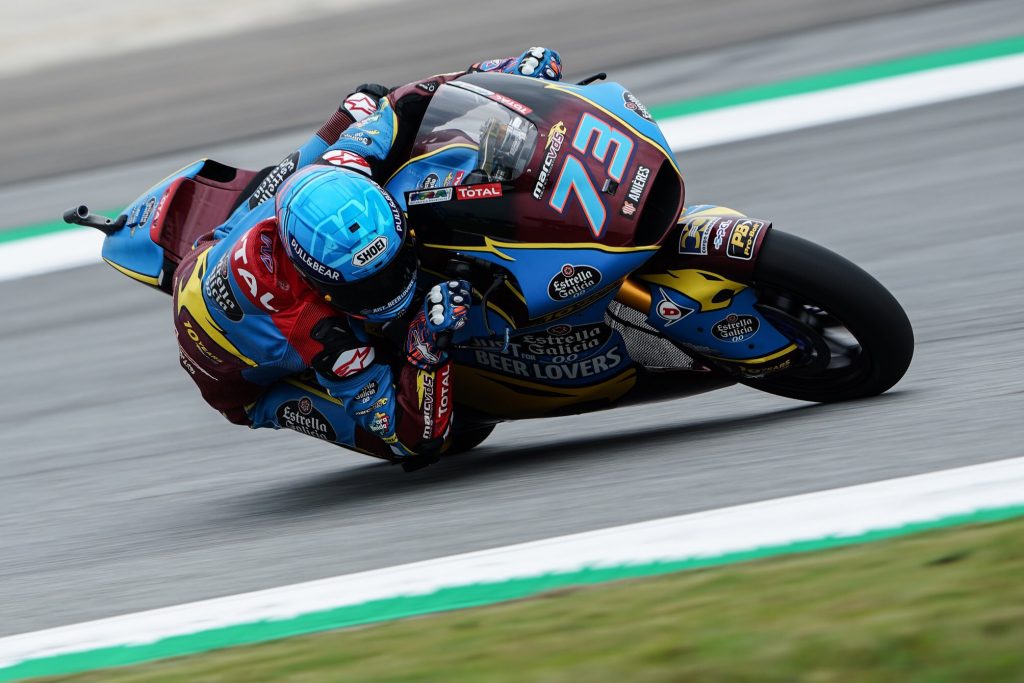 The Moto2 class has seen some phenomenal lap times and top speeds since the Triumph engine was introduced. Lap times and fastest top speed records tumbled all season long. 
Mugello saw a Moto2 bike hit 300 km/h for the first time the series was introduced in 2010. But by FP3 at the Sepang International Circuit, four riders went faster than 300 km/h.
The Moto2 teams had just completed FP3 when we visited the paddock. David Dew, Triumph's PR guy showed us the lap time printouts. We were shocked. The top four riders were under the 2018 all time lap record of 2:05.629 set by Alex Marquez. Brad Binder smashed the old record with a time of 2:04.769 which was almost a whole second faster. And it's not even qualifying yet!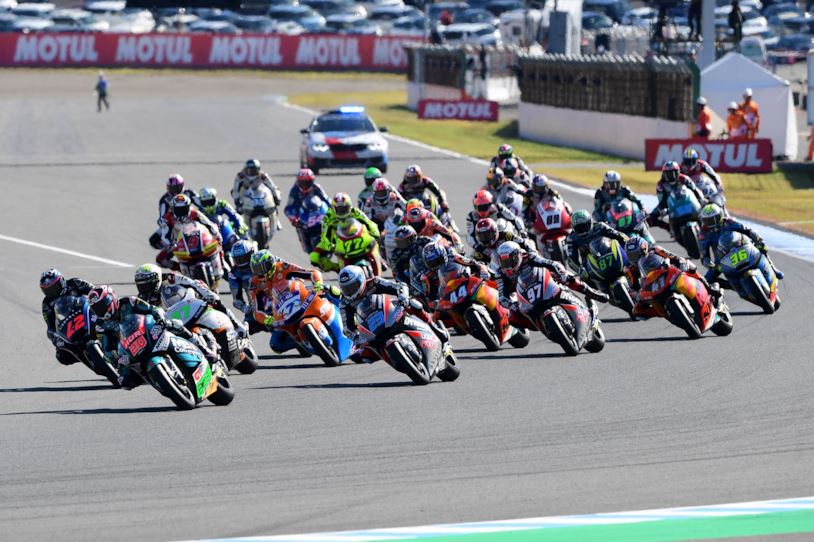 Alex Marquez would go on to capture pole position with a time of 2:05.244. In the race, he put in the fastest lap of 2:05.860 on Lap 2, breaking Miguel Oliveira's 2017 record of 2:06.952. That's nearly 1.1 seconds faster.
1 second may not sound much of a big deal to the layman but consider this: Competitors from 1st to 15th were covered by 1 second in qualifying.
Speed Up Paddock Visit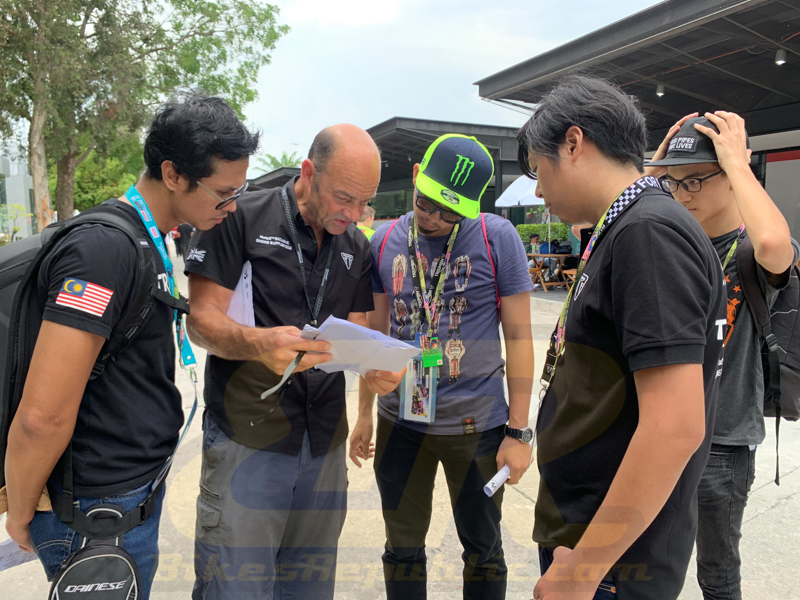 Only five persons were allowed to visit the pit in each session. It may be a carnival to fans but each MotoGP round is work time for the teams.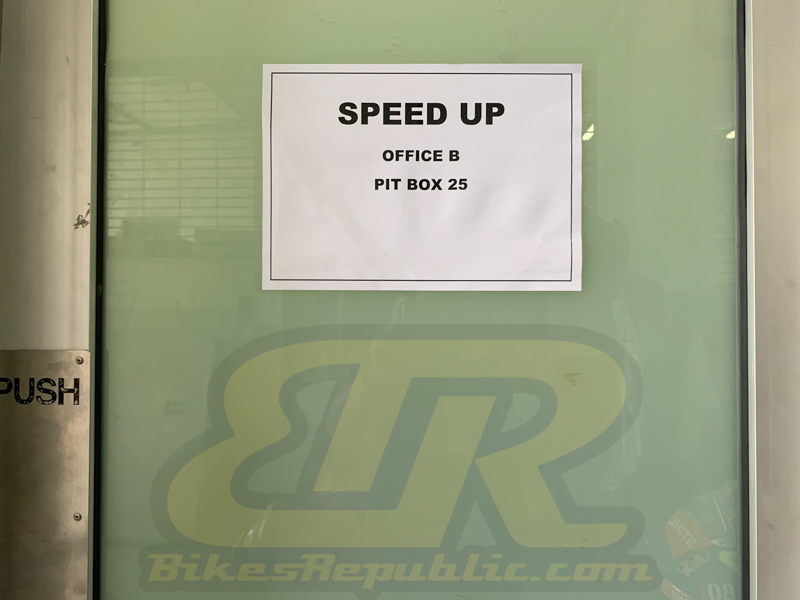 I had picked the afternoon session after lunch and was joined by four others who were Triumph owners. Such a paddock walkabout programme is great them as it adds immeasurable value and experience to their ownership.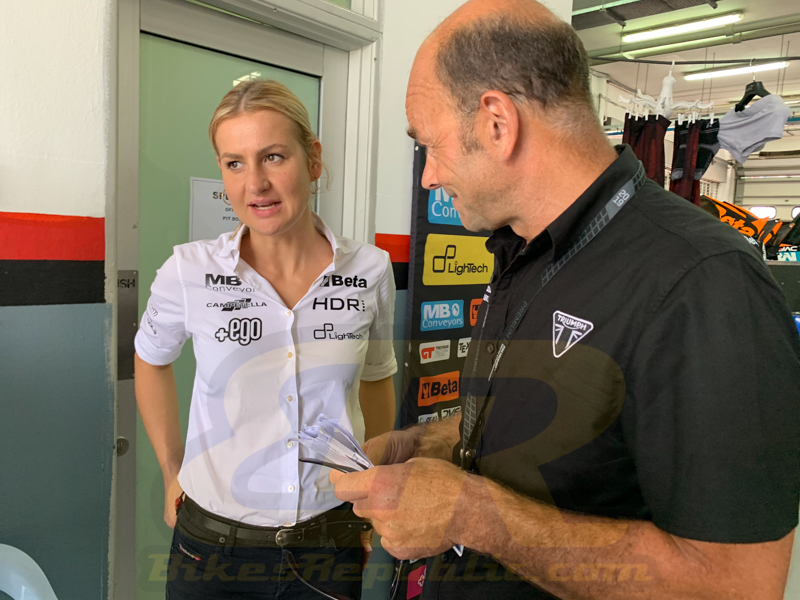 It was a new experience for me, as well, because this was the first time I've visited and seen Moto2 operations up close although I've covered MotoGP continuously for the past five years. Whereas MotoGP teams are stationed in the main paddock building, Moto2 and Moto3 teams are sequestered in either the South Paddock or tents. Besides that, no Moto2 team had ever provided passes to visit them, compared to those in MotoGP.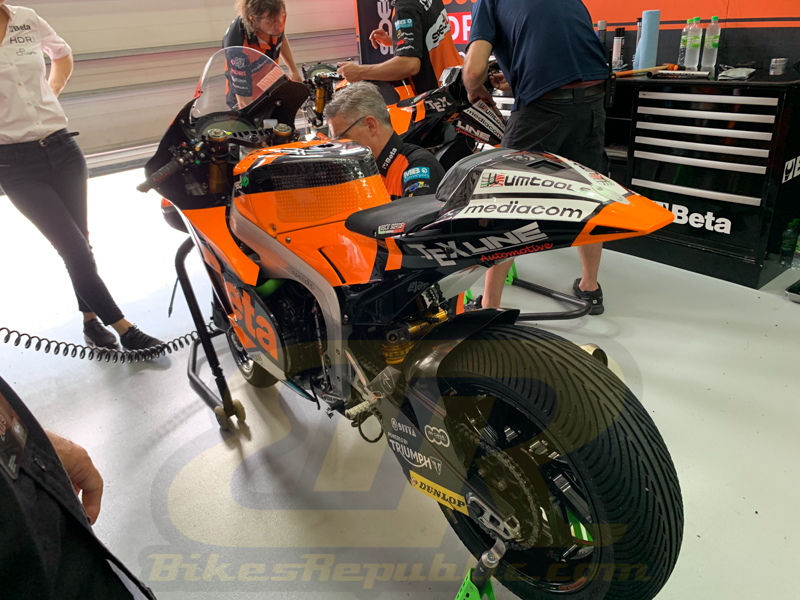 Our first stop was the Beta Tools Speed Up garage.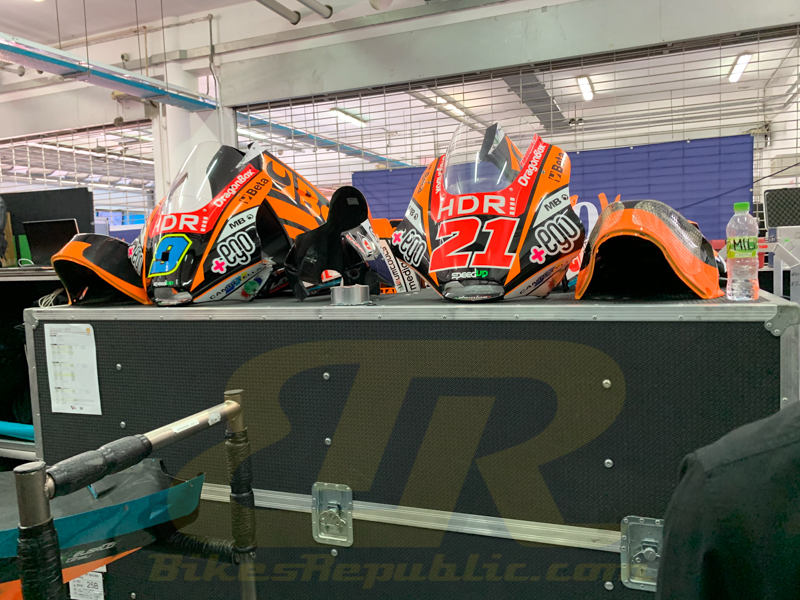 The team was readying the bikes for qualifying. One bike was all dressed up and ready to go and were allowed to shoot photographs of it.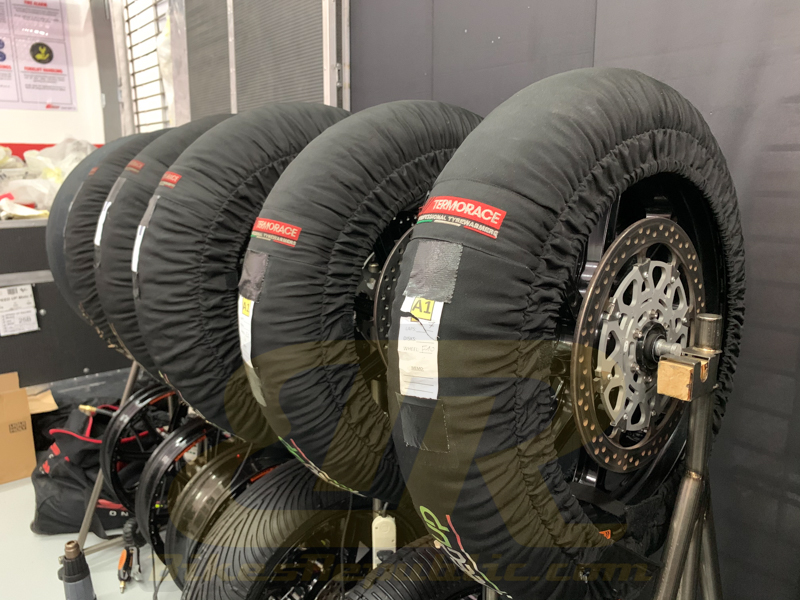 As Moto2 teams run only one bike per rider, there wasn't many bike components lying about, except for a few pieces of bodywork placed on top of a shelf.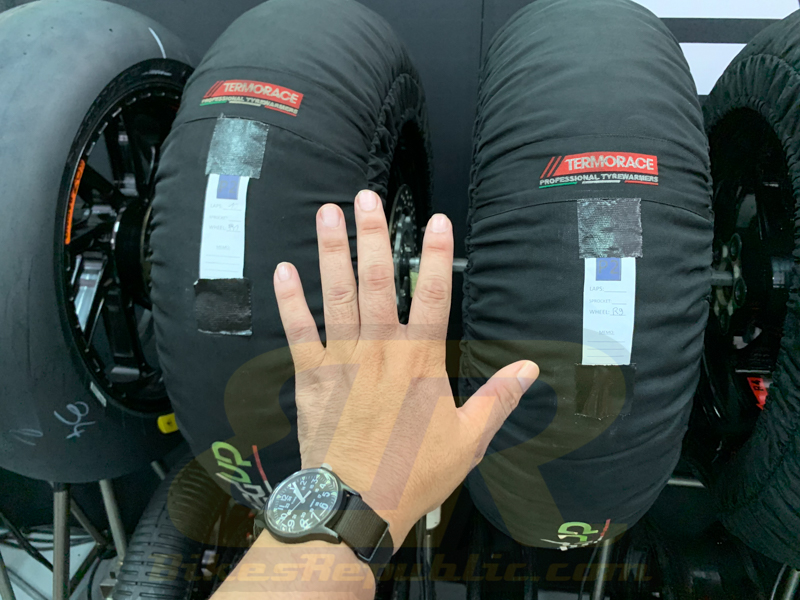 Instead there were rows of tyres wrapped in warmers. We could feel the heat from half a metre away, since they're kept at around 90 degree Celsius. There were tags on the warmers showing the state of each tyre i.e. how laps it's gone through or if it's new, etc. The wet weather tyres at the bottom rack weren't wrapped in warmers.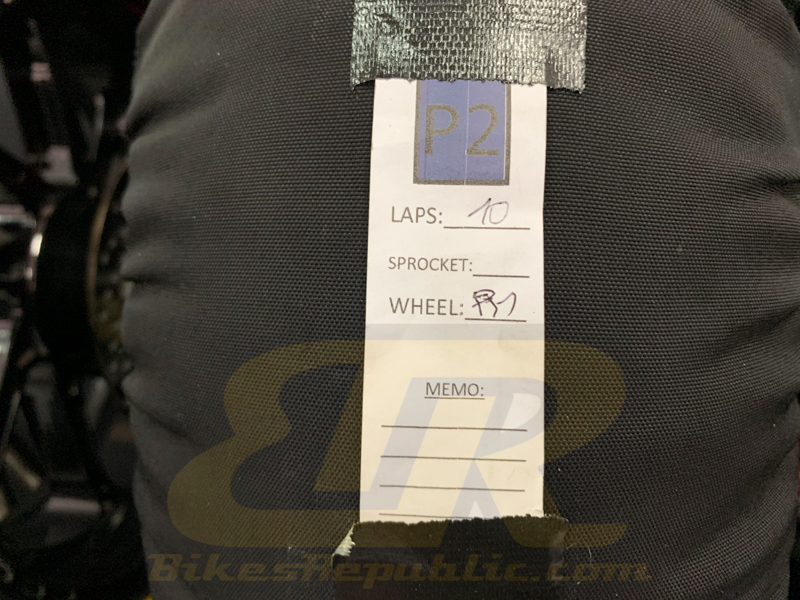 It was also apparent that all Moto2 bikes use steel brake discs rather than carbon. Dorna Sports wanted to keep racing costs down to allow more teams to join the series.
Dunlop Paddock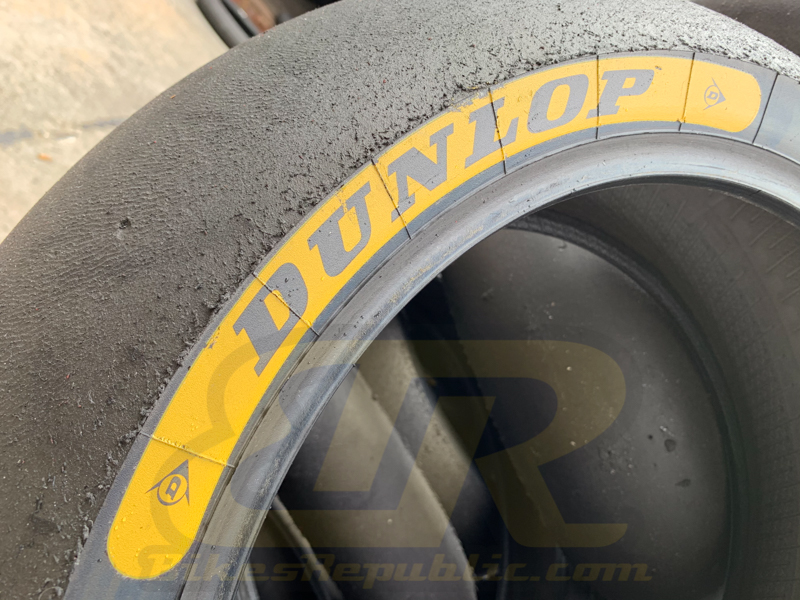 Dunlop is the exclusive tyre supplier to the Moto2 and Moto3 championships.
The first thing we saw were racks of tyres being cooled by industrial fans. The tyres were delivered in four shipping containers months before and were now being aired out.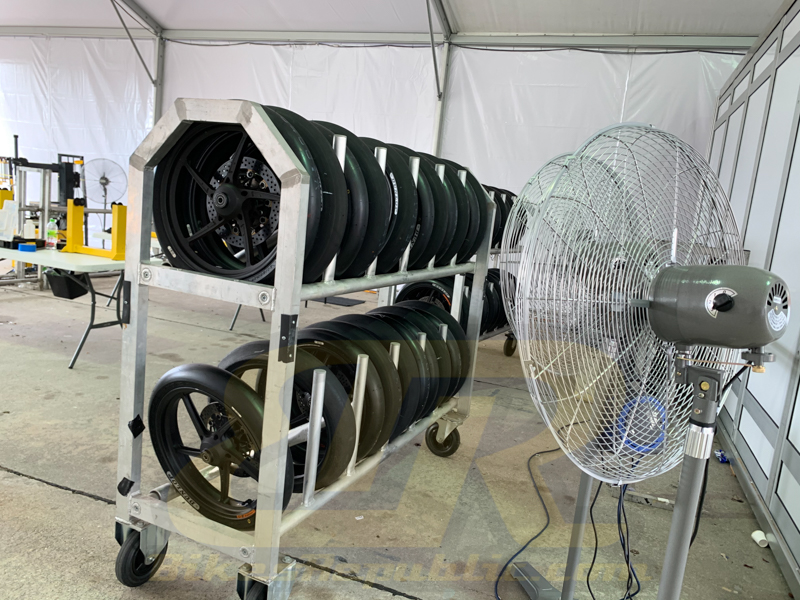 There were multiple work benches here complete with hydraulic tyre removers.
David showed us a rear tyre. The largest size was 180 when the series began but it's grown to 200/75-R17 now. The higher aspect ratio allows the crown of the tyre to wrap around in a smoother fashion, giving a wider contact patch.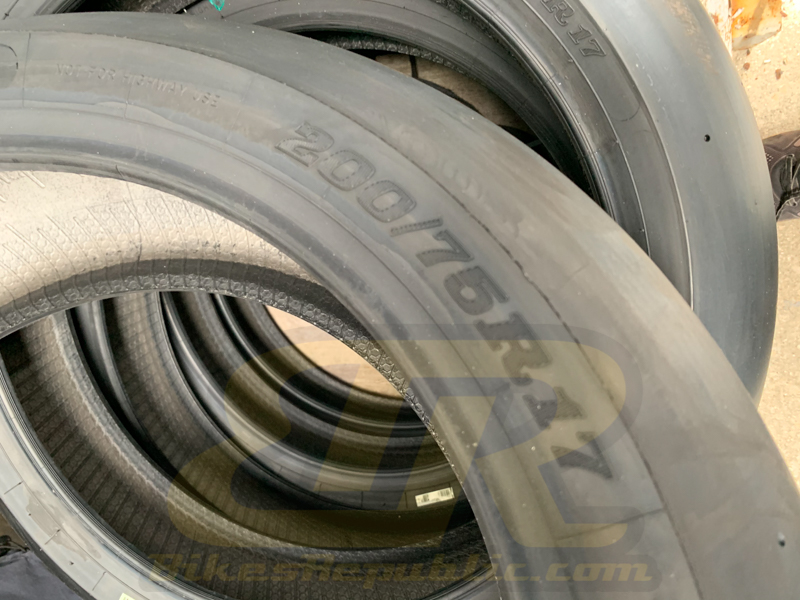 Each new tyre was barcoded and earmarked for individual teams. The teams will push in the racks we saw in the Speed Up garage and the Dunlop crew will fill them up with tyres mounted on wheels and inflated to the correct tyre pressures.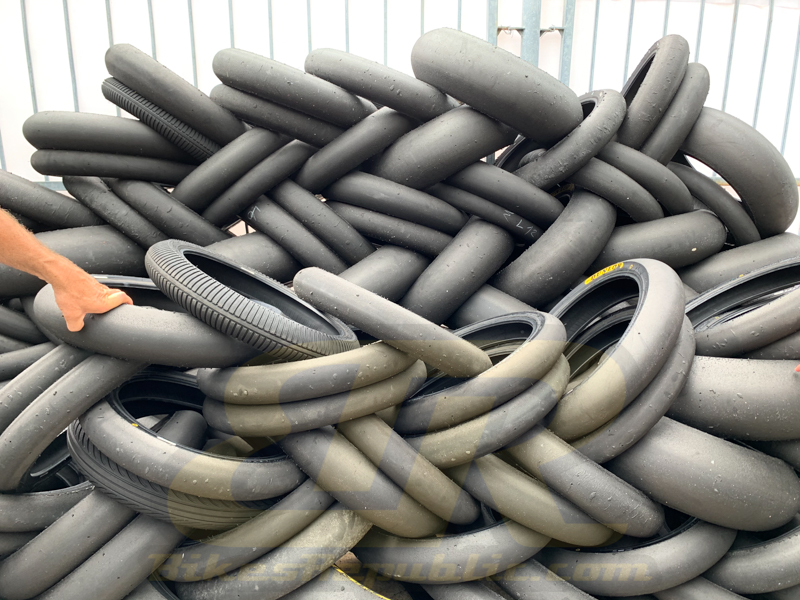 Used tyres were stacked in a large pile before being shipped back to headquarters. There, each tyre's bead (the part which attaches the tyre to the wheel) will be cut out, rendering it useless for vehicle use. They are then recycled for children's playgrounds.
Track Side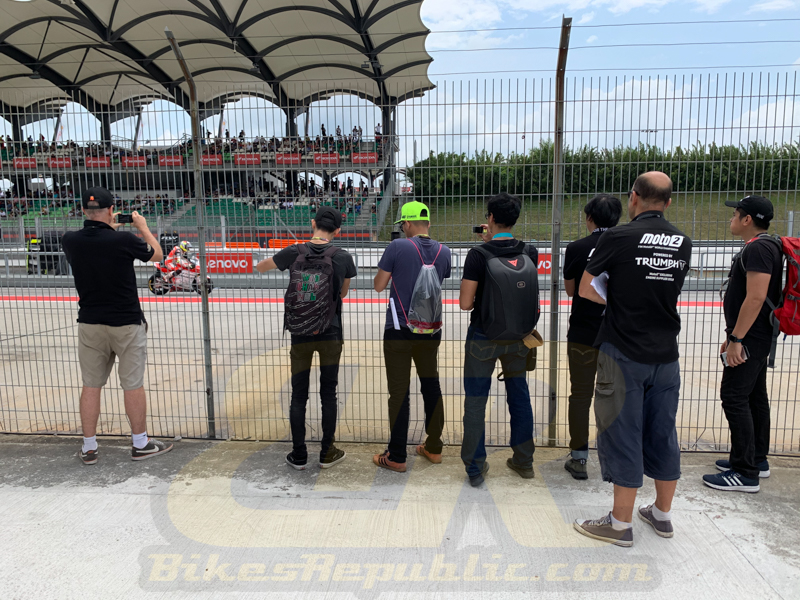 A visit to Extern Pro was planned but was unfortunately cancelled as Q1 had begun by the time we finished our visit to Dunlop. Extern Pro is the party responsible in modifying the 765cc street engine to race spec, and maintaining them afterwards.
We were brought to the area just next to the main paddock building. Here, one can see bikes going past on their pit lane speed limiter, sounding like the pod racers from Star Wars: The Phantom Menace. They disengaged the limiter after crossing the pit lane exit and slammed open the throttle, serenading us with a warble and roar very much different to an inline-Four's howl.
David then bade us goodbye after an eye-opening experience for everyone, this hack included. Prior to that, he said that he hopes such paddock walkabouts will continue in the future and might be expended to all tracks in the GP calendar.
So, get your Triumph and get ready for next year's event!