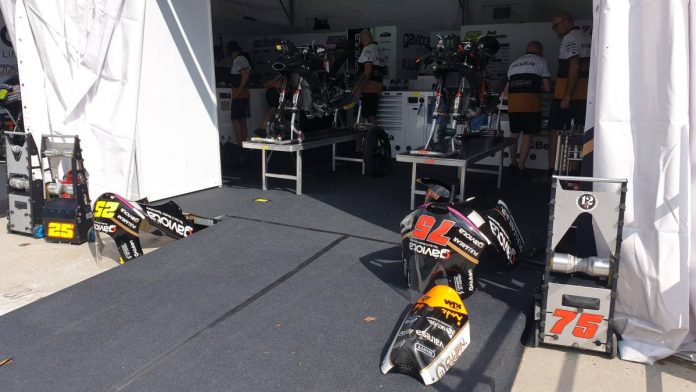 Thieves stole items from Angel Nieto team's pits.

The items included computer, parts and tools for Moto3.

Losses are estimated between € 40,000 to € 50,000.
As the excitement builds up to the 2019 Shell Malaysia MotoGP, we received alarming and sad news that thieves had broken into the pits belonging to Angel Nieto team and stole valuable items.
The pits of these teams are not allocated in the two paddock areas due to lack of space. As such, they are located in tents that attached to parking area PA1.
Team Manager Gino Borsoi described the items missing as Moto3 shock absorbers, calipers, brake discs, computers, tools, tyre heaters (tyre warmers), fork springs. He called the heist a "break-in job." They have since spoken IRTA (International Road-Racing Teams Association) and are awaiting Sepang International Circuit's response.
Borsoi also stated that the thieves were targeting Moto3 components as the Moto2 parts were left almost untouched. "The opened the spare parts drawers but didn't take Moto2 items except for specific things. They were tools for dismantling wheels and disc screws of street motorcycle brakes.  And tyre warmers."
Thankfully, they found support from SKY VR46 team — Valentino Rossi's team but led by Angel Nieto's son Pablo Nieto. "We have extra two complete WP shock absorbers. How can I not help them if the team bears my father's name?" The shocks are valued at nearly € 3,000 (RM 13,951) each.
It wasn't the first time such theft occurred. Three computers were stolen three years ago. The loss this time was estimated between € 40,000 to € 50,000 for parts, tools and computers.
The team managed to assemble the bikes and completed their runs on the track. The team will have a problem in more serious crashes.
Souce: lalasport.com