Let's face it, driving to and from the office is a pain in the behind, especially when you work in bustling cities like Kuala Lumpur. Those times wasted in traffic jams and toll fees do add up at the end of the month, which is why a lot of folks are opting for two-wheels like maxi-scooters.
If you're tight on budget but still want a decent 250cc scooter that can handle the task of daily travels, the latest and most affordable option right now is the Modenas Elegan 250 ABS. We took it out for a spin, and here's what we really think about this budget maxi-scooter after riding it for a few days.
Starting with the looks, the new Elegan 250 ABS still carries that instantly-recognisable maxi-scooter look and feel with some changes from the previous-gen model. The most obvious change is its front projector headlights with daytime-running lights which give the scooter a more modern and slightly aggressive façade.
They light up the roads nicely, no matter day or night. The multi-functional speedometer looks just like the previous-gen model but Modenas stated that they've worked with the internal lighting to make sure that you can check out all the necessary info without being a distraction, especially when riding at night.
As you look closer at its lower front end, you'll notice that the 260mm disc brake is equipped with ABS and you'll find the same configuration at its rear 240mm disc. For RM15,315 (minus insurance, road tax & registration), this is actually quite a bargain.
So, it looks great, but how does it ride? Its 250cc single-cylinder SOHC engine with dual valves produces around 22hp and 22.4Nm of torque. On paper, the Modenas Elegan 250 ABS is not the most powerful in its class but it's adequate enough to tackle everyday rides.
Smooth and comfort have always been the go-to highlights when it comes to maxi-scooters, and the Elegan 250 ABS is no exception. Acceleration is decent, power delivery is smooth while handling, and seating position is very comfortable and plush (despite its 195kg kerb weight).
The seating position is quite plush and relaxed in our opinion, but if the hump can be move slightly towards the back, it'll be even better. Anyone who's below 170cm in height (or have normal length legs) can ride this well without customising the seat cushion. The handlebar is also nicely positioned where you can extend your arms, unlike the Kawasaki J300 which is quite close to the rider (and not very comfy).
Power delivery is all well and good until you exceed 110km/h. To be brutally honest, the Elegan 250 ABS is a darling below or at that particular speed with little to no vibrations whatsoever (seriously smooth, guys and gals) but above that, that's when things start to get a bit rattly.
Remembering its price tag, we try to keep our expectations at a fair level and we were honestly impressed with how it performed under and at the Malaysian highway speed limit. However, the vibrations that present themselves above 110km/h might shock a few folks due to how quickly and drastic it comes into play.
It's not as rough as you would think, though. In fact, it's probably at a similar level to a lot of scooter models here in Malaysia (apart from Vespas which are notoriously known to be extremely smooth no matter how hard you push it when brand new). It's just how different it feels within such a small speed difference.
100km/h? Smooth like warm butter. 110km/h? Okay, got a little vibration. Above 110km/h? Trrrrrrrrrrrrrrrr~~~~
This can be forgiven due to its price but if you want to get rid of these vibrations, some extra work is needed. You might want to rebalance the wheels, play around with the variator or roller weights, or find some aftermarket bushings to further absorb those rattles. Try these methods in that particular order as it starts with the cheapest method to the not-so-cheap-but-still-affordable way.
How about stopping? Well, the brakes are good in our opinion. The feedback is nice with just enough freeplay and the ABS kicks in at the right level without alarming newer riders. The rear ABS is a bit intrusive than the front (you'll feel the pulsations on the brake lever during hard braking), but they're still very smooth. No complaints in this area.
Let's talk storage. Like most maxi-scooters, you can store a whole lot of cargo under the seat. For single riders, a full-face helmet like my Shark Ridill can be stored with some riding essentials like a rain suit and others. If you're riding with a pillion, you can store a full-face helmet and a demi-jet lid under the seat with no issues.
A gas-strut helps to hold the seat up so you can access your belongings easily. When it gets dark, there's an LED light to help you locate smaller items that you've stored (very useful when you arrive home at night).
There's a smaller storage space under the left handlebar which also comes with a USB charger. You can store things like your phone and wallet there BUT don't forget to take them out once you've parked because anyone can access this compartment without using a key.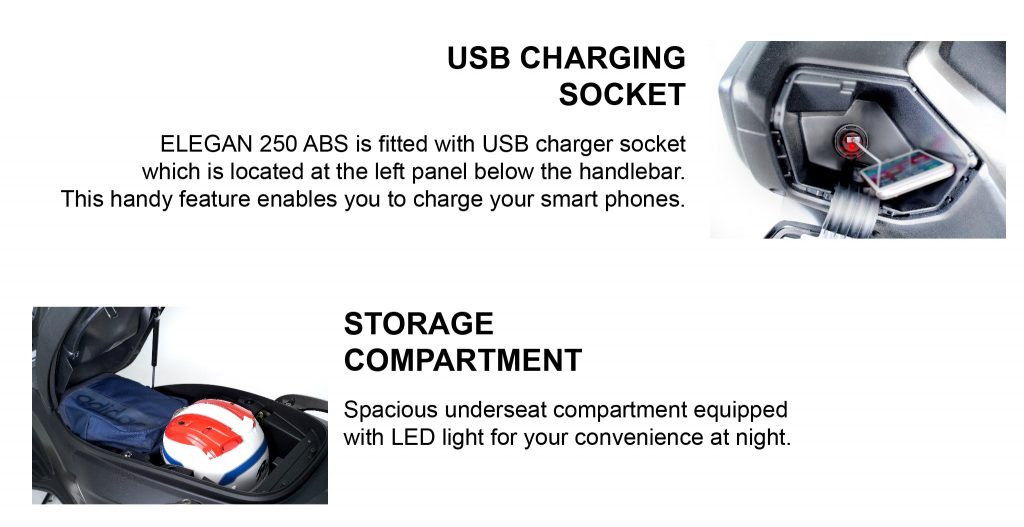 At the end of the day, the Modenas Elegan 250 ABS is a relatively comfortable 250cc scooter that ticks most of the boxes especially its price tag (good enough to forgive all of its slight drawbacks). You won't get the usually 250cc top-end performance, but you will get a comfortable and functional scooter that won't burn a hole in your pocket.
In fact, it'll probably save you a whole lot of money compared to driving to the office. You save time not being stuck in traffic jams and there's no need to waste cash on tolls and parking. The Elegan 250 ABS is a damn good investment if you're tight on budget. In conclusion, it's cheap yet functional with decent specs.
Written by: Sep Irran