Launched back in May 2017, Modenas introduced two brand new entries to the Malaysian market with the exciting 2017 Modenas Pulsar RS200 and NS200.
When it was launched, the NS200 was considered as a naked version of the RS200 but the differences are actually night and day.
We tested both bikes in different riding experiences and locations and both bikes offer great packages and affordable prices which we know will be a big hit here in Malaysia.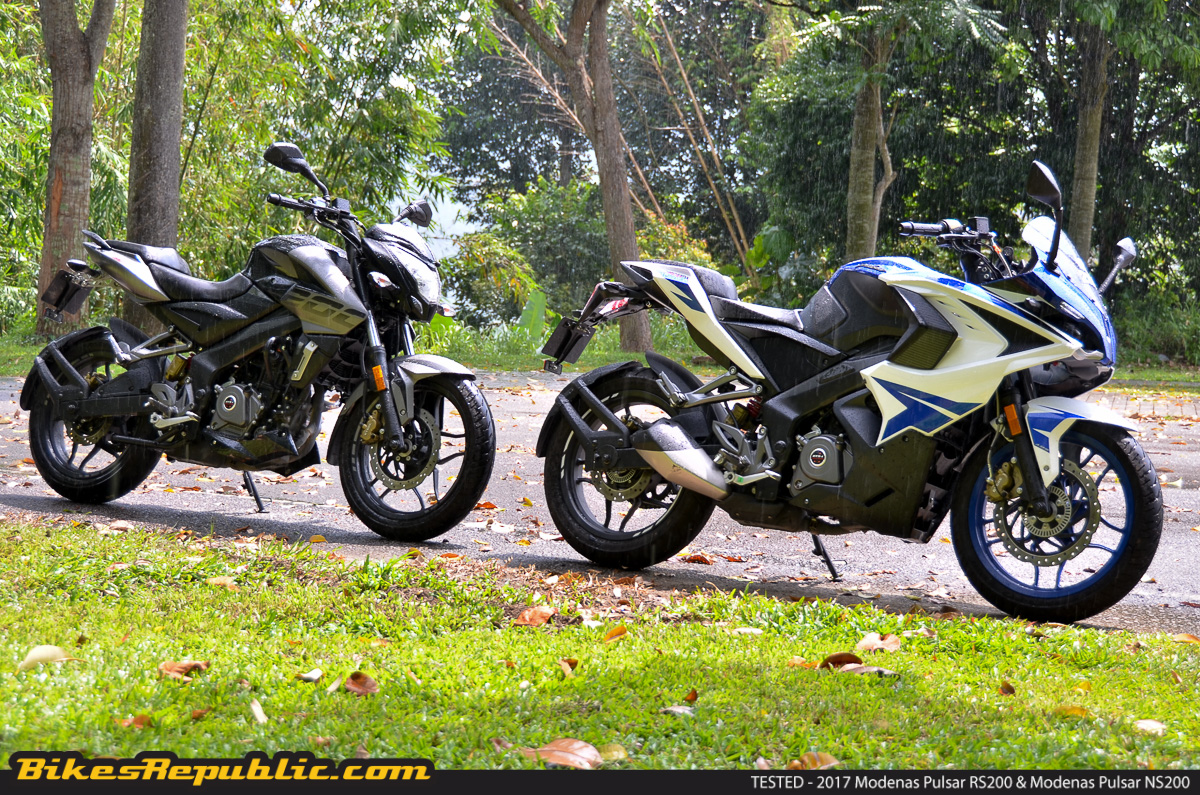 Launched back in May 2017, Modenas together with Bajaj Auto Limited formed a partnership that looked like the ultimate pairing to take over the market share majority here in Malaysia. While there are many models that Modenas could've pick for rebadging purposes here in the country, they've made a very interesting choice and went ahead with the Pulsar RS200 and NS200.
During the launch day, we were excited to know that Modenas is aware of the two-wheel market offering and how they work. With a clear unfilled gap in the small capacity sports bike and naked bike categories, it was a sensible yet brilliant decision to offer these two models for Malaysians to indulge on without breaking the bank.
We got the opportunity to test both of these bikes at the same time and honestly, we had a great time with both of the Pulsars especially the RS200. First off, we would to admit that we were misinformed when we said the NS200 is just a naked version of the RS200 sports bike but the differences are night and day.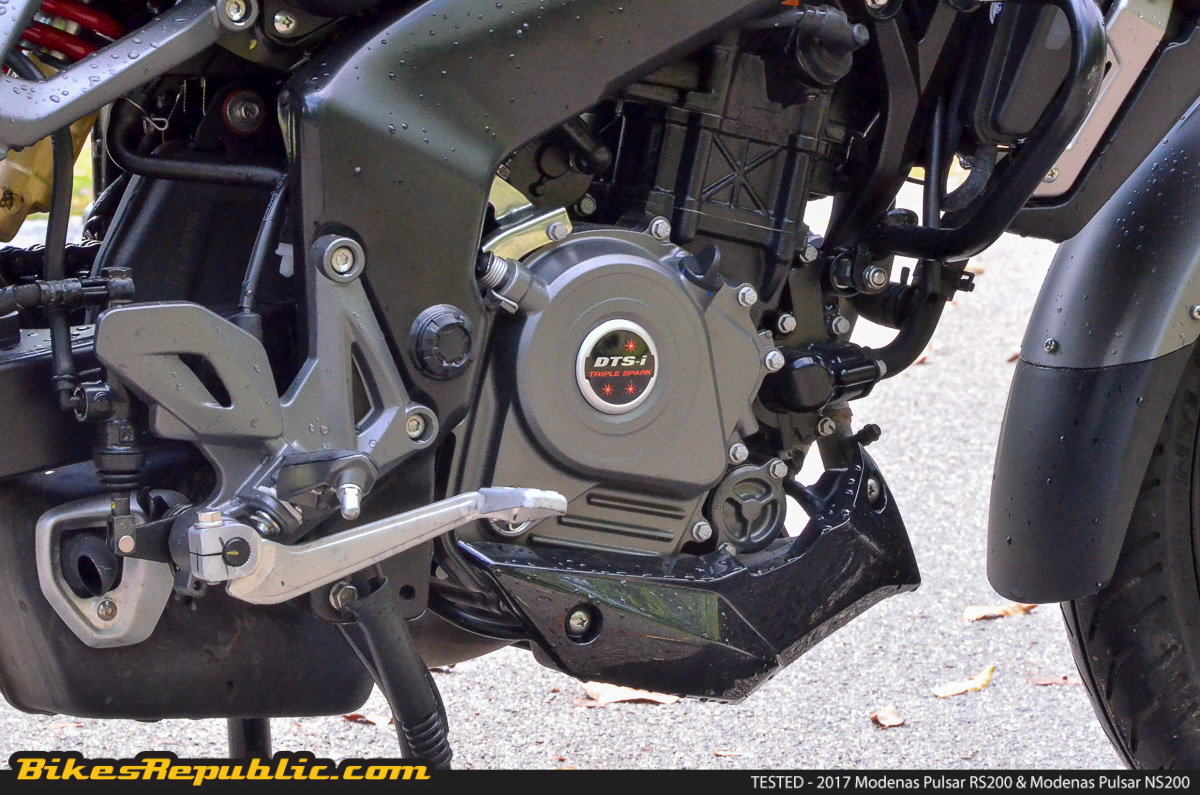 In essence, both bikes are similar in terms of the engine which is the latest Bajaj-powered 200cc DTS-i, SOHC, four-valve, fuel injected power plant with triple spark technology for optimum combustion and performance throughout the rpm range.
Able to produce 21.5hp at 9,750rpm and 18.6Nm of torque at 8,000rpm, the engines on both the RS200 and NS200 are able to push the bikes to a maximum speed of 153km/h (based on the mysterious top speed run videos submitted to us earlier) before the engines reach their rpm limit and cut off (for safety reasons and also to avoid from catastrophic failure).
Both the RS200 and NS200 have the same suspension package with front telescopic forks and anti friction bush at the front ends and Nitrox monoshock absorber with canister handling the rear. We were pleasantly surprised on how well they do their job even at higher speeds. Both bikes offer stable riding experience but the NS200 is a bit more wobbly considering its slightly higher riding position and lack of wind protection unlike the RS200 and its adequately aggressive front fairing.
While the engines and suspensions are the same, everything else is completely different. Looking at the styling, the RS200 has a very aggressive sporty fairing that we feel can be very appealing to a lot of Malaysians. The fairing also provides great aerodynamics and cruising down the highway feels heavenly. Compared to the naked NS200 has a slightly wider body and no fairing which means that the rider feels the full force of the wind when riding at higher speeds.
Based on this, we feel that the NS200 is more suited for city riding whereas the RS200 can be good for long tours. The slightly higher seat height on the NS200 gives it a more aggressive stance but it also offers great manoeuvrability when going through traffic jams in congested cities. The RS200 is more suited for twisting roads like the ones riders often take after that Sunday breakfast session at Lemang To'Ki.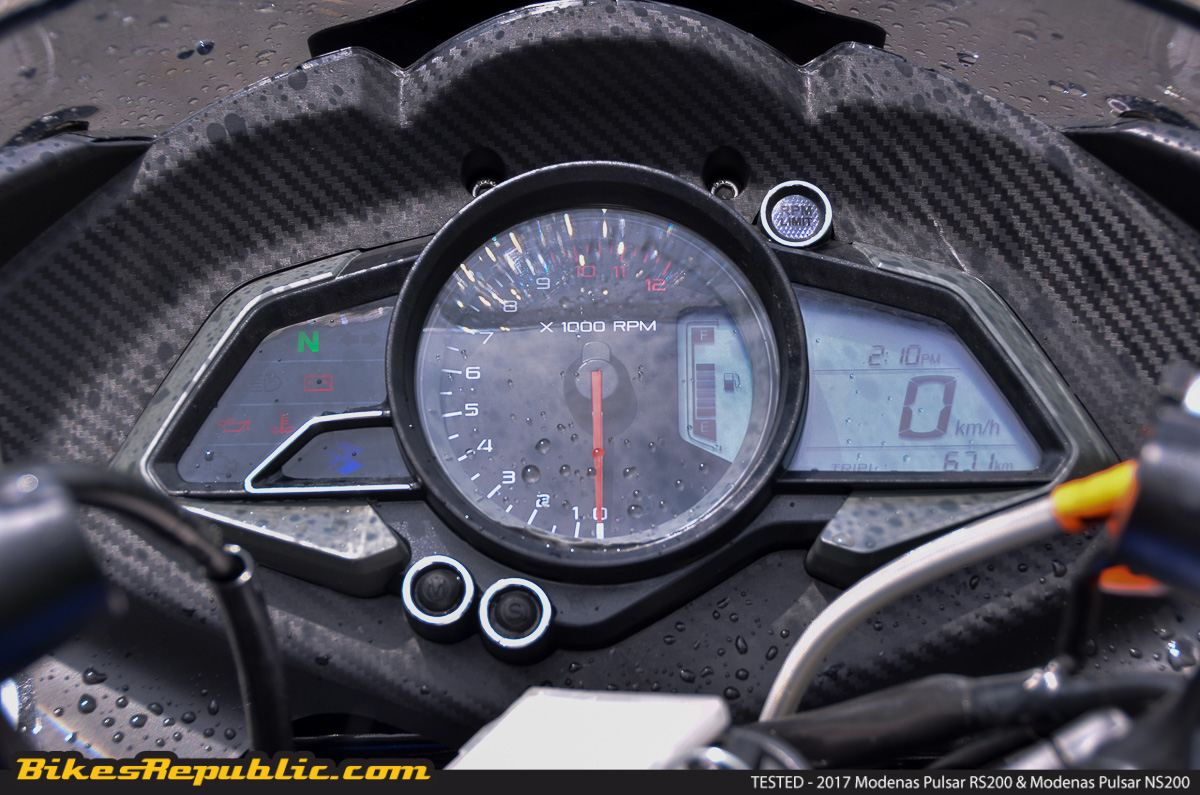 They also come with the same meter panel that indicates some important aspects of the bike like the analogue tachometer, digital speedometer and fuel range together other indicators like neutral gear position and rpm limit or shift light. The only downside of this meter panel is that it doesn't indicate the gear position so most riders would more than once look for that legendary 'seventh gear' which is sometimes funny and embarrassing at the same time.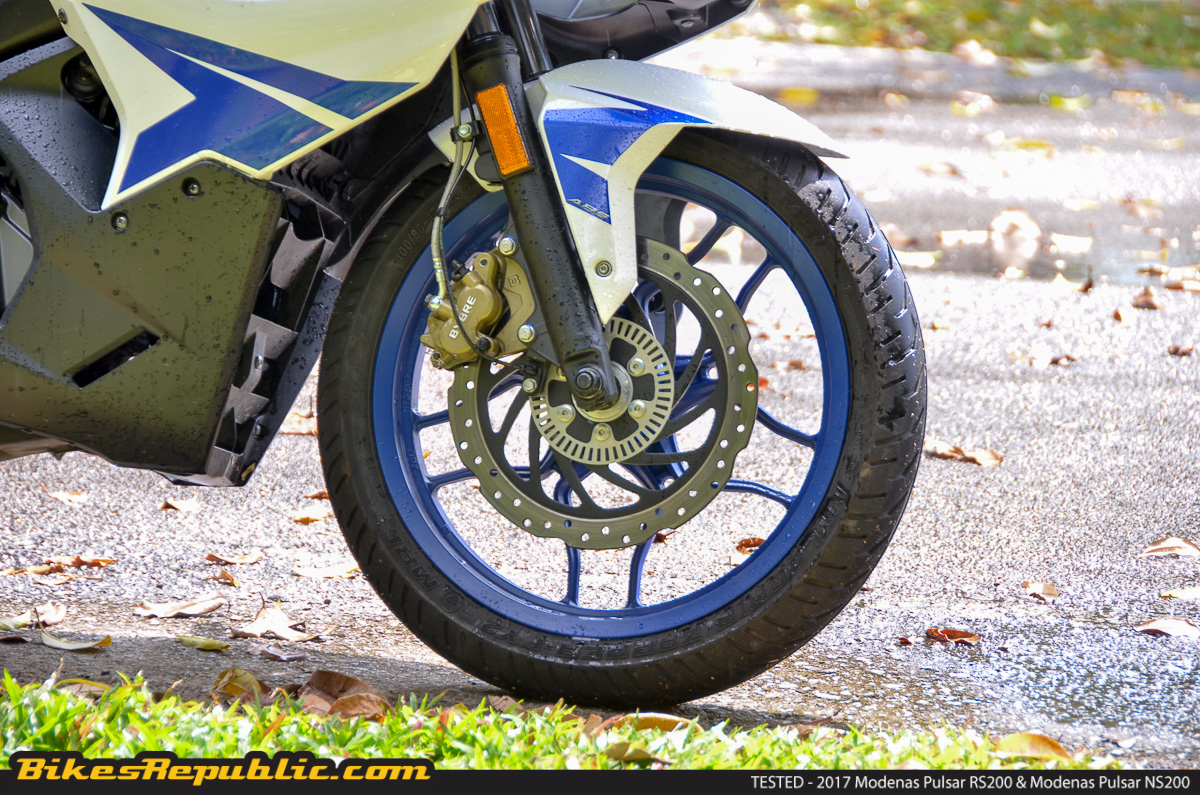 Another major difference between the two is the availability of Anti-lock Braking System (ABS). The RS200 does have single-channel ABS that works in tandem with its front 300mm brake disc. The NS200 doesn't offer ABS as it only comes with a single 280mm hydraulically-operated front brake disc. Both bikes have the same rear brake setup which is a 230mm brake disc.
Obviously, stopping the RS200 feels more stable compared to the NS200. The single channel front ABS works great to provide braking stability but modulating the rear brake pressure still requires some practise as there's no ABS working at the rear. The NS200 can also stop on a dime but without any ABS to help, careful operation is required to prevent any wheel lock.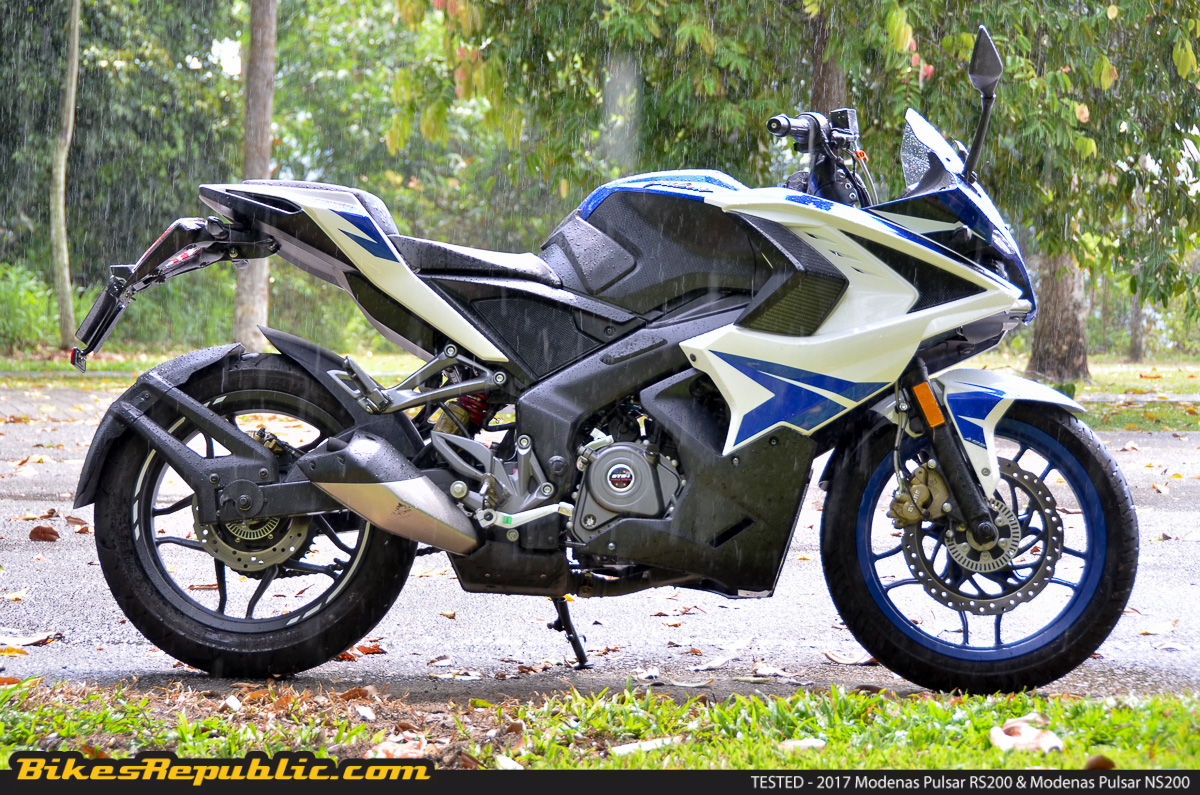 We managed to take both bikes out for a ride all the way to Kuala Kubu Baru and we can say that both bikes offer something a bit different but the RS200 is obviously a better choice with slightly better equipment and impressive 'big bike' like styling. The NS200 also provides a good overall riding package and is more suited at lower speeds and great manoeuvrability in congested areas.
One would think that both the RS200 and NS200 look like motorcycles that will cost over RM15,000 but Modenas again surprised everyone when they announced that the RS200 is priced at only RM11,342 and the NS200 is even lower at RM9,222 (basic prices with GST). Those are some affordable figures that are considered as major selling points especially for those looking into starting their passion in motorcycling.
All in all, we think that the 2017 Modenas Pulsar RS200 and NS200 are great packages for awesome riding experiences available at unbelievable prices. We of course favour more on the RS200 and its sporty looking fairing equipped with Daytime-Running Lights (DRL), single-channel ABS and great design but the NS200 is just as good especially when lane-spitting through traffic. Whatever your choice may be between the two, you'll always come up as a winner with either one.
CLICK HERE to know more on the 2017 Modenas Pulsar RS200 and NS200 during their Malaysian debut.