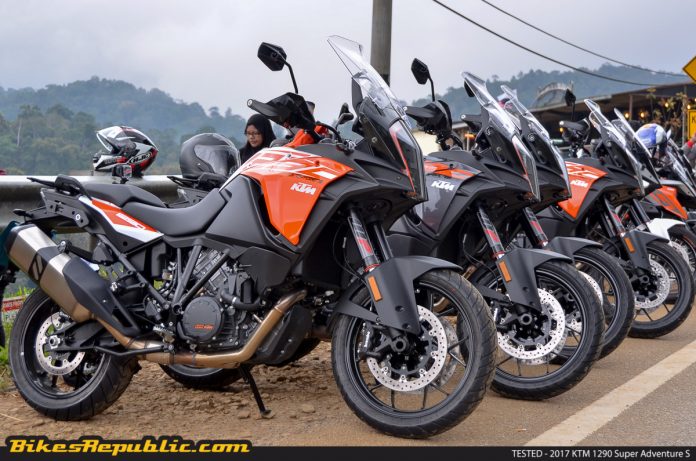 The brand new 2017 KTM 1290 Super Adventure S can easily be a contender for the best adventure / touring bike available in the country.

Equipped with a 1,301cc V-twin DOHC engine that produces 160hp and 140Nm, it is one of the lightest and flexible power plant produced by KTM.

The overall riding experience is heightened even further thanks to the optional Travel Pack that includes Quickshifter +, KTM MY RIDE system, Motor Slip Regulation (MSR) and finally Hill Hold Control (HHC).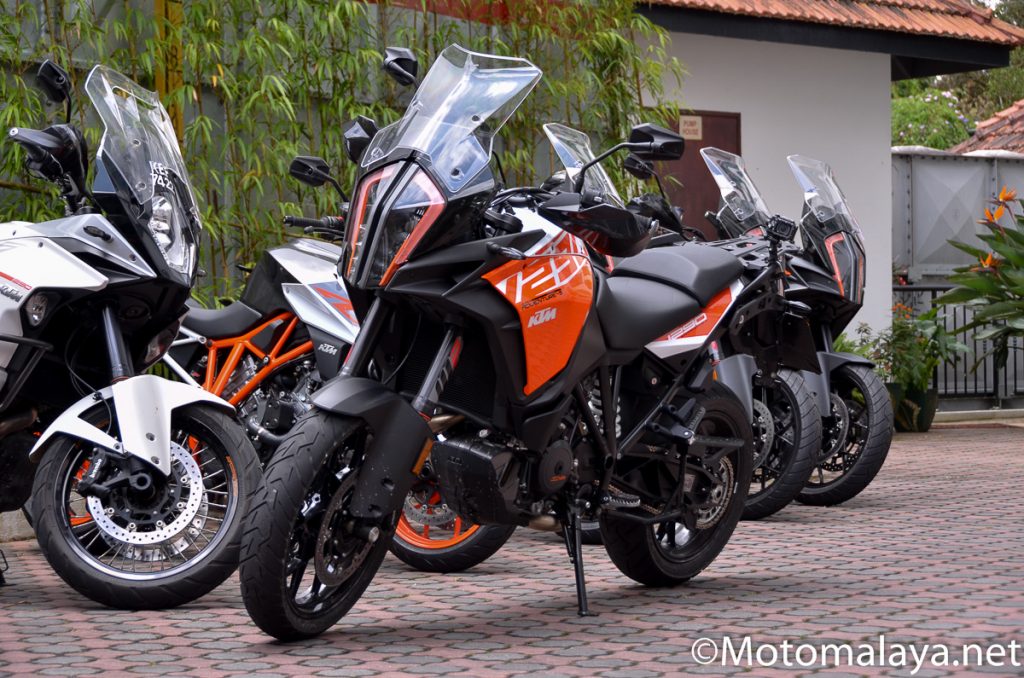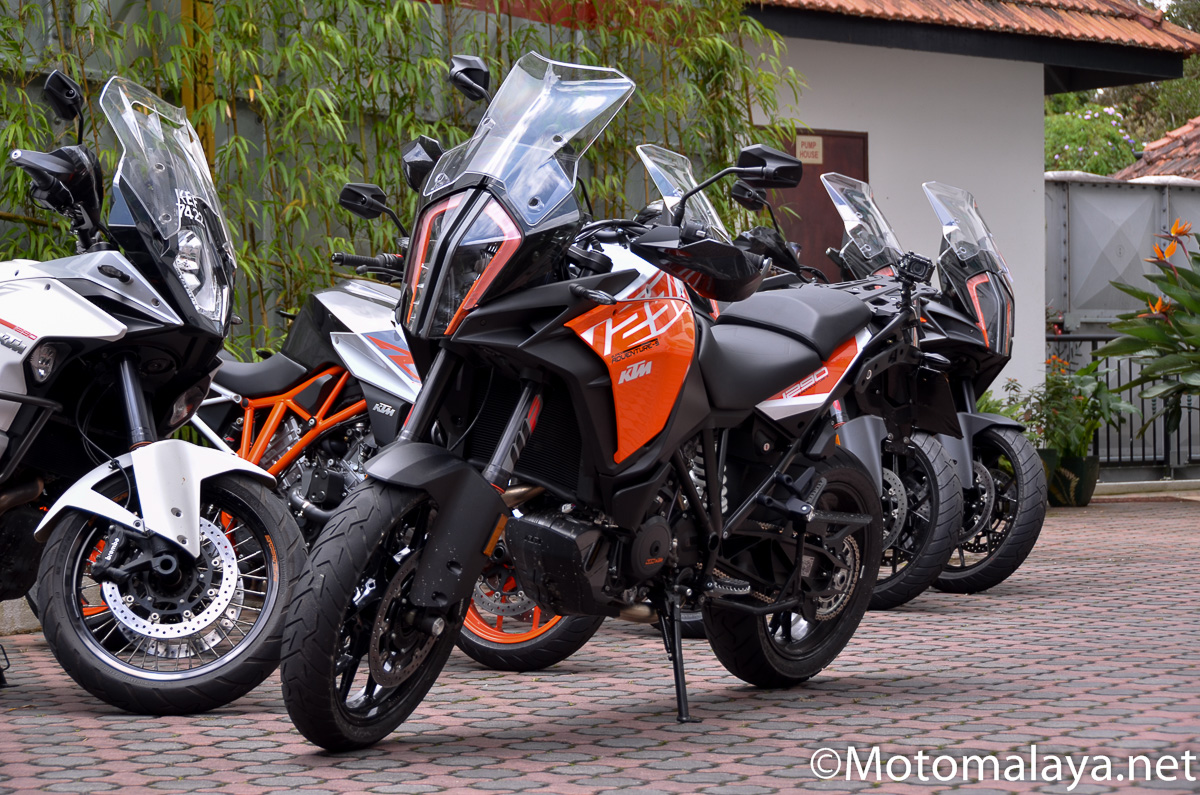 Following the recently launched 2017 KTM 1290 Super Adventure S and KTM 1290 Super Duke R last Friday, KTM Malaysia swiftly organized a ride just the day after. Yesterday was indeed a treat for one of our writers as the planned ride was a day trip to Cameron Highlands. CLICK HERE to read up on the launch last Friday.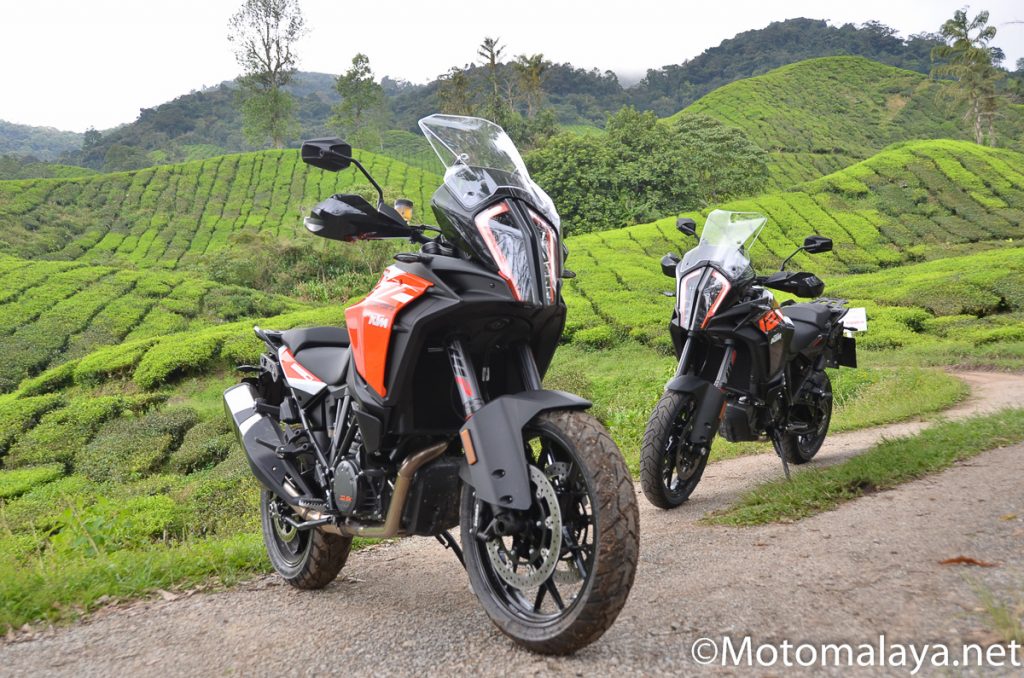 The planned route took us on 500km journey through small streets, sweet twisting roads up the hill, tight uneven roads with traffic heading down and even a short off-road (more like poorly paved roads) to one of our photo shoot locations. This half a day journey gave us a lot of feedback on how the new KTMs performed, especially the new Super Adventure S. The verdict? It is a beautiful and magnificent adventure tourer.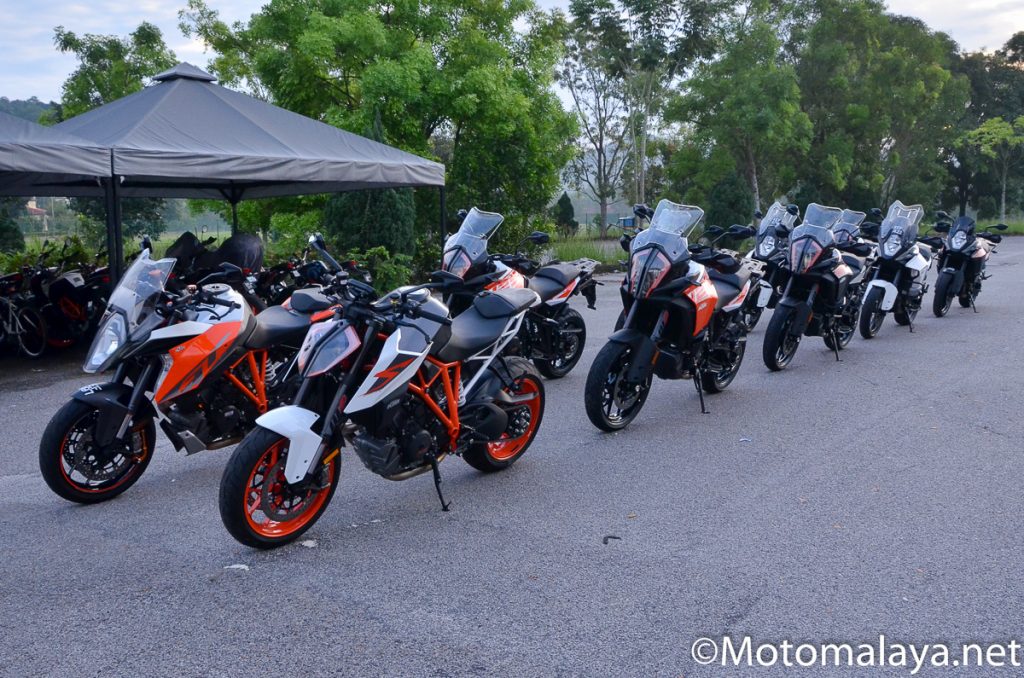 The brand new bikes together with a few older models left the KTM Lifestyle Showroom located in Kota Damansara at around 8am and headed to our first stop of the day, Lemang To'ki. There were 10 bikes, five were the new KTM 1290 Super Adventure S and only one 2017 Super Duke R as we rode to the famous breakfast spot located in Bentong, Pahang.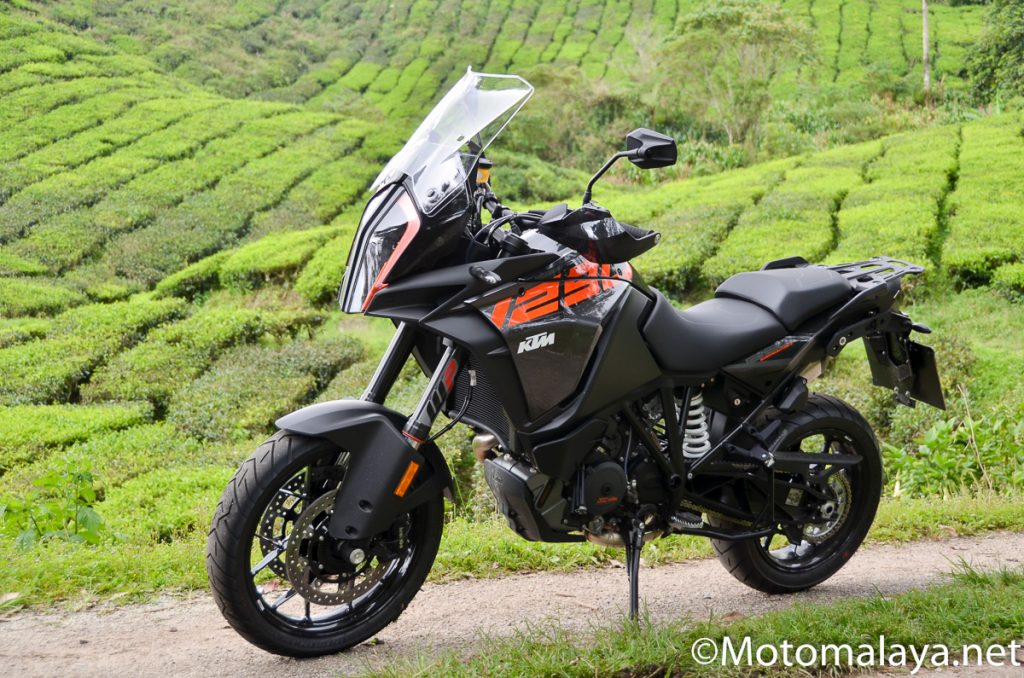 Let's start with the looks. From afar, it reminded us of Yamaha's Super Tenere but in our opinion, the Super Adventure S has a much cooler and badass facade especially the new headlights which constantly made head turns everywhere. The headlight design also reminded us of Marvel's beloved superhero, Deadpool.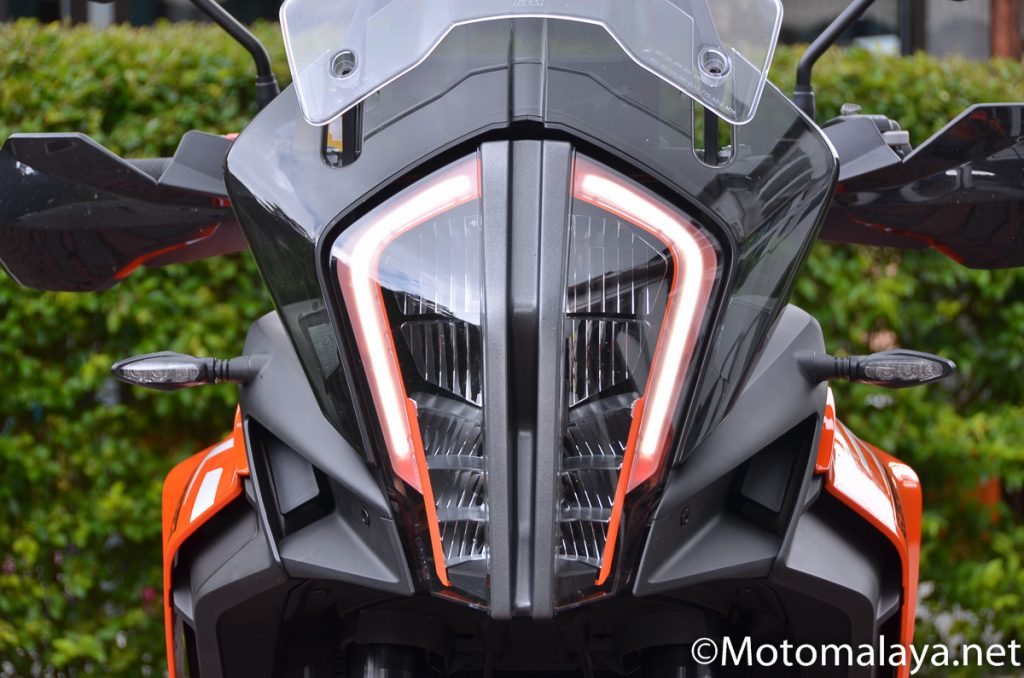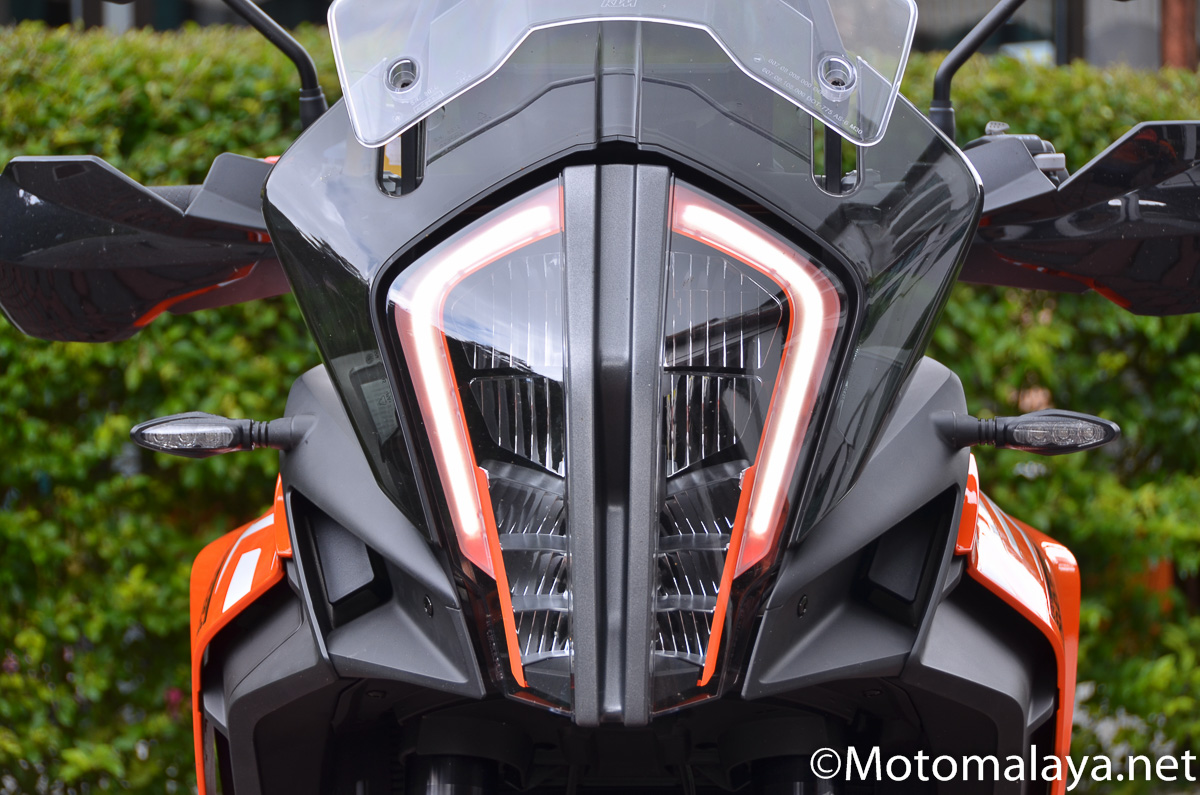 We were informed by the KTM crew that all of the new 1290 Super Adventure S are equipped with the optional KTM Travel Pack that includes Quickshifter +, KTM MY RIDE system, Motor Slip Regulation (MSR) and finally Hill Hold Control (HHC). The HHC was indeed handy when we had to stop at a steep incline to let traffic through a very narrow hill road.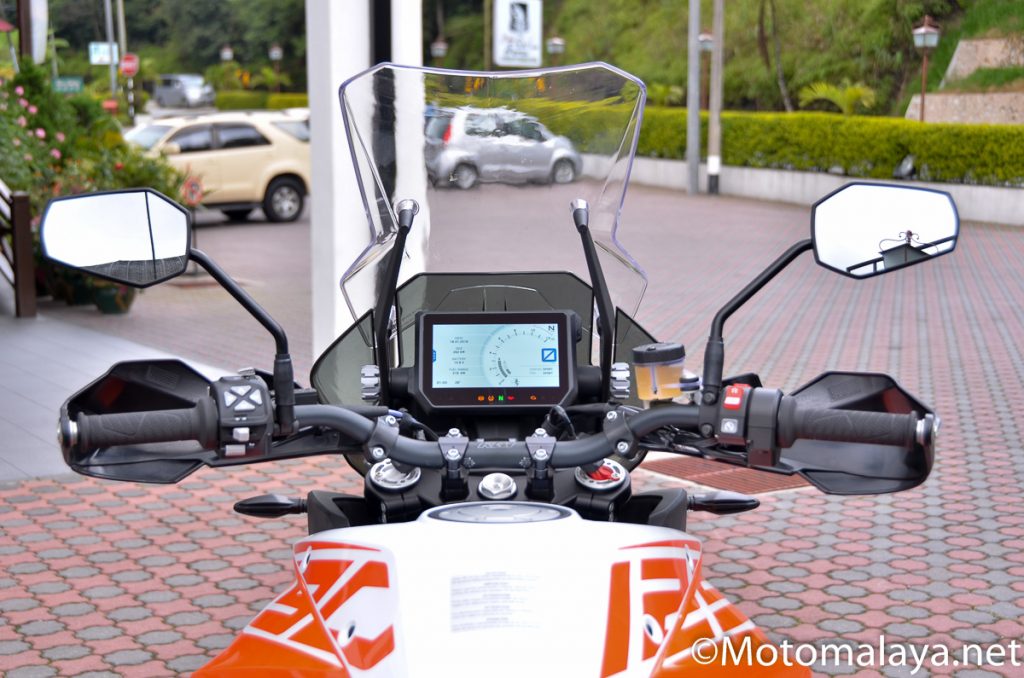 With a ground clearance of 220mm and a seat height of 860mm, getting on the adventure touring bike is a bit of a challenge for this hefty 170cm, 80kg bike enthusiast. That all quickly dissipated as we rolled out onto the highway to get a feel of what this majesty had to offer.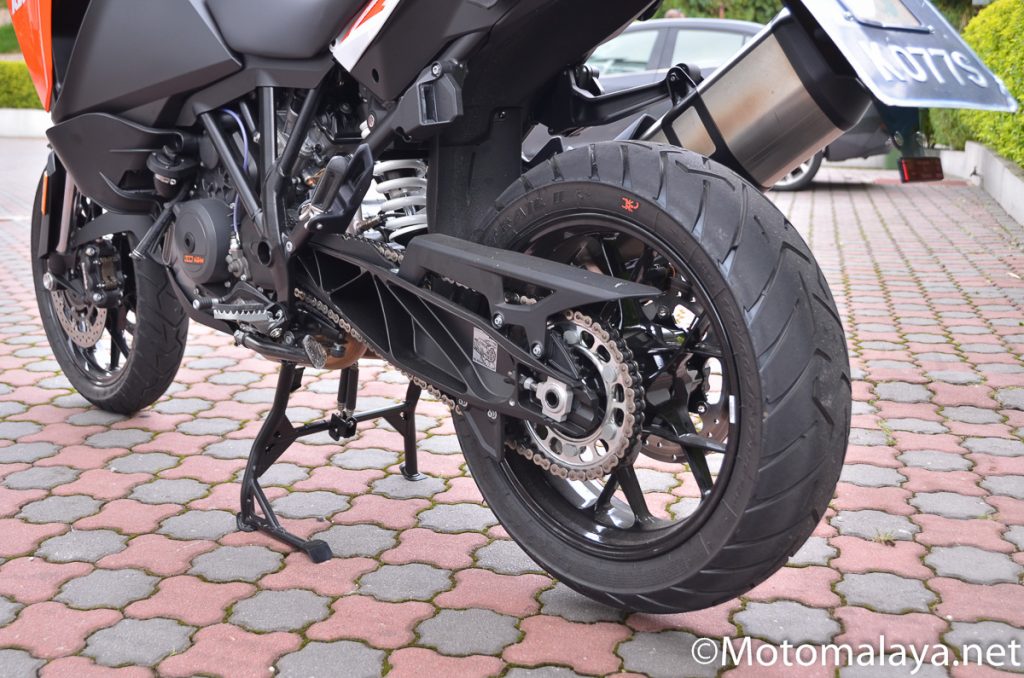 The ergonomics felt awesome and comfortable even after hours of riding. Handling the Super Adventure S no matter the road conditions has been made easier than ever (and more enjoyable) for experienced and novice riders looking for a good time. The combination of absolute stability and total control have been dialled perfectly with various updates such as all-round WP semi-active suspensions, chrome-molybdenum steel trellis frame and a die-cast, open-lattice swingarm.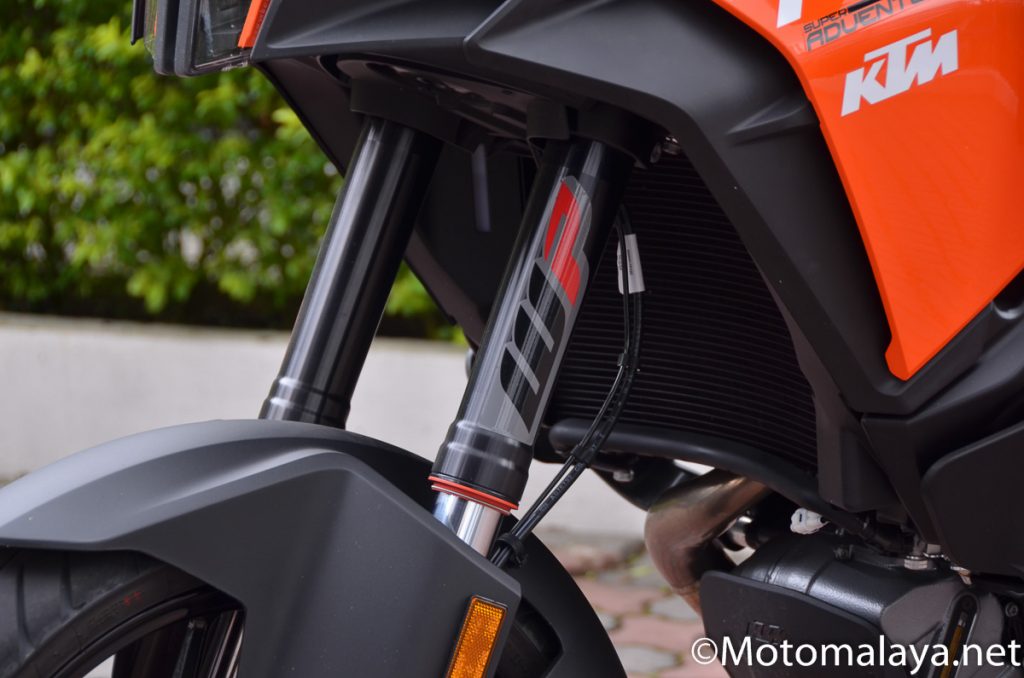 The engine on the "Groundbreaker" is the 1,301cc V-twin engine that produces 160hp at 8,750rpm and 140Nm @ 6,750rpm. The compact design using space-age materials makes it one of the lightest V-twin ever produced by KTM sitting at only 62kg. Not only is it physically light, the power plant is also nimble and flexible at ant rpm range and thanks to the Super Adventure's total weight of 238kg (including 23 litres worth of fuel), the bike has exceptional power-to-weight ratio.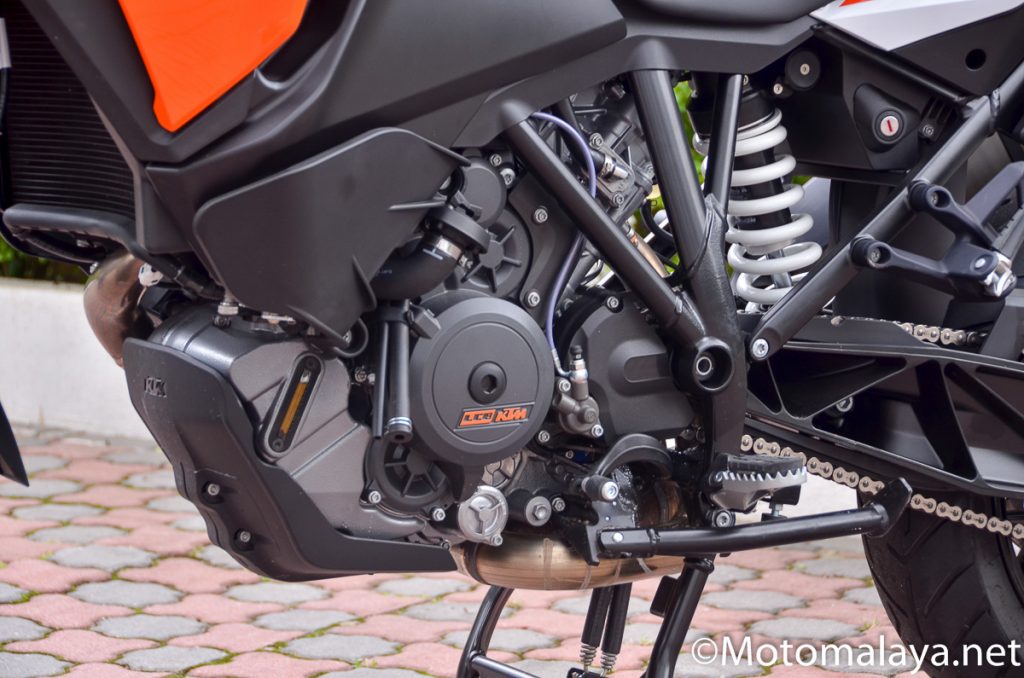 Going through the gears put a huge smile on our faces thanks to the Quickshifter + addition available in the Travel Pack option. This means it can go perform both upshifts and downshifts without using the clutch lever. Gear changes were smooth as butter and quick without any hiccups. With one less thing to do (using the clutch lever), hitting the twisting roads is indeed more fun and exciting.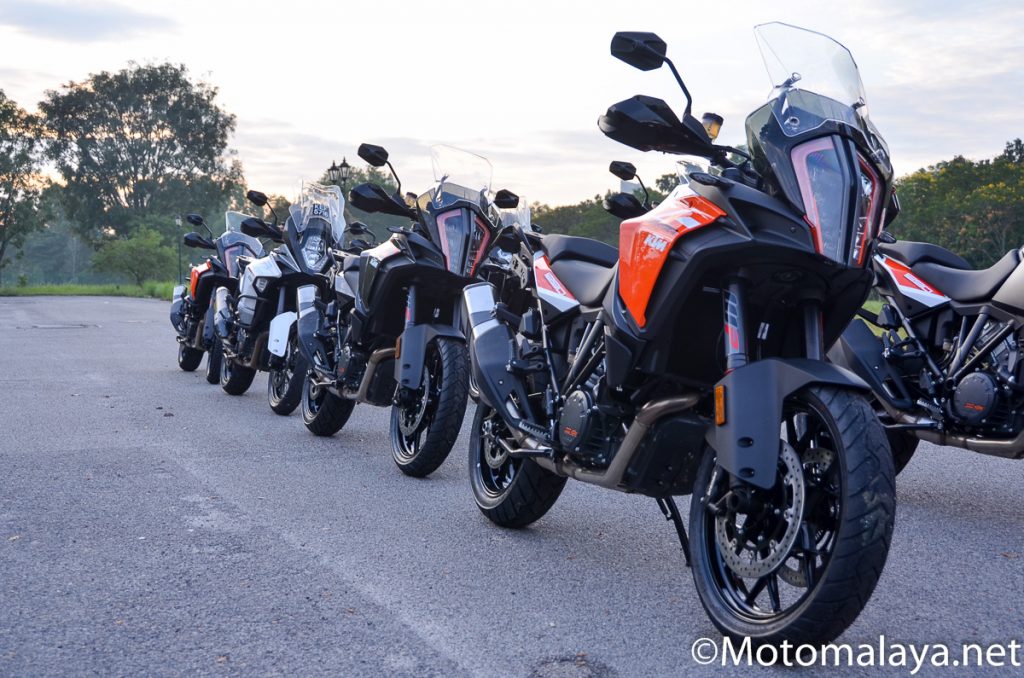 The braking package is probably the most welcomed addition in the whole package when paired with the semi-active suspensions from WP. The hardware chosen for the front is a couple of 320mm Brembo four-piston brake discs with radial fixed calliper and a single 267mm twin-piston brake disc.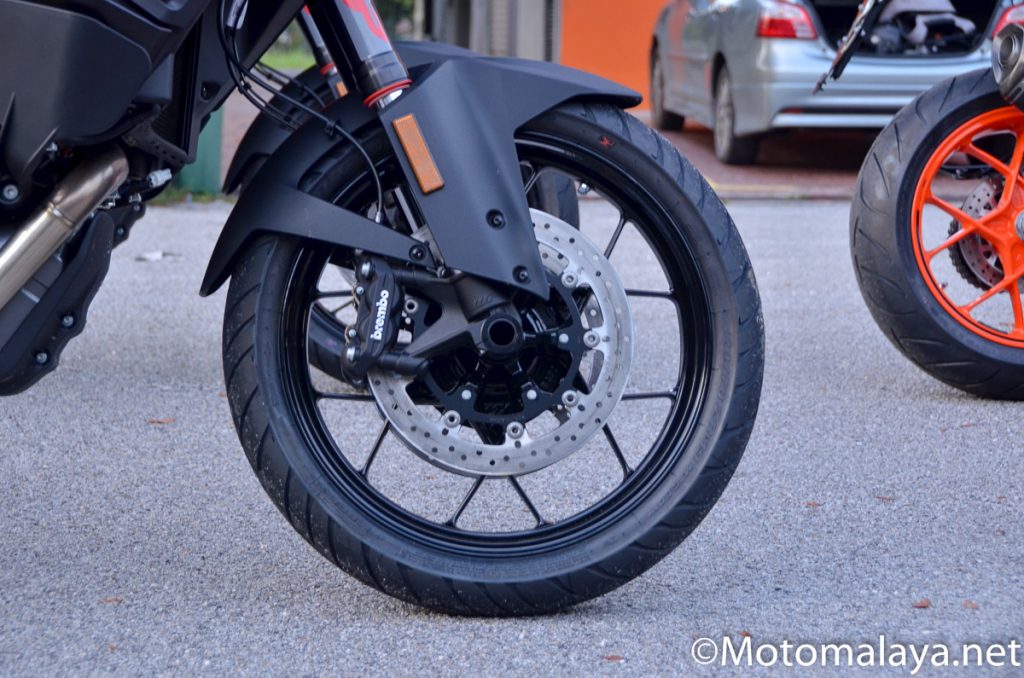 Everything is modulated with a super helpful electronic assistance such as the Bosch 9ME combined ABS which works for cornering and off-road use as well. Heading back down Cameron Highlands has helped a lot when tackling tight turning roads that are uneven, damped and full of traffic. If it were any other bike besides the Super Adventure S, we would've probably had a rougher and less enjoyable experience.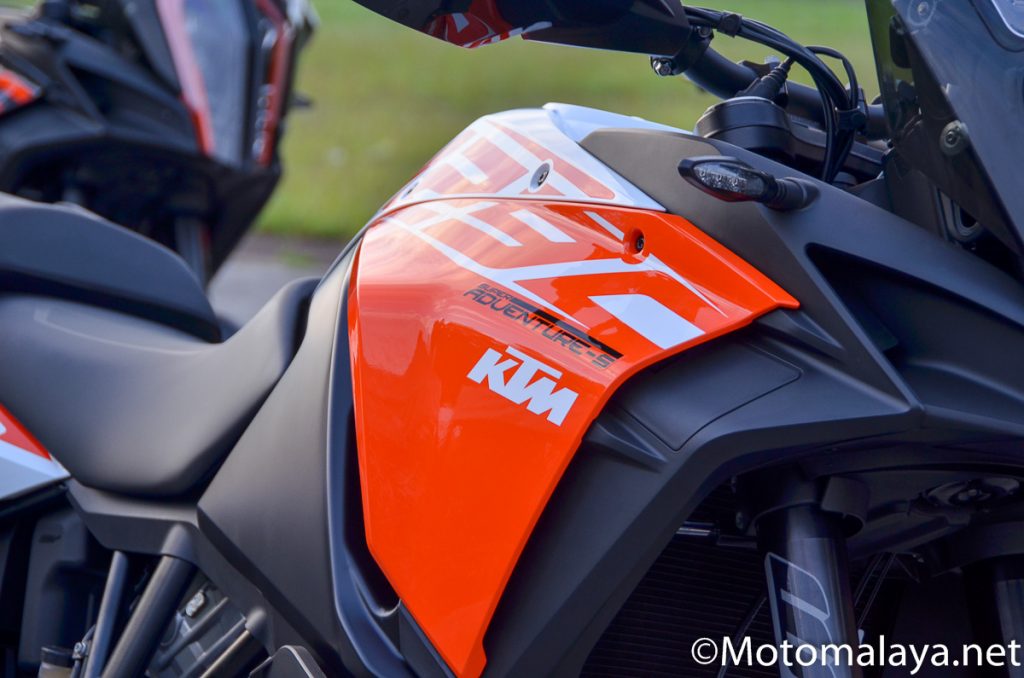 On the highway, the 1290 Super Adventure S is a darling to ride. The bike was so stable even at high speeds that it's really hard to not love the bike. Aerodynamics and wind deflection have been further enhanced as compared to the older Super Adventure GT when referring to the adjustable wind shield and side mirrors which work and function brilliantly all throughout the half day journey.
All in all, we weren't just impressed by the new offering from KTM. In fact, we were quite blown away at how good the bike looks and performed brand new right out the showroom. With KTM Malaysia pricing it at RM115,000 (basic price with GST) sans the optional Travel Pack, it is also competitively priced against other adventure tourers.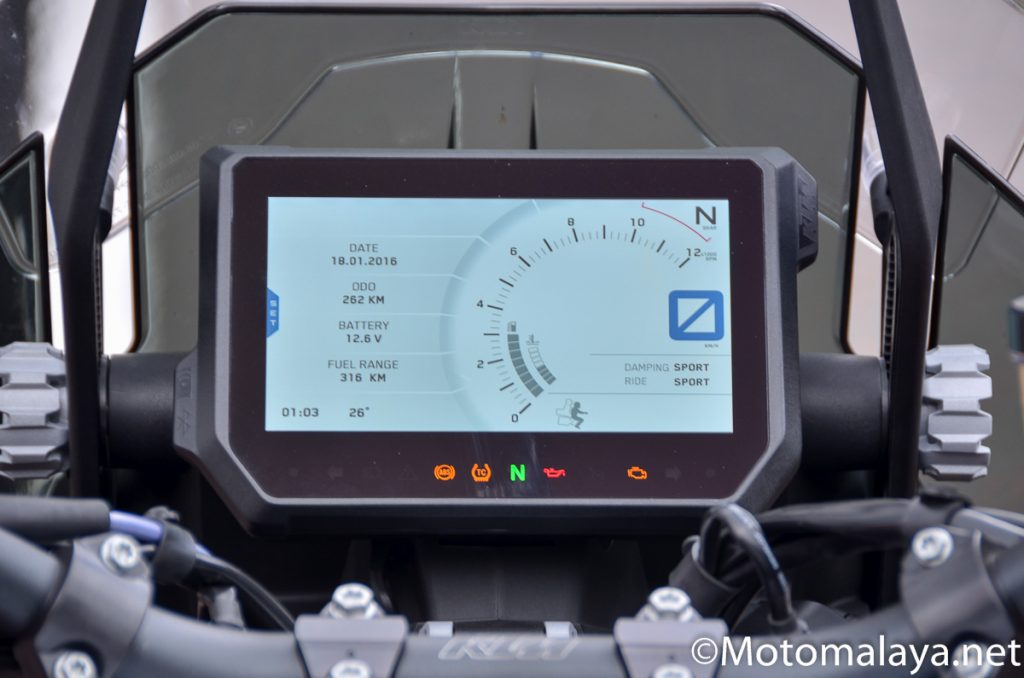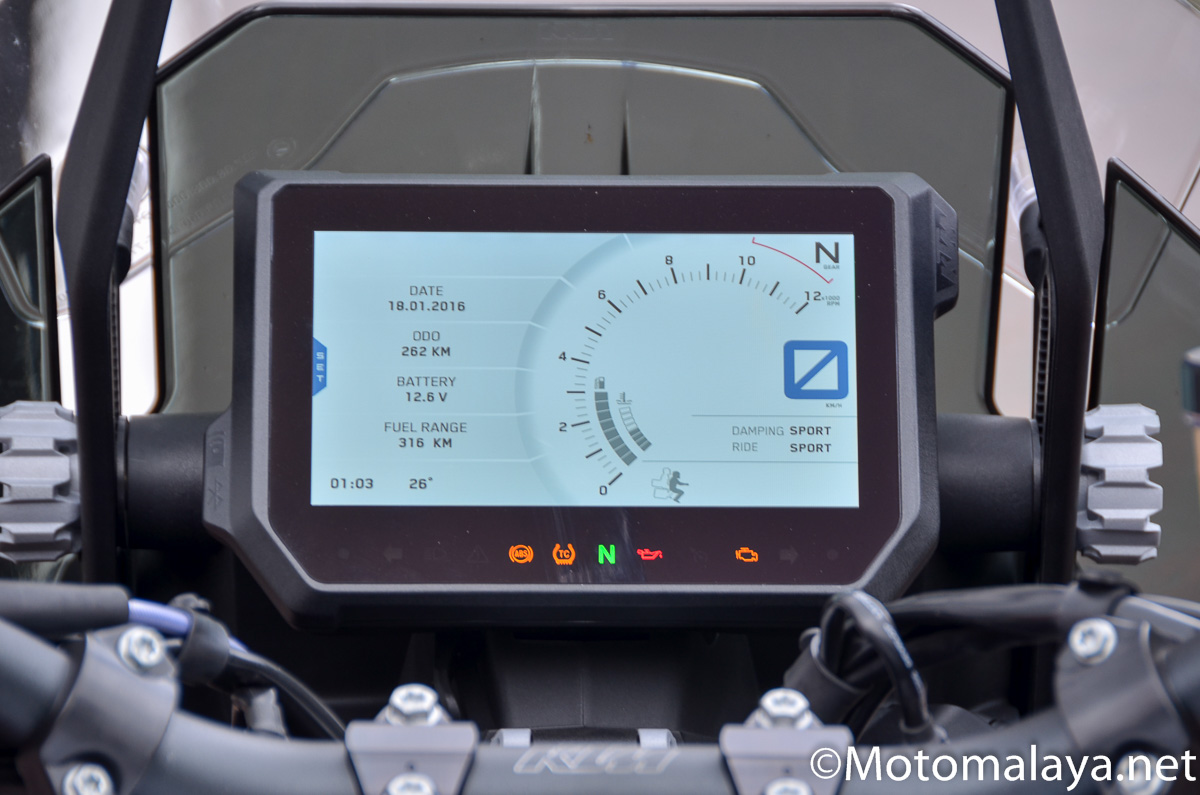 KTM has knocked this one right out of the ball park with this new 1290 Super Adventure S. We can literally go on with what's good about the bike but at the end of yesterday, words can only do so little to express the true nature of the 1290 Super Adventure S. Visit any of the KTM showrooms nationwide and let the experience convince you because we love it and we're positive that you'll love it too.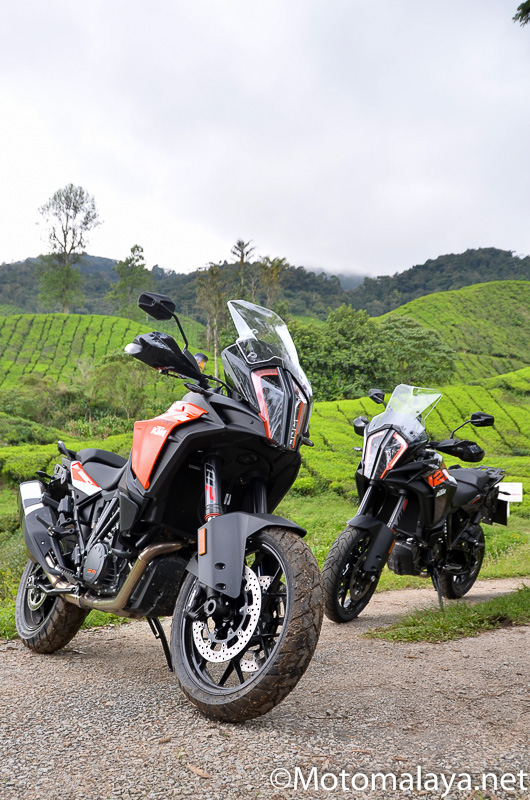 CLICK HERE to check out the rest of what KTM has to offer in our exclusive Bike Buyer's Guide right here on Bikes Republic. You can also check out the rest of the bike's details at the KTM official website.
2017 KTM 1290 Super Adventure S Gallery