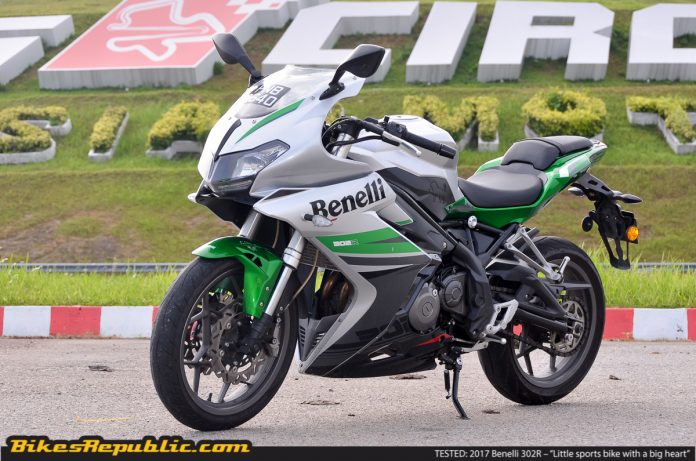 The 2017 Benelli 302R is one of the latest entries into the Malaysian entry-level sports bike segment.
Created with a beautiful design and decent performance from its 300cc twin-cylinder engine, the 302R is an overall fun package especially for beginners.
Reasonably priced at RM21,888 (basic price without GST), we try to answer the question on whether it is worth the money when it comes to an entry-level sports bike.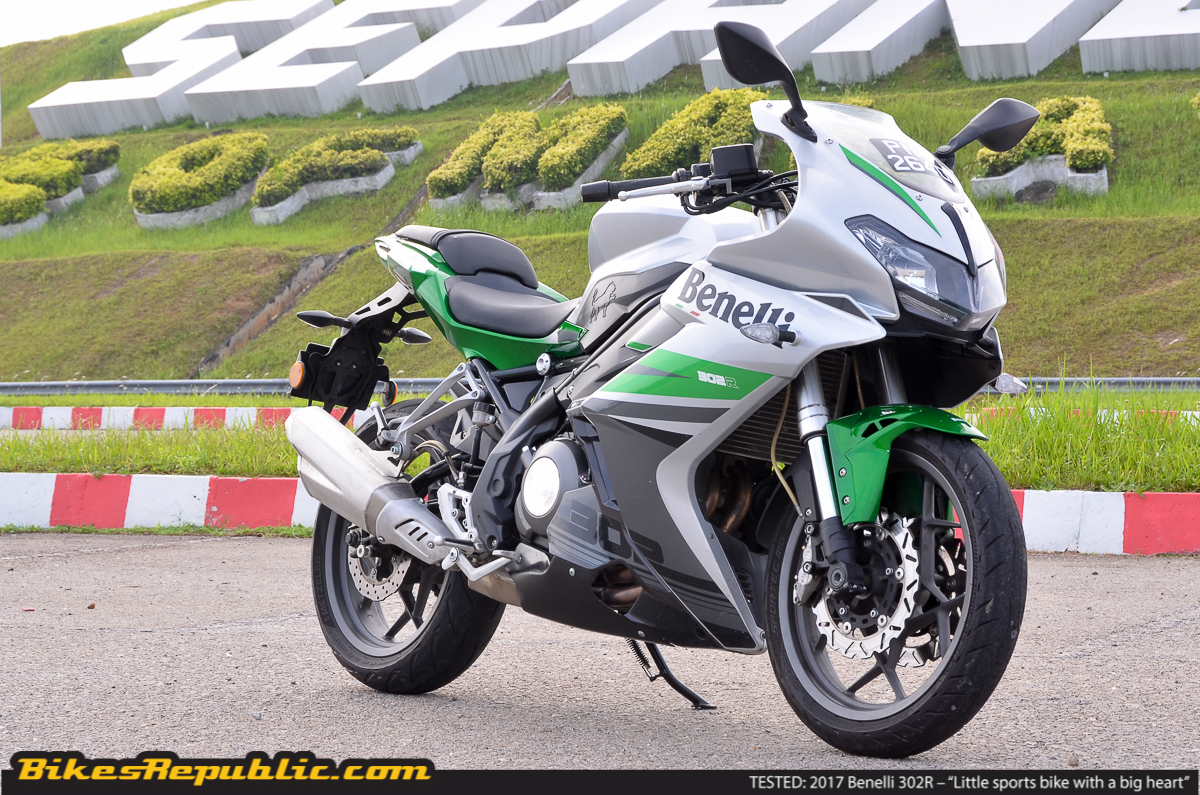 Looking at all the sports bike offering available here in good ol' Malaysia, a lot of people go through a lot of trouble and effort in finding out what would be the best choice for them. While there are a lot of options in the entry level sports bike segment, one of the most recent additions to that menu is the 2017 Benelli 302R.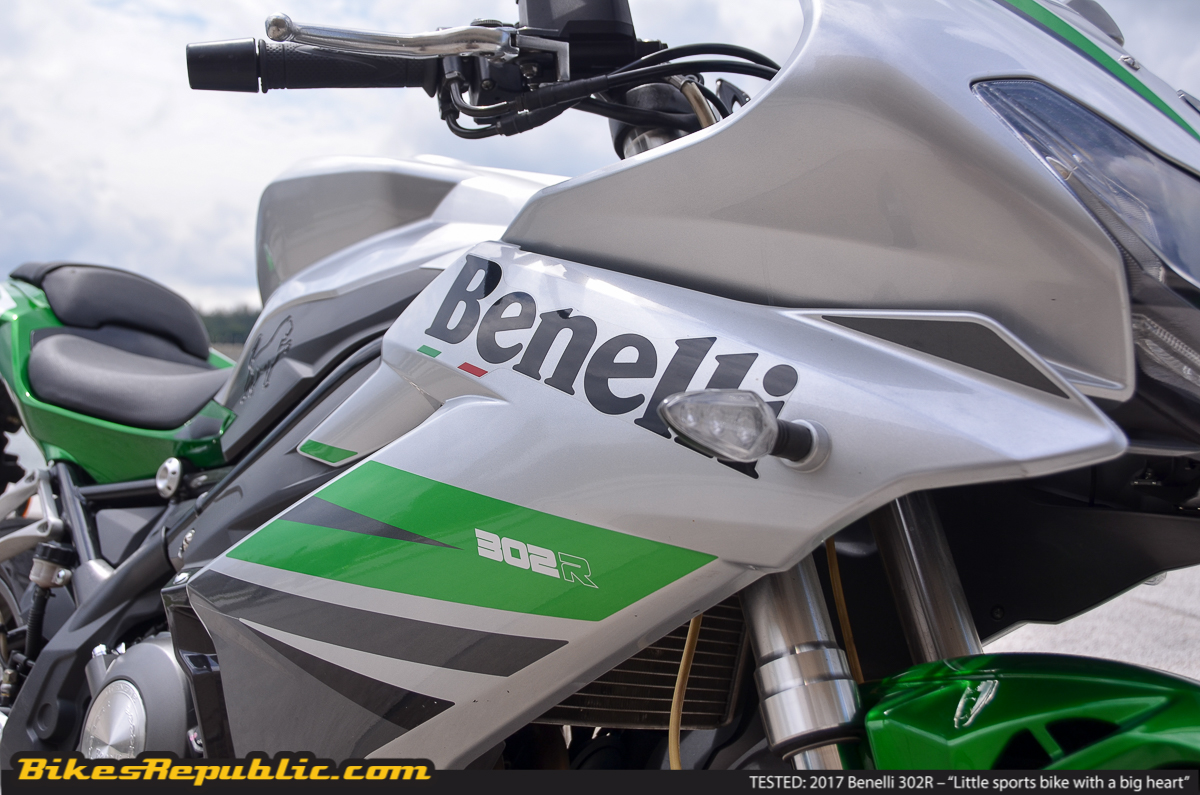 We were given the opportunity to really test out what the Benelli 302R feels like when it comes to different riding scenarios. At the same time, we would to address on the big question of whether it is worth it for you to get one of your very own.
When we picked up the bike at the Mforce Bike Holdings headquarters located in the heart of Kuala Lumpur, we've been told that the bike has picked up quite some miles as it had recently participated in the BERNAMA 50th Golden Jubilee Anniversary "Jelajah 1 Malaysia" Nationwide Tour. That was the perfect indication of testing the bike that has been put through its paces in a variety of real world riding scenarios but also how it compared to our first impressions when the bike was initially launched.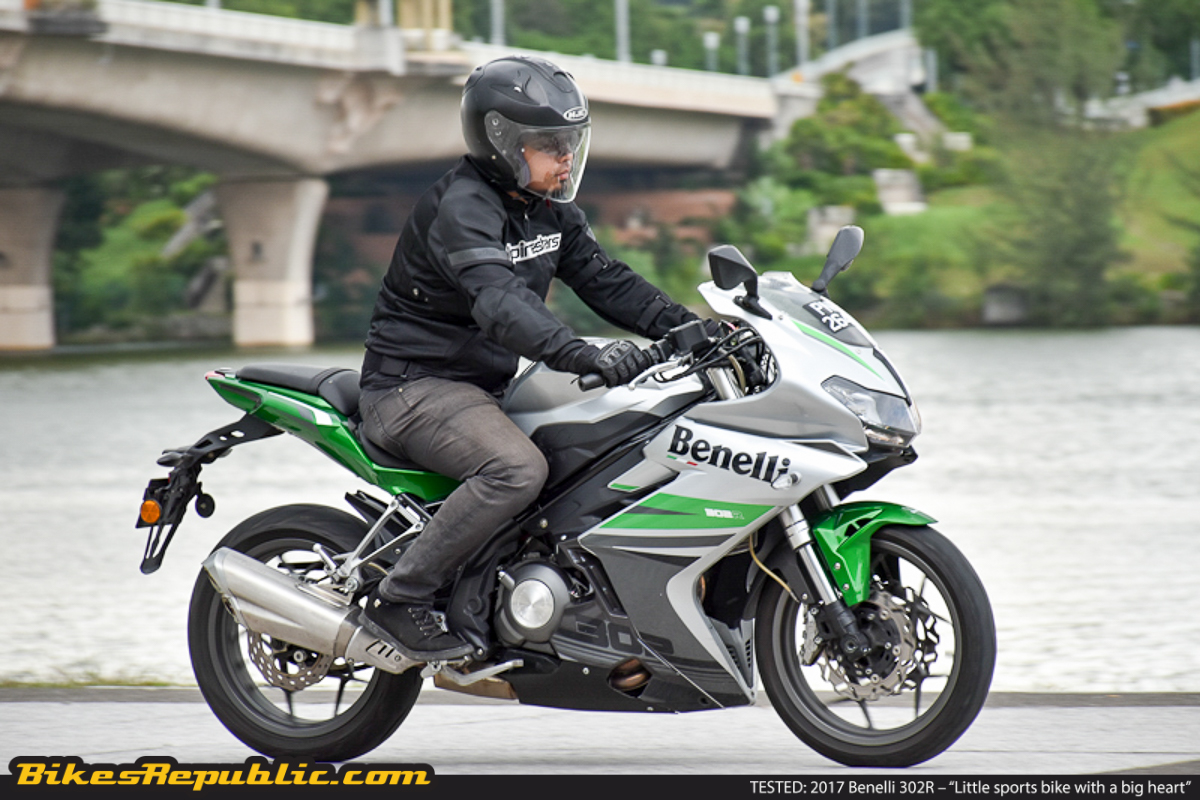 To know more about our first impressions of the 2017 Benelli 302R, CLICK HERE.
Looking at design, we can honestly say that the 302R has a combination of old school sports bike appeal at the front and as it flows to the rear, you will notice a lot of modern edges and sharp lines. In fact, we noticed a lot of big bike qualities when photographing this beauty from the rear which carries a lot resemblance to middleweight sport bikes. The Benelli 302R is indeed a beautifully-made machine.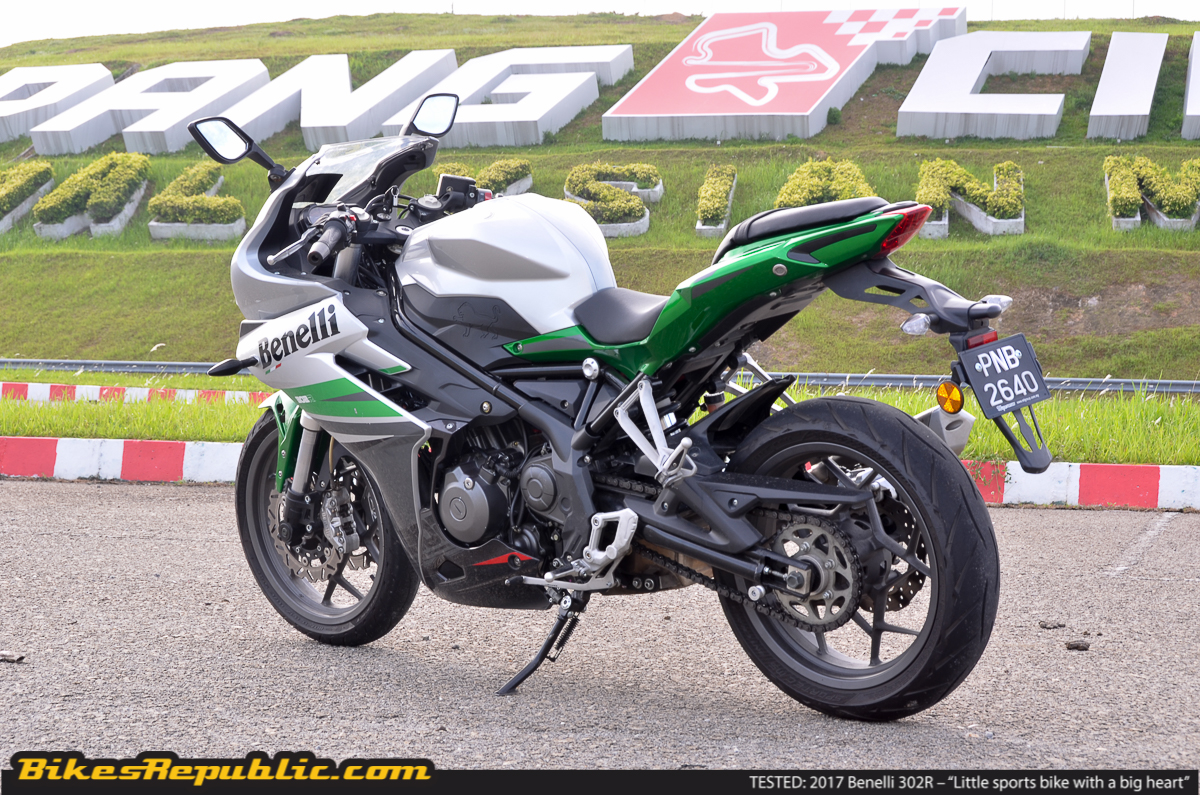 Several big bike parts are also found on the 302R. For example, the suspension package consists of a huge front upside-down telescopic fork with 120mm of travel plus a rear telescopic coil spring oil damped suspension with 45mm of travel. The ride was exceptionally smooth and not at all tiring unlike some entry-level sport bikes which sacrifice some comfort in order to keep the prices down.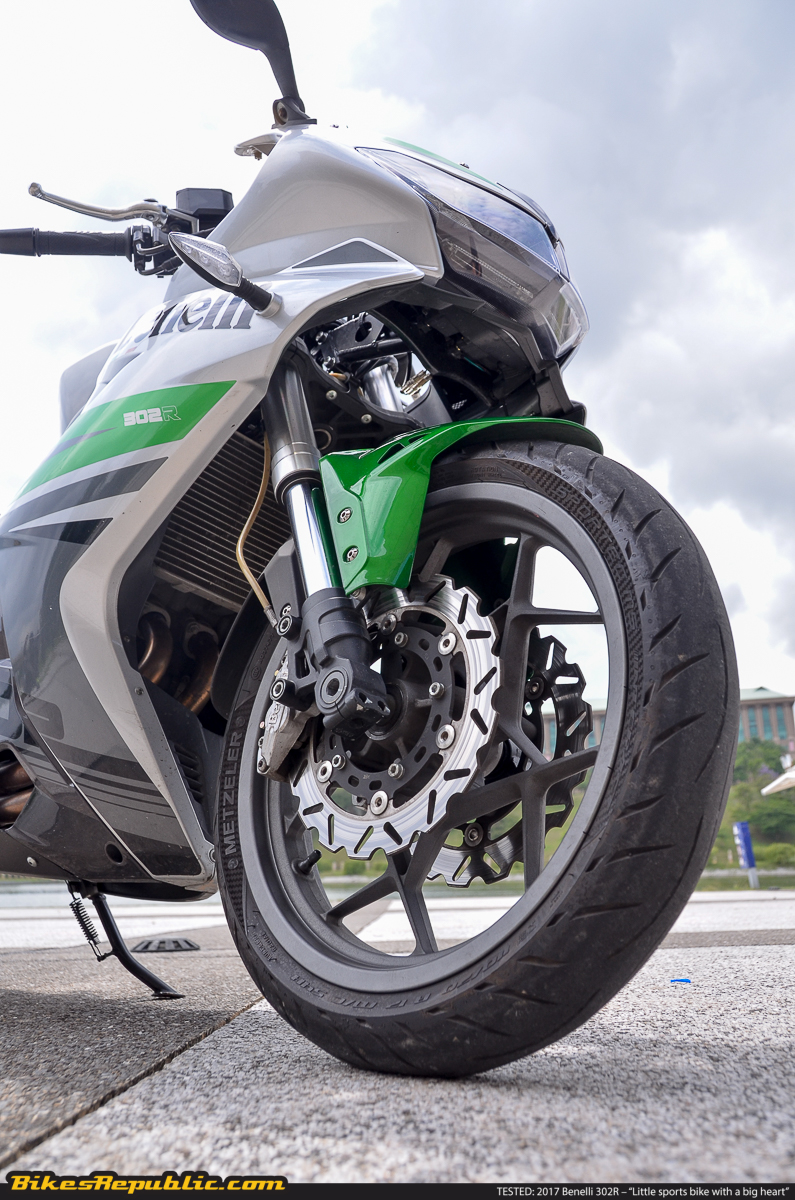 The brake package is also quite impressive for a low budget sports bike. The entire system consists of a pair of front 260mm disc brakes coupled with dual-cylinder callipers (plus a single rear 240mm disc brake) so stopping the 302R has been made easier without having to stomp on the brake lever. They also provide ample controlled stopping power whenever you need it which makes the 302R really good even for beginners.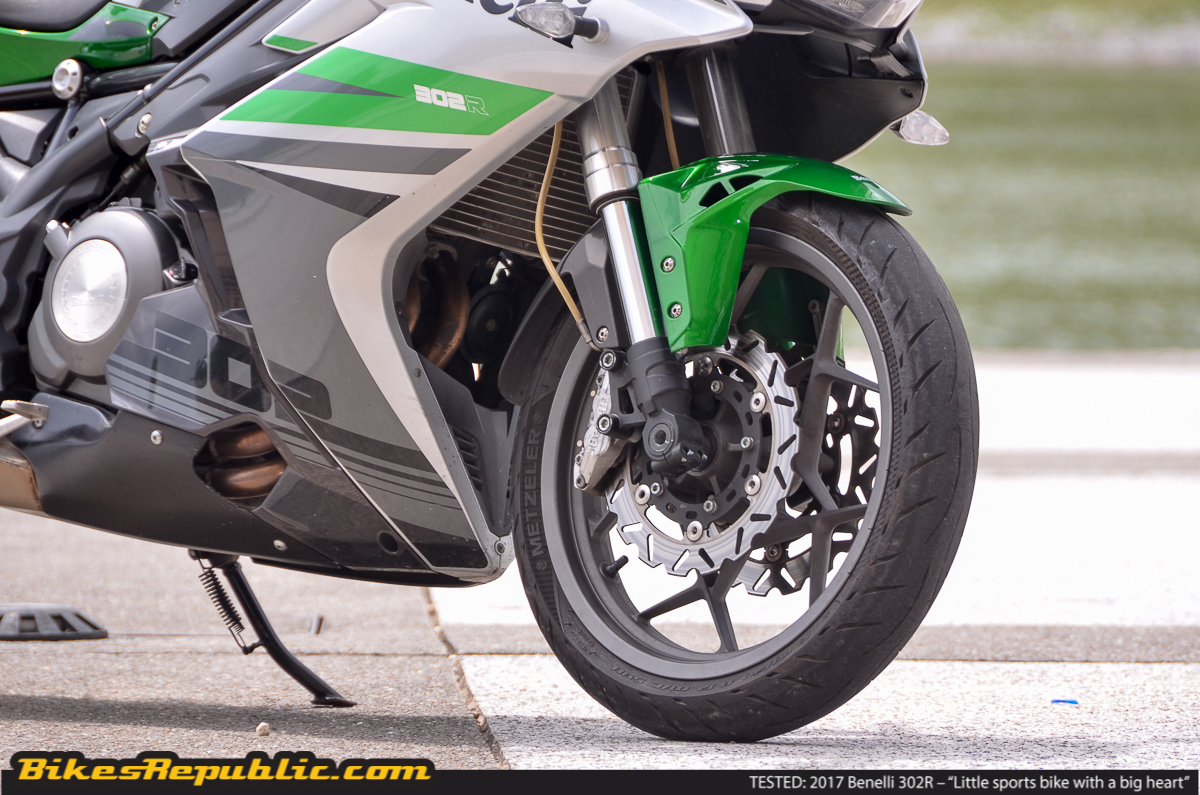 Moving on the main heart of the 302R; its 300cc twin-cylinder engine. Constructed with eight valves, double overhead cams and Benelli's latest fuel injection technology, the 302R produces a respectable 37hp at 10,000rpm and 27.4Nm of torque at 9,000rpm.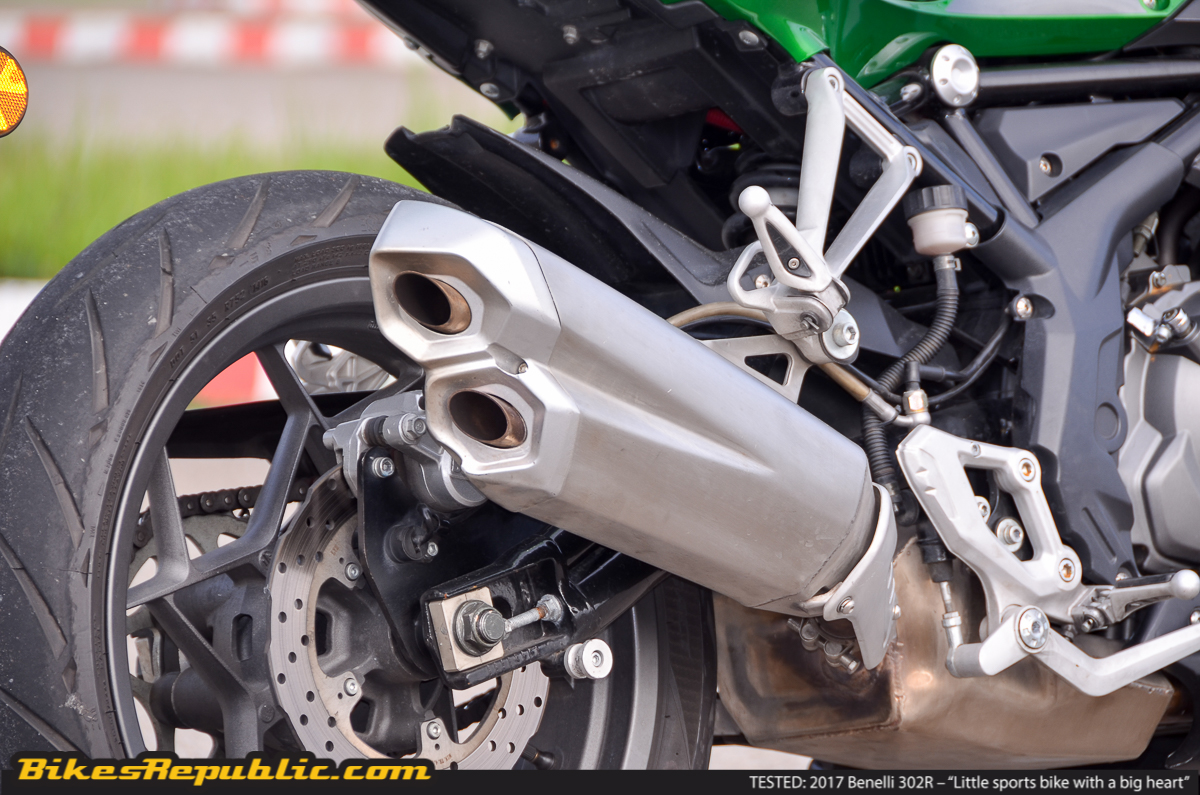 The 300cc engine has been tuned for a smooth and linear power delivery throughout the low and mid rpm range but it becomes a screamer once you rev it beyond 9,000rpm. It's not the fastest bike but it's indeed fast enough to put a small grin on your face. Paired with a seductive intake noise which is usually present in high performance bikes like the Kawasaki Z900 ABS, the Benelli 302R is certainly a fun machine to ride.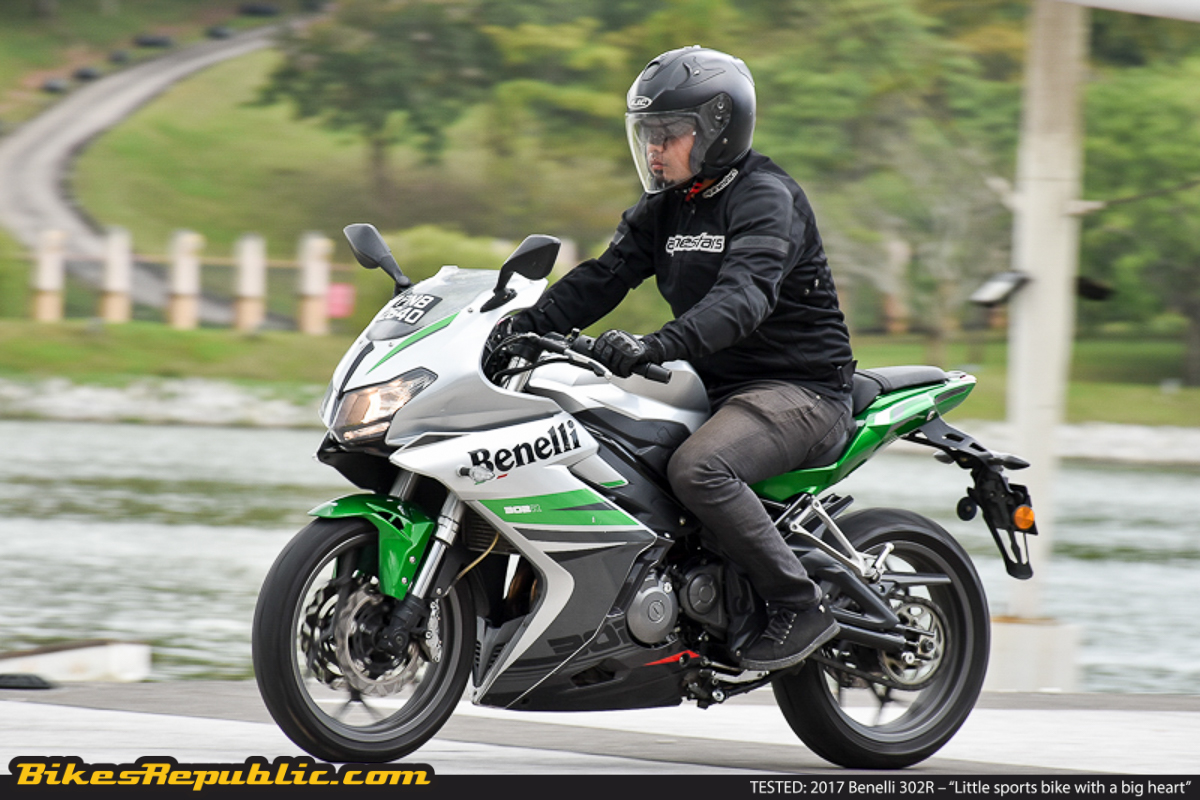 The acceleration was decent and it was quick to hit highway speeds. Due to limited time and space, we weren't able to test out the top speed of the 302R. We did however talked to one of its owners and he claimed that he has maxed out the bike around 193km/h before the RPM cuts off.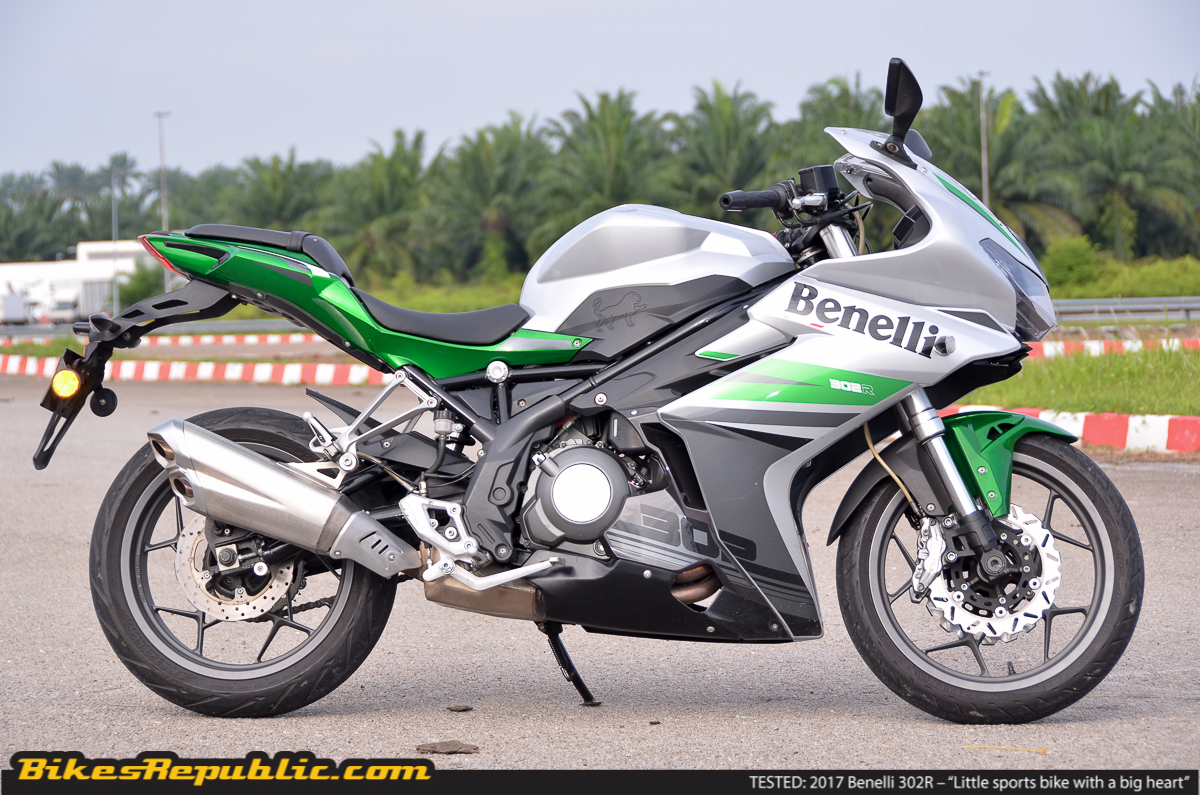 While working through its six-speed transmission, we noticed that it had the tendency to jump out of the fourth gear so you really have pull the clutch lever all the way in and shift gears efficiently in order to avoid any false neutrals from happening. Other than that, the gearbox is fairly easy to operate with no issues.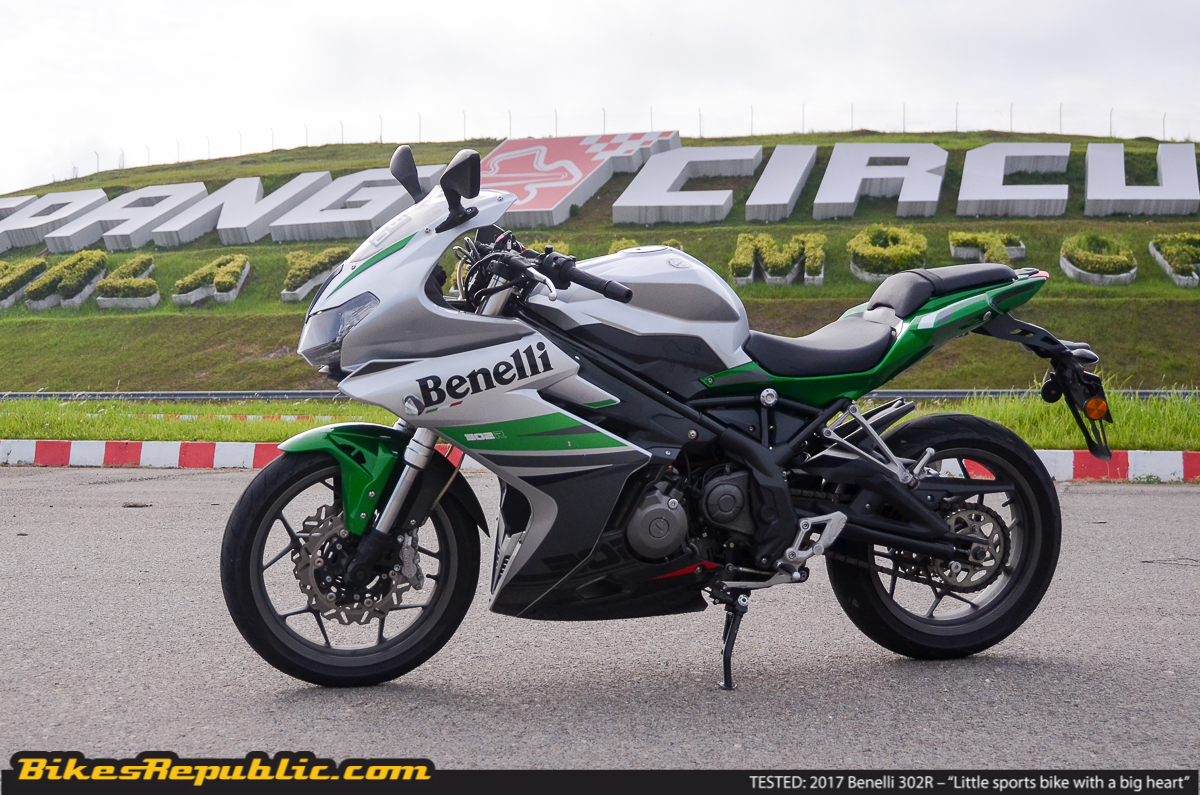 On a side note, we noticed that the handlebar especially on the right hand side vibrates ever so slightly but any tiny vibration being transferred to the arm for a significant amount of time will cause fatigue and discomfort to the rider. The same goes to the foot pegs but the vibrations are quite hard to notice if you're wearing any recommended riding boots or shoes.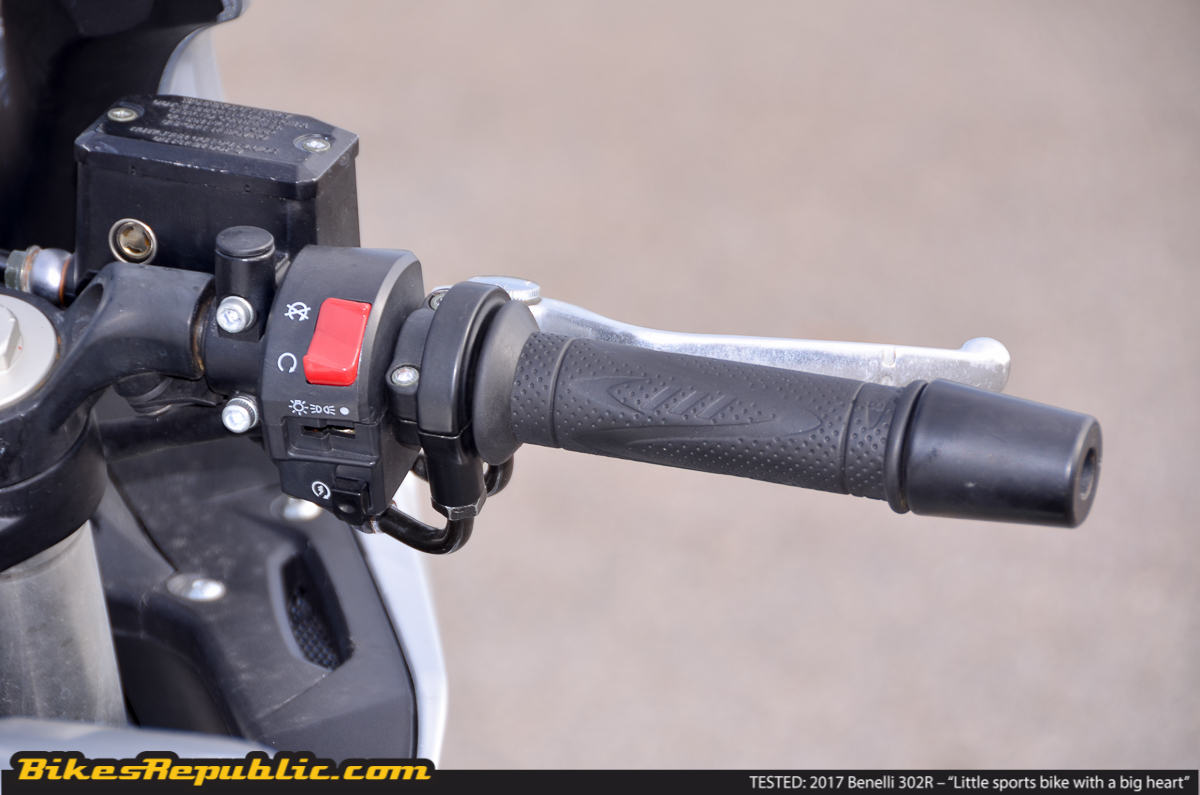 A pair of Metzeler rubbers was indeed a good choice made by Benelli as these tyres provide ample grip and smooth cornering capabilities around the bends. One would expect the 302R to be a fun machine to start off with when it comes to track day sessions even at big circuits such as the Sepang International Circuit. Just give it a couple of laps to warm up properly and you can have fun with it in smaller tracks like the ELITE Speedway in Subang or the Sepang International Kart Circuit.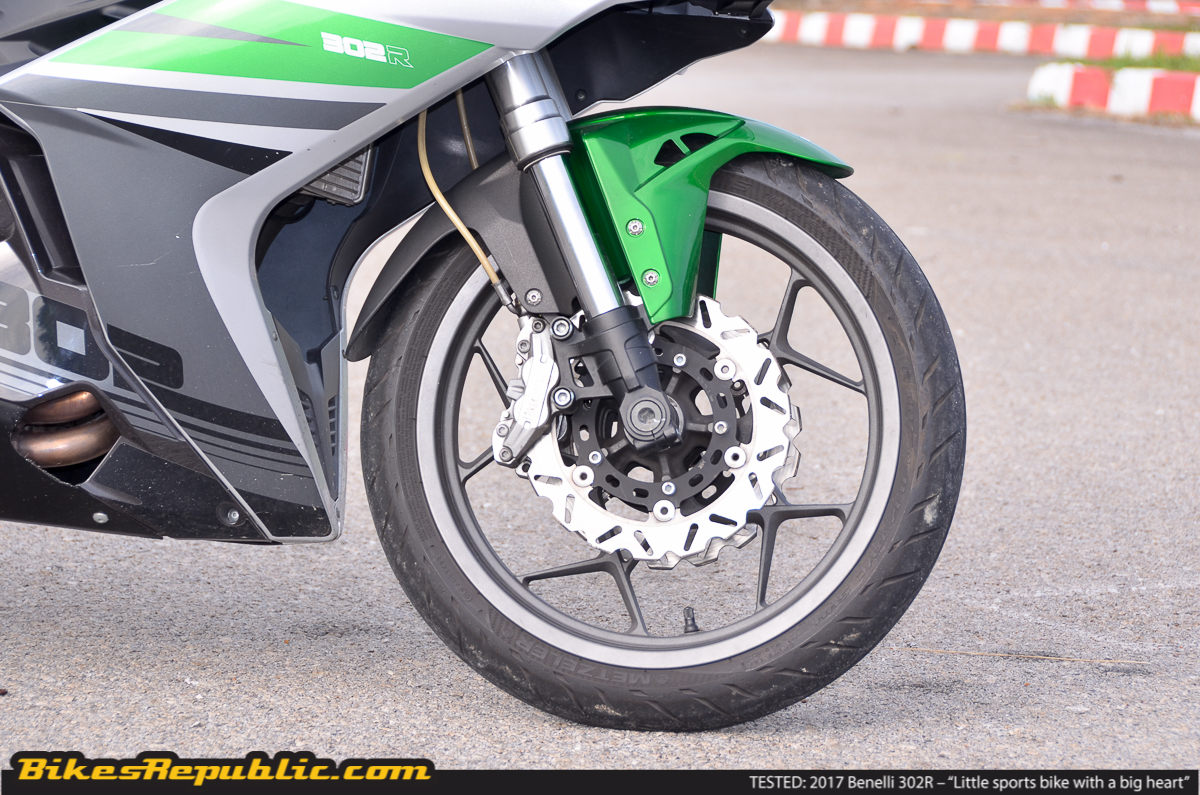 One significant aspect that we noticed after a week's worth of riding is that the 14-litre fuel tank is slim and long in design. Although it looks great and allows for great space to put your head down when blasting down the front straights, it did give an impression that it's a much smaller bike compared to the rest of the machine. Holding on to the tank with your legs requires a bit of practice due to its unique shape but after some time, you'll be hanging off of it like Maverick Vinales when getting your knee down around the track.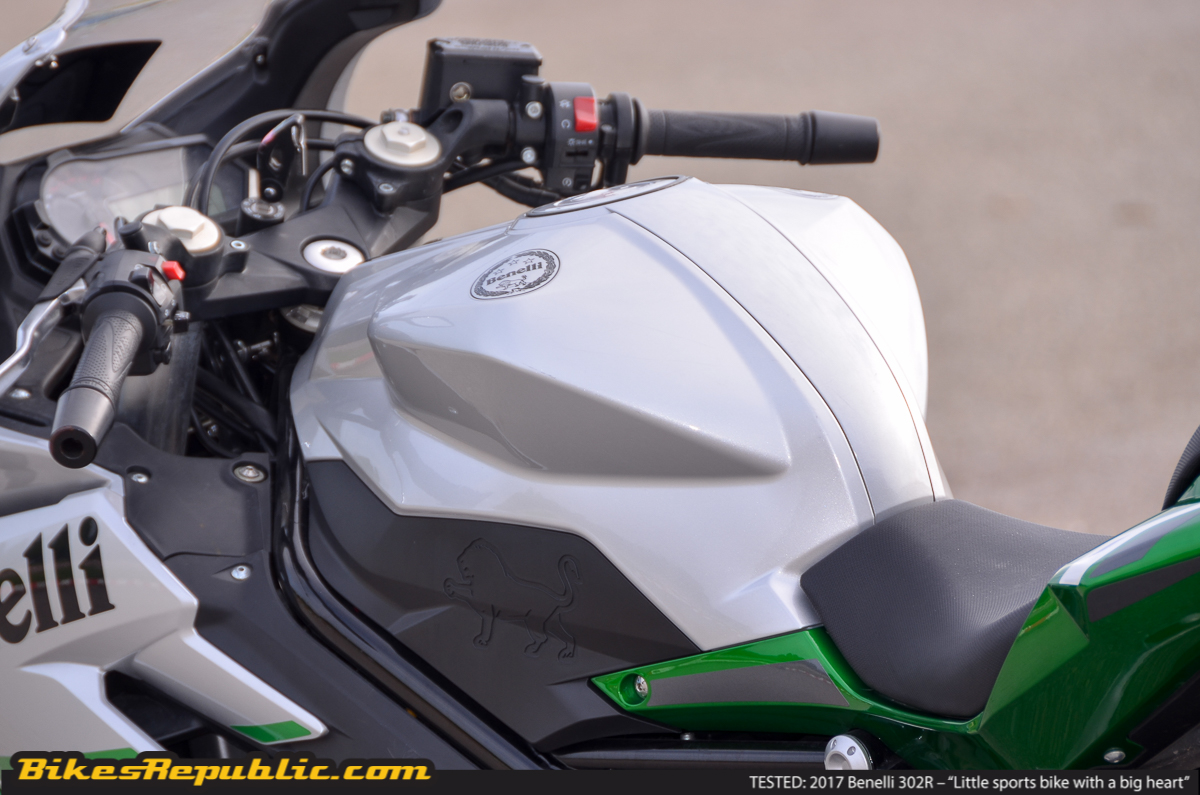 All in all, we think the Benelli 302R is a fun package when it comes to entry-level sport bikes. Priced at a very affordable RM21,888 (basic price without GST), purchasing your very own 302R won't burn a big hole in your wallet either.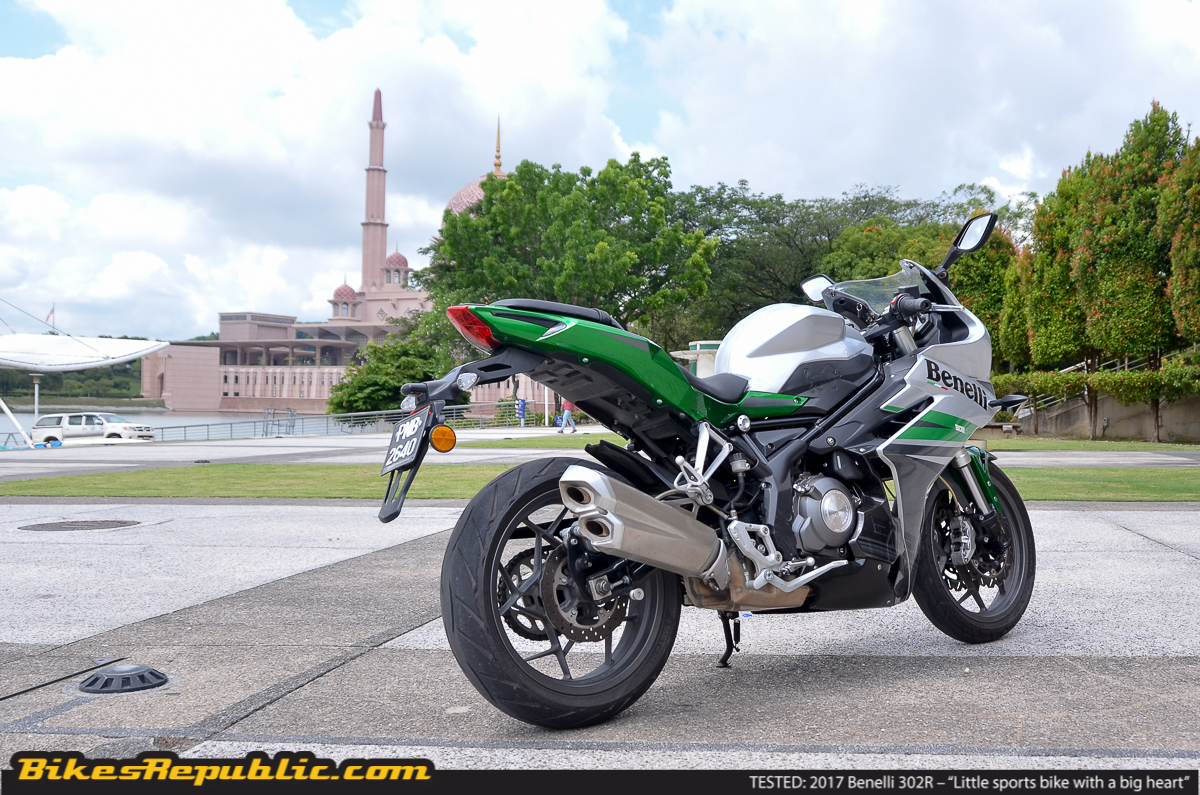 While we think it's a decent entry-level sports bike to own, those who have their eyes on this particular model will also have to invest some time and money in obtaining a B Full license as it is after all a 300cc motorcycle. Good bike, great design, respectable performance and reasonably priced. All the good things Malaysians are always looking out for, right?
To check out the complete specification of the 2017 Benelli 302R, CLICK HERE.