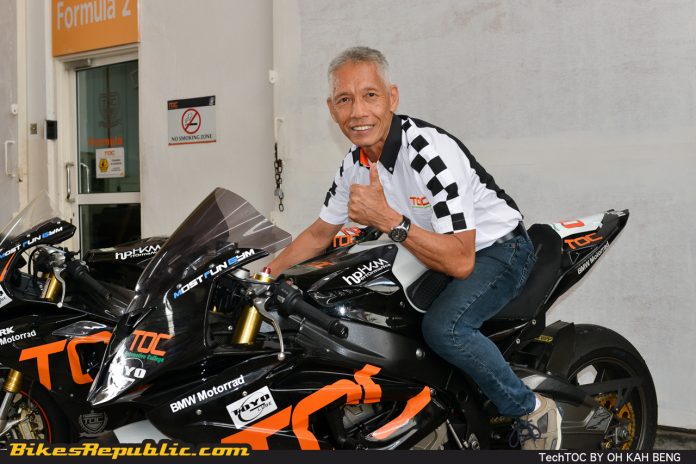 Our new column, TechTOC with Foreman Oh seeks to assist you with your technical questions or issues with your motorcycle.

The winning question earns the sender a complimentary session at Most Fun Gym (MFG) worth RM300.

Prizes are also available for 2nd and 3rd placed questions.
We have been featuring the TechTOC with Foreman Oh column for a couple of weeks now and we've received a few interesting questions. Please click here for the first and here for the second column.
We've received many enquiries from our readers and followers in the past and although we attempted to answer every question, we couldn't answer all due to our heavy schedule and time constraints.
But we now have "Foreman" Oh Kah Beng, also known as "KB" among his friends and "Sifu" by his students (us included).
We've featured KB and his current Most Fun Gym (MFG) motocross school extensively, as we discovered that riding in the dirt has immensely improved our riding skills. Please click on the link below about MFG.
As we've also written before, KB was the very first Malaysian GP rider, who raced on classic race bikes such as the two-stroke TZ750 against other GP greats such as Wayne Gardner and Ron Haslam. And won. Please click on the link below to read more about KB.
To refresh, KB has now been appointed as the Motorsports Consultant at the TOC Automotive College (TOC) due to his racing, wrenching and coaching background.
Not only that, the riders and even the mechanics of the TOC-HKM Toyo MSBK team are undergoing MX training at MFG in order to upgrade their skills.
So, since TOC and KB are providing motorcycle-based training, who better to answer your questions than the legendary Foreman Oh Kah Beng himself.
But it gets better, because in the interest of training more riders the fundamentals of handling a motorcycle:
The winning question receives a complimentary training session at MFG, coached by KB himself. Don't worry about the motorcycle and equipment, as MFG will loan you the appropriate riding gear from head to toe and put you on the bike corresponding to your skill level. The package is worth RM300. Yes, absolutely free!
The 2nd-placed question will win you 2 tickets to the 2018 Pirelli Malaysia Superbike Championship (MSBK).
The 3rd-placed question will earn you a coveted Most Fun Gym t-shirt.
Please send in your questions now (PM us at https://www.facebook.com/BikesRepublic/), but please be specific about the issue(s) you are facing, and include your full name and your city of residence. So, start typing!