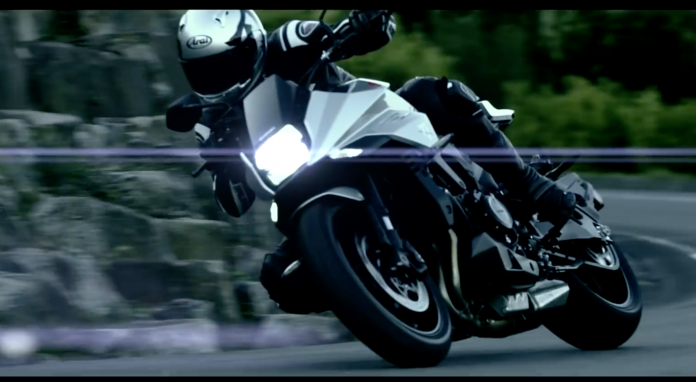 The new Suzuki Katana is finally revealed in the fourth and final teaser video.

It appears Suzuki have learned their lesson with the later Katanas and have now returned to the bike's ancestor.

The bike will be officially launched at the Intermot show which starts on 2nd October.
The sword has been unsheathed: The Suzuki Katana finally appears in the final teaser video.
It is apparent from the video that Suzuki is going back to the original 1980 GSX1100 Katana's design. That's certainly wonderful news as the later Katanas were so ugly they earned the "Kan-O'-Tuna"  pejorative.
Besides, if Kawasaki can go modern retro with their Z900RS, surely Suzuki can too since it was the classic Katana which revolutionized motorcycle design, anyway.
The original GSX1100 was the work of BMW's ex-Design Chief, Hans Muth. He gave not only the BMW R90S and BMW R100S the distinction of being the first faired production bikes.
It was said that he approached BMW with a concept called "79 Target Design" but was turned down as being too funky. So, Muth brought the design to Suzuki instead and it became one of history's most iconic motorcycle.
The 1980 Katana's design changed the convention of motorcycle styling. Apart from the angular bodywork, the "tank/body interface" where the downward sloping line of the rear part of the fuel tank join the forward portion of the seat.
So, heritage is all good and dandy, but where do we go from here?
The new bike's design still retains some of sharp panels but a little more rounded to feel more contemporary. The silver-coloured bodywork is then mated to a blacked-out frame, engine and swingarm. The seat looks to be a stepped one-piece design, although the more observant among us would probably question the lack of a dual-tone seat.
The exhaust has also gone single-sided instead of exiting on both sides.
The handlebar appears to be high and wide. The rider's knees seem to be pushed wide apart at the fuel tank. These points may allude to a seating position that's halfway between a all-out sporty crouch and a totem pole-like upright.
Well, there's just four days to got to the Intermot show when this went to print. We are just as curious as you about the technical specs of the bike.