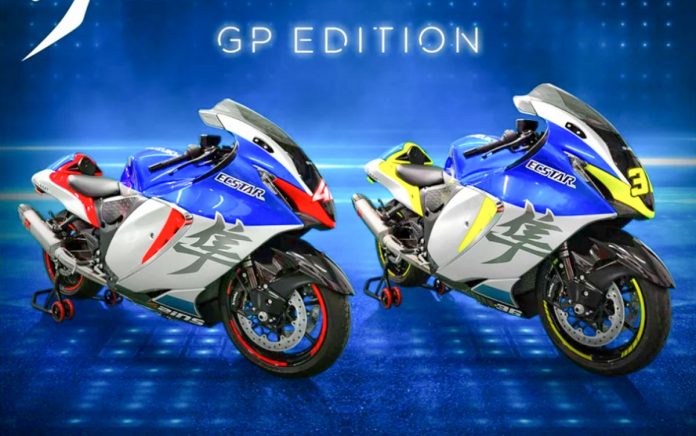 Suzuki is set to showcase two unique Suzuki Hayabusa clad in a special livery inspired by the firm's GSX-RR MotoGP racebike in Turin next week. 
Suzuki to unveil Hayabusa GP edition in Turin.
The Hayabusa GP edition will sport GSX-RR livery.  
The Japanese firm is set to exit the MotoGP world championship at the end of the 2022 season after announcing its plan to relocate the fund towards sustainability.
Although the news shocked every motorsport fan worldwide, especially Suzuki fanboys, the Hamamatsu factory could breathe easy knowing they've shown the world their capabilities after winning the MotoGP world championship just recently as 2020 with Joan Mir.
Now that the official confirmation is out, Suzuki is set to bid farewell to the competition by unleashing two unique Hayabusa's. 
The Japanese marquee will appear at the Autolook Week Torino festival in Turin with two distinctive Suzuki Hayabusa GP Edition. 
The two Hayabusa features team Suzuki Ecstar GSX-RR inspired liveries, including the prominent blue and silver colourway and fluorescent red and yellow. 
 However, it is still unclear whether the two motorcycles will make their way to production or will be a one-off effort by Suzuki.