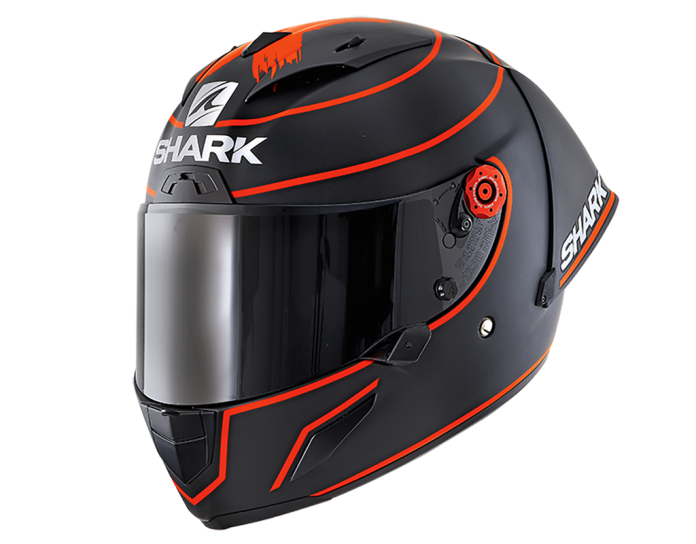 The SHARK Race-R Pro GP helmet is designed for ultimate protection.

It is also FIM certified for competition use.

The same technology for MotoGP is available for consumers.
We published the story of the SHARK Race-R Pro GP helmet saving Miguel Oliveira's life in a horrific 300 km/h crash yesterday. We thought we ought to share a little bit more about something that's proven to save bikers' lives. Here are the 10 points on why it's the ultimate head protection.
Please click here for Miguel Oliveira Survives 300 km/h crash
1. FIM Certification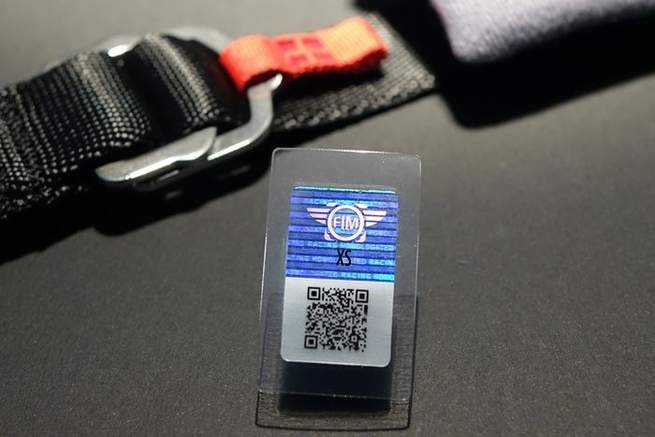 The helmet has passed the stringent FIM certification, hence allowed in all FIM sanctioned racing events including — but not limited to — WorldSBK, Endurance World Championship, Moto3, Moto2 and MotoGP. The FIM standard was introduced earlier this year to streamline helmet testing, although virtually all helmets allowed on the international stage conform to the UN ECE 22.05 standard.
The positive side to the FIM certification is that consumers will also benefit from the same technologies used in professional racing.
The helmet is listed in the FIM helmet homologation list as of 25th January 2019, and obtained the  FIM FRHPhe-01 2018 certification.
2. Same as race helmet
The SHARK Race-R Pro consumer helmet has the same construction as the race helmet, except for custom fitting for individual riders. This means a MotoGP rider could buy the helmet at a shop and wear it in racing. Again, this is a clear benefit for us mortals.
3. COVA construction
The helmet used SHARK's proprietary COVA (carbon on-view and aramid) construction. The advantages are lightweight, while being resistant to compression and abrasion, besides being effective at shock absorption and preventing delamination.
4. Multi-density EPS liner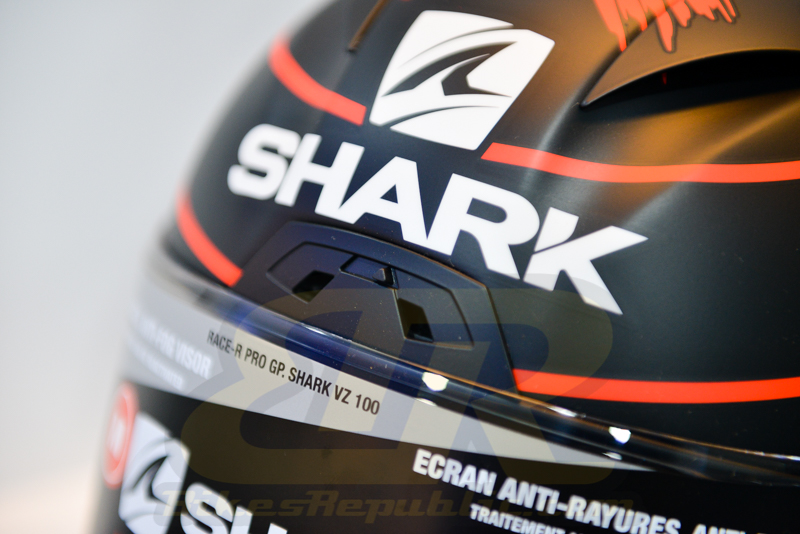 Using a multi-density EPS (expanded polystyrene) liner means optimum protection at different impact zones. For example, the forehead area usually hits the hardest so a denser EPS is used.
5. Dual-density EPU chin guard
The chin guard is also protection, but by using dual-density EPU (expanded polyurethane). Polyurethane is a rubber-like material and is specifically designed to reduce shock reverberating around the chin area.
6. Air pollution filter
The chin guard not only has a dual-density EPU liner, but the vent also has a variable airflow air pollution filter. The filter is removable if the rider want all the airflow on a hot day.
7. High-strength visor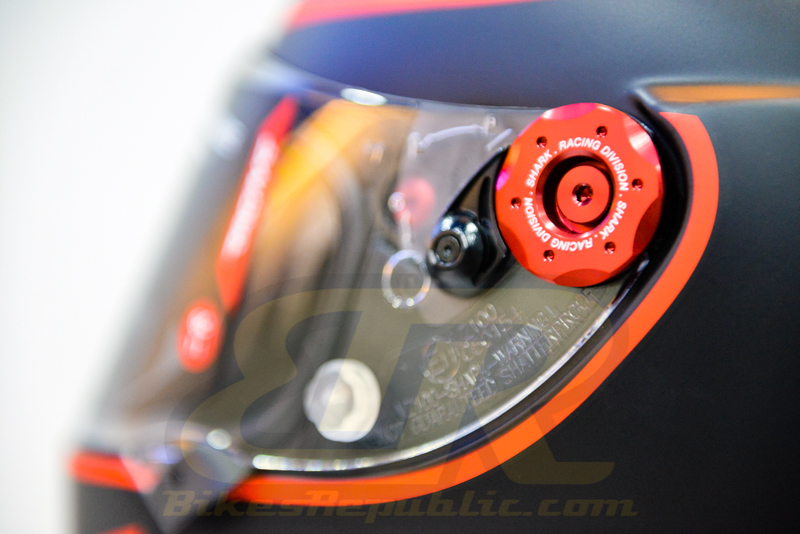 The visor is all important in ensuring the safety of the rider's eyes. The helmet's visor is not only of high strength but also features Class 1 optical rating, although it has variable thickness between 4.2 mm to 2.8 mm. The optical rating means that vision is not distorted. Additionally, it is rated to prevent scratches and fogging. The visor is attached to the helmet via a secure but quick disassembly mechanism, just like those in MotoGP.
8. Ergonomic visor grip
The visor lock mechanism is placed in an ergonomic position for easy reach and operation. It also locks the visor securely.
9. Aerodynamic spoiler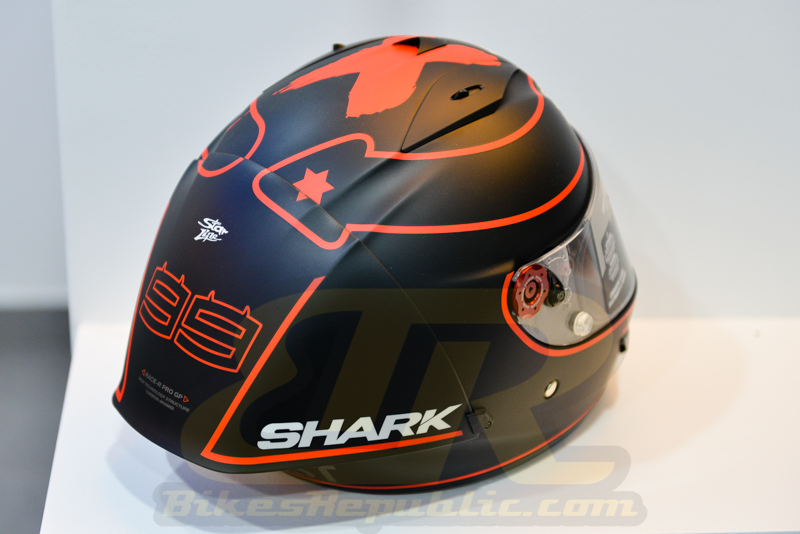 The rear spoiler provides supreme stability even at speeds above 340 km/h, as we regularly see in MotoGP. By stability it means the helmet doesn't shake or move around at high speeds. It did look funky at first but it's already grown on us.
A direct result of good aerodynamics is a quiet helmet.
10. Quick Spoiler Safety System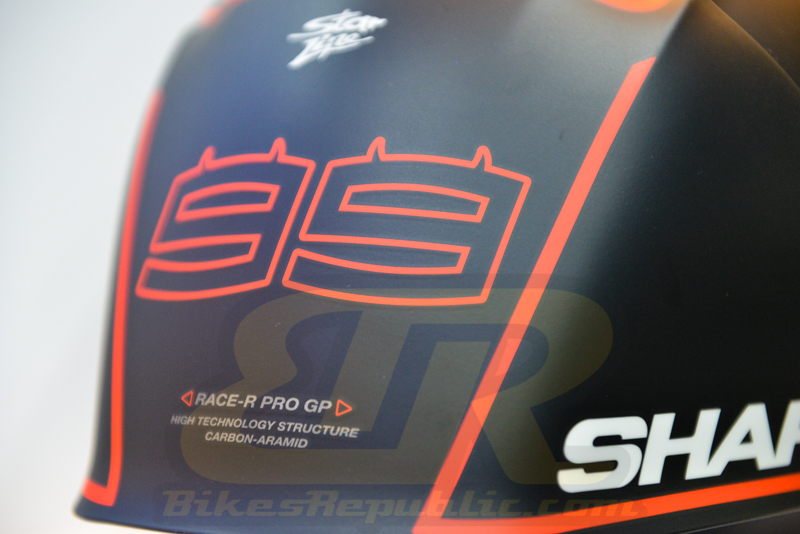 However, the spoiler is designed to detach quickly in the event of a crash. This is to avoid introducing secondary shocks to the rider's head.
You can check out the helmet at our Power Store in Kota Damansara, and order it through our BikesRepublic e-commerce platform.