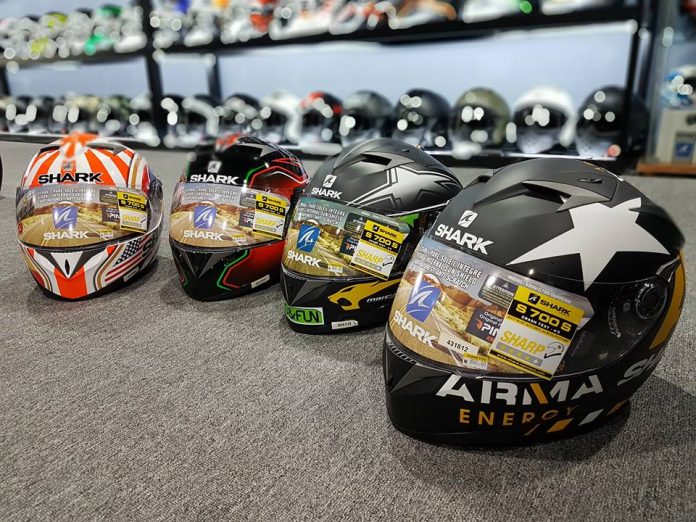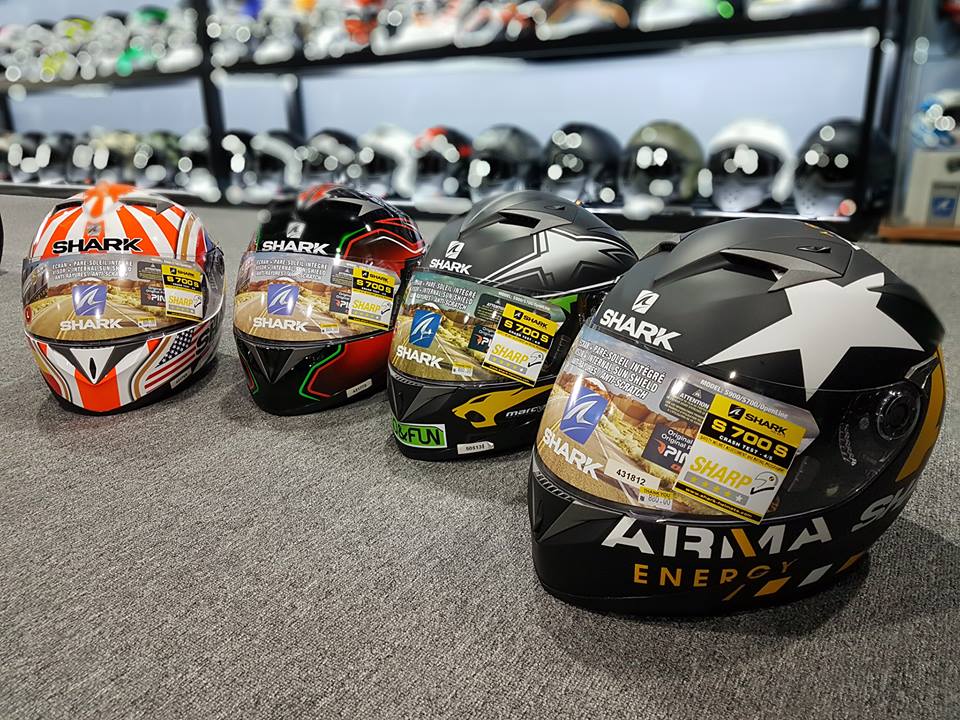 Two models of the Shark Helmets available at the Spartan Concept Store, Sunway are currently on offer at great discounts.

The Shark S700-S full face helmet retailing between RM840 to RM880 is at 35% off.

The Shark Speed-R Carbon Series 2 is at 40% off.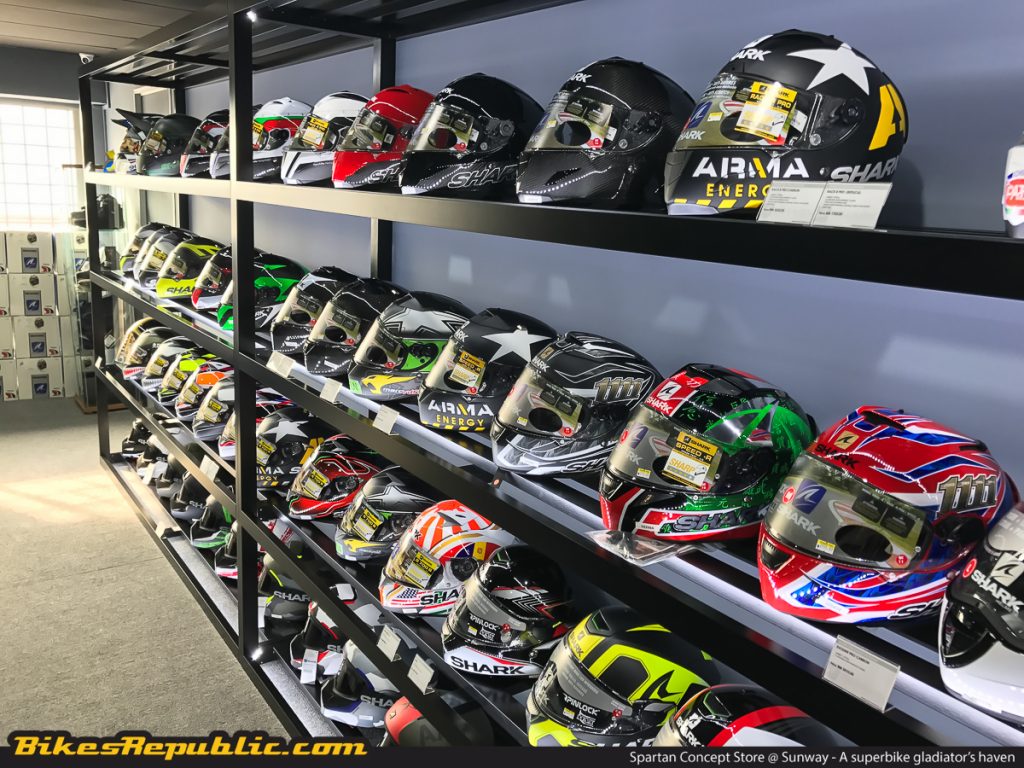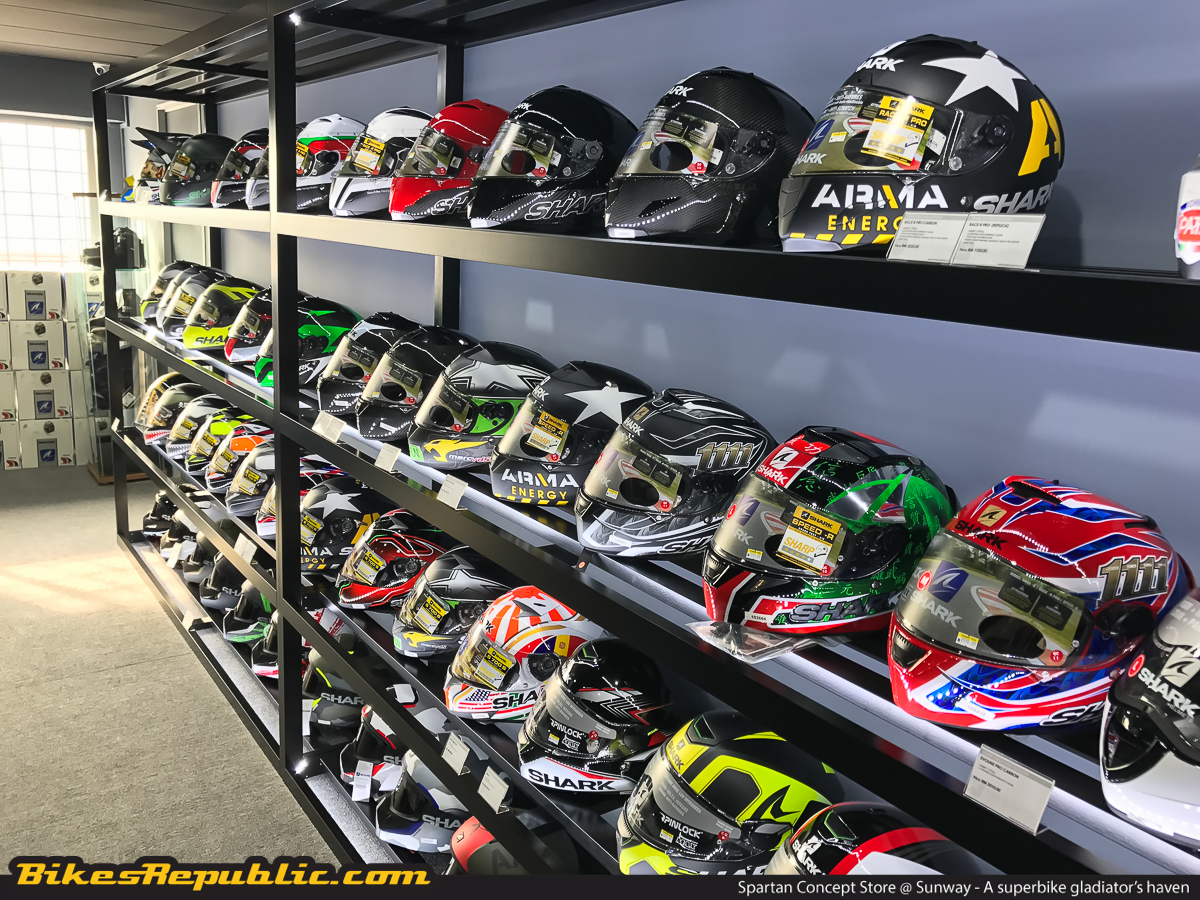 Great news for all Shark Helmets fans and enthusiasts! The Spartan Concept Store located in Sunway is offering two of their full face helmets at discounted prices; the Shark S700-S and Shark Speed-R Carbon Series 2. The S700-S retailing between RM840 to RM880 is on offer with a 35% discount and the Speed-R Carbon Series 2 comes with a 40% discount.
The Shark S700-S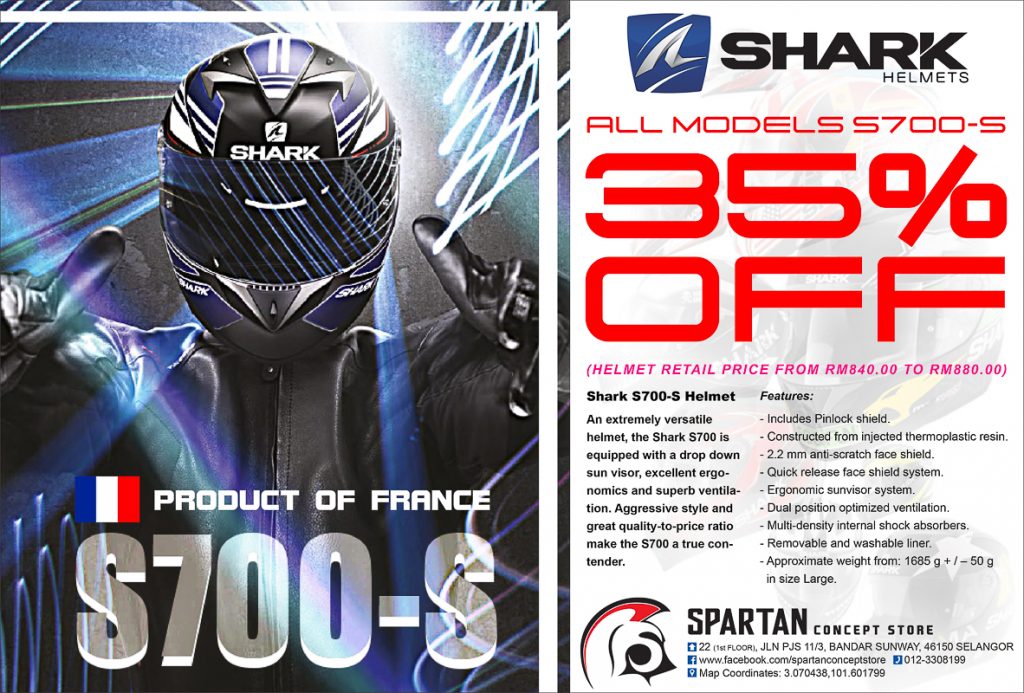 The S700-S is an extremely versatile helmet that started out life as a suitable choice for those looking for their first full face helmet at an affordable price. Equipped with a drop down sun visor, it's more user-friendly and easy to operate even while riding on the bike.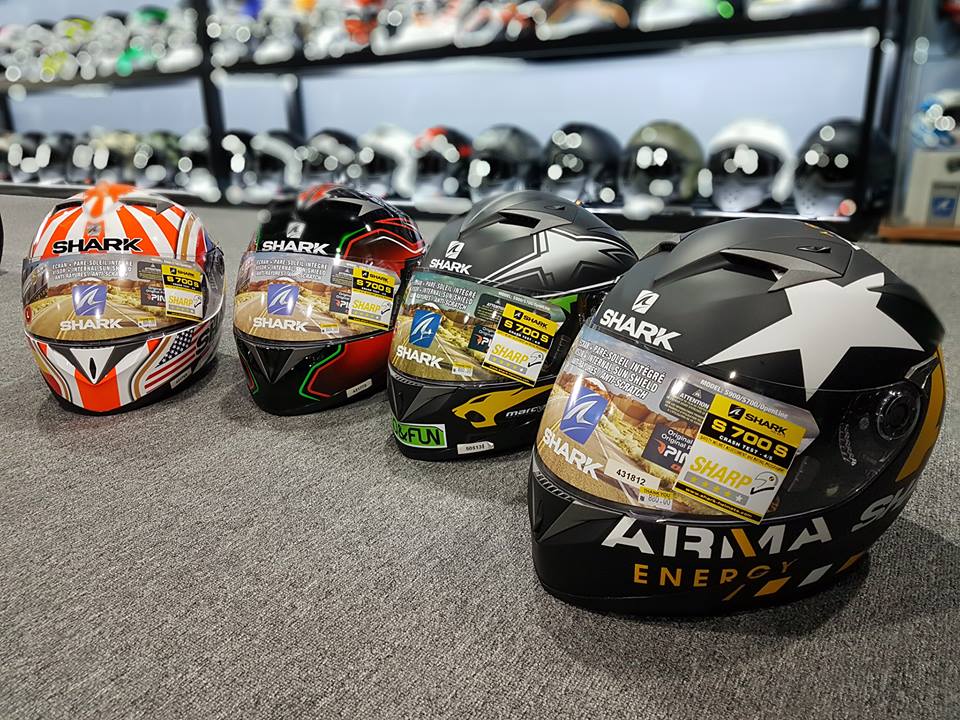 With an aggressive design, the helmet is constructed using injected thermoplastic resin with an approximate weight of around 1,685grams (size large). Together with multi-density internal shock absorbers and dual position optimised ventilation, the S700 is both tough and comfortable.
The S700-S also comes with Pinlock shield on its 2.2mm anti-scratch face shield with a quick release face shield system for ease of replacement or cleaning. While we're on the subject of cleaning, it also has removable and washable liner that can be removed and cleaned easily after a long and sweaty day of riding.
The Shark Speed-R Carbon Series 2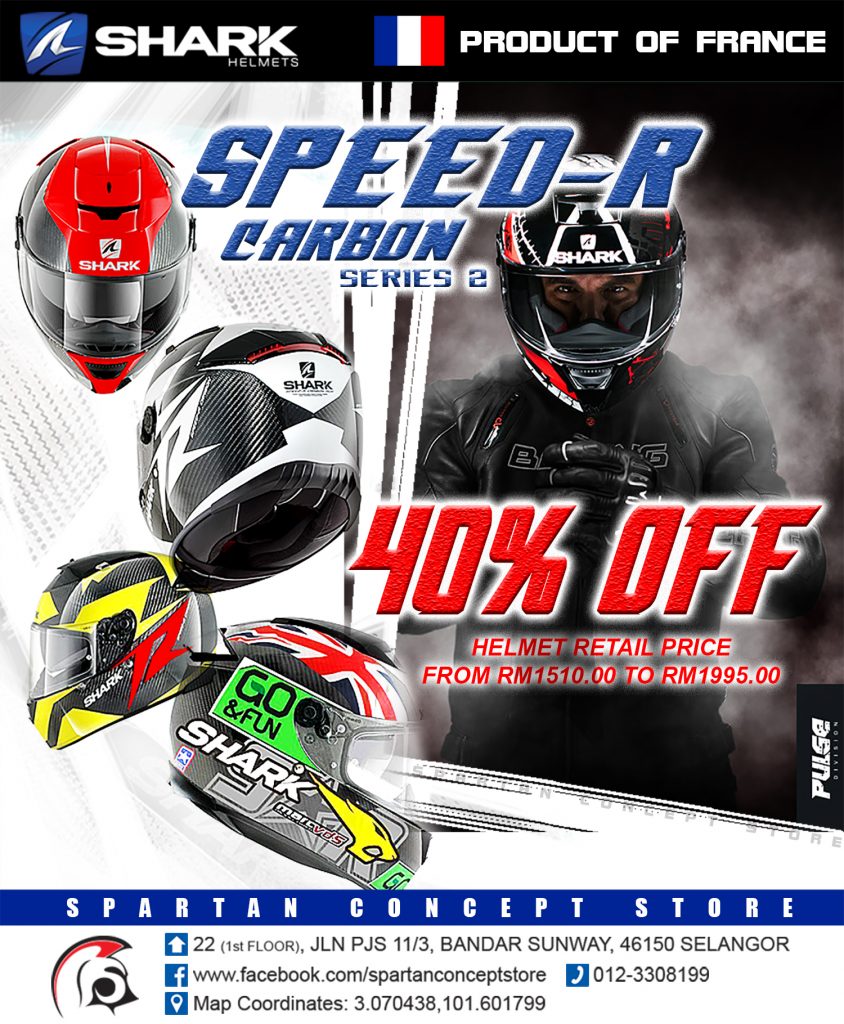 Once the top of the line helmet from Shark, the Speed-R Carbon is still considered by many as one of the most comfortable and stylish helmets available in the market to date. Looking at the overall design (especially that double-blade spoiler) shows signs of great performance and aerodynamics which have been tested in wind tunnels.
Constructed with carbon aramid fibre and multiaxal glass fibre, the intermediate oval shaped helmet is super lightweight and strong as well. There are two shell sizes available to cater to most head sizes and shapes and we're confident you'll find one that just nice at the Spartan Concept Store, Sunway.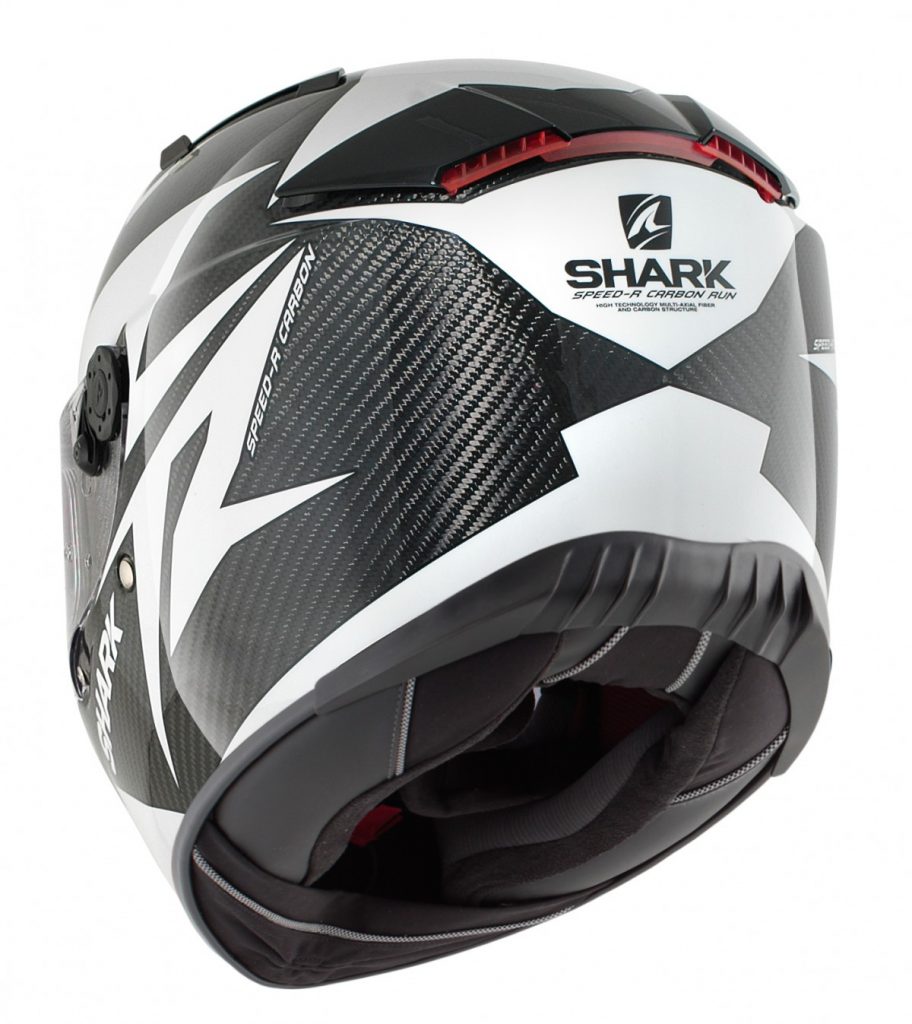 Inspired from the track, it also features quick change anti-fog and anti-scratch face shield which is readily-equipped with MaxVision Pinlock system. The Speed-R also comes with a drop down internal sun visor for ease of use but if you prefer to use your own glasses, the liner comes with Shark Easy Fit to accommodate your eyewear.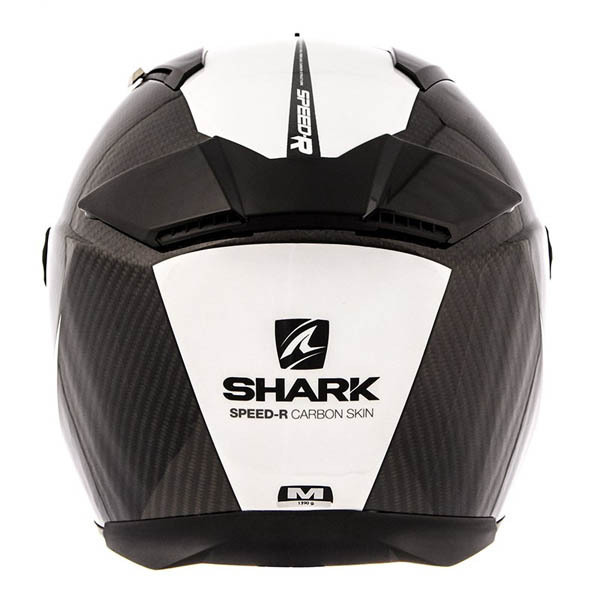 Widely considered as the best 'bang for the buck' helmet with superior levels of comfort and safety, you can't go wrong with the Speed-R Carbon Series 2. Together with a 40% discount offered by the Spartan Concept Store in Sunway, all the more reason to get one today!