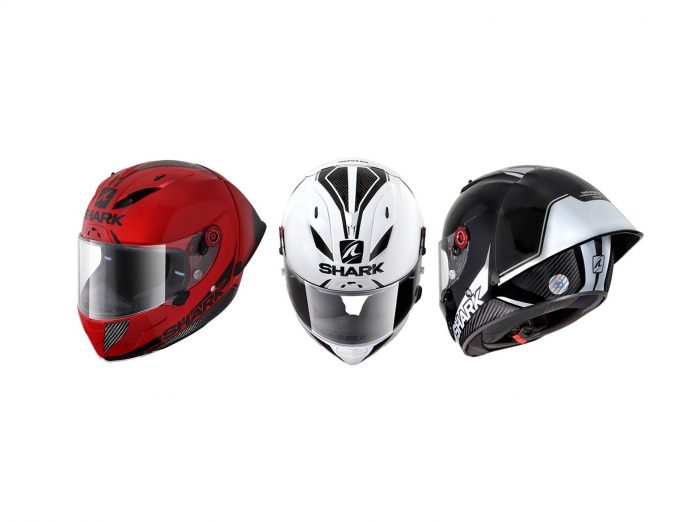 SHARK Helmets released three limited-edition SHARK 30th Anniversary Race R Pro GP helmets.
All three make up a total production run of only 1989 helmets.
The 30th anniversary models have more features on top of the already flagship Race R Pro GP.
French helmet maker SHARK Helmets launched three limited-edition SHARK 30th Anniversary Race R Pro GP helmets.
They are available in 3 special colours, for a total number of 1989 units. They are Red Carbon Black, Black Carbon Pearl and White Carbon Black.
The SHARK Race R Pro is the helmet worn by MotoGP riders such as Jorge Lorenzo, Johann Zarco and Scott Redding.
The three models are named "Carbon" because they are built in carbon fibre. SHARK uses the next-generation Carbon on View and aramid (COVA) structure to increase compression and abrasion resistance. Because it's made of carbon fibre, the helmet is also light to reduce neck muscle tension.
Its distinctive shape was derived through the use of Computational Fluid Dynamics (CFD) technology and gaining feedback from the riders. The result is a helmet that boasts the best possible aerodynamic efficiency at top speeds to minimize drag and vibration for maximum stability.
The large spoiler at the back of the helmet uses a "Quick Spoiler Safety System." It detaches the spoiler in a fall to minimize the effects of secondary shocks.
Speaking of shocks, SHARK Helmets employ multi-density Expanded Polystyrene (EPS) in different zones of the helmet for optimal damping.
The comfort lining uses new "3D morpho" cheek contours for maximum comfort and support. The lining is removable for washing and uses the "Alveotech" anti-bacterial treatment to prevent bacteria growth i.e. cuts down on smell.
SHARK helmets are known for their quietness. To do so, they employed memory-shaped ear pads, wrap-around neck protection plus the anti-fog breath guard which blocks background noise.
Last but not least, the Race R Pro GP has a "SHARK Racing Division" laser engraving on the visor mechanisms, neck protection and titanium-coated double-D ring strap. Besides that, there is a 30thanniversary hologram behind the helmet.
Every owner of the SHARK 30th Anniversary Race R Pro GP limited-edition helmets will receive a specially-designed "Racing Division" helmet box and "SHARK Racing Division" bag.