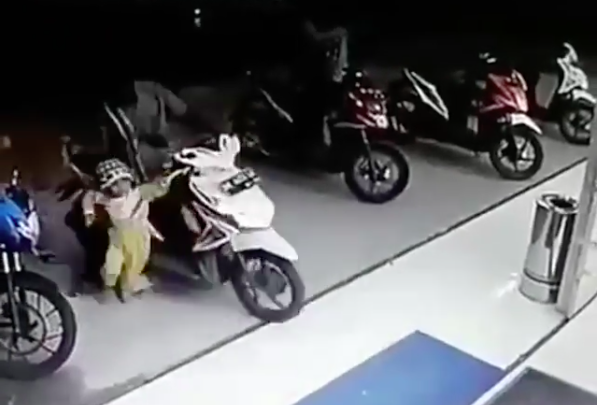 We don't encourage riding a motorcycle with small children.

But we also know that's unrealistic.

So, it's better that we advise you to do it safely.
First and foremost, we'll come straight out and say that we don't encourage the carriage of children below certain ages on a motorcycle.
The reason is simple to see. A small child has nothing else to grab onto besides the rider's waist, and even then, it's not fully secure. Consequently, it's very easy for him or her to fall off in situations where adults could still hang on.
But! We know that it's not fully realistic to advise people not to carry children on their motorcycles. Driving your child to school in the car will have you stuck in traffic for hours, if you're lucky.
So, if you're going to do it anyhow, let's do it safely.
However, the main subject of this article is about getting the child off the bike. Let's watch the video below.
When the parent set the child down, he did so on the right side of the motorcycle. The child needed to stabilize himself and the most obvious place to grab onto was the throttle. A twist sent them flying into the shop.
Fortunately, no one was seriously hurt in the accident.
We've seen another accident where such accident where unfortunately, mother and child fell into the path of an oncoming truck and were run over.
Always remember to lift your child up and put him down on the left side of the bike. It's infinitely safer this way because there's simply nothing dangerous on this side of the bike.
Also, always remember to switch into neutral, especially for moped riders. As a matter of fact, it's better to just switch the engine off altogether.