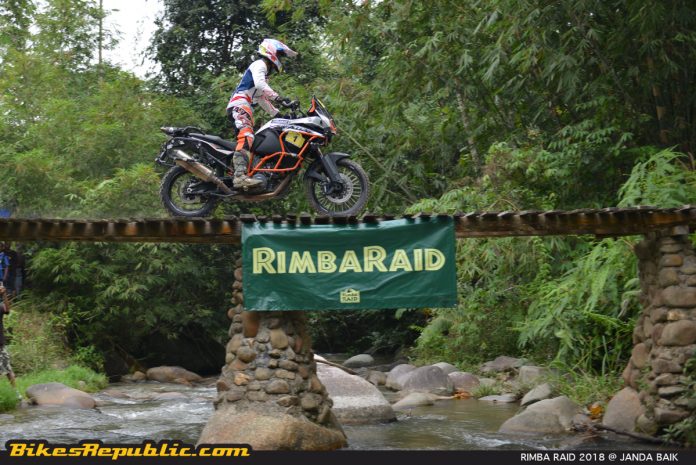 Rimba Raid @ Janda Baik 2018 was held over the 10th to 11th February weekend.

It saw a total of 60 participants from Malaysia and Singapore.

Competitors were judged on their ability to tackle different situations.
Somehow, I didn't mind being lost. It's already almost 10am but the air was still crisp and cool, as a mist surrounded me, the village houses, farms, all the way up the hillsides. This is a part of Janda Baik that I've seen for the first time.
A few kilometres up the road, I came up face-to-face with large white tents and RIMBA RAID beach flags. A RELA personnel waved me onto a dirt road. I passed a family with three children sandwiched between their parents. As I kept riding up that trail, campers, tents and families with young children came into view, and a nice smoky aroma of BBQ wafted in the air.
After being to other parts of the country, Rimba Raid (which literally translates to "Jungle Raid") was back, this time in Janda Baik. For the city folks, Janda Baik is one of the most idyllic picnic and recreation sports, consisting of streams surrounded by hills. Genting Highlands is practically a stone's throw away.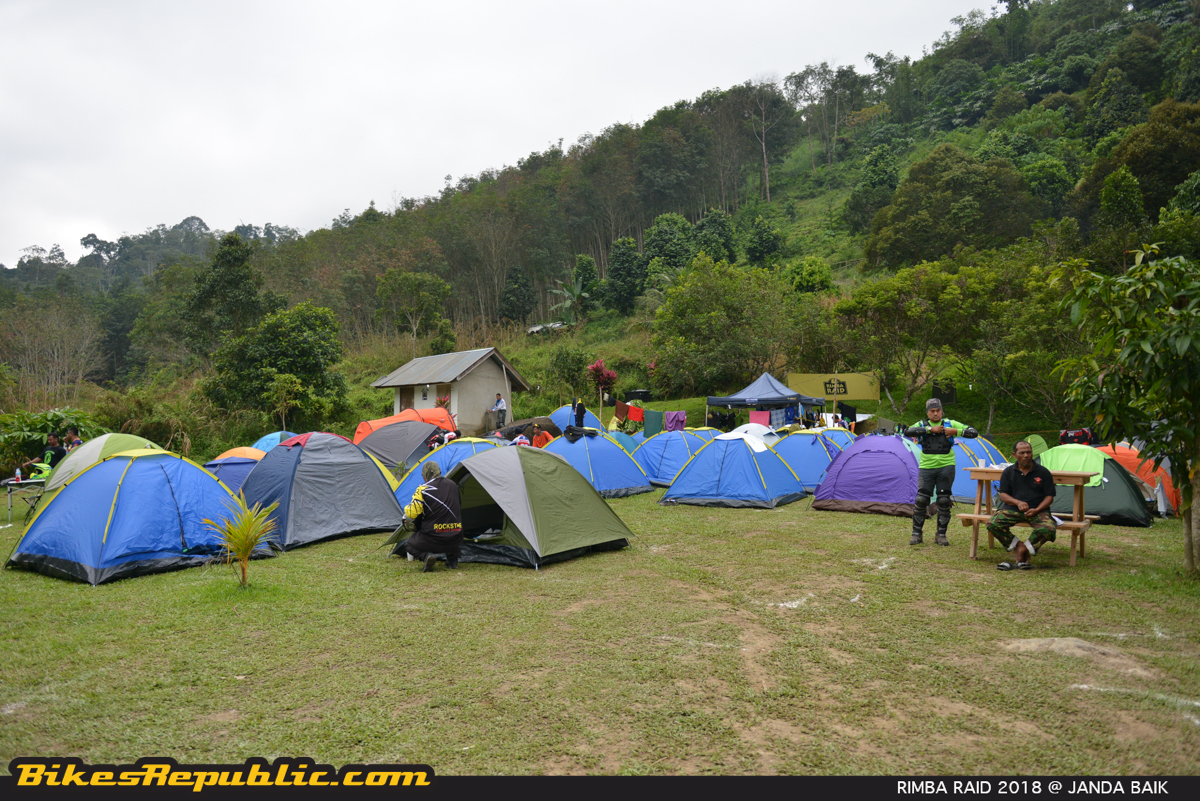 Rimba Raid (the organizer) had picked a beautiful location in the already beautiful Janda Bike area. The trail formed the floor of a valley between two steep hills – think of it as the bottom of a "V" – with a stream running parallel to it. The hills formed a funneled through which a cool breeze blew through the locale throughout the duration of the event, keeping temperatures tolerable despite the bright sunshine. Additionally, Janda Baik spans an area which is 400 to 600 metres above sea level.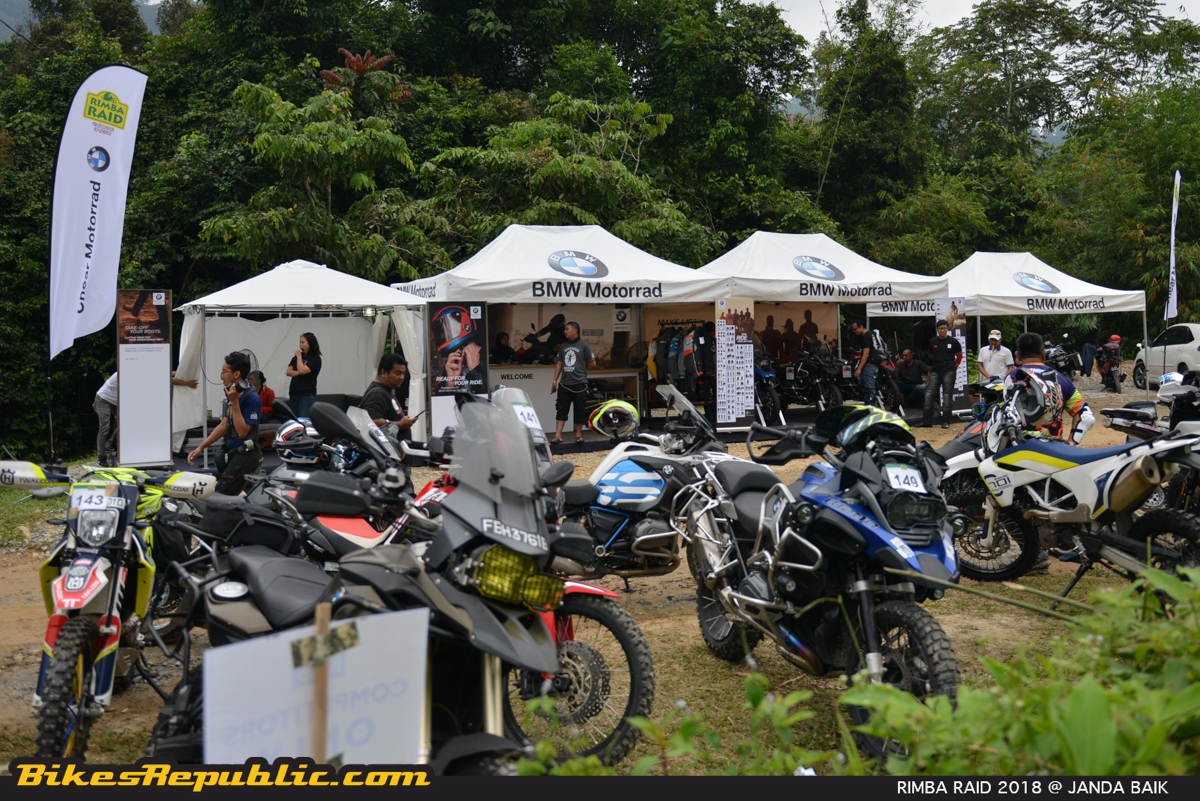 And here, parked on both sides of the dirt road were more than a hundred adventure motorcycles of every brand or every size, which included those of the competitors. Manufacturers Ducati, KTM, Kawasaki, BMW Motorrad erected their pavilions and offered test rides to competitors and spectators alike. BMW Motorrad even had a section for foot massage!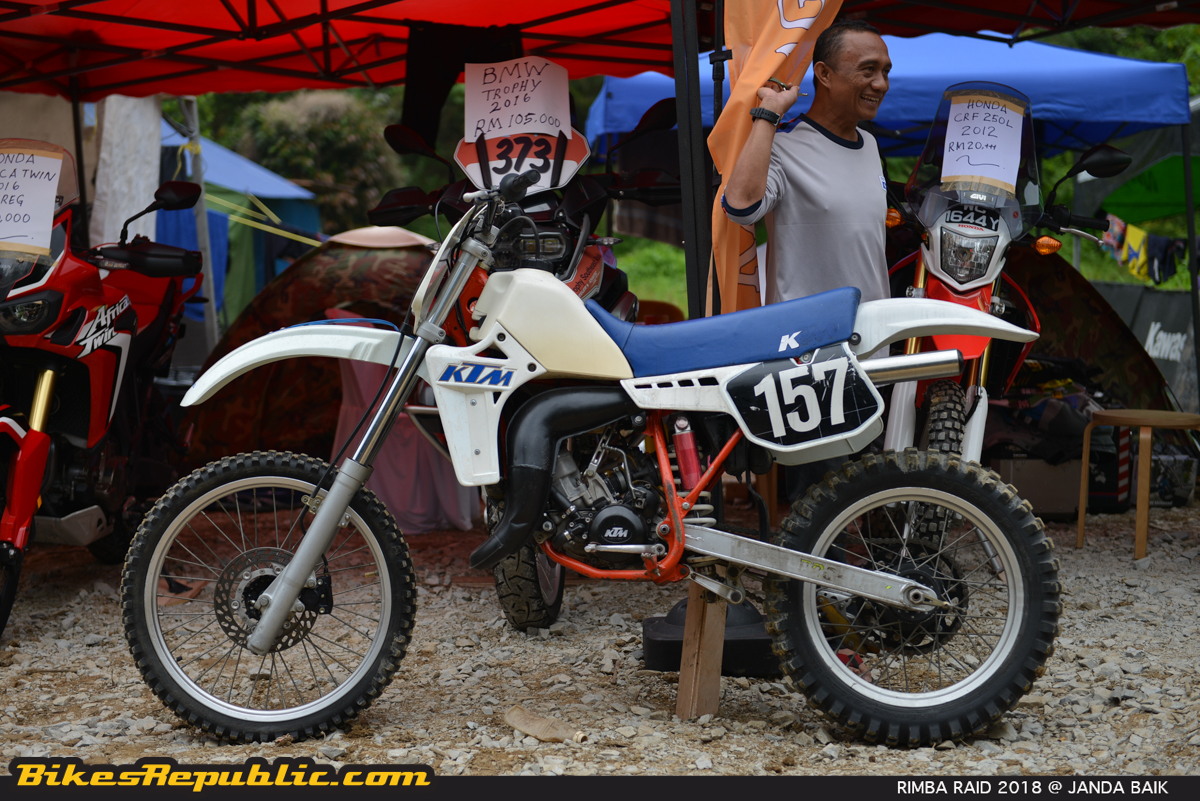 Mixed in with the manufacturers were the tents belonging to accessories and riding gear makers Wunderlich and Touratech.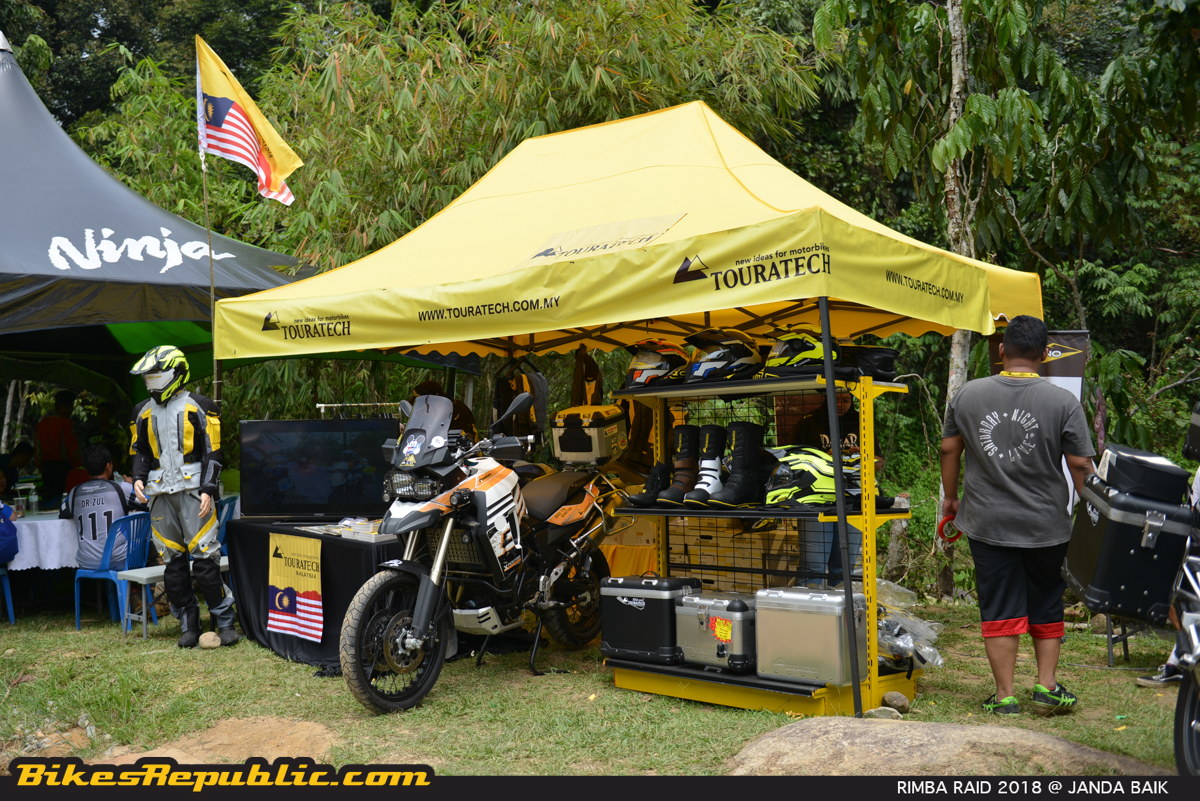 Since this was my inaugural time covering Rimba Raid, I was surprised to find that the participants were competing on big bore adventure bikes. It turned out to be "formula" of the event when I interviewed Dato' Capt. Nik later, "I do a lot of road biking (which) became very mainstream, but I do a lot of offroad biking, as well. Getting to the trail was difficult so that's why I use a big DP (dual-purpose motorcycle) to play on the trail," explained Rimba Raid CEO Dato' Capt. Nik Huzlan. "(That way) I don't have to use a trailer and all that. As I travelled I felt that this must be shared."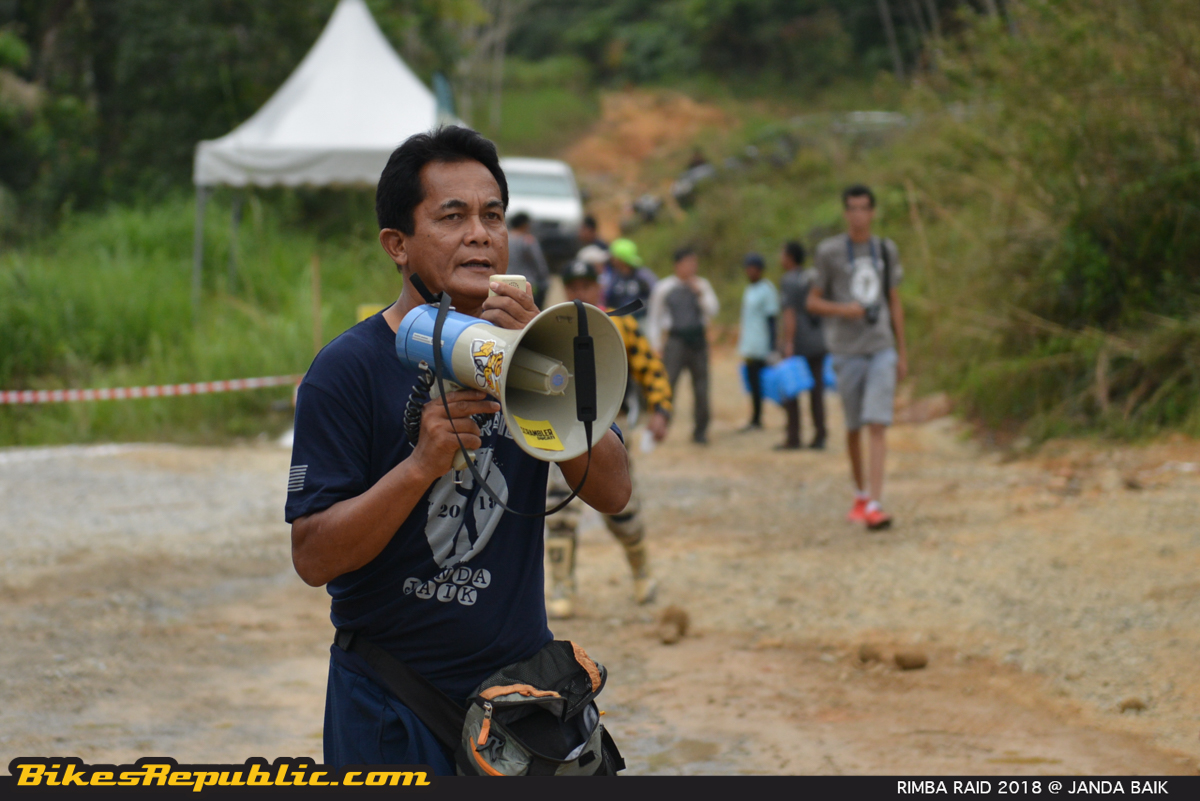 Also according to him, while there are many offroad events in Malaysia already and the numbers are picking up, there is yet one which caters to large-capacity adventure motorcycles. "We are looking forward to holding an event for 250cc bikes at Mat Daling, but as of now we started with bikes 650cc and above."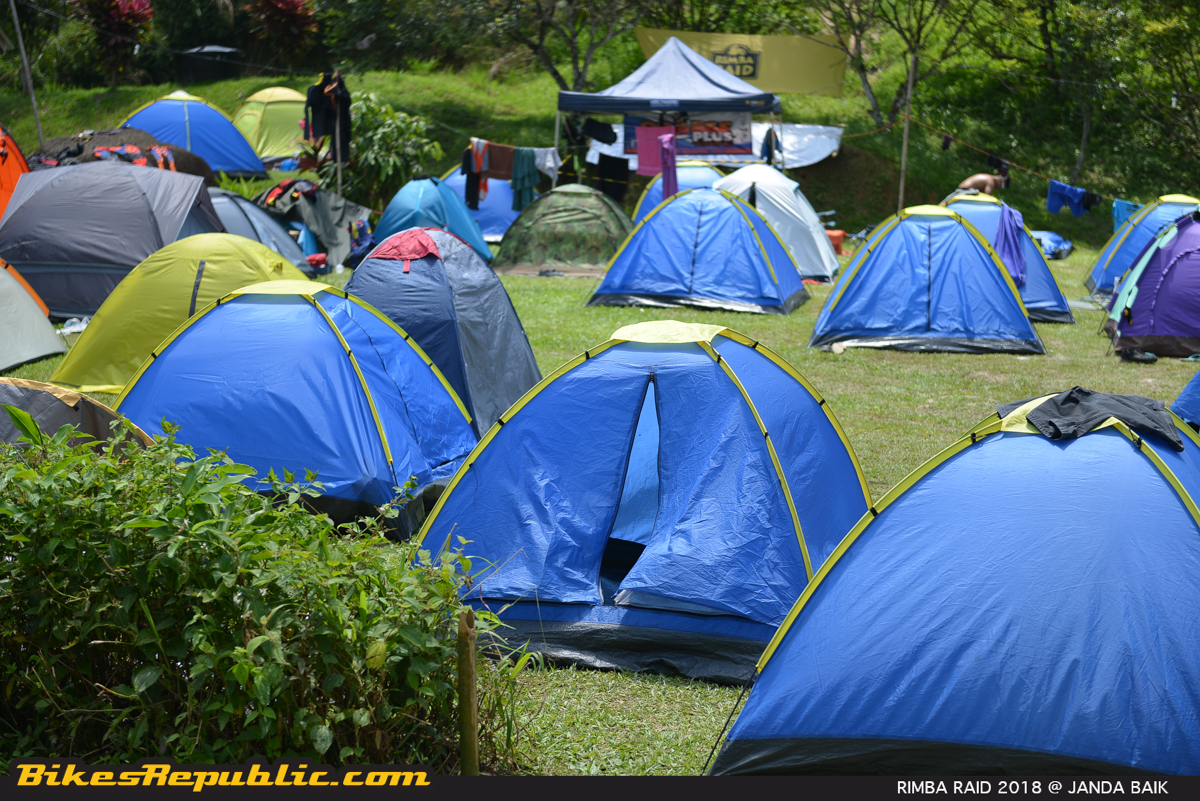 Hence there were mainly BMW R 1200 GS and GS Adventure, F 800 GS, F 700 GS, F 650 GS; followed by KTM 690 Enduro, 990 Adventure, 1190R Adventure, 1290 Super Adventure R; a few Triumph Tiger 800s; Yamaha XT1200Z Super Teneres; Honda Africa Twin, NX6750, NC750X; a Husqvarna 701 Enduro; Ducati Scrambler Desert Sled.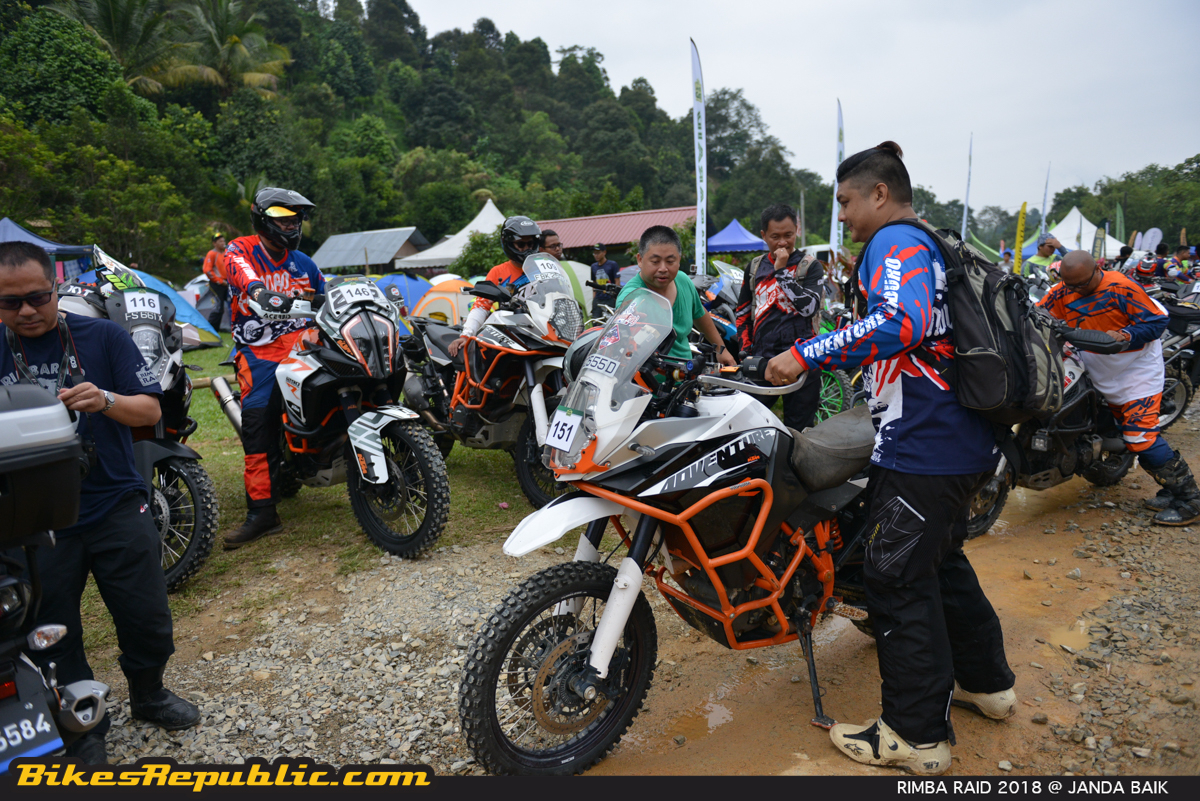 Outside of the BMW Motorrad GS Trophy and the KTM Malaysia Weekend Adventure with Chris Birch, this would be the first time I'd get to bear witness to riders competing on these beasts of multiple brands.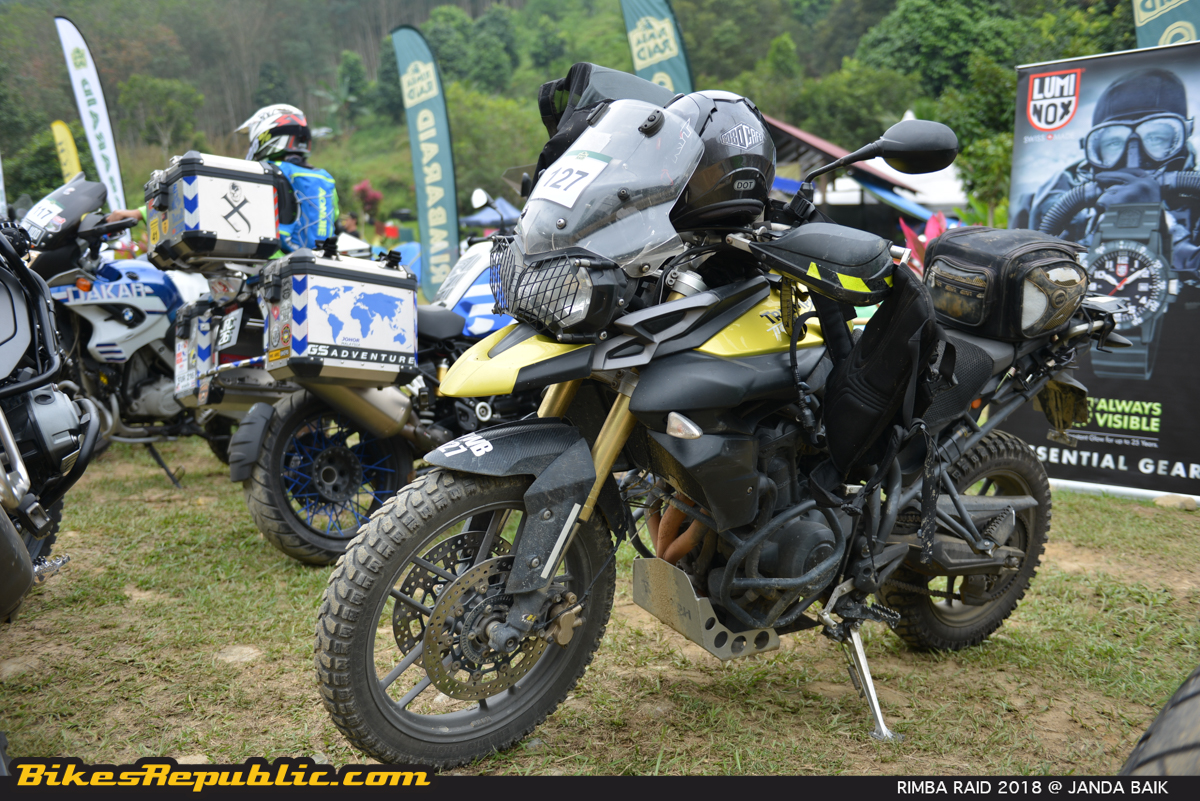 "Frankly, I was quite surprised that these owners would actually risk their RM 150,000 pride and joy, some even just 2 months old in the jungle," said Capt. Nik with a laugh, when I told him about my excitement of seeing the likes of the BMW R 1200 GSA splashing through the streams.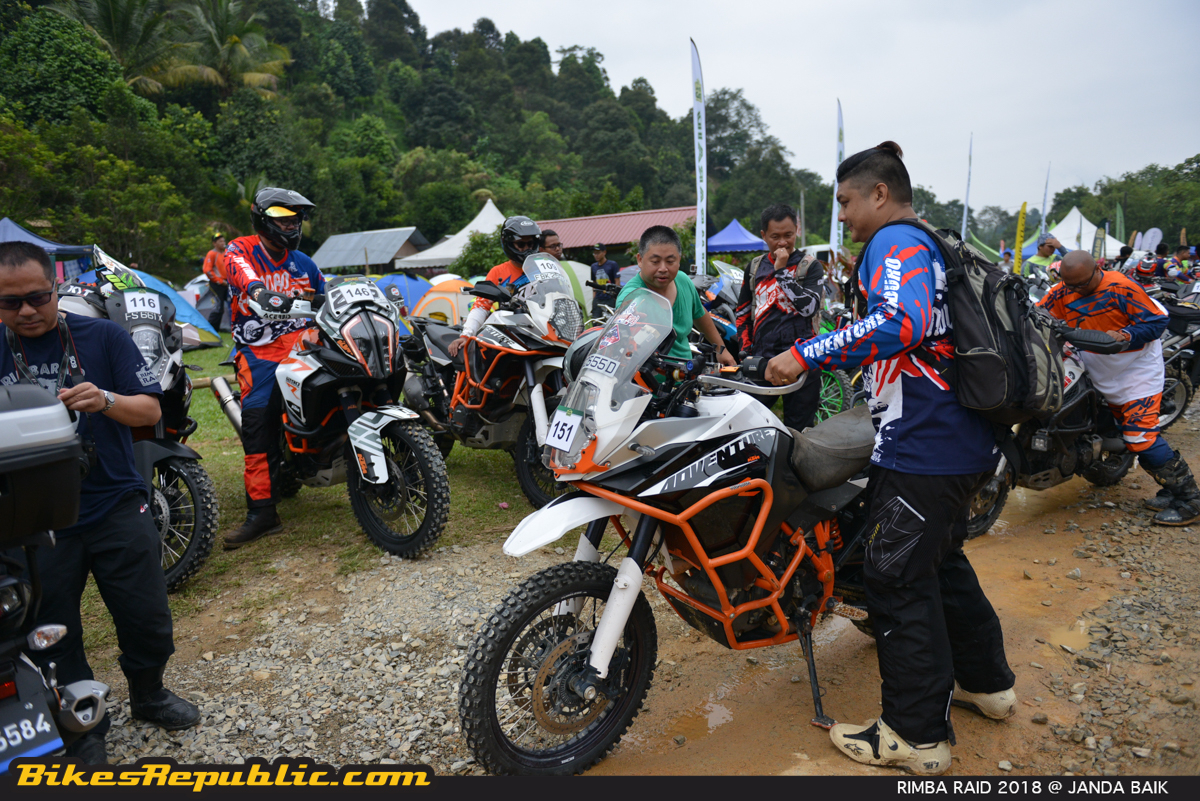 The bikes were still shiny at this point. Capt. Nik called for the riders to congregate as he walked them through the different challenges, called "Sections." The aptly named sections (Obstacle Course, Rimba Rhythm, Sumpit, Jalan Salah, Bridge & River, and Twilight Zone). Sections will test the riders on different aspects of motorcycle control and utilizing the capabilities of their machines.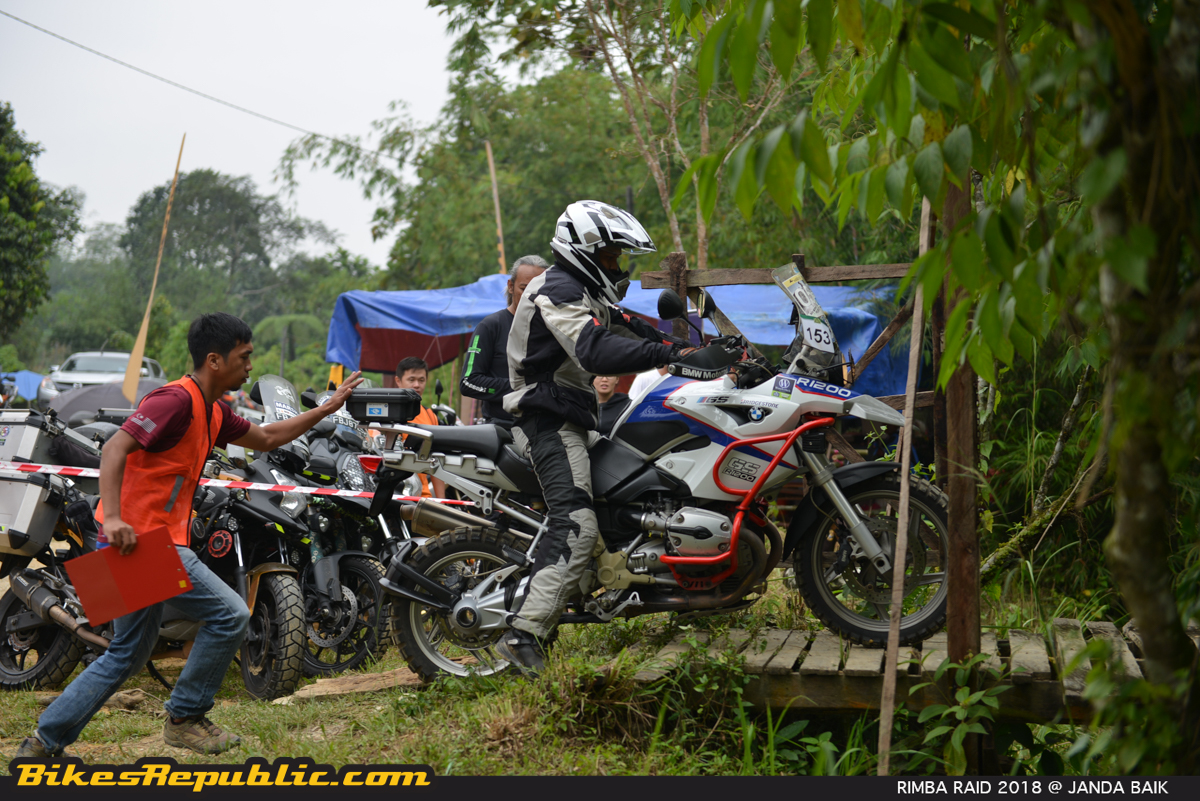 More and more families with their young children in tow kept showing up. The kids were wide-eyed in excitement from seeing these beautiful big bikes and riders dressed in brightly-coloured riding gear. Malaysian adults don't typically show their excitement but at Rimba Raid, they pointed to that bike over here, over there, another one, the next one, and on and on.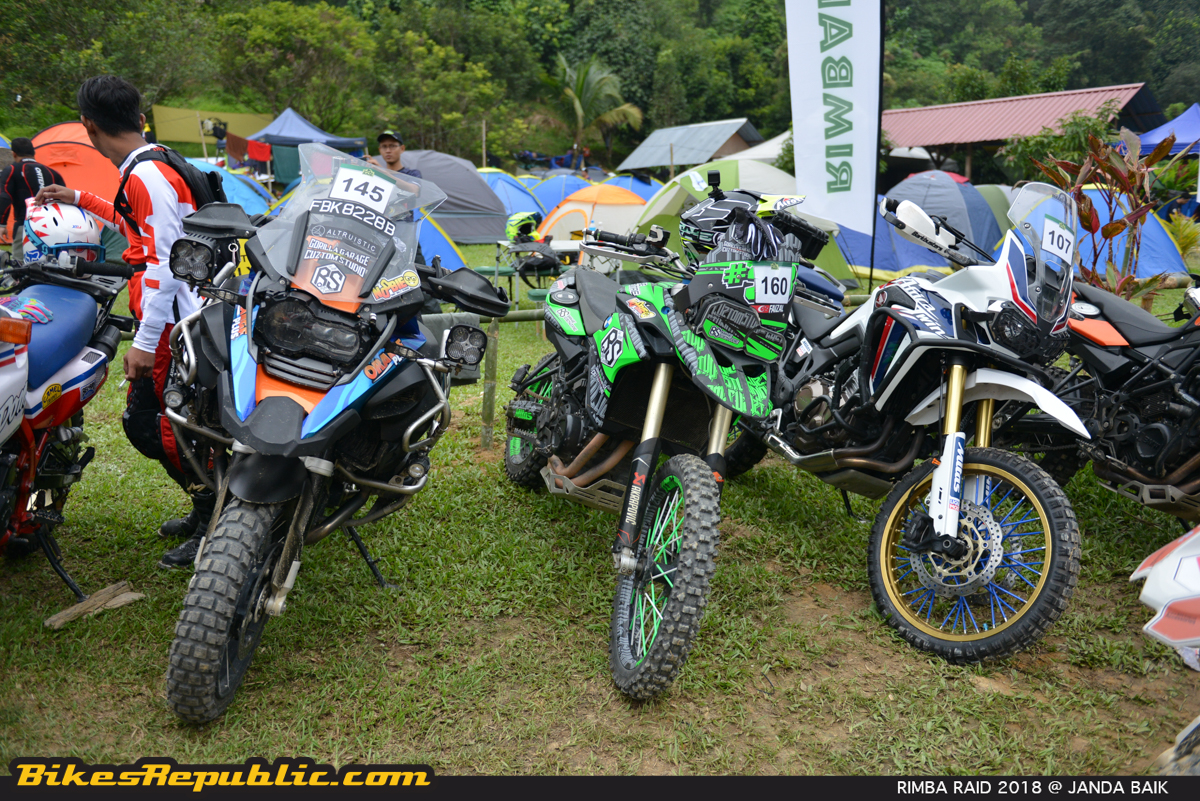 Returning to the main area, Capt. Nik called it: "The competition starts now. Riders please go ahead and choose which Section you wish to compete in."
I was surprised.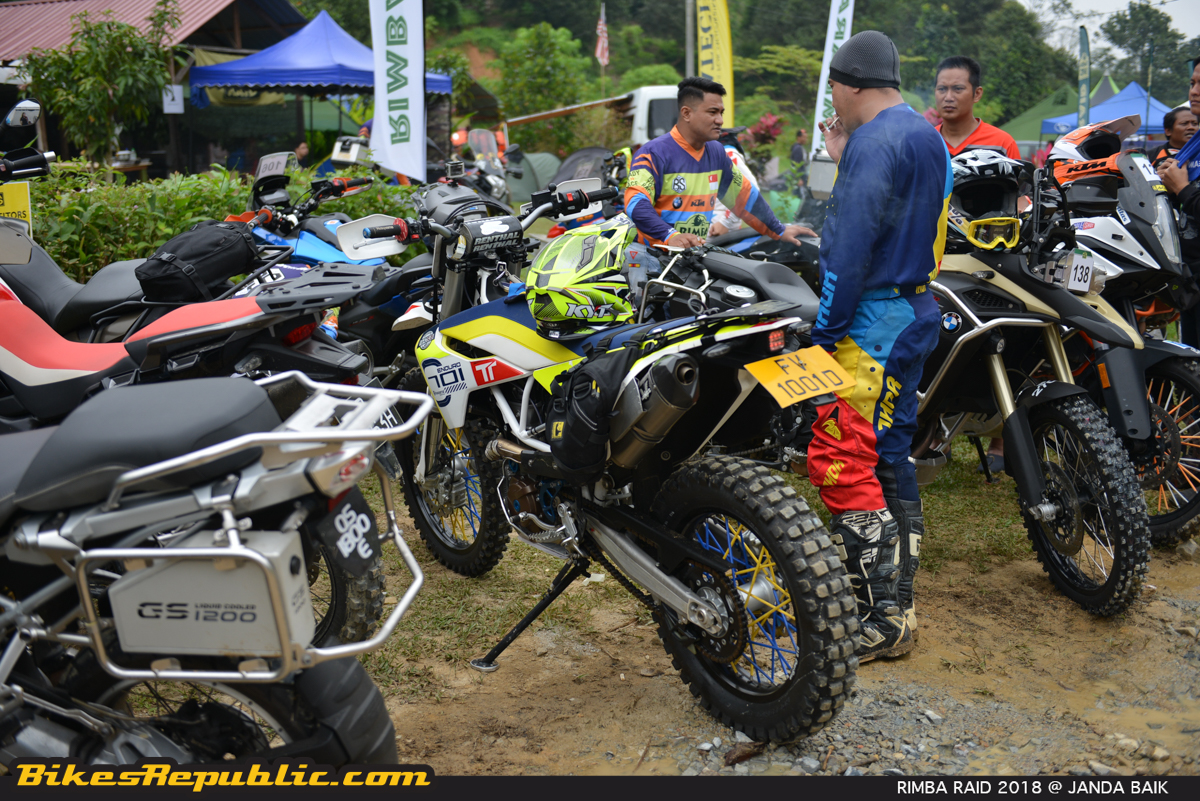 Most competitions (apart from the GS Trophy qualifiers) have all riders complete one discipline at a time. Not so with Rimba Raid. "If we queue everyone up at one test at time it's just going to take too long," explained Capt. Nik. In my personal opinion, however, that offered a great chance for a competitor to mentally prepare himself; by taking on a challenge that he's confident about first would boost his confidence when attempting the harder stuff. Well, that'll be my approach, anyway.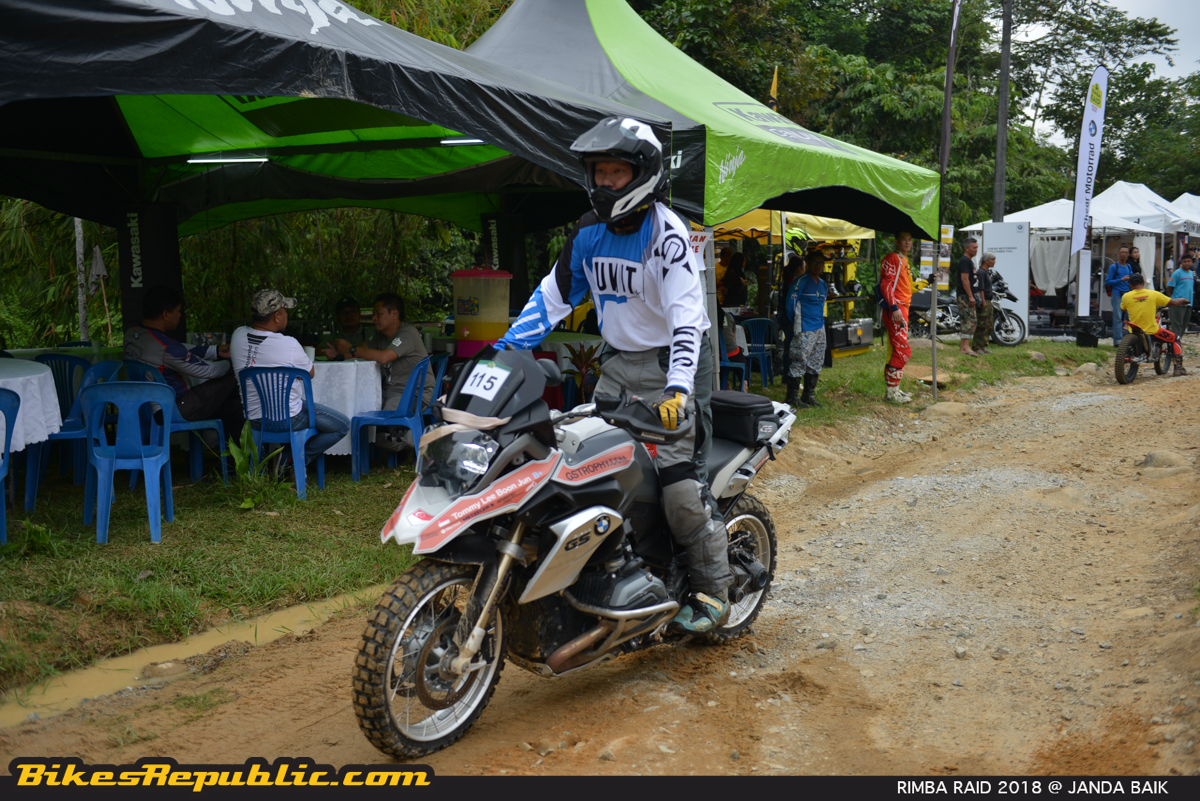 Excitement started to mount as riders hurriedly donned the rest of their riding gear and went through their personal routines. Game faces replaced carefree laughter and grins. The roars of Boxer twins, V-Twins, triples, parallel-twins, singles reverberated off the hillsides.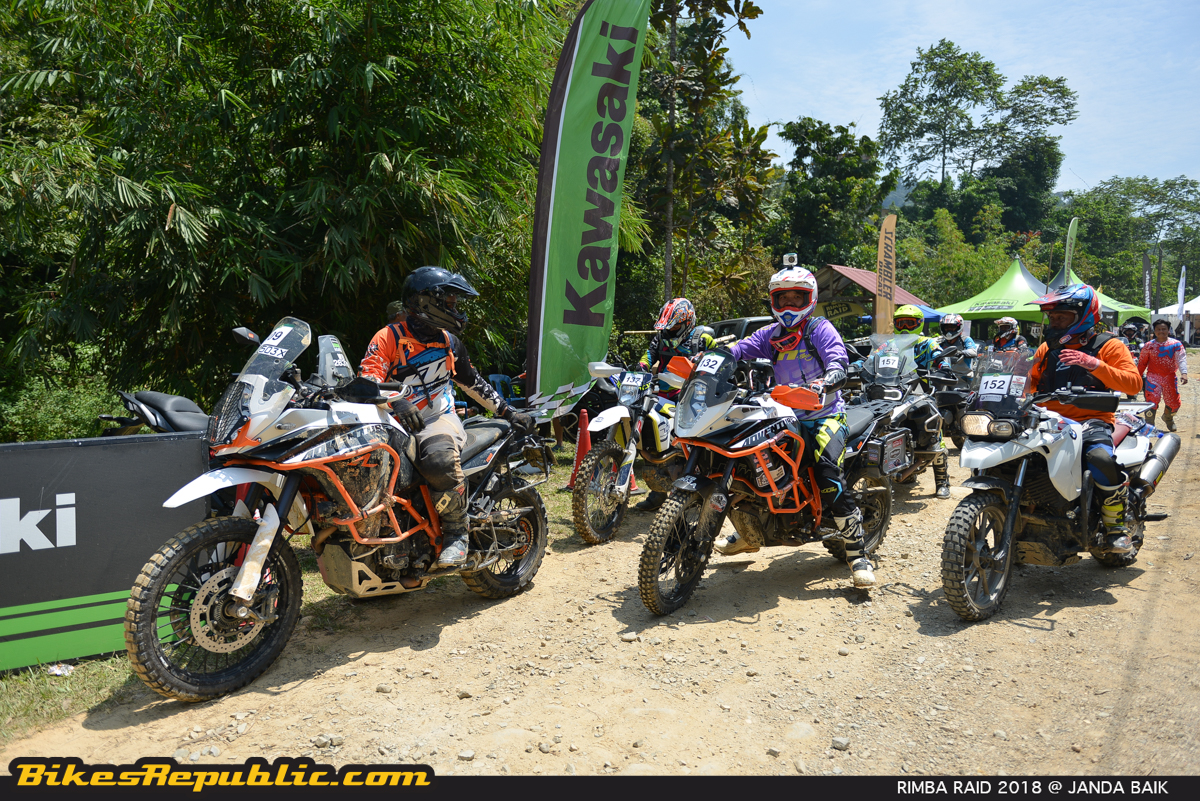 The spectators' kids shrieked in glee, their parents grinned. Everyone not competing lifted their phones and not cameras to shoot pictures.
Riders went in both directions as they sought out their preferred Section. But the stream crossings drew the largest crowds. Why not? They always produce the best drama.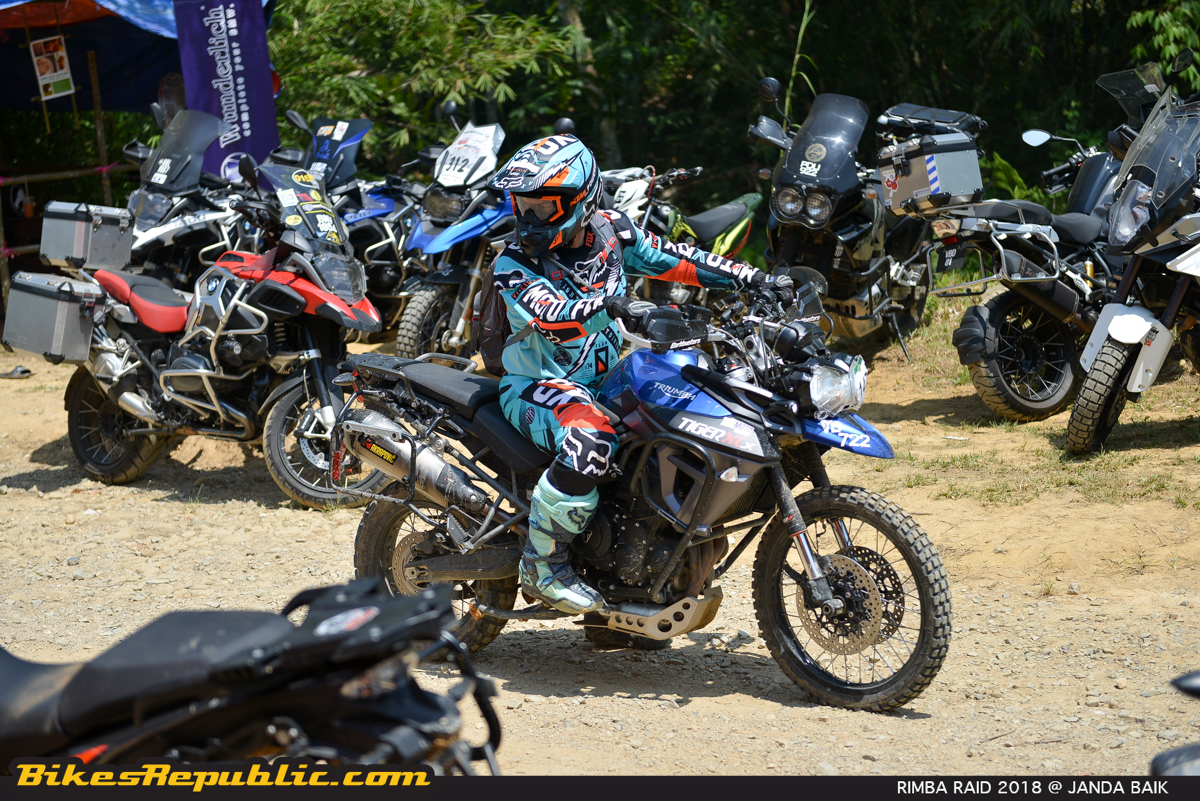 At the first crossing, riders rode on a wooden bridge to the far bank, up the slope on a short trail, drop back down into stream and up the other side. Putting a foot down or dropping it means a penalty as well as losing time.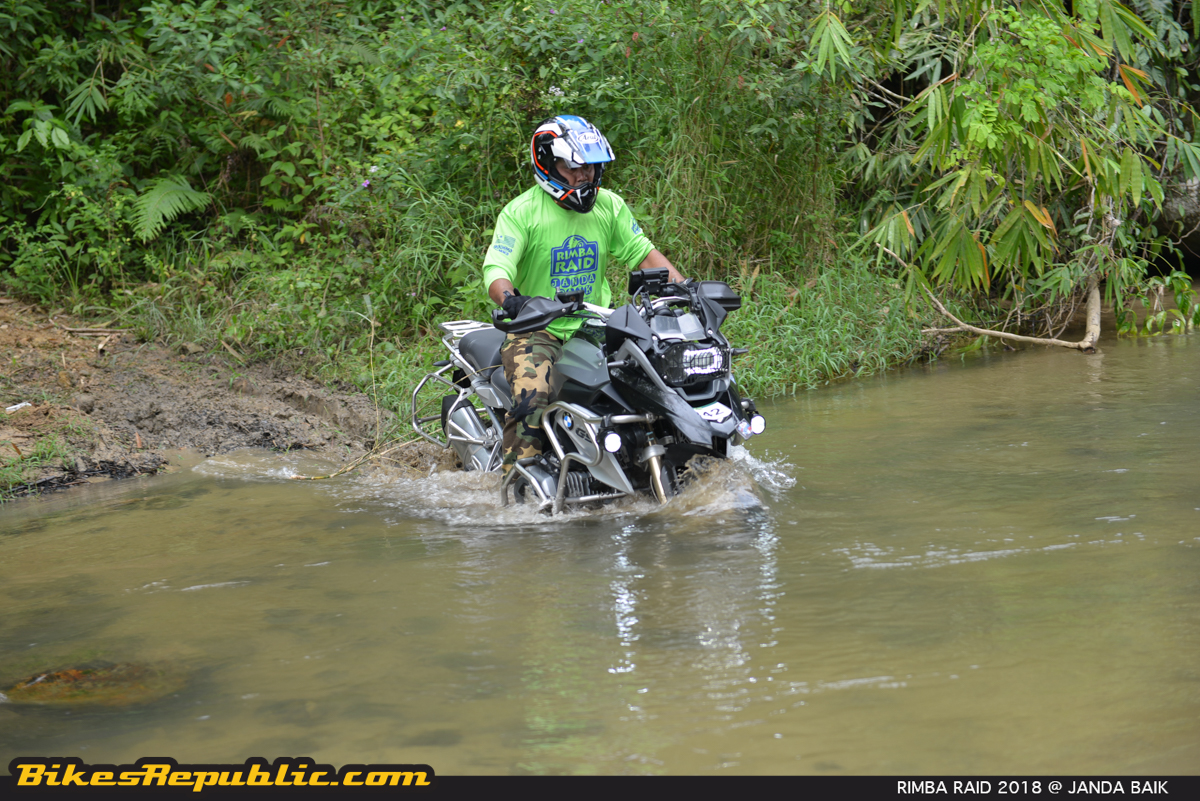 The water looked calm and shallow, inviting even, but as soon as the first rider went in, it suddenly dawned on everyone of how deep it actually was! It came up to just below the front fender. He made it about halfway before the front deflected to one side and down he went for a swim.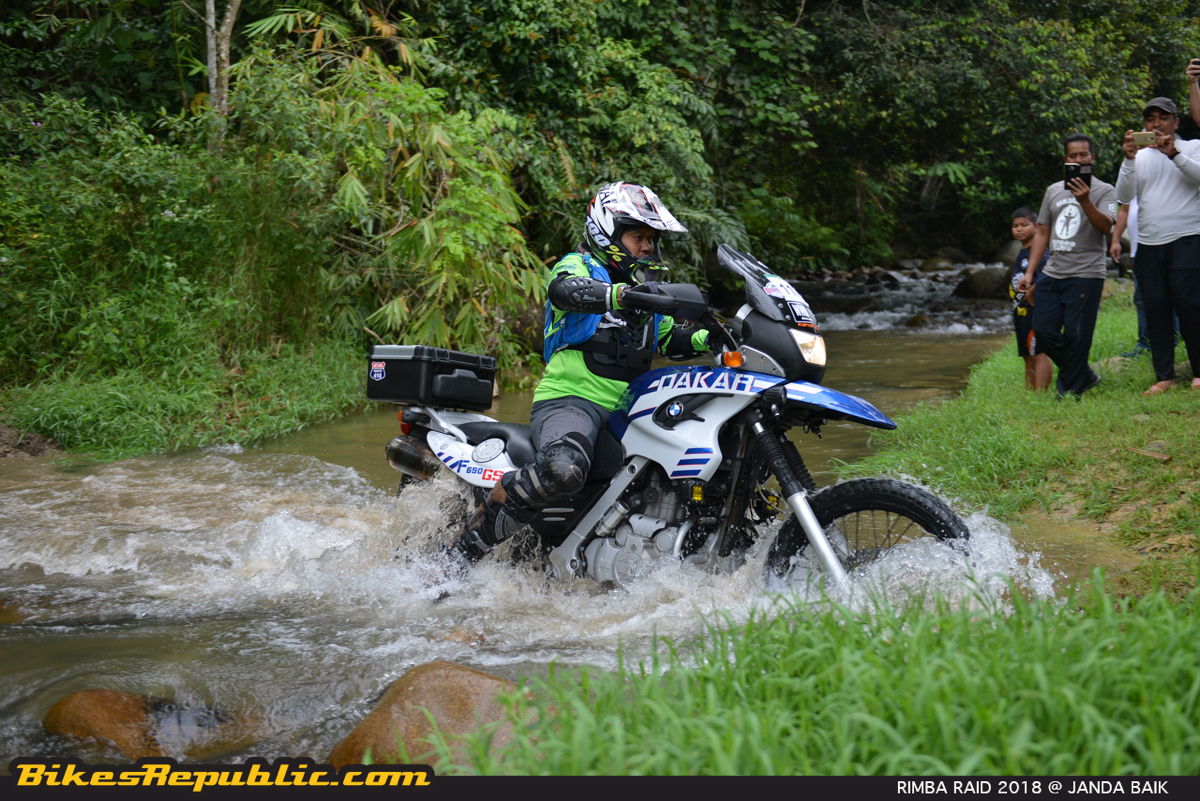 The marshals helped to lift the bike back onto its wheels. The rider started his bike and gave it full throttle. A jet of water shot out of the exhaust like from an angry powerboat. At the near bank, the front wheel went into deep soft mud and down he went again. The marshals helped him up again and he spun his rear wheel up the slope. The crowd cheered.
The next rider tried to just gun it through. But either the water acted as a speedbrake or he had hit a rock, because he practically dove into the river, like a platform diver. The marshals came in to help again, and again and again.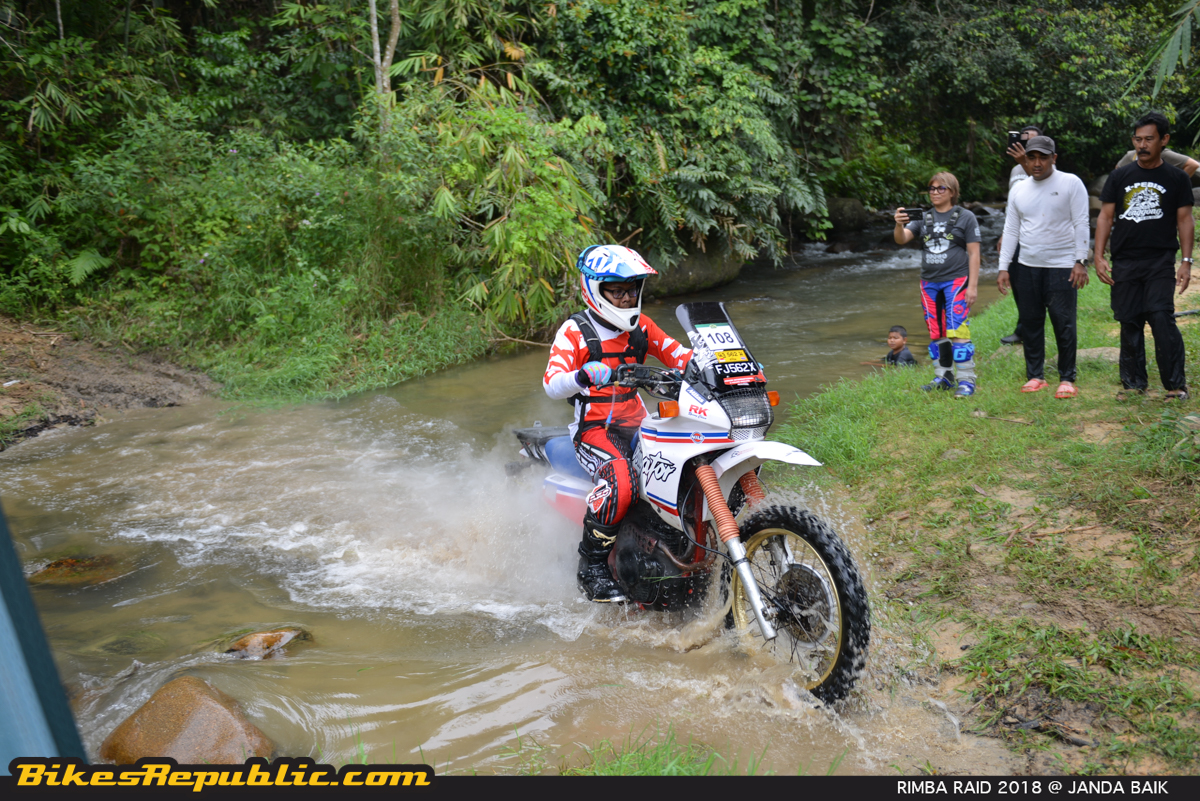 It's not all doom and gloom of course, as there were participants who made it through without dropping it into the river. One, on a Triumph Tiger 800 XCx ran straight through, eliciting a loud cheer from the spectators. So did defending champion, Bee Wong on his trusty KTM 1190 Adventure. They just held a steady throttle, stood up looked all the way up the river bank and up they went.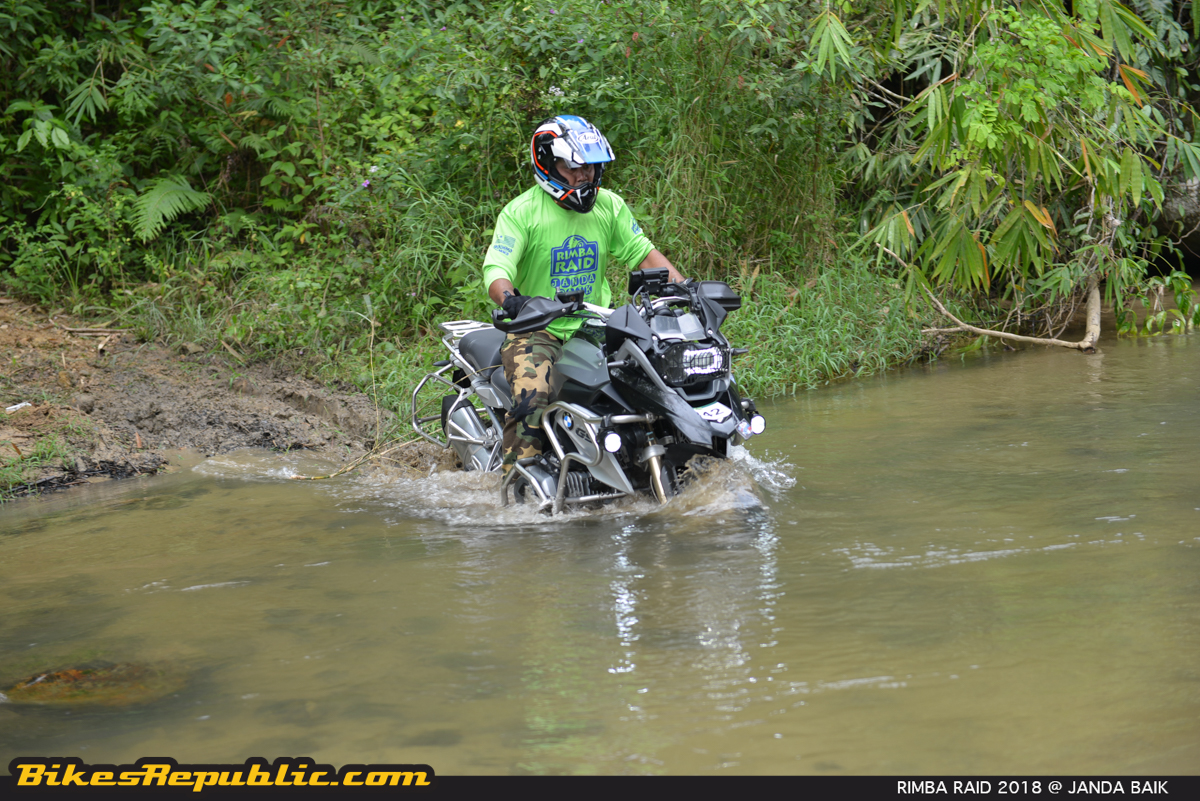 I got so absorbed with all the action and drama here that I had forgotten the other Sections, until Capt. Nik came by and pointed upstream, "If you think this crossing is tough, you should go see the one over there. It's a 70% failure rate."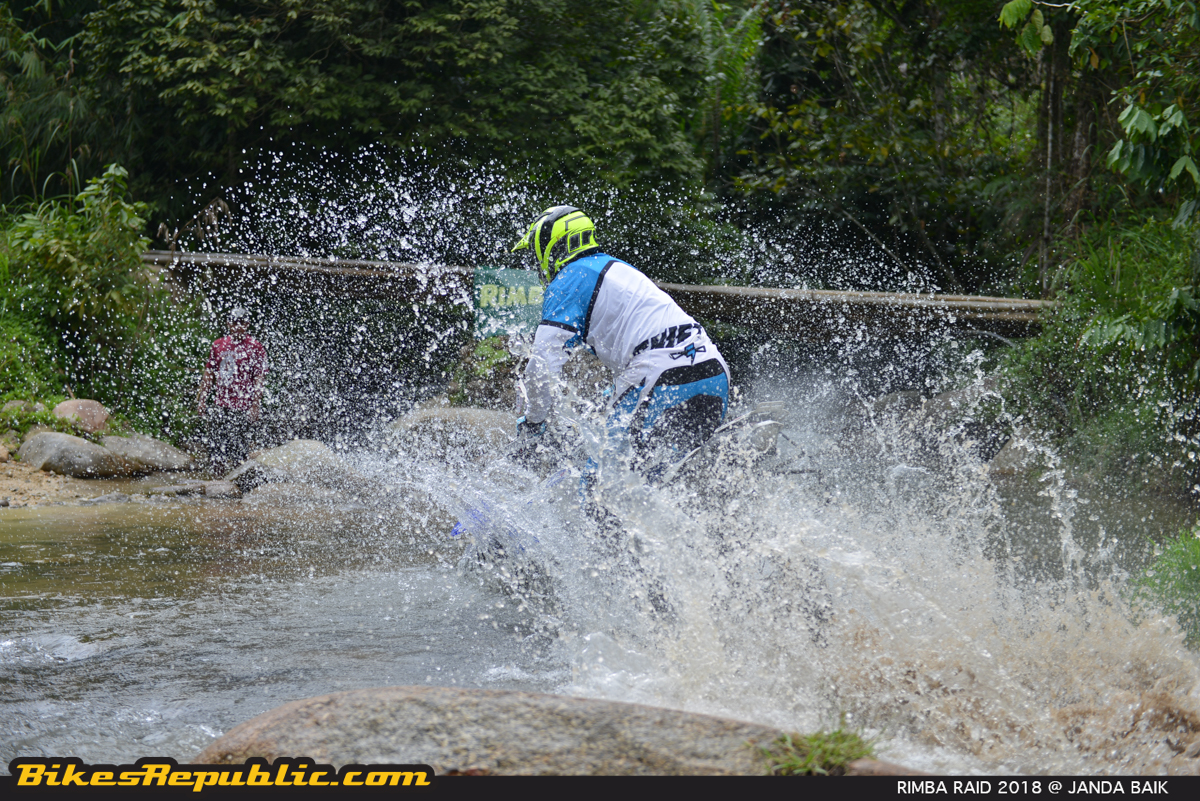 I hurried over. A humungous crowd had already gathered, spread out all over the banks and down to the boulders jutting out of the stream. The water was much shallower but there were so many underwater rocks. Sure enough, many got caught out. They either dropped it or had their front wheels wedged in by the rocks.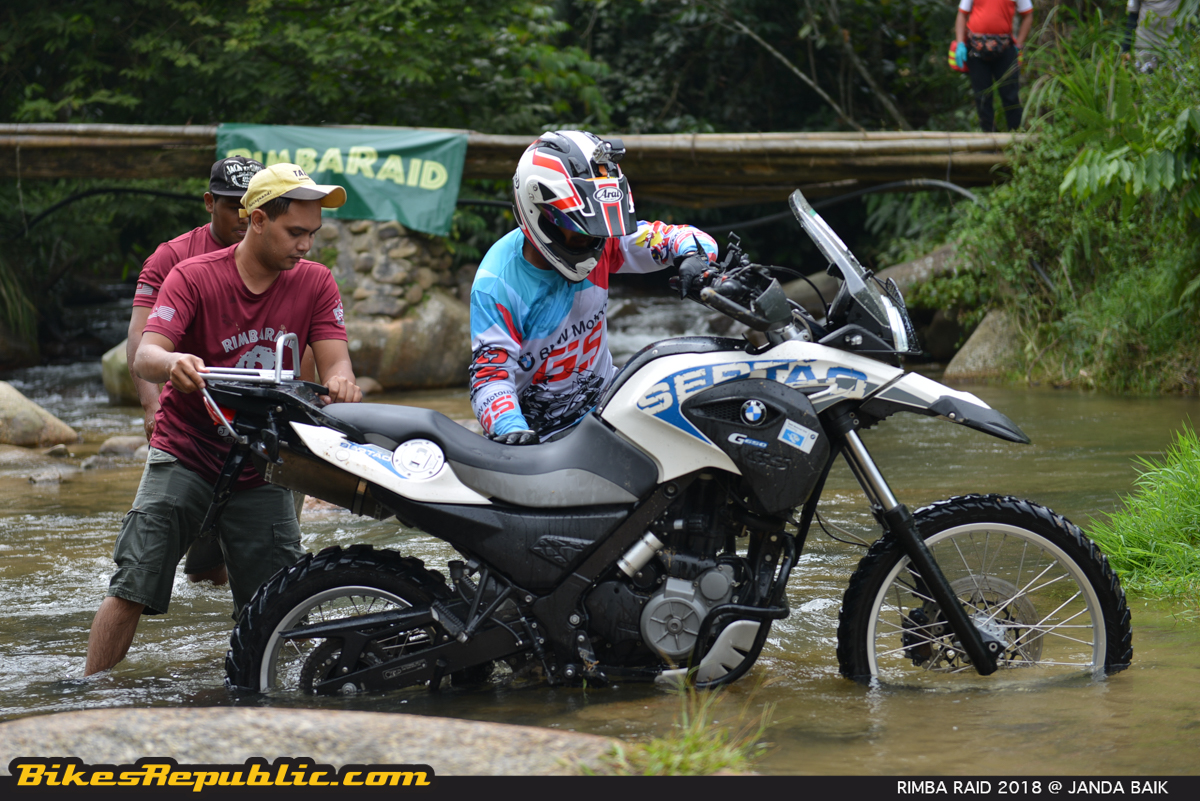 The participants needed to cross to the opposite bank, turn back around and park up a slight slope before a wooden foot bridge. They then run across that bridge to the control tent and back again to their bike, to ride back across the stream.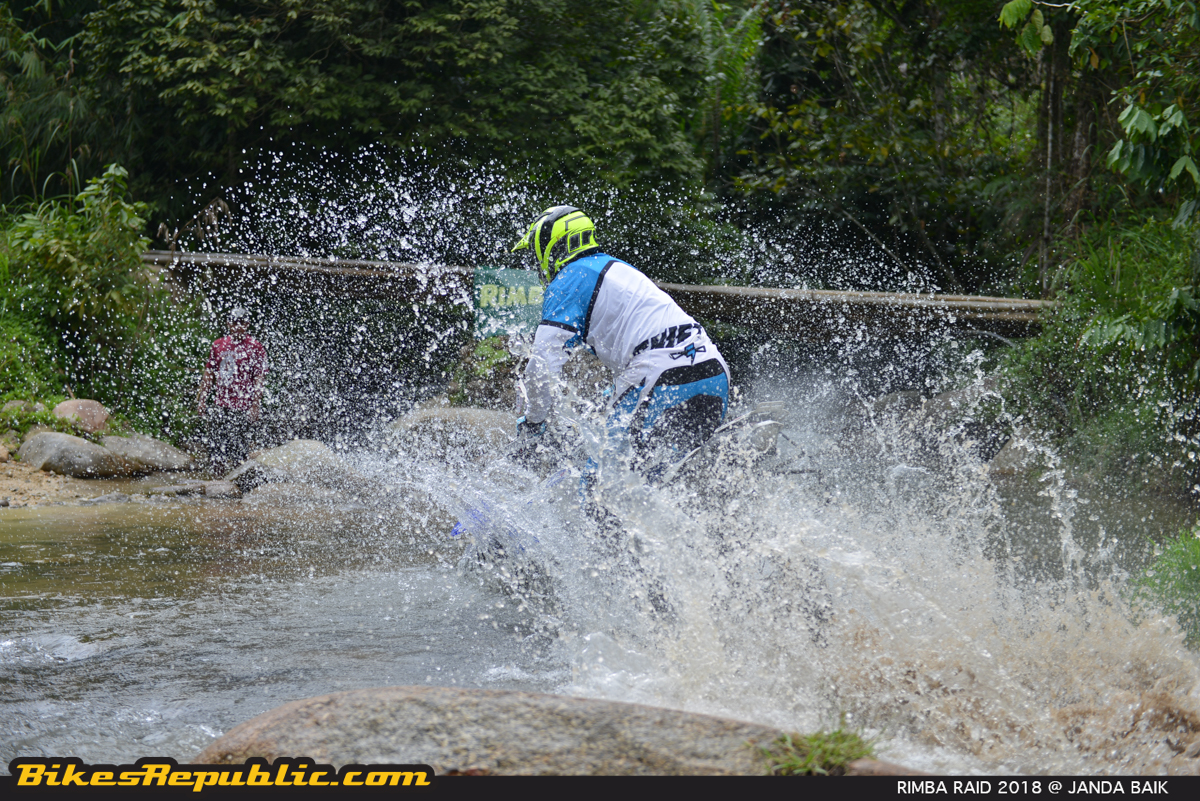 One by one they went down. A number got past on the out trip only to drop it a couple of metres away from the bank. They tried it all: Speeding, riding slow, up off the seat, on the seat. It didn't matter what bike they rode, that stream was kicking butts and taking names.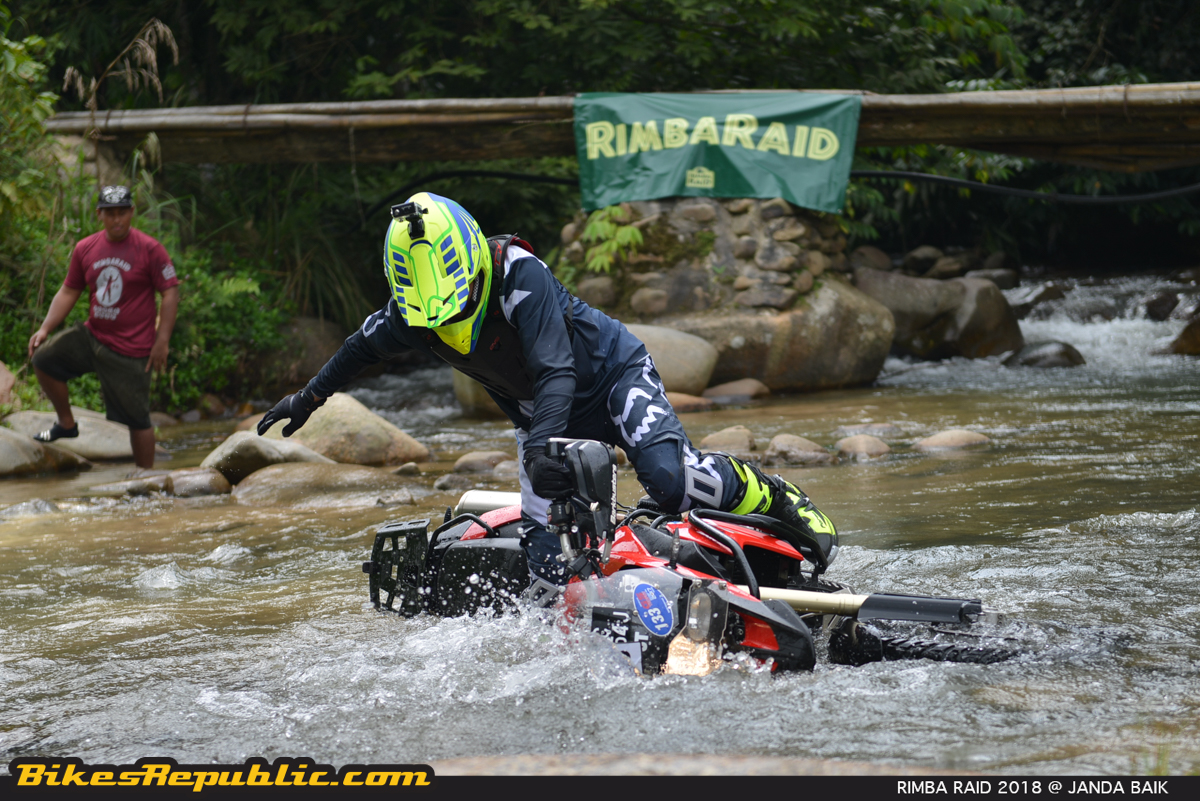 Soon, it was Bee Wong's turn. He blasted down the slope, into the water and was up on the other side faster than it could register in anyone's mind. He performed the other parts of the test flawlessly. The crowd had started to cheer him on as he remounted his KTM for the return trip. He hit the water like a jet ski on nitrous and… he went down! A loud "AWWW!" went up. He remounted quickly and got up the bank. But that mistake had thrown the competition wide open. Bee Wong is a superb rider and had won Rimba Raid many times over.
Adjacent to Section 5 was Section 6, which is a trail ride. Scoring is based on the fastest time. The starting point of the trail was easy – a flat, gravel road – before giving way to mud and deeper, softer mud. The participants climbed up hill before descending down a slippery path that's littered with deep sunken portions that could swallow whole bikes. The image of a Venus Flytrap entered my mind when I saw those holes. It's a great test of the rider's ability to think ahead and anticipate, rather than to just react.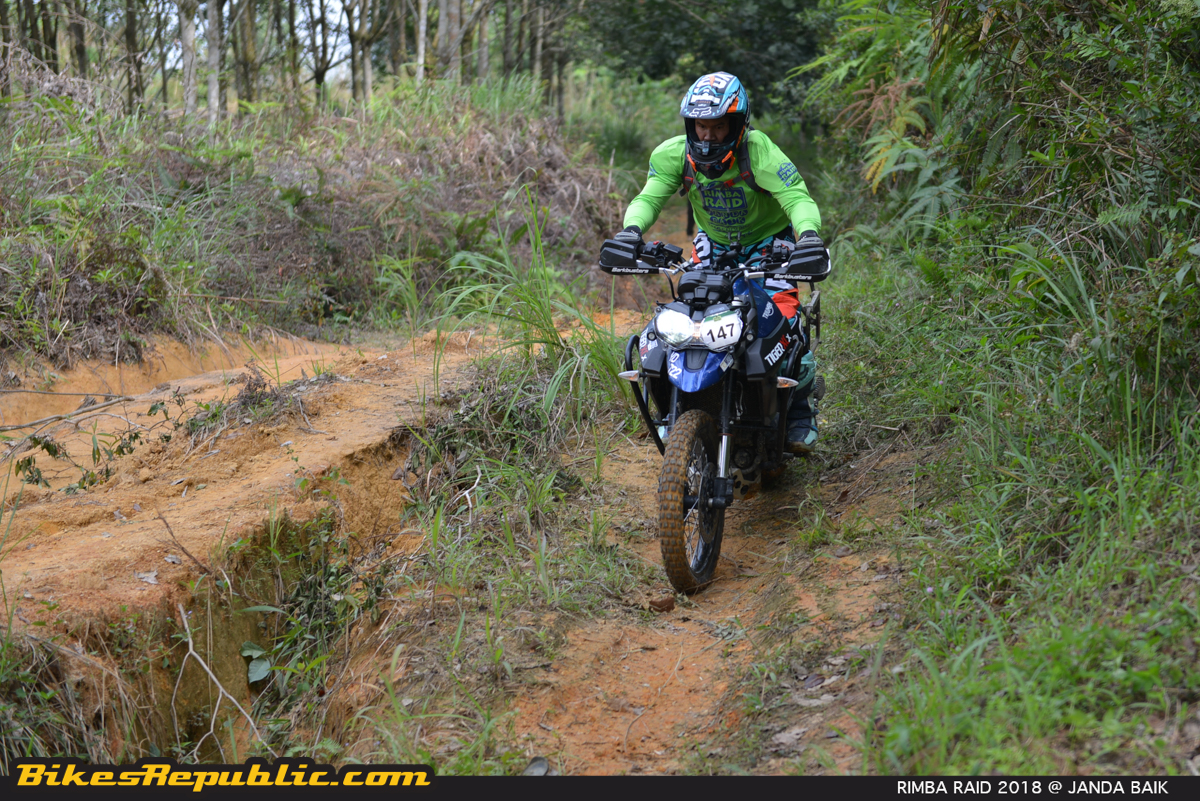 As the festival broke lunch, spectators' children dunked themselves in the cool stream, while their parents picnicked on the bank. Being so far upstream, the water here is especially clear and cool. The stream of cool air kept blowing through the valley. What a great place.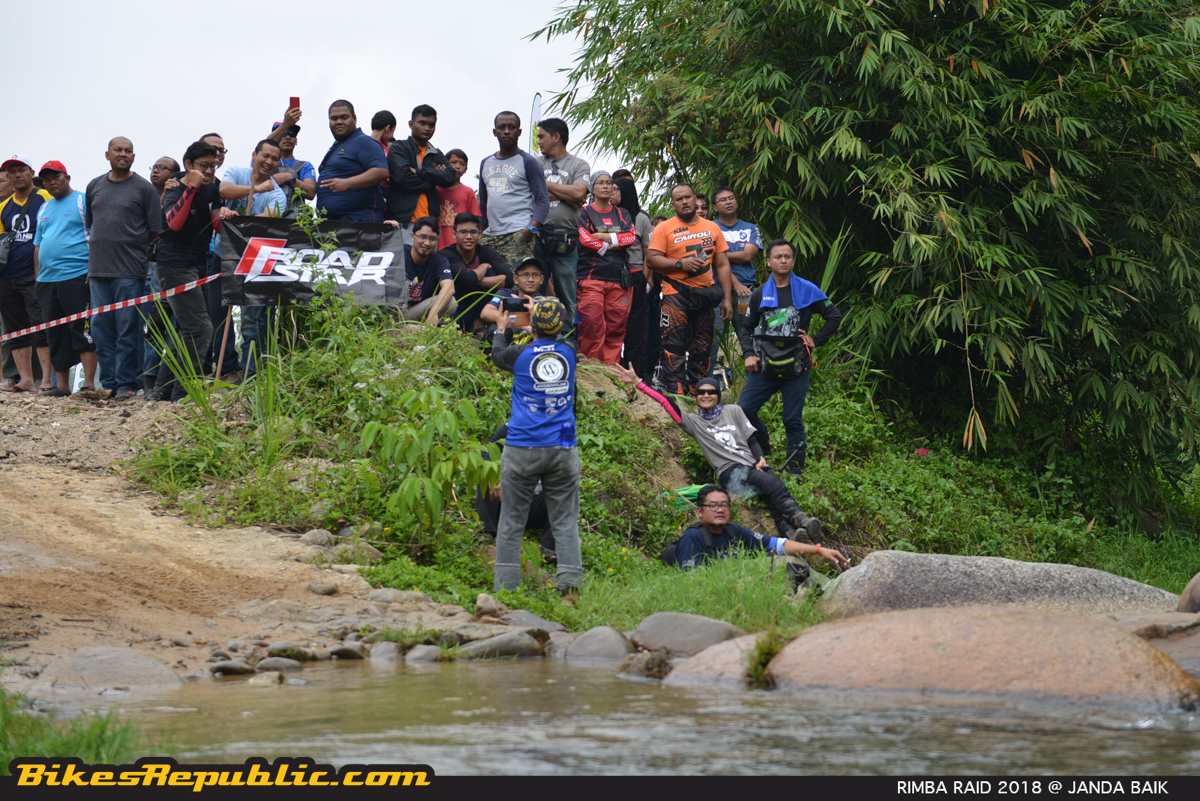 The competitors sat together to talk about the day's progress. It didn't matter what brand of motorcycle they rode, everyone spoke, laughed and cringed as friends, while they analyzed what they went through or to gain a few tips from those who had cleared other sections.
Once proceedings resumed, competitors went to back the Sections they have yet to complete.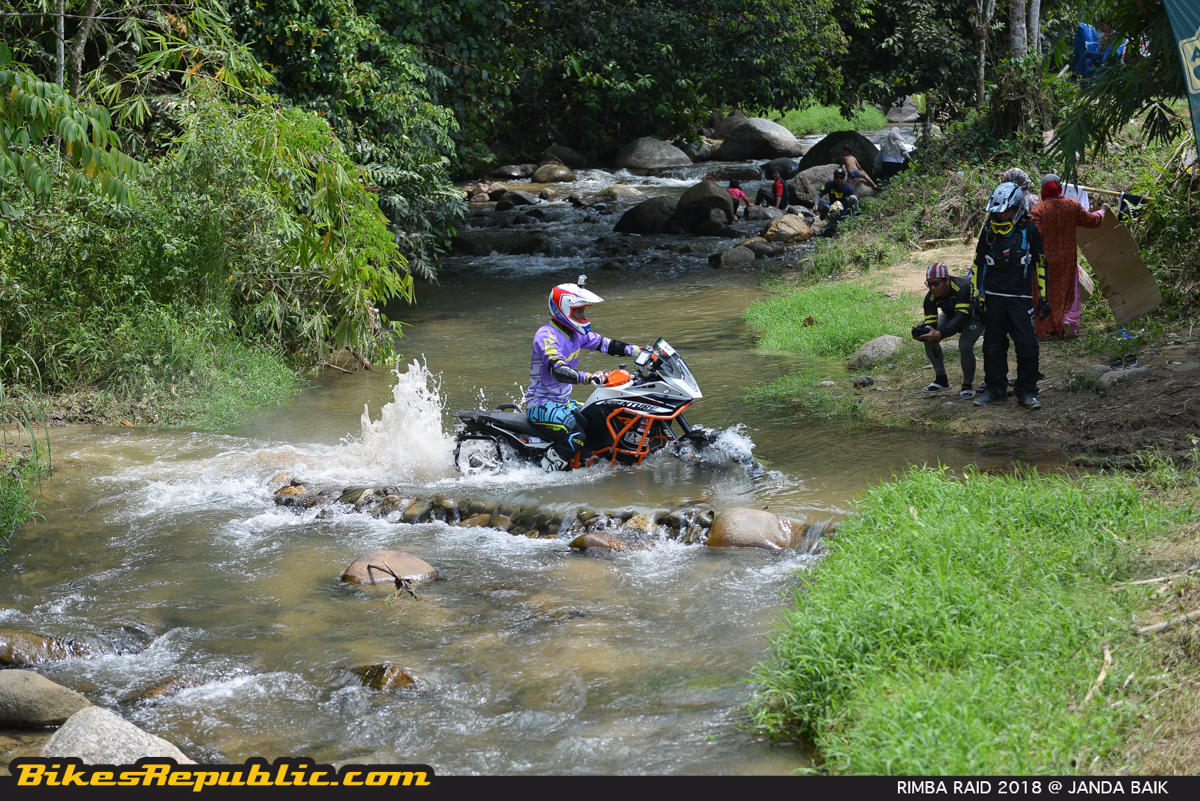 Over at Section 1, a rider moved a ripe and aromatic durian from the top of a bamboo pole to another. He stopped a couple metres later and was handed a blowpipe to shoot darts into a target. He then rode ahead to the finishing line where he needed to balance his bike at near standstill, on a patch of wet mud.
My ears caught the soundwaves of boisterous laughter. Over that laughter and shouts was the signature exhaust note of a BMW 1200cc Boxer engine being blipped aggressively. It came from the Time Attack section. As I made my way over I saw an oil-cooled R 1200 GSA being ridden expertly around that tough course. But what caused the laughter and shouts was this guy running next to the rider, pulling on his arms – in an effort to slow him down! It was among the funniest things I've ever seen in my 30-odd years of riding. (I got there too late to shoot pictures or video. Sigh.)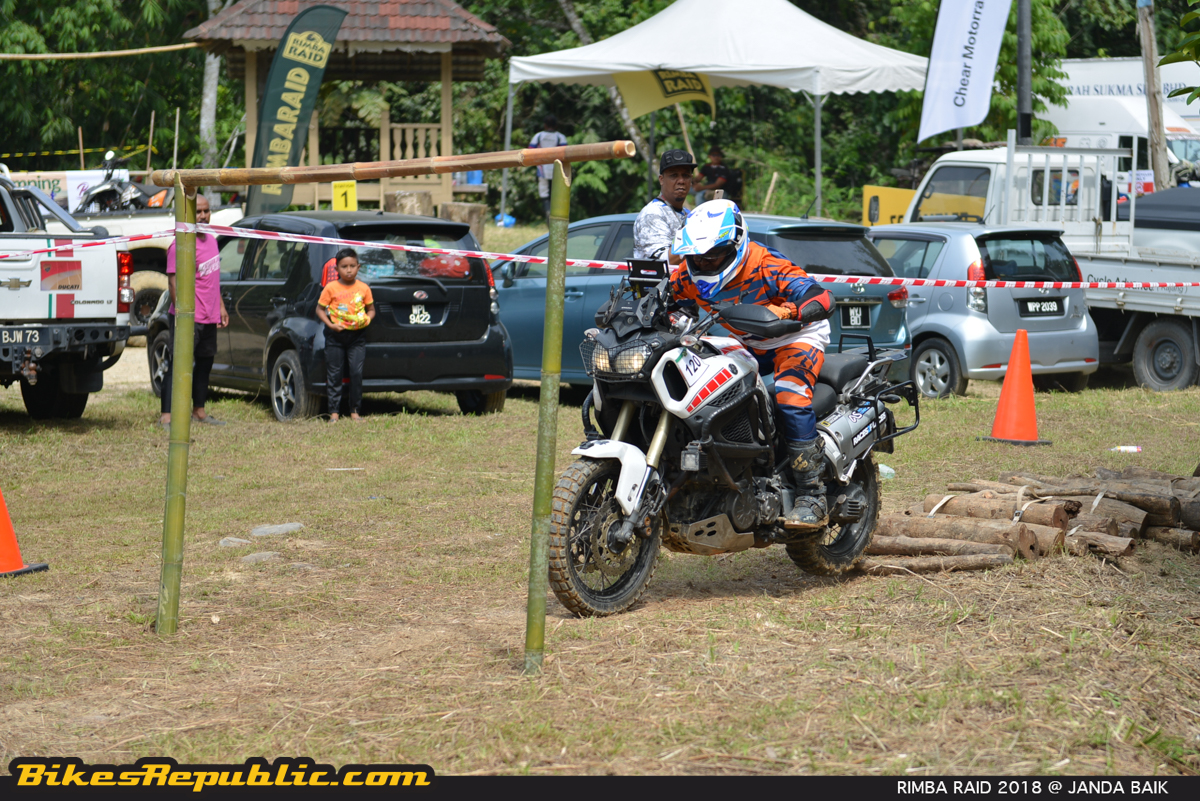 While the activities carried on, groups upon groups of bikers visited the Rimba Raid grounds throughout the day, some to lend support to their friends who were competing, some to spectate. Whatever their intention, no doubt everyone went away impressed and in awe.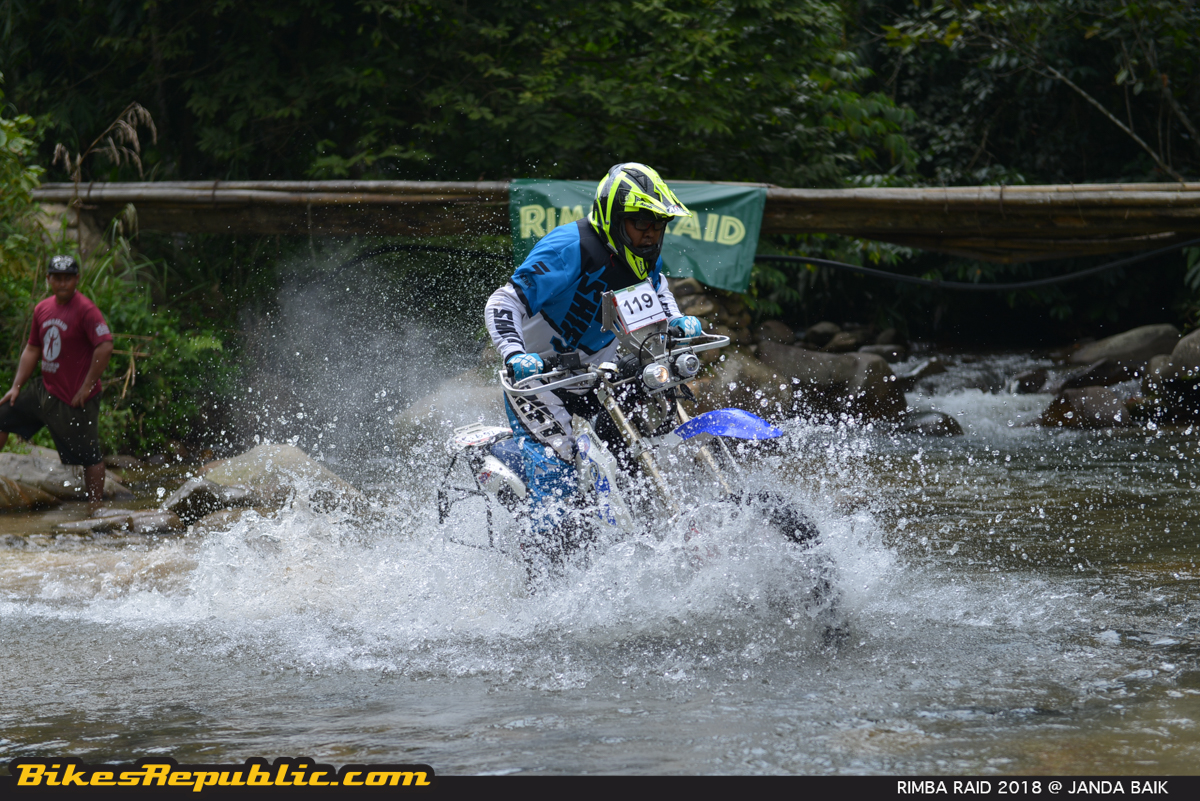 Virtually every manufacturer present provided test rides. KTM provided the KTM 1050 Adventure on knobbies (incidentally the very same bike I rode during the KTM Weekend Adventure with Chris Birch). Kawasaki showcased their Versys 650, KLX150, and probably their centerpiece lightweight adventure bike, the Versys-X 250. BMW Motorrad's centerpiece was the new G 310 GS.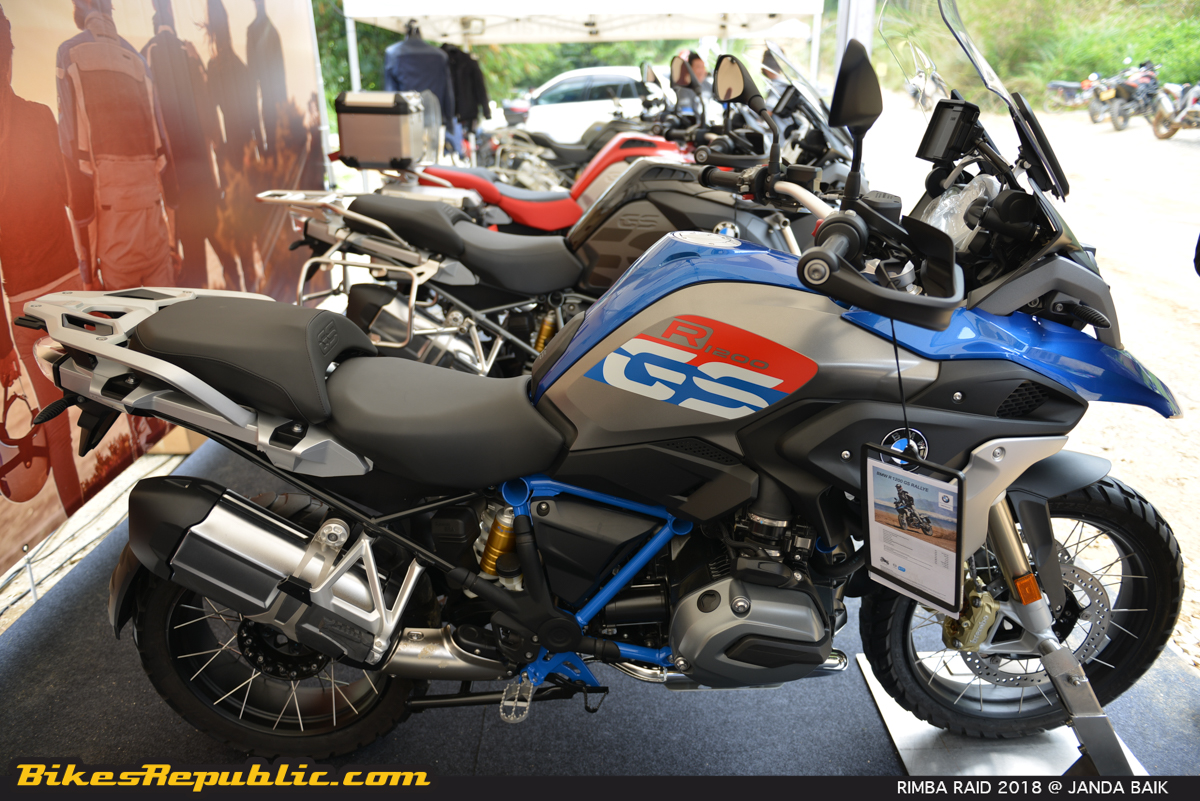 As the action wound down, the riders retreated to their tents. A few took the opportunity to swim in that very stream that claimed their bikes or their buddies'. The foot massage therapists had brisk business. Sustenance was provided throughout the day by Rimba Raid exclusively for the competitors, as did food trucks and a catering service called Teddy… (do try their grilled German sausages and mini pizza if you ever ran into them).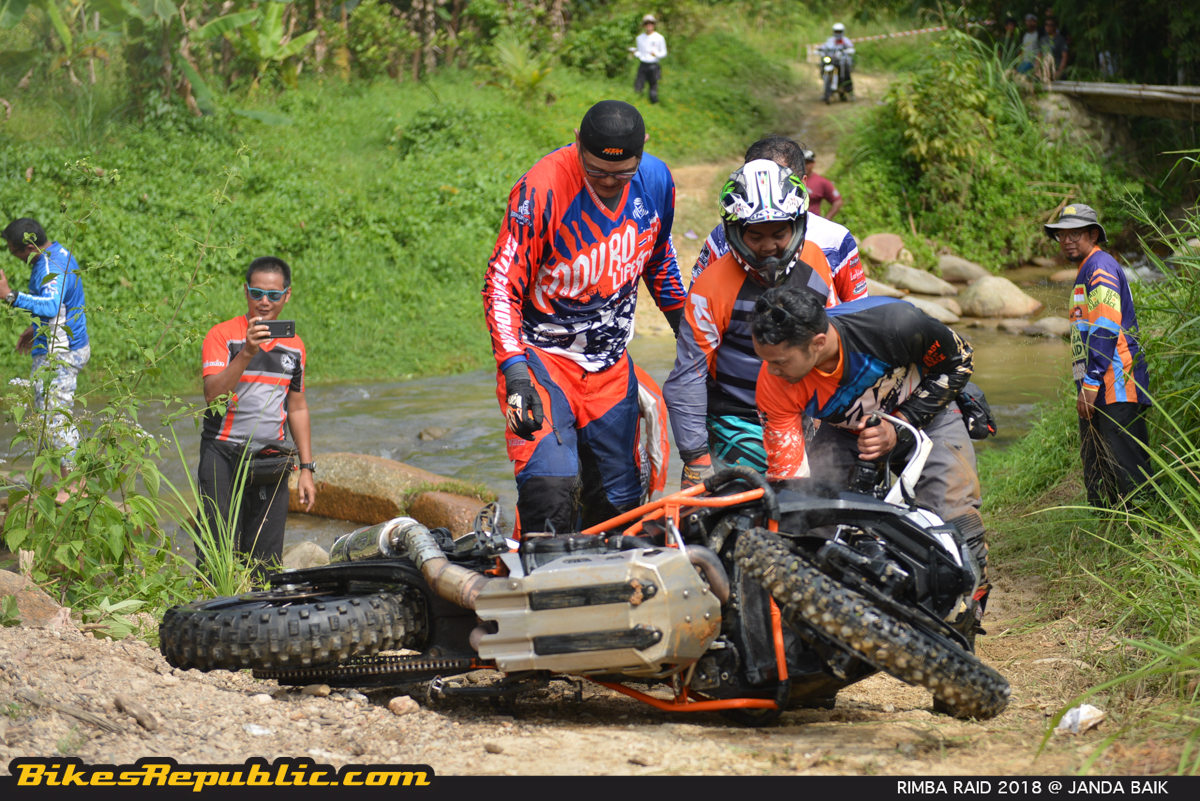 The organizer and riders later went out on a Night Recce to ride the trail for the next day's test, before returning to the camp site for dinner.
Day Two saw the competitors leaving the camping grounds for the trail section. "This is where they are tested on their fitness and stamina." They were separated into groups of 20 to complete the section. Having 60 riders of different skill levels and on machines of different capabilities would have probably been "morbid."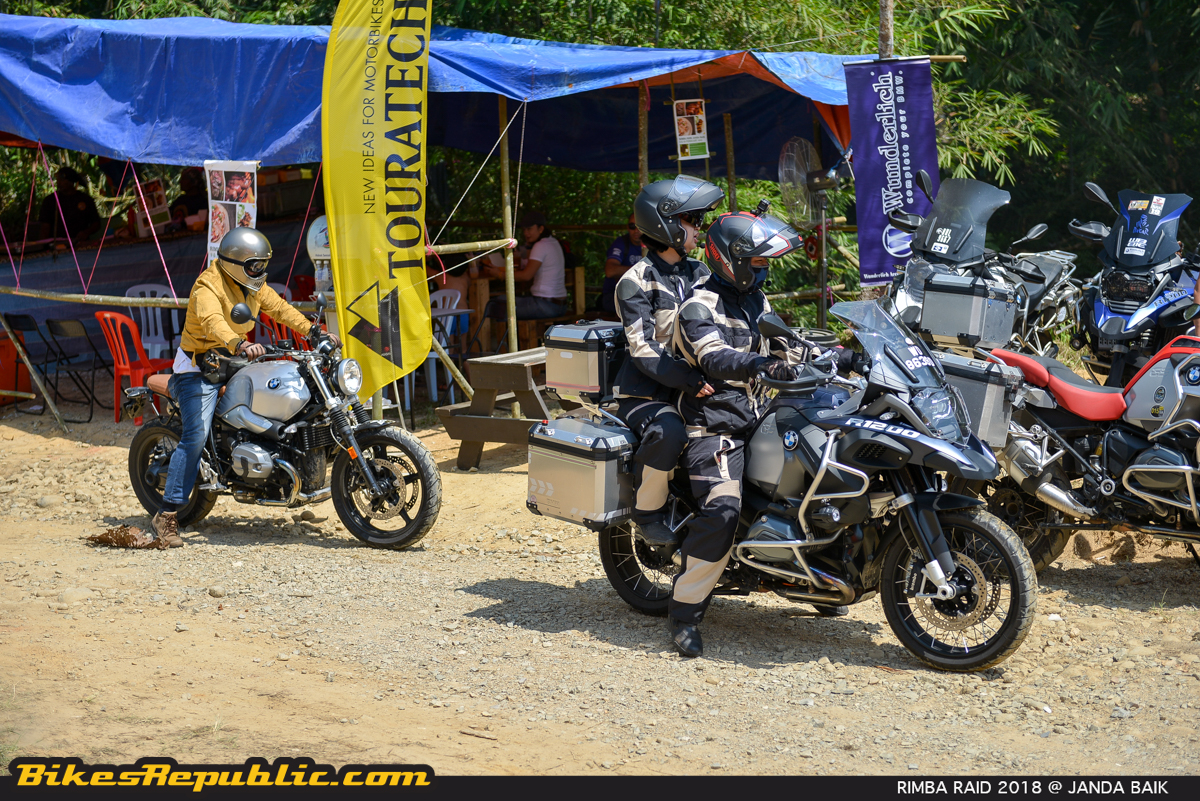 The results from Day One (which constituted to 40% of the overall score) and Day Two's were tallied at the end of the day.
Finishing third was Syed Hafiz Bin Syed Sheikh, from Singapore. In second was Bee Wong, who relinquished the coveted #100 yellow number plate to his brother Alex Wong. Browsing through the results, it's apparent that the competitors have to be good overall. However, given some of the tough sections, to participate in Rimba Raid is itself a great achievement, hence every participant apart from the winner received a competitor's medal as a token of appreciation, regardless of their finishing positions.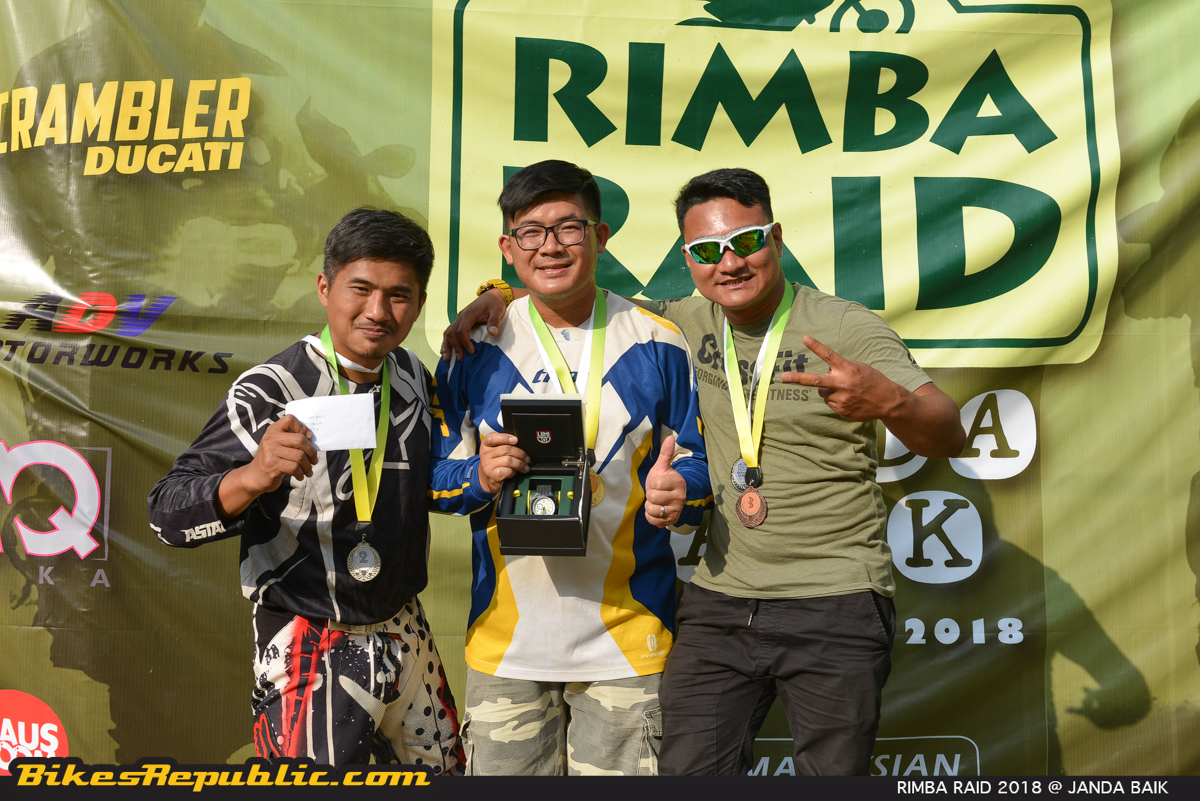 To conclude, the Rimba Raid is the one of – if not the – most fun non-professional offroad competition and event that I've had the pleasure to experience. To the spectators, the atmosphere, the proximity to the action, and the sight of heavy (read: expensive) adventure bikes being hammered in the rough was an unprecedented experience. As for the competitors, they had something to achieve while having fun at the same time. Sometimes there's just no way of gauging your riding capabilities unless you measure it against your peers' – in a controlled environment, of course.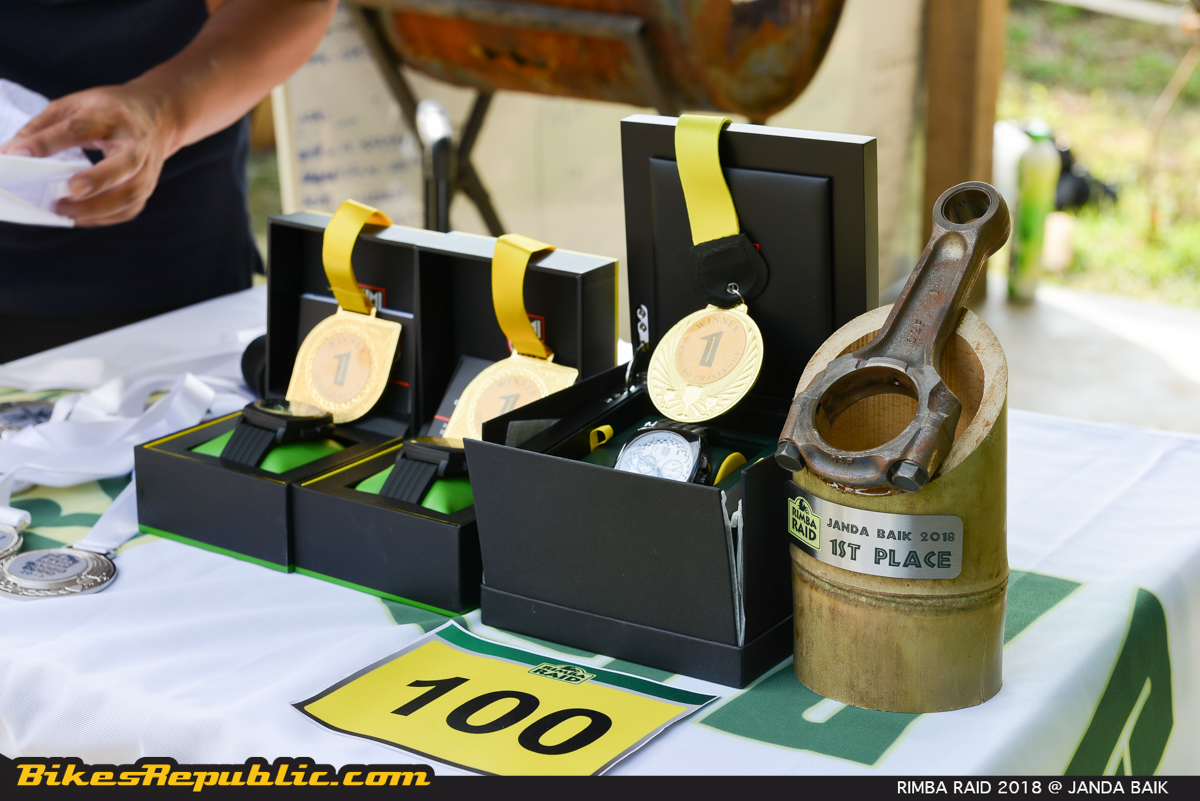 Of course, there were a few gripes from the competitors, but Capt. Nik said it best that Rimba Raid is still new and they're still learning and evolving. In my humble personal opinion, Rimba Raid has the immense opportunity to grow into a premier offroad event.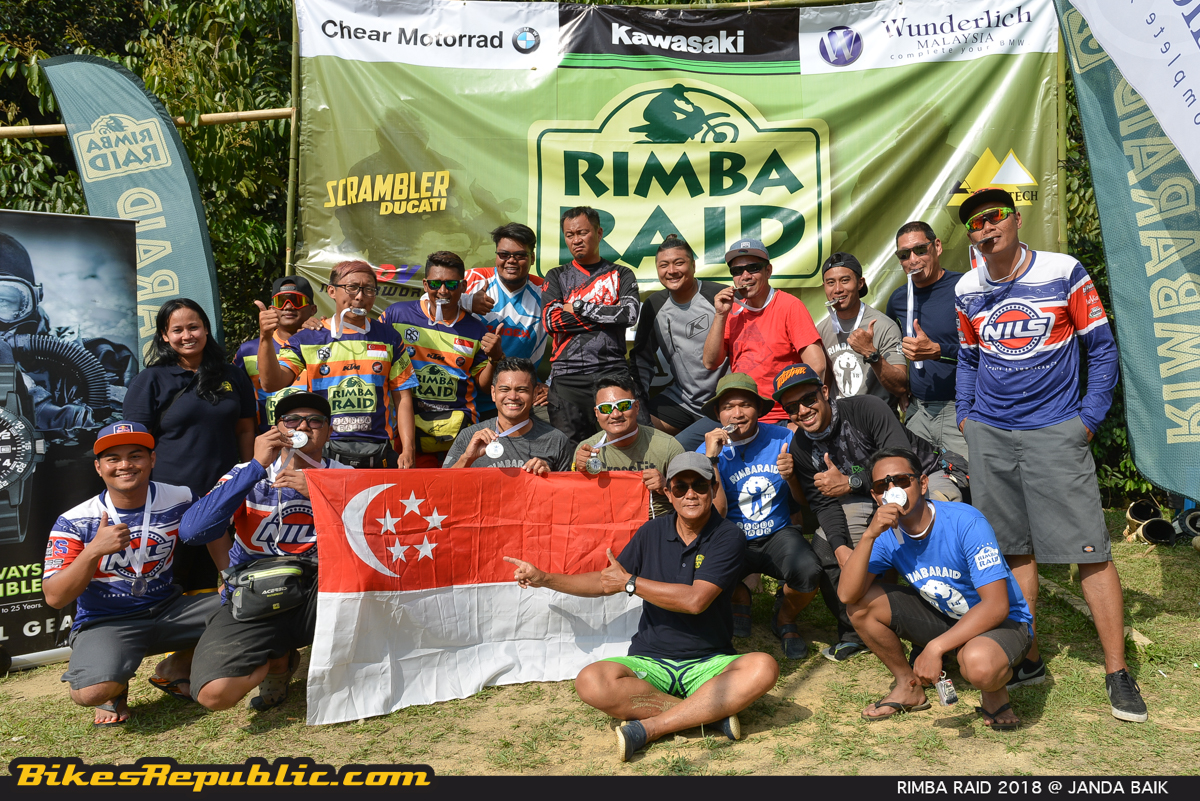 Oh, by the way, am now itching to enter the next Rimba Raid. Anyone care to loan me a bike?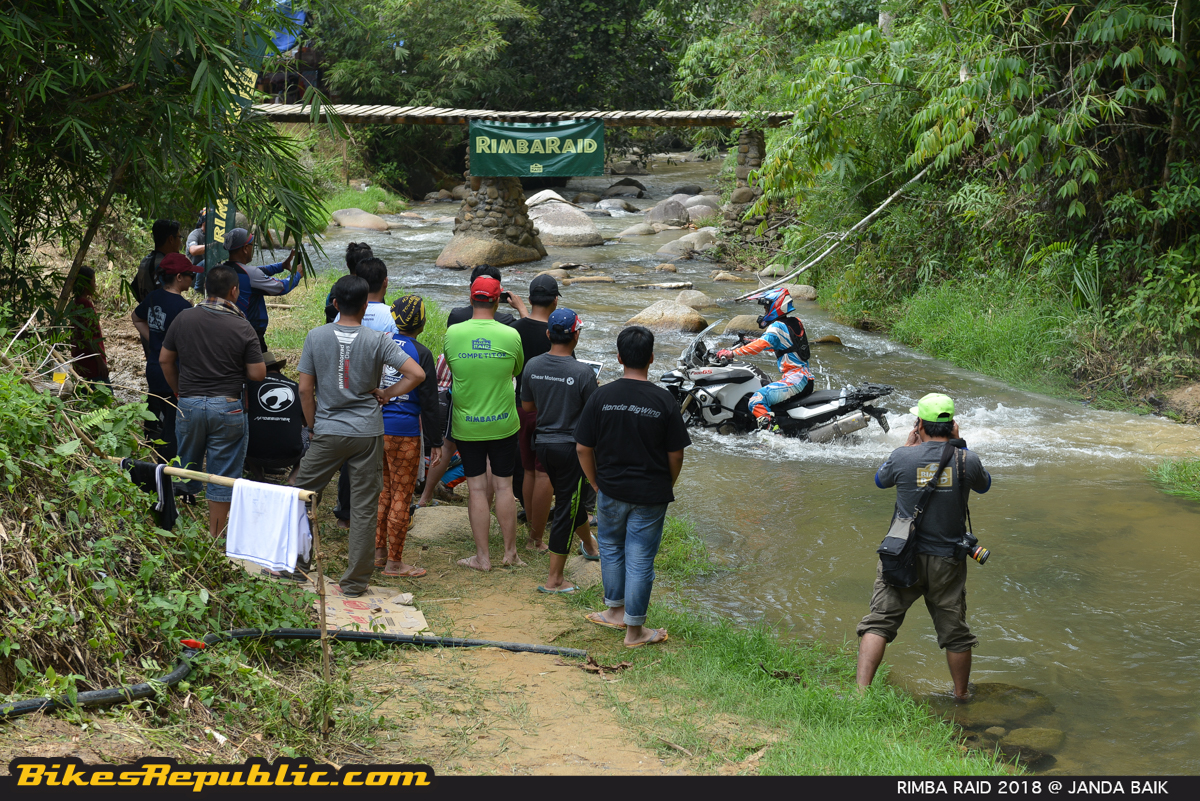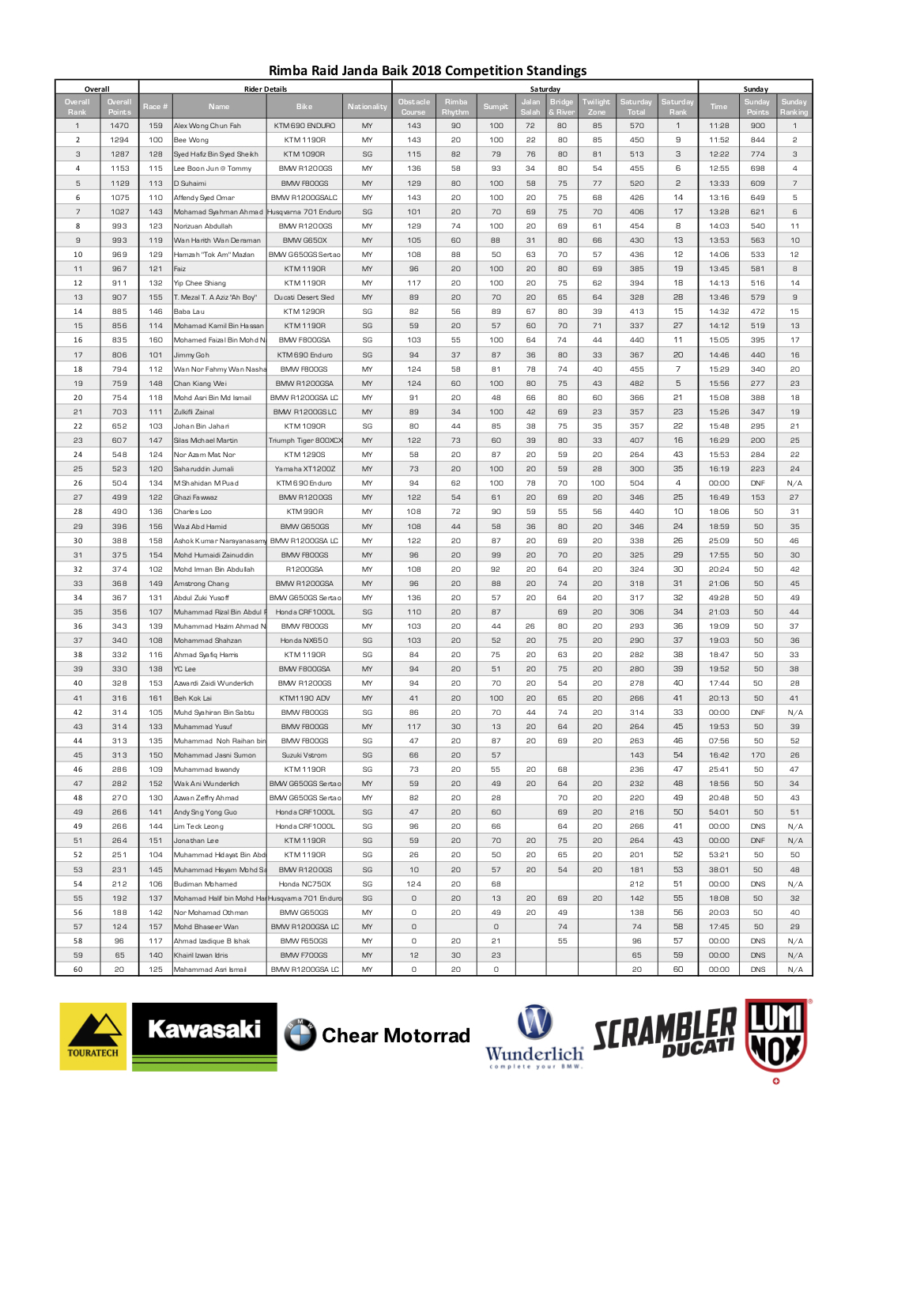 PICTURE GALLERY