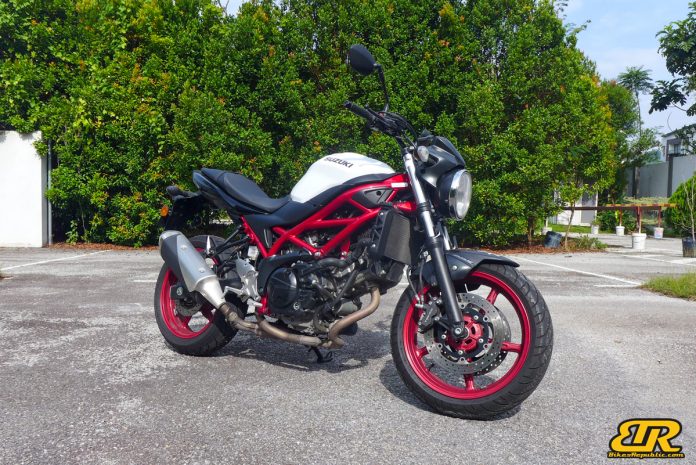 V-twin magic, timeless naked styling, and neutral handling is the tried and tested recipe that makes the Suzuki SV650 rather brilliant.
Liquid-cooled 645cc V-twin.

75HP and 64NM, 198kg (kerb).

Timeless naked styling.

Easy and predictable handling, plus proper V-Twin thrills!

From RM37,289 (base price)

The Suzy everyone loves? Really?
Yes, it really is. Suzuki has been making the SV650 since 1999, and the Hamamatsu factory has been gradually refining it over the years. Could this be a simple case of "If it ain't broken…."? Maybe. What's certain is that they have quite the gem of a bike indeed, and they know it.
Half the magic of the SV650 stems from the way it rides and handles, which we will get to in a bit. The other half, of course, comes from the way it is styled, and we're certain many of you already agree this is quite the good-looking bike, even if you're not a fan of nakeds.
Aptly, even at a glance, it's easy to see why many have come to laud this Japanese middleweight naked over the years, and here's why…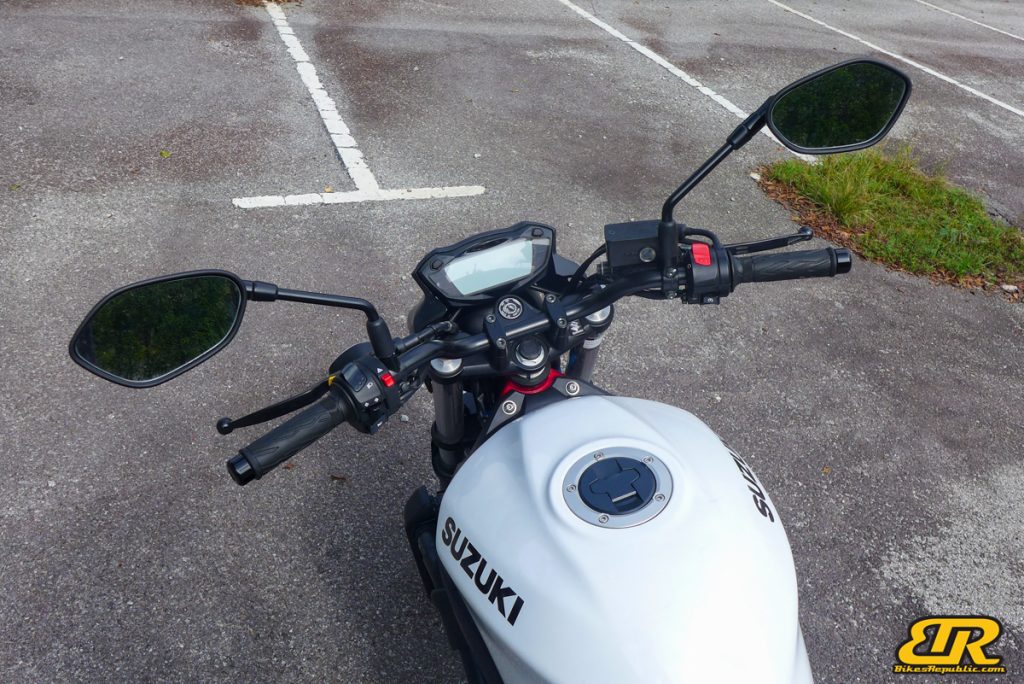 How does it feel like in the hot seat?
With a relatively low 785mm seat, the Suzuki SV650 welcomes just about anyone to leg over into its hot seat – ladies included. The ergonomics here feels very decent to say the least. Most will never need to reach too far forward to grab the bars, and all the controls are where you'd expect them too.
What's nifty here is the novel Suzuki Easy Start ignition, which doesn't require you to hold down the starter button to ignite the liquid-cooled, twin-spark 645cc V-Twin. Also neat here too is the presence the  digital LCD dash display mounted front and centre conveying all the necessary information whilst also being easy to grasp even with quick glances.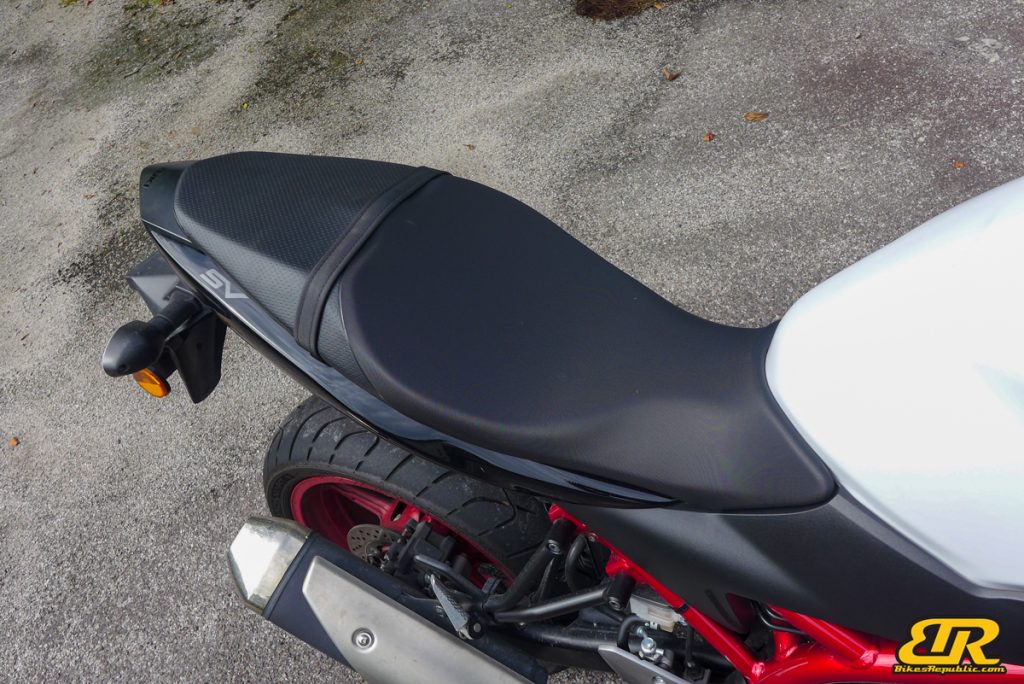 Our only complaint here lie in the seat saddle itself. Though decently padded, it isn't the most comfortable one in this space of bikes. You'll definitely get slightly sore butts after long rides allowed by the SV650's large 14-litre tank, but it's no deal-breaker. Apart from that, and perhaps the absent wind deflection typical of nakeds as such, there's little to gripe about in this aspect of the SV650.

V-Twin? Must sound great then!
You bet your ass… Though we'll admit, the Euro 5-compliant pipe does dampen things just a little. Still, the way this V-twin sounds, both even when idling at a stand-still or when the throttle is given a good twist, is something to savour.
Adding to that is the way it delivers all its pep too. Predictably, there's no sudden surges of power or twist. What you get instead is a smooth, gradual delivery of both the 75HP and 64NM available. If anything, the abundance of torque in the low- and mid-rev ranges is a treat too.
Sure, those figures aren't earth-shattering, but they feel more than plenty when paired with the SV650's claimed 198KG kerb heft. Those wishing to hustle this bike through corners will find this mill, and the six-speed transmission paired with it, a joy to spank, and that's despite the latter absence of either a slipper clutch or a quick-shifter.
Whilst here, it's also worth noting the presence of Suzuki's Low RPM Assist – a feature that helps curb engine stalls at low revs. Surely, this is something we know many newbie riders will appreciate as it'll save you – us too! – from embarrassing situations like stalling at the traffic lights.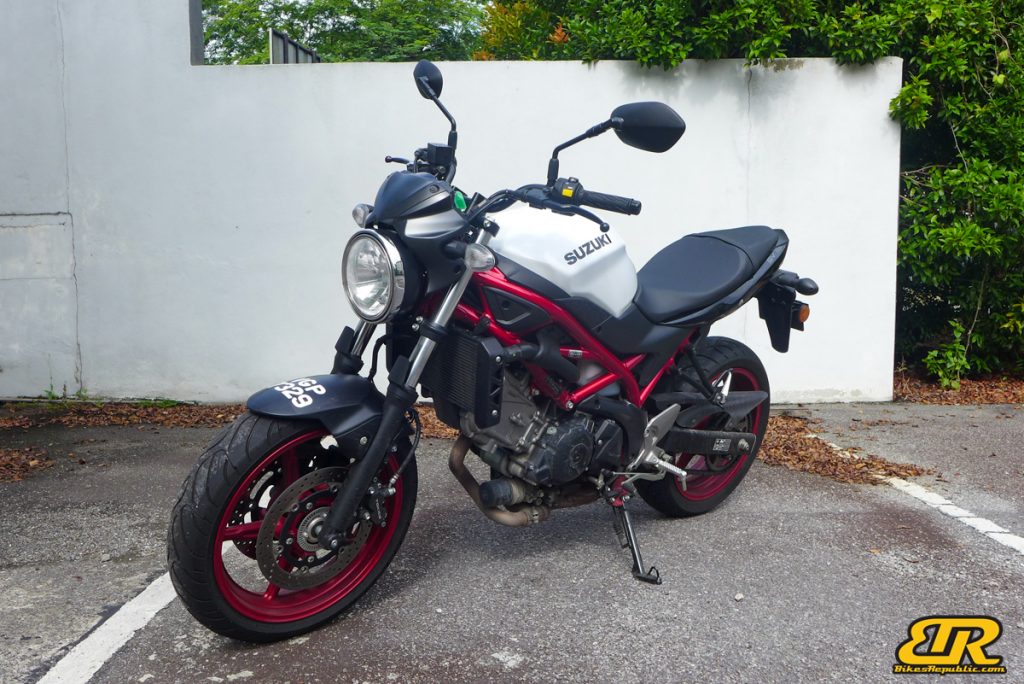 Tell us then, how does it ride?
The short answer here is that the Suzuki SV650 rides as well as it looks and sounds. This is one motorcycle that's not difficult to master at all, even for those jumping straight out of something small like a quarter-litre machine.
It feels just as light and, thanks to the V-Twin layout, it brings forth a rather slim bike that's a cinch to manage and filter through traffic with.
With its suspension hardware, this is perhaps the only compromise of the SV650. There's a fixed 41mm telescopic front fork and a preload-adjustable rear monoshock, which offer enough travel and damping to tackle almost anything on the daily. However, we're certain seasoned canyon-carvers will not enjoy this sort of 'softness'.
The saving grace lies in the anchors this naked is brimmed with, which felt both reassuring and responsive. Again, this is the result of the decent hardware employed – Tokico-sourced dual-290mm rotors up front and a single 240mm unit at the rear, the former grabbed by dual-piston calipers. Additionally, these are tied through a dual-channel ABS suite too.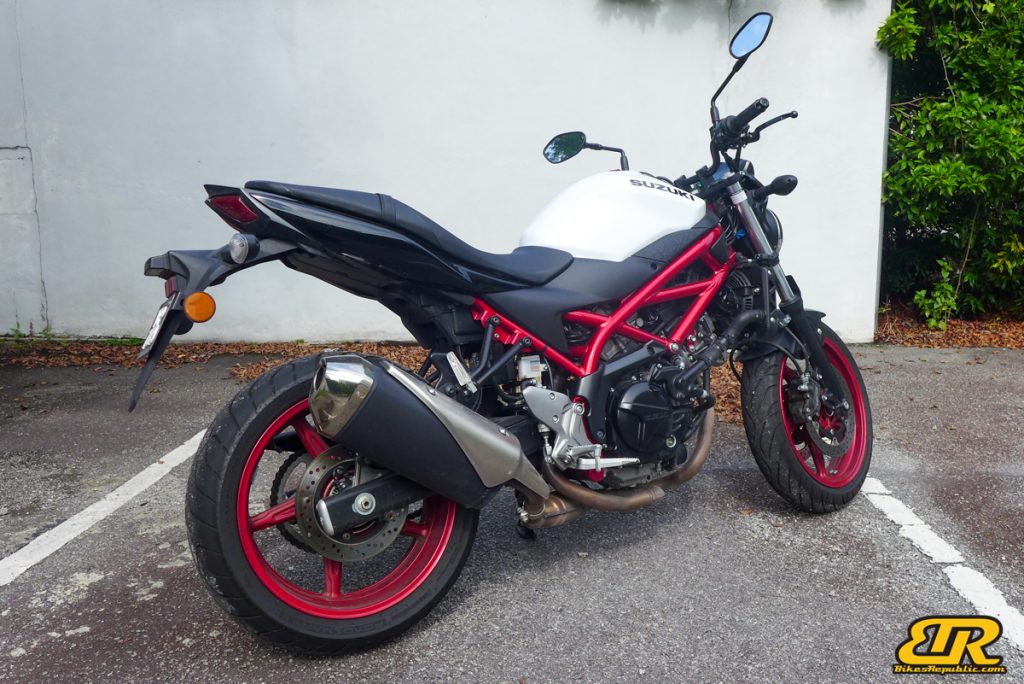 Should I really consider one?
Whether you're an avid newbie fresh out of riding school in search of a good middleweight starter, or perhaps a seasoned rider seeking something that isn't too extreme or difficult to maintain over a medium-term, the Suzuki SV650 will gladly fill either of these needs, and it'll do so brilliantly.
If anything, the fact that this is the sole V-twin offering present in a segment flooded with singles and parallel-twins should draw enough fans. Sure, it's not the cheapest, most tech-laden, nor the quickest in segment, but we'll argue that it is one of the prettiest, most nimble and versatile ones here.
Also, at RM37,289 sans on-road costs, the Suzuki SV650 is quite the bargain, especially after considering that the next available V-Twin middleweight naked with similar styling and performance is an Italian offering that costs nearly double. Yep, this is one Suzy that's not hard to fall in love with…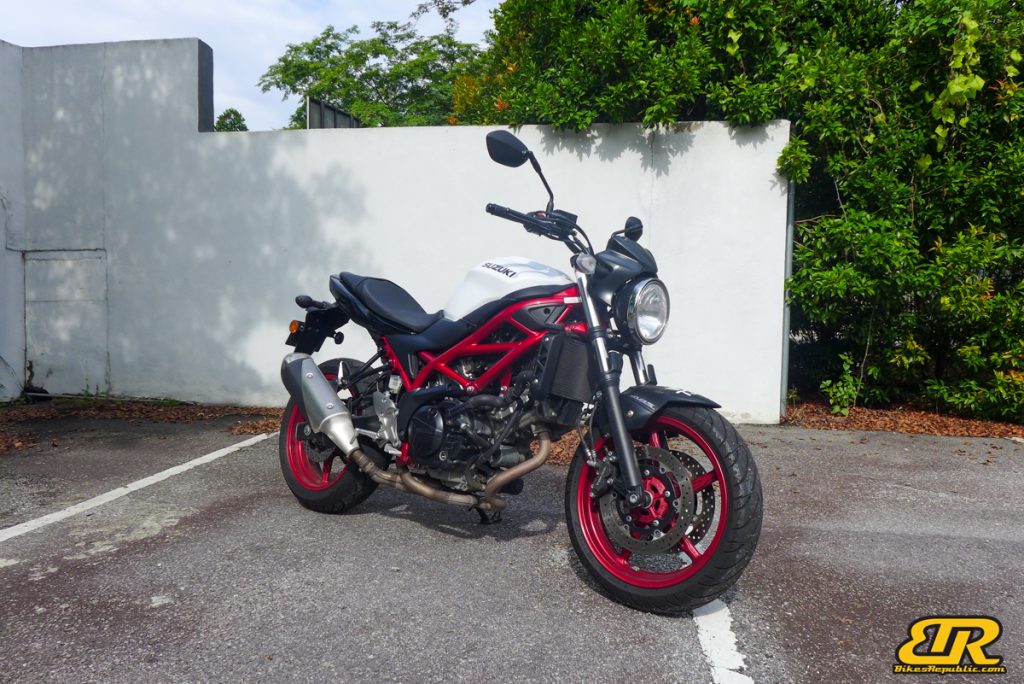 VERDICT
FOR (+)
AGAINST (–)
·        Respectably peppy V-Twin heart with a soundtrack to match!

·        Friendly ergonomics, easy handling and decent features count.

·        Timeless naked styling.

·        Near-bargain price tag for what it offers as a package.

·        Not the quickest or most tech-laden offering in segment.

·        Seat saddle isn't the most comfortable for long rides.

·        Suspension does feel a tad soft.
SPECIFICATIONS – Suzuki SV650
SPECIFICATIONS – Suzuki SV650
ENGINE
Liquid-cooled, twin-spark

DOHC 645cc V-Twin

TRANSMISSION
6-speed constant mesh, chain drive
POWER
75HP @ 8,500RPM
TORQUE
64NM @ 8,100RPM
CHASSIS
Steel trellis frame
SUSPENSION
Front: 41mm telescopic fork

Rear: Preload-adjustable monoshock

BRAKES
Front: 2x 290mm disc, dual-piston calipers, ABS

Rear: 240mm disc, single-piston caliper, ABS

FUEL TANK
14 litres
DIMENSIONS
(LxWxH): 2,140mm x 760mm x 1,090mm
WHEEL/TYRES
Front: 120/70R17

Rear: 160/60R17

SEAT HEIGHT
785mm
WEIGHT
189KG (kerb)
PRICE
RM37,289

(base price, excluding on-road costs)
Gallery: Suzuki SV650