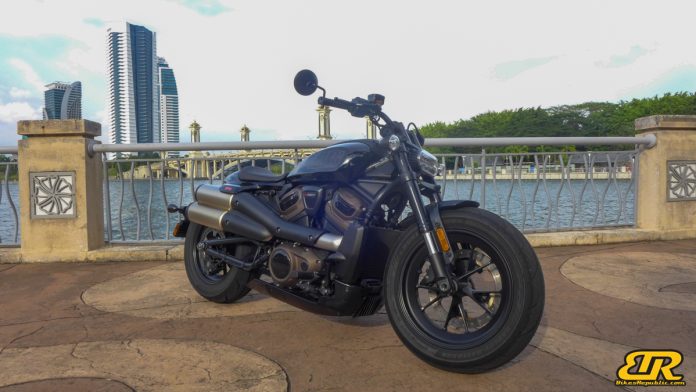 The 2022 Harley-Davidson Sportster S takes the bar-and-shield brand to new heights, but it's not the Harley powercruiser for everyone…
Liquid-cooled 1,252cc V-Twin.

121HP and 127NM, 228kg (claimed).

Lots of power with the muscular styling to match.

Not the easiest thing to handle or hustle with.

RM92,900 (base price)

Not for everyone? Explain…
Utter the famed Harley-Davidson name, even non motorcycling enthusiasts, and the immediate picture almost everyone paints is a low, slow, chrome-rich piece of Americana on two-wheels. Yup, this has been the staple image of the bar-and-shield marque for eons now.
Well, that's certainly not the case with the new 2022 Harley-Davidson Sportster S as featured here which we spanked for a few days some time back. This isn't your typical Harley cruiser, and it's one that will split opinions everywhere it goes.
What's certain though is that this powercruiser of sorts has taken the famed Milwaukee-based V-twin vanguards to new heights. The last time we saw this much forward thinking was in the V-Rod – the brand's first ever liquid-cooled production model that arrived in 2001.
Like the V-Rod, we reckon the Sportster S will appeal to a different sort of Harley-Davidson fan instead of traditionalists, and not just from the way it looks either – there's much to say about its performance, as well as the way it rides.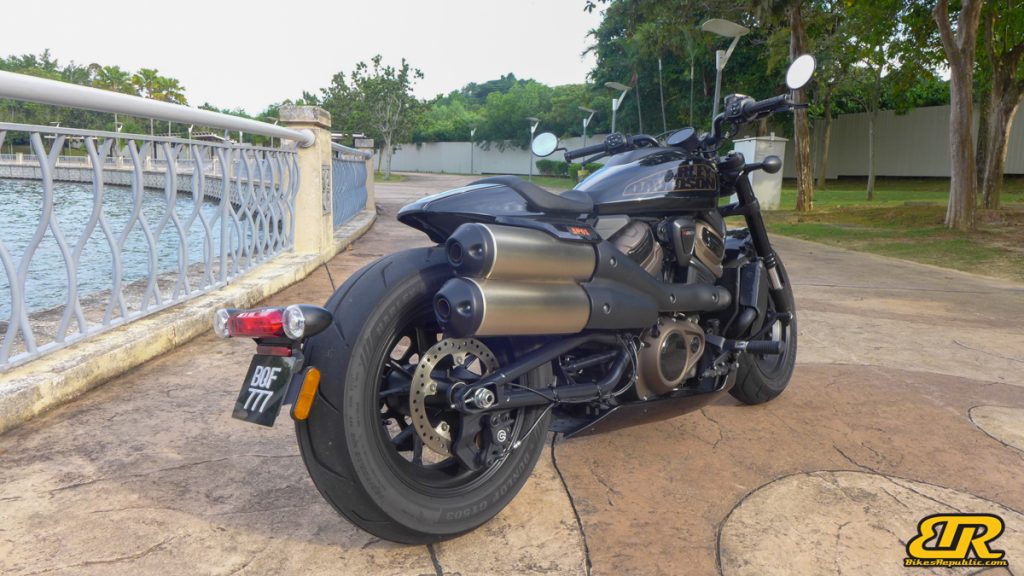 It does look really good though…
We won't disagree. As far as styling goes, this Harley's stance as both very modern and very muscular. It will grab lots of attention wherever it goes, even with its pitiful Euro 5-compliant (read: dampened) soundtrack – something very un-Harley like indeed.
There's much to bask in here, like the way its 12-litre tank is shaped, the massive 17-inch front and 16-inch wheels and tyres, not forgetting the way the centrepiece of an engine is presented through its pretty scaffolding, as well as the high-mounted dual pipes running down the left-side.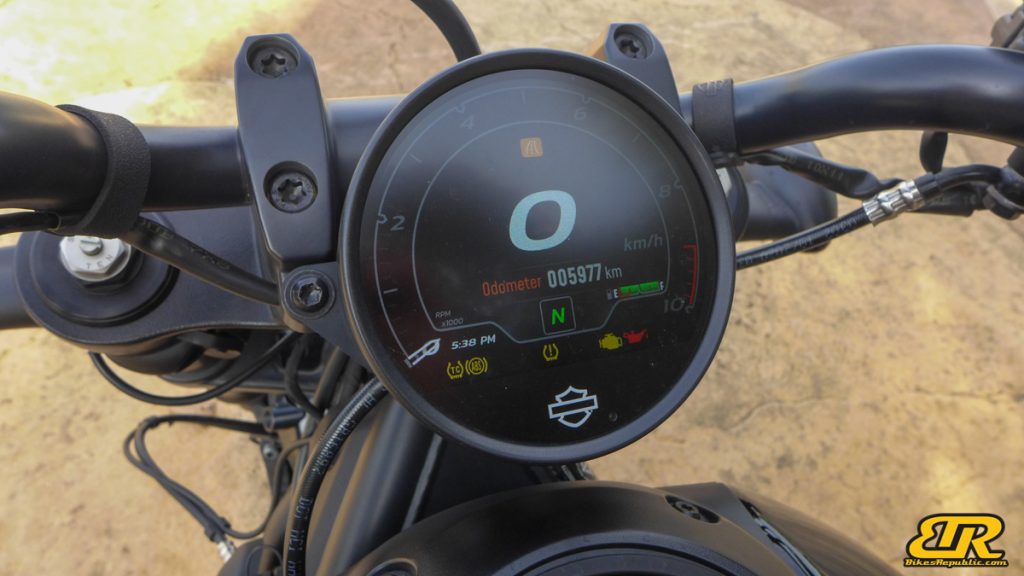 These are matched with a host of tasty ancillaries as well, key highlights here being the all-LED lighting suite brimmed, 4-inch digital TFT dash display, as well as the host of top-shelf chassis hardware present like the Brembo brakes and adjustable Showa suzzies – more on these in a bit.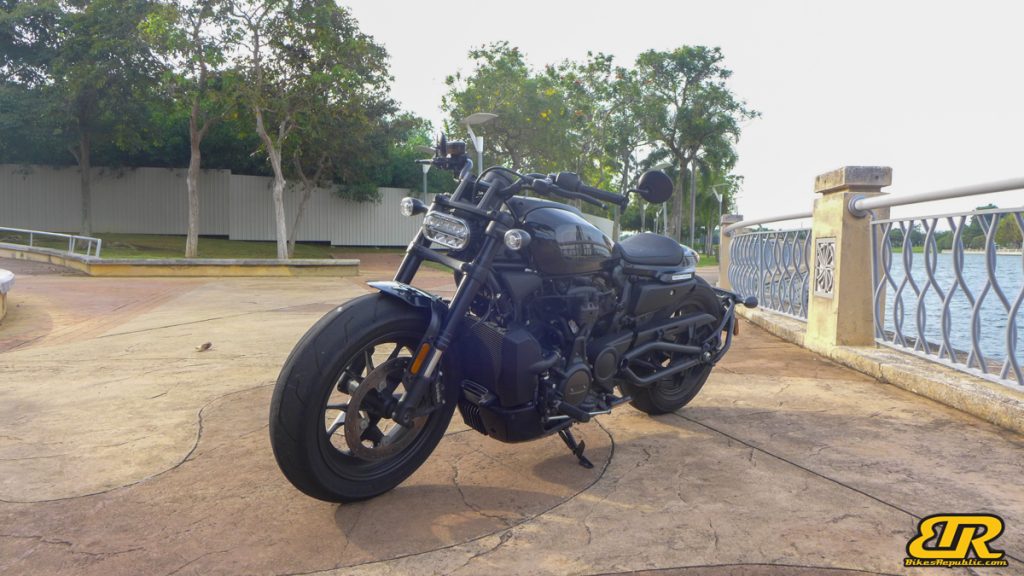 What's it like in the hot seat?
Whilst legging over into the low 765mm saddle isn't a big deal, the ergonomics is where the opinions start to divide. Depending on your height, reaching forward to grab the bars, as well as grasping the forward foot controls, will be a stretch – literally.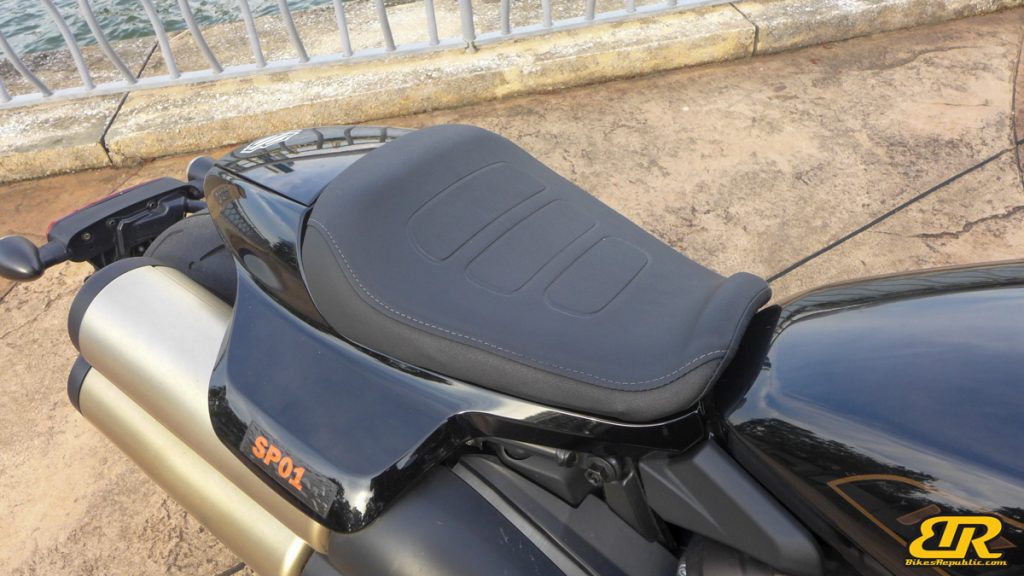 This is where the need for customisation really kicks in and, thankfully, Harley-Davidson have a plethora of kit to customise the Sportster S with, and the only limitation to which lies in one's imagination… and bank account limit.
Though a stretch, it's not difficult to get to grips with the ergonomics of the Harley Davidson Sportster S and get going, but it's not a pleasant affair if we were honest, and things doesn't really get better as we got it going.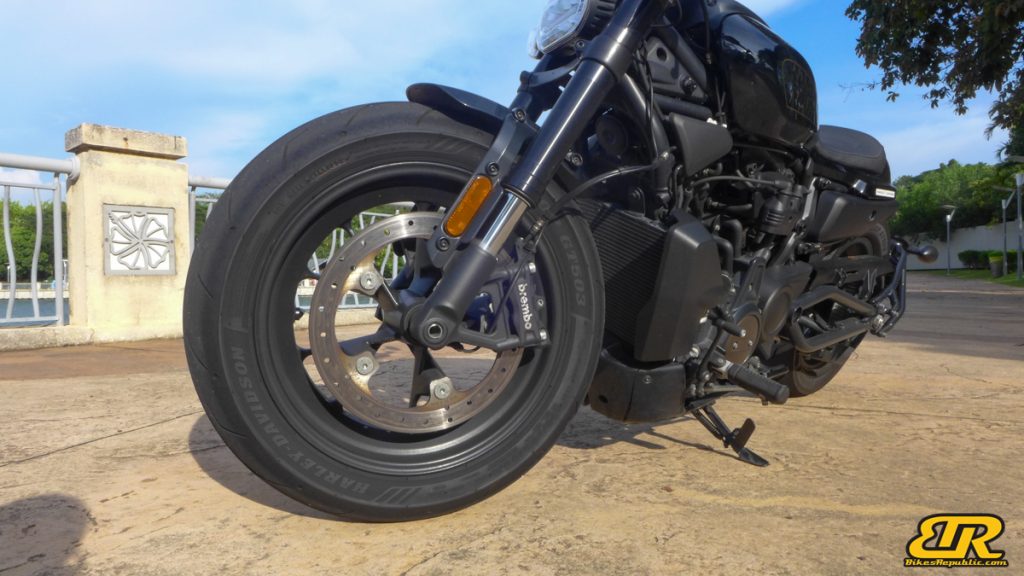 How does it ride then?
Harley-Davidson deserves some credit for the effort undertaken at brimming the Sportster S with some of the best chassis hardware available, namely those Brembo anchors and adjustable Showa suzzies mentioned earlier.
Unfortunately, getting the latter Japanese-made suzzies dialled in to the right setting takes time – a luxury not afforded to us during our test. Nevertheless, both the front and rear can be tweaked, and it's something any prospecting owner will need to figure out over time.
In general though, these suzzies do their job well, soaking up bumps and imperfections without protest. The same can be said with the front brakes, which felt highly responsive whilst also offering a strong bite without needing too long of a lever tug.
The same can't be said about the rear which, though comes from the same Italian specialist supplier, does not offer the same responsive feel as the front. Perhaps the saving grace here is the fact that both are tied to a trick ABS module – one of many trick electronic wizardries this Harley packs.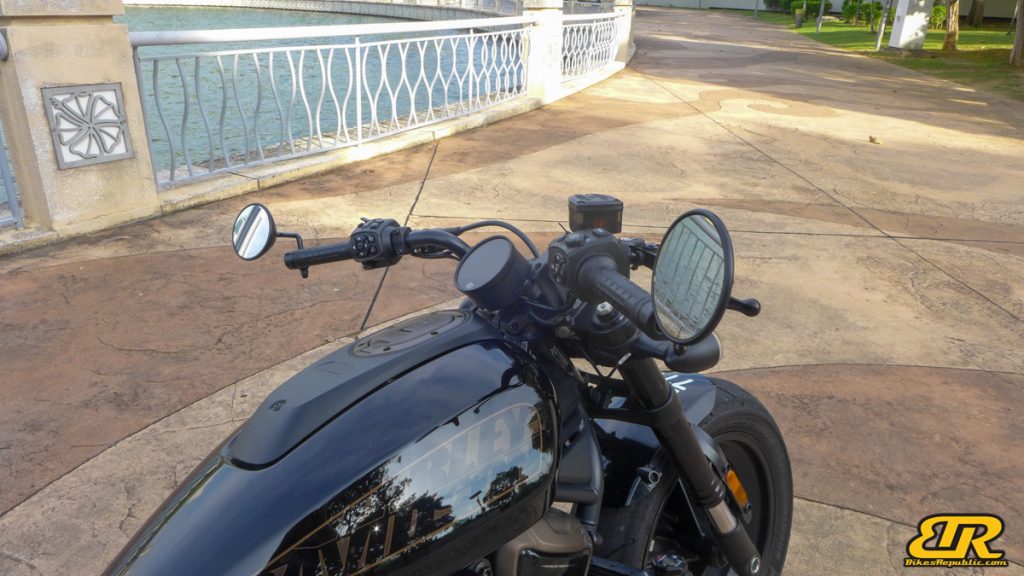 The biggest challenge of course stems from managing the Sportster S through traffic. As you'd expect of something weighing 228kg (claimed) that's also 2,270mm long, it's yet another chore we'd rather forego…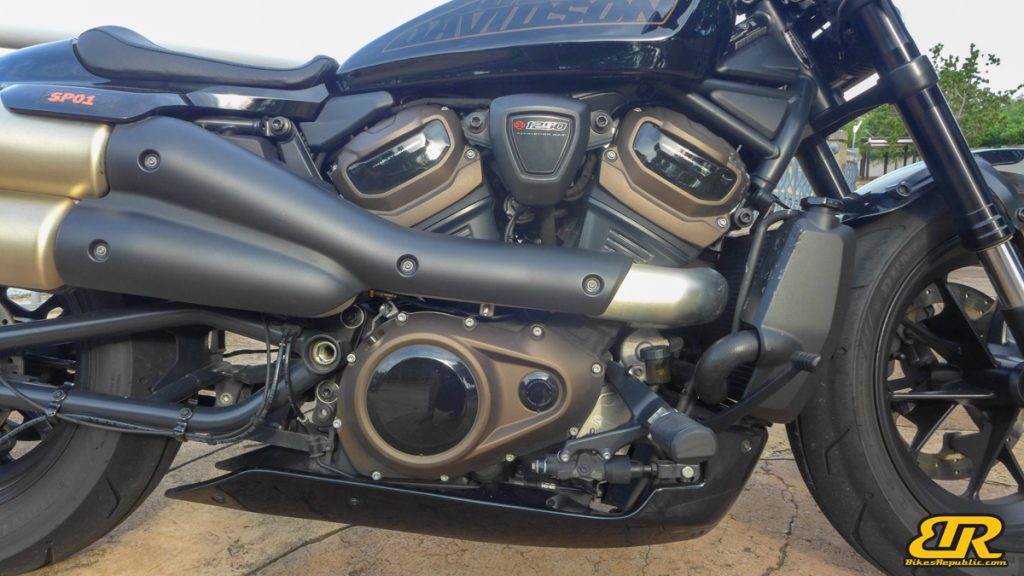 So what is good about it then?
Thankfully, the Sportster S does hold enough charm to let almost anyone forgive the many quirks we just highlighted. Fuelling this is the rev-happy V-Twin it packs. Yup, this is a Harley V-Twin that loves to rev, and much of its peak power and torque is present high up in the range too.
Don't let the cruiser looks and belt-drive setup fool you as this cruiser is able to do straight line sprints much like a modern sport bike. Yes, the Sportster S will easily shame the next annoying millennial flexing in a Mustang you meet at the traffic lights, especially when the ride mode is set to 'Sport'.
In regards to that, the Sportster S has five selectable modes in total, and it includes Road, Rain, as well as two user-customisable profiles. Obviously, things felt lively in Sport, whereas Road mode dials the excitement down just a little to make daily rides a lot more manageable.
Beyond the host of trick electronic rider aids which includes Cornering ABS, there's also a host of other nifty features present such as a cruise control, as well as a tire pressure monitor readout in the dash.
Our favourite bit though is the integrated connectivity function which, besides a smartphone app, includes the ability to pair and control your Bluetooth helmet comms.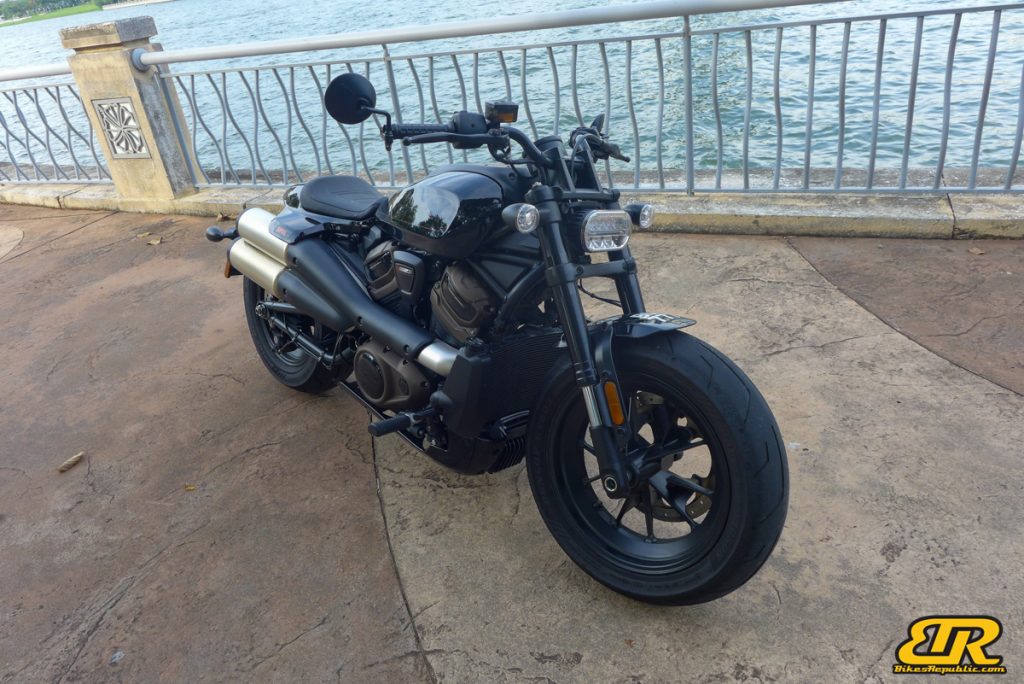 Should I really consider one?
As mentioned, this is perhaps one of the most unorthodox creations to ever wear the famed bar-and-shield badge. It won't carve corners as well as a similar rivalling Italian superbike-engined powercruiser it fights directly, but there's enough charm here to woe the most unorthodox of Harley fans.
At RM92,900 sans on-road costs, the Harley-Davidson Sportster S is also no bargain indeed, but the style, thrills, and the tech-laden features it packs ought to justify things. Just have an additional RM5,000 to RM10,000 at least ready to customise one to your liking – which you definitely want to.
VERDICT
FOR (+)
AGAINST (–)
·        Modern and very muscular styling for a Harley!

·        Very peppy V-Twin that's also sensational to look at.

·        A rich and extensive list of features and advanced rider aids.

·        Not the most comfortable thing to ride.

·        Not the most agile thing about.

·        Relatively tiny 12-litre tank.

·        Not a bargain, and requires more spending to customise.

SPECIFICATIONS – Harley-Davidson Sportster S
ENGINE
Liquid-cooled DOHC

1,252cc V-Twin with

Variable Valve Timing (VVT)

TRANSMISSION
6-speed, belt-drive
POWER
121HP @ 7,500RPM
TORQUE
127NM @ 6,000RPM
CHASSIS
High-strength low alloy steel trellis frame
SUSPENSION
Front: Showa 41mm adjustable inverted fork

Rear: Showa link-type adjustable monoshock

BRAKES
Front: 2x Brembo 320mm disc, quad-piston radial calipers, ABS

Rear: Brembo 260mm disc, single-piston caliper, ABS

FUEL TANK
12 litres
DIMENSIONS
LxWxH: 2,265mm x 843mm x 1,089mm
WHEEL/TYRES
Front: 160/70TR17

Rear: 180/70R16

SEAT HEIGHT
765mm
WEIGHT
228kg (kerb)
PRICE
RM92,900

(base price, excluding on-road costs and options)
Gallery: 2022 Harley-Davidson Sportster S