"Why buy when you can subscribe?" That's what Treeletrik Malaysia is saying about their latest promotion where you can rent either the T-70 or T-90 electric motorcycle or 'e-bike' from as low as RM9.99 per day.
It's been a while since we've heard anything new from Treeletrik but this new 'rent-a-bike' campaign organised by them will most likely pick up some attention to their range of eco-friendly electric motorcycles.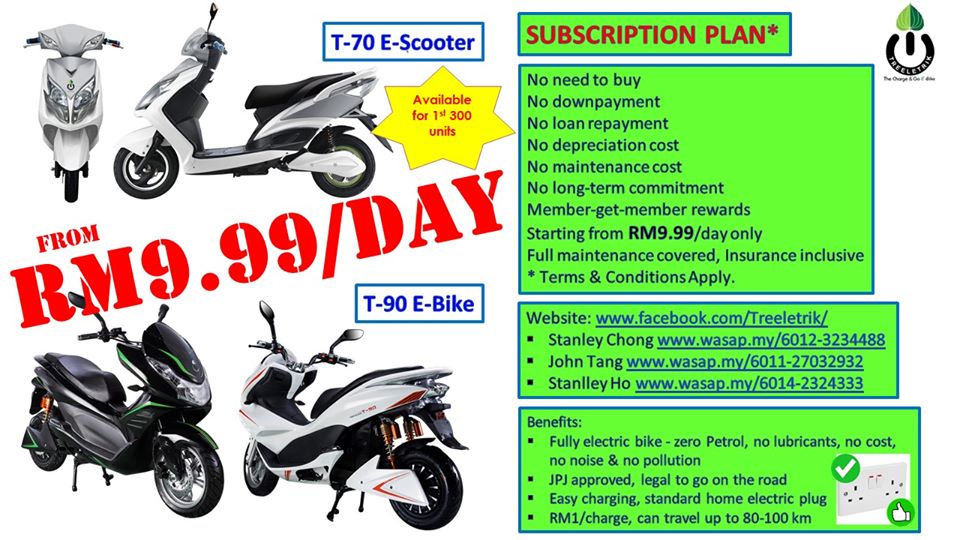 The six-month subscription plans are as follows:
T-70 – RM360/month (RM12/day) RM360 deposit + RM50 registration fee
T-90 – RM600/month (RM20/day) RM600 deposit + RM50 registrations fee
There are also the 12-month subscription plans where the daily rates will be lower to around RM9.99 for the T-70 and RM18 for the T-90.
Launched back in 2017, the Treeletrik T-90 was priced at RM10,494 when you want to buy it brand new. If you ever had any doubts about the capabilities of this electric scooter, renting it for a day or two might help iron out all the issues that have been clogging your mind when it comes to e-scooters.
The Treeletrik bike rent program also offers full maintenance, comprehensive insurance, and other benefits when you refer to others who are interested to rent the e-scooters. Each bike has the capability to travel between 80-100km on a full charge and they're legal to use on the road.
As of now, only 300 units are slotted for the rent program. For more information, head over to the Treeletrik E-Bike official Facebook page to know more.