A new Triumph Tiger was caught undergoing tests recently.

The new bike looks new altogether.

It should be unveiled at EICMA in November, at the earliest.
A new Triumph Tiger was caught undergoing tests recently.
It's no secret that our favourite bikes include the Triumph Tiger 800 lineup (the 800 XRx and 800 XCx). The current third generation family features more than 300 revisions and new components from their predecessor, making it not only the best adventure bikes, but among the best of all motorcycles we've ever ridden.
We wondered what how Triumph could improve on the second generation during the third generation's launch and we wonder again now as the fourth generation is being tested.
Well, the pictures (credit to RideApart.com) shows a bike which seems to be completely reworked, possibly from the ground up!
There are rumours circulating that the engine will be bumped up to 900cc. Such "displacement creed" is inevitable, given the new and more restrictive Euro5 regulations on emissions. Adhering to the current displacement would mean loss of performance. Also, Triumph's rivals such as BMW Motorrad and now Moto Guzzi have introduced 850cc models into this highly competitive segment.
Let's go back to the pictures. The styling retains the Tiger 800 DNA but the front has been made smaller, but the flanks around the fuel tank remain. Check out the new radiator shrouds.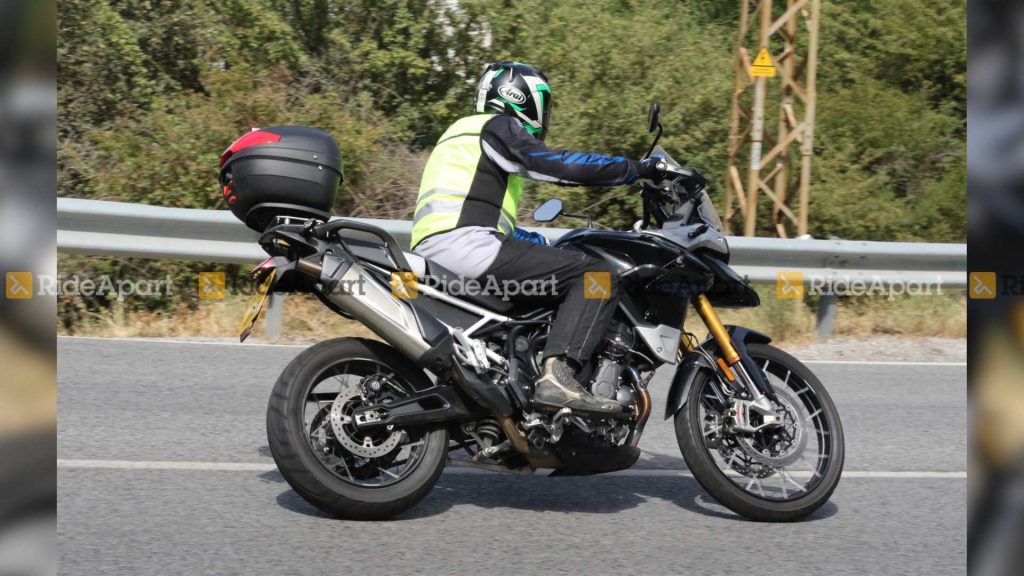 We reckon the bike to be the flagship XCa configuration. The front Brembo brakes calipers and suspension definitely look high end.
Moving backwards, the whole bike seemed to have been revised.
The frame looks new and so does the subframe. The passenger footpeg looks more elegant and are attached to the subframe via bolts, rather than being welded on. That's great news for off-road riders!
The seats look flatter and hopefully they are Triumph Comfort Seats. Those are the best in the ADV world. That passenger grab rail is huge and is a welcomed feature, especially if you install hard luggage and need to push the bike around.
Its tail end also has a new styling, breaking away from the dual vertical brake light tradition.
Moving downwards, the exhaust silencer looks similar to the current one but it certainly looks bigger on this bike. Remember, Euro5 doesn't only put a cap on engine emissions but also noise. A bigger silencer er… silences better.
The swingarm is likewise new – the most visible feature being that slot. The rear brake caliper's mounting is also different. The rear shock's linkage remains the same for a more progressive damping characteristic.
Well, that's as much conclusion as we could draw from a few photographs. The new Triumph Tiger ought to be unveiled at EICMA in November, earliest.
Source: RideApart