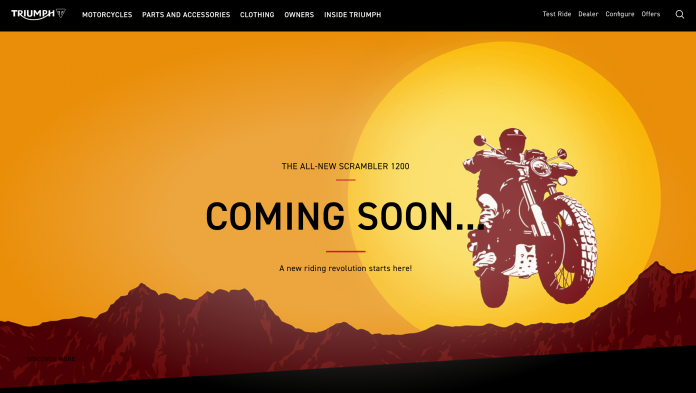 A Triumph Scrambler 1200 have been speculated even from the time the 900cc version was launched.

Now Triumph has just launched a teaser video.

The new bike will be launched on 24th October 2018.
Talk about a déjà vu: We've just posted about the Triumph TR6 Trophy from The Great Escape and its successor the Street Scrambler, Triumph Motorcycles has just unleashed a trailer of the all-new Scrambler 1200.
Rumblings about a 1200cc Scrambler has been making rounds for a long time and many enthusiasts have been awaiting the launch since then.
The short 10-second video shows the new bike coming out of a jungle, before announcing the launch date as 24th October 2018.
The only well, speculations, we could work on are based on the video's illustration. The bike wears knobbies and an under-engine skid plate. Woohoo!
But the things we are quite certain of would be the engine, which will be based on the current 1200cc, liquid-cooled parallel-Twin which powers the Bonnevilles Bobber and Bobber Black, Speedmaster, T120 and Thruxton/Thruxton R. Only thing we would not know which "tune" Triumph would choose, as the Thruxton is powered by the "High Power (HP)" version while the rest are of the "High Torque (HT)" tune.
There are also speculations that new 1215cc triple from the new Tiger 1200 may be utilised. It may be a possibility although we think it's highly unlikely, given the Scrambler's modern classic approach.
Here's what Triumph has to say about the new bike: https://www.triumphmotorcycles.co.uk/motorcycles/classic/bonneville-scrambler-1200
"A brand new Triumph modern classic is set to create a riding revolution with a whole new benchmark for what makes a scrambler great.
"The Scrambler 1200 marks the birth of a stunning new motorcycle generation. With never-before-seen levels of dual-purpose capability, this incredible full-on scrambler is as truly amazing off-road as it is on the road, doing everything an adventure bike can, and all with authentic scrambler style and attitude.
Because of the unprecedented worldwide interest in this next generation motorcycle, we've decided to release a series of exclusive insights into this genuine game-changer well in advance of its official launch."
The 900cc version was released in 2017 to global accolade on its character and fun factor. We've since tested it and even rode it around more than once and are still fond of it. The 1200cc version should be a gamechanger to the genre, given Triumph's propensity to infuse their bikes with great handling, linear power delivery and fun character.
By the way, Bikes Republic will be visiting the Triumph Motorcycles Ltd.'s factory during the time of the launch (thanks to Triumph Motorcycles Malaysia and UK), so we hope to bring the launch event to you "live."